This week's user-submitted Top 10 comes from Andrew Willis, who says that Scene-Stealers was partially responsible for his creating movierabble.com and having regular Top 5 lists. That, and a healthy dose of "High Fidelity," no doubt. If you've got an idea for a Top 10 list you'd like to contribute, email me at eric@scene-stealers.com. Here's Andrew:
It is evident that the holiday season is upon us. The stockings are hung, the eggnog is flowing, and Vince Vaughn is in a terrible Christmas movie. My favorite part of the season happens once all the wrapping paper has been thrown away. Of course I'm talking about the New Year's Eve celebration. In my opinion, Hollywood hasn't paid tribute to New Year's like they should have. This is strange to me because what is the best part of New Year's? The parties! And Hollywood has made some great party movies, or some movies with great party scenes. So here is my Top 10 Movie Party Scenes.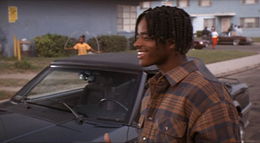 10. Menace II Society (1993)
The movie itself is filled with drugs, gang violence, racism, and features plenty of criminal themes. The party scene in the beginning grounds the characters in reality and show these "hard" gangsters' human side. Allen and Albert Hughes' "Menace II Society" documents that mid 90's L.A. gangsta scene even better than "Boyz in the Hood" in my opinion, and the opening party shows just how these young urban boys could be attracted to that particular lifestyle.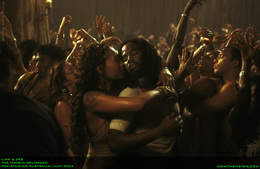 9. The Matrix Reloaded (2003)
You all know which scene I'm talking about; it's the rave scene in Zion. (Ed. Note: Ironically, this scene was on Eric's list of Top 10 "jump the shark" moments in movie franchises.) The underworld is preparing for a battle that could wipe out their existence, and the Wachowski brothers (Two entries, two director-brother combos. Weird.) put you right in the middle of a music-fueled mosh of energy. The bodies hypnotically move up and down like waves in a pool. It reminds me of the USO dances held for the WWII soldiers who came home on leave. Just replace Glenn Miller and "In the Mood" with Rob Zombie and "Reload."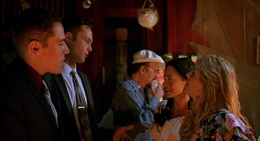 8. Swingers (1996)
The only party on this list that is more crowded than "The Matrix Reloaded" and still the "Swingers" boys (including Jon Favreau and Vince Vaughn) leave because "this place is dead anyway." There's a lot of partying in Doug Liman's "Swingers" (which was written by "Iron Man" director and co-star Favreau), but I am referring to the party held by some producer in the Hollywood Hills. They all arrive in their own car, and nobody knows anyone there. This scene has some of the most brutal rejections in it. Do you remember the line, "What kind of car do you drive?"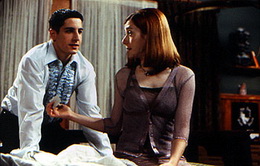 7. American Pie (1999)
Egads! Another brothers movie! This one was directed by Paul and Chris Weitz ("About a Boy," "The Golden Compass"), and it is the first "My parents are gone for the weekend" party on the list. We have all been there and this particular one most resembled my experience– that is, minus the protein-enhanced cup of beer. The opening party is spot on: the beer, the girls, the raging hormones. It captures perfectly the awkwardness of trying to talk to girls (especially ones out of your league) and trying to score for the first time. The only thing it is missing is the wake up/clean up that happens the next day.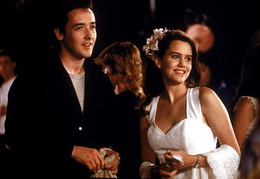 6. Say Anything (1989)
I will make almost any excuse to put a John Cusack movie on a list, but the graduation party in Cameron Crowe's directorial debut has the perfect vibe. Those parties are one of the few times in a person's life where you and all your classmates forget about the cliques and class systems of high school and everybody can just chill– even the "brain"s. You could consider this the first date of under-the-radar outsider Lloyd Dobler (Cusack) and smart-girl Diane Court (Ione Skye). Even thought Diane and Lloyd don't spend much time together, you can see the relationship blossom at this party. It is the anti-"American Pie" party. I want to be Lloyd Dobler. I want to be the Key Master.
5. Midnight Cowboy (1969)
I wanted to make sure the drug-propelled, orgiastic, psychedelic 60's scene was represented on this list, so here you go. It was never done any better than it was done here in John Schlesinger's Best Picture winner. (The only winner ever to be rated "X", even though it was later downgraded to "R.") Naive cowboy swinger Joe Buck (Jon Voight) is totally lost in New York. He is a fish out of water and his first N.Y. party submerged him into a lifestyle that street urchin Ratso Rizzo (Dustin Hoffman) was used to. Even I felt a little spacey after watching this one.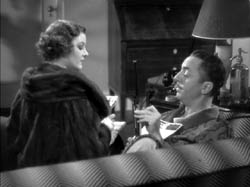 4. The Thin Man (1934)
This 1934 classic has more ABPF (Alcoholic Beverage Per Frame) than any other movie I have ever seen. Nick and Nora Charles (William Powell and Myrna Loy) are hilarious and unapologetic drunks, retired private detectives, and they know how to host one hell of a party. This one in particular is a holiday party, no less, and martinis are the drink of choice. Their mannerisms are so natural, it's like watching a slapstick clinic. And even though he didn't direct the film, the dialogue has that Howard Hawks-like rapid-fire vernacular.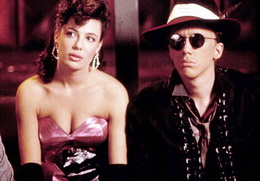 3. Weird Science (1985)
Anthony Michael Hall, where have you gone? (Ed. note: He's the newscaster/interviewer in "The Dark Knight"!) Here's another "My parents are gone for the weekend" movie. Kelly LeBrock ushered me into manhood in this movie (I know I'm not alone), and during my parties while my parents were gone for the weekend, I always kind of expected her to walk in the front door. Gary (Hall) and Wyatt (Ilan Mitchell-Smith) think that she is using her magic to make them popular, when in actuality they are just no longer afraid of being themselves. This is also one of the few movies that deal with the day after  pick-up, even if it is in a magical "Cat in the Hat" kind of way.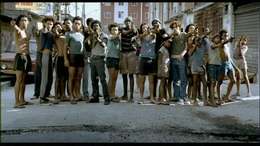 2. City of God (2002)
The music, the atmosphere, the dancing, the women: everything a party should be. It doesn't end very well, but that doesn't take anything away from the great time that was being had by all in this violent neighborhood in Rio de Janiero. The street party in  Fernando Merielles' "Cidade de Deus" (original language title) is the moment where we get to see these children who have been shown nothing but violence and hatred their entire lives become men. They are able to reflect back and look to the future. It is one of only a handful of scenes in the entire film that offer a glimpse of promise.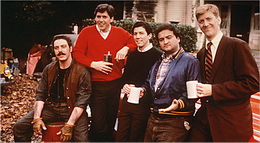 1. Animal House (1978)
No big surprise here. I don't have any particular scene in mind. The entire movie is one big party. It is iconic. John Landis directed this frat house classic that made John Belushi a star. I suppose if I had to name one scene it would be the Toga, Toga, Toga party. Otis Day and the Knights singing "Shout" (a band that barely missed making Eric's Top 10 Fictional Bands list) has made it impossible for me not to hear that song and think of this movie and all its decedant splendor. Bluto (Belushi) is the personification of all things hedonistic, and has been a role model for college students ever since.