Elliot Kort and Abby Olcese are the Two Awesome Movie Nerds from Lawrence, KS. Once we get the new, completely interactive Scene-Stealers redesign up and running, you can see their reviews here, but for now, check out their YouTube page. If you have a Top 10 list of your own, email to me at eric@scene-stealers.com. Here's the Two Awesome Movie Nerds:
The debate concerning the best actors of all time rages incessantly. The discussion of their best performances is also always close at hand. But there's another kind of performer—one of a working class—that toils on, unheralded and unappreciated. From the sleekest to the fastest to the deadliest to the most iconic, each of these cars added to its respective film in an incalculable way. They're characters unto themselves and worthy of any gear head's bated breath and utter awe. It is for that reason that we bring you this, a Top 10 list celebrating the best automobiles in cinema.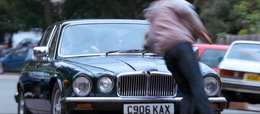 10. Philip's Jag from "Shaun of the Dead" (2004)
Abby: If you're going to run from the zombies, you want to do it in style, so why not a Jag? Philip's 1986 Jaguar XJ12 Series III (Thanks Internet Movie Car Database!) is a classy little model. If given the chance, I'd "accidentally" crash my undead roommate's far less superior vehicle to get behind the wheel of this car, too. The child locks may not be so great if you're stuck inside with a zombie—definitely not "safety first"—but for outrunning the living dead, you could do a heck of a lot worse.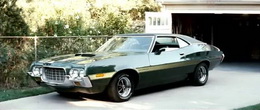 9. The Gran Torino from "Gran Torino" (2008)
Elliot: A movie set in the heart of Motor City wouldn't be complete without a shining example of Detroit muscle. Clint Eastwood's "Gran Torino" is no different. Though Eastwood's snarling Walt Kowalski drives a beat-up pickup most of the time, it's clear to see why the timeless Ford is his pride and joy. The car comes to mean much more to viewers over the course of the film, of course, as it becomes both a means of redemption as well as a symbol of friendship.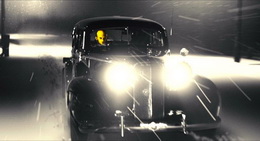 8. The automotive ensemble of "Sin City" (2005)
Elliot: For Frank Miller, it's the Holy Trinity of his comics: beautiful women, hardened men in trench coats, and fast cars. From vintage Cadillacs to classic Mercedes to souped-up Ferrari, Miller fetishes his cars as much as he does his sexy heroines. So when Robert Rodriguez decides to adapt his series into a pulpy cinematic wonder, the wheels had to come with it. Consultants for the movie scoured the South for cars matching the models that Miller referenced in his books. The results are quite stunning.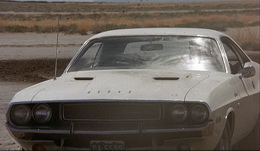 7. The 1970 Dodge Challenger from "Vanishing Point" (1971)
Elliot: This cult B-movie hit is what has been described as a "car-person's car movie." The story of a strung-out cop on the run from Denver to San Francisco pales in comparison to the breathtaking and death-defying car stunts that made the film a legend. Its impact has been felt across decades and mediums; from Tarantino's love letter to the flick in his own "Death Proof" (his half of "Grindhouse") to Audioslave's tribute music video "Show Me How to Live."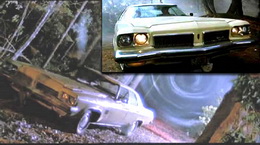 6. The 1973 Oldsmobile Delta 88 Holiday sedan from the "Evil Dead" trilogy (1981/87/92)
Abby: If I had to describe this infamous vehicle in one word: Groovy. (Sorry. Couldn't help it.) Bruce Campbell's Oldsmobile is just as tough as he is, surviving three attacks by demons and deadites during the course of Sam Raimi's classic low-budget trilogy. My personal favorite use of the Olds is in "Army of Darkness" when it undergoes the transformation from a total wreck to a badass deadite-destroying car-copter. Given how much this car goes through over the course of the movies, I wouldn't be too quick to buy it on a used car lot, but you've still got to admire its tenacity.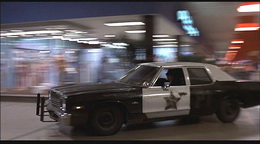 5. The 1974 Dodge Monaco cop car from "The Blues Brothers" (1980)
Abby: Like so many of the other cars on this list, Jake and Elwood's shady secondhand police car is its own character. And like the "Evil Dead" Oldsmobile, it sees its fair share of scraps. It flies through the air more times than I can count and causes more wrecks than the Batmobile did in "Batman Begins" ("The Blues Brothers" holds a record for most car crashes). If that weren't enough, it gets driven through a mall. This beat up hunk of metal isn't the most gorgeous ride around, but it's sure one of the most reliable. Like Jake and Elwood, it's rough around the edges, but it gets the job done.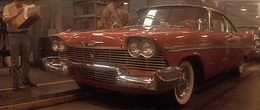 4. Christine, the 1958 Plymouth Fury from "Christine" (1983)
Abby: She's a beaut, but she's also got a mean streak a mile wide. To be frank, I'm a little afraid of putting the titular car from John Carpenter's 1983 movie (adapted from Stephen King's book) this far up on the list. If there's one thing I know about that car, it's that she's vindictive. I don't know about you, but I don't want that thing coming after me. Fun fact: To shoot Christine "repairing herself," hydraulic pumps were installed inside the body work of some of plastic stunt-double cars used during shooting. The pumps were attached to cables that in turn were attached to the body work and sucked the paneling inwards when compressed. The footage of the imploding cars was reversed to get the regeneration effect. Pretty neat, huh?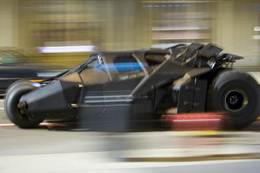 3. The Tumbler Batmobile from "Batman Begins" (2005)

Abby: I could have picked any incarnation of the Batmobile, really. I mean, it's the Batmobile. But, believe it or not, the Batmobile from "Batman Begins" was the first model that made me think "I want that." I was skeptical when I saw the press photos before the movie came out. But then I saw it in action, and all my doubts dissolved in cloud of awe. Sure, the Tumbler's not slick and super-chic like some models, but I don't care about that. This Batmobile can jump roofs. It can fire missiles. It is a freaking tank. If you put all the different versions of the Batmobile in a cage match, you know the Tumbler would win. Why? Because it would crush all those other girly models underneath its sedan-sized wheels like toothpicks. The Tumbler rules. End of discussion.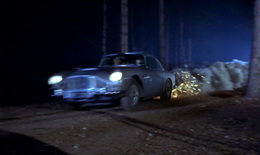 2. The Aston Martin DB5 from "Goldfinger" (1964)

Abby: You want iconic? Try this baby on for size. It's the classic Bondmobile. First off, it looks like a bullet, which is awesome. Secondly, it's got special features out the wazoo. Machine guns? Check. Ejector seat? Check. Bulletproof glass? Oil-slick deployer? Rotating license plate? Smoke screen? Check, check, check, and check. The only thing it's missing is GPS. But "Goldfinger" came out in 1964, so I'll let that one slide. This is the car that started the automotive gadgetry trend in the Bond movies, and spy movies in general. Aside from the Batmobile, it's the car I've always wanted to have. We'd have to be utter fools not to include it on our list.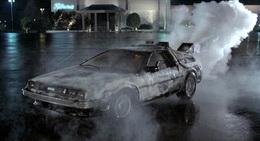 1. The 1981 DeLorean DMC 12 from "Back to the Future" (1985)

Elliot: Oh, come on. You had to know this was coming. Ever since Marty McFly hopped into the driver's seat and floored it to 88 miles-per-hour, this auto has ruled over the rest. From its sweeping gull-wing doors to the stainless steel finish, the DeLorean's design just screams sci-fi glory. The film solidified the iconic status of the film so much that John DeLorean himself wrote a letter to one of the film's producers thanking him for celebrating the car. Of course, models on the streets today are void of Doc Brown's signature flux capacitor and rear vents. But even still, seeing one roll down the street, one can't help but remember: "Roads? Where we're going, we don't need roads."