Our Top 10 list today comes from Sean O'Connell, a frequent sitegoer who lives in Rockaway, New York City. If you have a Top 10 list you'd like to contribute, email me at eric@scene-stealers.com. Here's Sean:
I have always overheard people say that there is no stronger bond than that of sisters. The opposite is true when it comes to Hollywood: There is no stronger bond than brothers. This list contains the top 10 movie brothers of all time. In order to qualify for this list, they had to be established as brothers early on in the movie. There can be no secret revelation at the end of the film—for instance, at the end of "Goldmember" when it's revealed that Austin Powers and Dr. Evil are brothers. Christian Slater revealing to Kevin Costner that he is the one and only brother of Robin Hood in "Robin Hood: Prince of Thieves" will also not be on this list. (For that and many other reasons as well.) My apologies to Charlie and Raymond Babbitt ("Rain Man"), since they just missed the cut. So until Quentin Tarantino makes the long overdue Vincent & Vic Vega film, here are the Top 10 Movie Brothers of all time.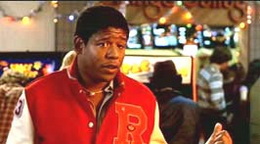 10. "Fast Times at Ridgemont High" (1982) Charles Jefferson & little brother
This classic high school comedy is not about brothers, but the Jefferson brothers make the best of what little time they have—appearing in only two scenes together. Charles Jefferson (Forest Whitaker) is the star football player for Ridgemont High. His little brother, whose character name is listed as "Jefferson's brother" (portrayed by Stanley Davis Jr.), is a slacker and best friends with Jeff Spicoli (Sean Penn). All that big brother Charles wants to do for his younger brother is get him Earth Wind & Fire tickets. His little brother pays him back by (along with Spicoli) destroying Charles's beloved car bought for him by the alumni, which leads to the funniest football scene in any movie ("Hit by Jefferson, crushed by Jefferson!")
Jefferson's Brother: "First he's gonna s#*%, then he's gonna kill us"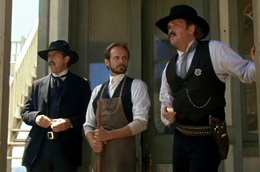 9. "Wyatt Earp" (1994) / "Tombstone" (1993) The Earps
These are the only real-life brothers to make the list. The famous law enforcement threesome, made up of Wyatt, Virgil, and Morgan (James does not make the list because he was not a sheriff), took part in one of the most remembered old west gunfights ever portrayed on film. Name another group of brothers who could walk down the street in the middle of the day—carrying guns, dressed in black, and wearing really big mustaches—and open fire on the bad guys. The battle at the O.K. Corral has been filmed numerous times over the years, but I went with the most recent two portrayals because they were the most graphic. From the Kevin Costner-led "Wyatt Earp":
Wyatt Earp: "My name's Wyatt Earp… it all ends now!"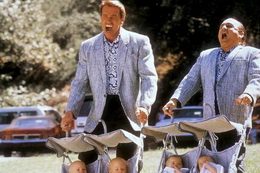 8. "Twins" (1988) Julius and Vincent Benedict
Julius (Arnold Schwarzenegger) and Vincent (Danny DeVito) are twin brothers, born as a result of a science experiment, and separated at birth. Once Julius finds out he has a brother, he sets out to Los Angeles to find him and hi-jinx ensue. The jokes in this movie obviously play on the fact that the two stars are so polar opposite, but they work. By the end, you find yourself actually liking the characters and convincing yourself that they could be brothers. Fortunately, Hollywood did not try to cash in on the success of this movie and continue the adventures of the Benedict brothers (they instead went with the Schwarzenegger bomb known as "Junior") and left this movie to stand on its own.
Julius Benedict: "No, I could never fight for money.
Vincent Benedict: "Well that's fine. You fight, I'll keep the money."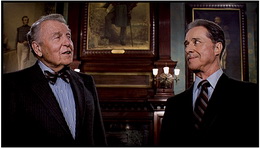 7. "Trading Places" (1983) Mortimer and Randolph Duke
These two callous millionaires (portrayed by Don Ameche and Ralph Bellamy) get their kicks by placing crazy wagers for high stakes ($1!) that result in changing the lives of a common criminal (Eddie Murphy) and a commodity broker (Dan Aykroyd). Even though these two brothers are in their 70s, they still work together, live together, and probably never married because they had each other. They are even the best of friends—until they lose all their money of course. The Dukes would make a triumphant return to the big screen five years ago in "Coming to America," where we find out they are now homeless. But you can't keep a good pair of brothers down for long. Prince Akeem (Eddie Murphy) gives them a bag full of money which prompts Mortimer to say to Randolph, "We're back!"
Randolph Duke: "Mother always said you were greedy."
Mortimer Duke: "She meant it as a compliment."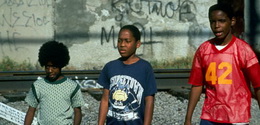 6. "Boyz N the Hood" (1991) Ricky & Doughboy Baker
This is the second movie on the list to have two brothers who are totally opposite. Ricky (Morris Chestnut) is a high school football star who dreams of one day getting out of the hood on a football scholarship. His half brother Doughboy (Ice Cube) is a street gangsta who gives in to the violence, alcohol, and crime surrounding him in his environment. These brothers make the list because Doughboy single-handedly takes down all the people involved in the Ricky's death. Now if that is not having your brother's back, then I don't know what is.
Doughboy: "Either they don't know, don't show, or don't care about what's going on in the hood. They had all this foreign s#@!. They didn't have s#@ on my brother, man."
5. "Backdraft" (1991) Stephen and Brian McCaffery
These Irish brothers find themselves drinking, fighting, destroying their own personal relationships, and hating each other. Stephen (Kurt Russell) is forced to raise Brian (William Baldwin) after their father (also Kurt Russell) dies in a fire. Both brothers join the family business and fight fires together while trying to figure out an arson mystery, but still find time to despise each other. This does not mean that someone else can bad mouth either of them, as is proven when a fight breaks out at a retirement party between Stephen and his ex-wife's new boyfriend as a result of the boyfriend calling Brian dumb: "You got something else to say about my brother!" The McCafferys find time to make up for years of annoying and misunderstanding each other just in time for Stephen to die. Now that is timing.
Stephen McCaffery: "Who's your brother Brian?"
Brian McCaffery: "You are Stephen."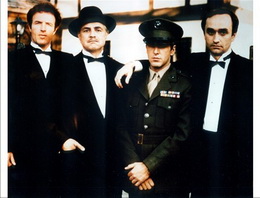 4. "The Godfather" and "The Godfather Part II" (1972/1974) The Corleone Brothers
OK, first of all "The Godfather Part III" is not on this list for many reasons, but for the purposes of this Top 10, there was only one brother left in the movie (Al Pacino). The first two movies highlighted the most famous organized crime brothers ever portrayed on the silver screen: Sonny, Fredo, Michael, and even Tommy Hagen (he was "adopted" after all.) All-star actors James Caan, John Cazale, Al Pacino and Robert Duvall portrayed these brothers. Each brother brings something different to the table; Sonny is headstrong, but violent and impulsive. Fredo is kind and trusting (apparently too trusting). Tommy (of Irish descent) was found by Sonny living in the streets, was taken in by Vito Corleone just for the purpose of one day sending him to law school so he can become the family consigliere. Last but not least, there's Michael who starts out innocent but by the end of the story he is a cold hearted, ruthless monster. These brothers would rank higher if it weren't for the backstabbing (or back-shooting) that takes place between them. Sonny berates Michael whenever he expresses interest in the family business, Michael starts to treat Tommy as an outsider, and they all look at Fredo as useless—Sonny even sends him away to Vegas. The last act of brother betrayal rivals Cain and Abel, as Michael orders a hit on his own brother and watches it happen from the boat house.
Michael Corleone: "Fredo, you're my older brother, and I love you. But don't ever take sides with anyone against the Family again. Ever"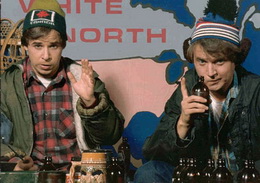 3. "Strange Brew" (1983) Bob and Doug McKenzie
You knew they were coming. Canadian brothers Doug (Dave Thomas) and Bob (Rick Moranis) spend a lot of quality time with each other. OK, they spend a lot of time drinking beer, talking about beer, and trying to get free beer (the mouse-in-bottle trick is one classic way to accomplish that). They even save each other's lives by drinking beer underwater in order to not drown. The main reason these brothers are high in the list is that they were able to make the leap from small screen ("SCTV") to the big screen and never get boring or played out. They took a five-minute sketch and turned it into an instant comedy classic. Here they are reviewing their own movie in 1983 on PBS' "Sneak Previews."
Bob McKenzie: "My brother and I used to say that drownin' in beer was like heaven, eh? Now he's not here, and I've got two soakers… this isn't heaven, this sucks."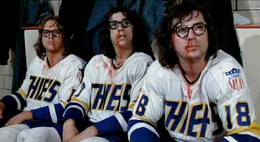 2. "Slap Shot" (1977) The Hanson Brothers
These three hockey-playing brothers add a tremendous punch (literally and figuratively) once they enter the movie about midway through. The Charlestown Chiefs are a struggling minor league hockey team with low attendance but that all changes when Reggie Dunlop (Paul Newman) decides to give the newly acquired Hansons a chance off the bench. Jeff, Steve, and Jack Hanson (Jeff Carlson, Steve Carlson, and David Hanson) immediately add life to the Chiefs by fighting all the competition. They fight during warm ups, they jump in the stands to fight the fans, they get arrested, they fight vending machines, they wear tin foil on their hands, they were thick black glasses, and they even pack their toys for road trips. The Hansons add the needed passion for the Chiefs to eventually make it to the championship game. The main reason the Hansons bumped the McKenzies for the second spot was because real hockey players who had never acted before portrayed them. What's even more interesting is Jeff and Steve are real-life brothers. Their other brother Jack was originally supposed to be in the film but was called up from the minors and replaced by David Hanson weeks before filming started. The reason these brothers did not make the top spot was because of "Slap Shot 2" and Slap Shot 3." The Hansons also have trouble letting go of the past—they apparently travel the country as their alter egos. I prefer to remember them in their glorious prime of 1977 and will never waste my time watching the sequels.
[Referee skates over to Steve Carlson during the playing of the National Anthem]
Referee: "I got my eye on the three of you. You pull one thing, you're out of this game. I run a clean game here. I have any trouble here, I'll suspend ya."
Steve Hanson: "I'm listening to the f*!#@$%g song!"
1. "The Blues Brothers" (1980) Jake and Elwood Blues
The top spot respectfully belongs to John Belushi and Dan Aykroyd for their turn as two orphan brothers who were raised on rhythm and blues. This is the second set of brothers to make the leap to the movies from television, but what is amazing about the Blues Brothers is that their first performance on "Saturday Night Live," which took place on April 22, 1978 ("Soul Man") became an overnight success, which Belushi and Aykroyd were able to cash into a successful movie. These guys were not only comedic geniuses, but they actually could sing amazingly well. Jake and Elwood take the top spot because other than the opening scene of Jake getting out of jail, they are in every scene of the movie together from beginning to end. They get chased by the police, John Candy, angry ex-fiancées (Carrie Fisher), The Good Ol' Boys, Bunker Bob, swat teams, the national guard, and even the Illinois Nazis throughout the whole movie and still find time to raise money for their old orphanage and become heroes. OK, they go to jail, but they are still heroes to me. Watching them never lose their calm during high-speed chases or attempts on their life is part of their charm. They destroy a shopping mall by driving through it, but still have time to comment on all the new stores that have opened up and all the space it has. Aykroyd and Belushi not have been real brothers but they are greatest movie brothers of all time.
Elwood Blues: "It's 106 miles to Chicago, we got a full tank of gas, half a pack of cigarettes, it's dark, and we're wearing sunglasses."
Jake Blues: "Hit it."