WARNING: Please do not read/look any further if you are easily offended. This list is graphic, and NOT for the faint of heart. Scene-Stealers sitegoer and EMU Theater member Sara Langford was inspired to create this list after seeing our review of "The Wrestler." In it, my co-host Whitney Mathews was disturbed by the violence in the film. Sara's thought was "Geez, you haven't seen anything." So here's a Top 10 list that Sara says has been sitting in her brain for a while. "I'm not sure the scene descriptions are 100 percent accurate because frankly, I don't want to re-watch any of it!" she writes. This is similar to something J.D. and I did awhile ago—the Top 10 Great Movies No One Should Have to See More Than Once—except Sara is not commenting on the quality of the movies, but instead merely pointing out what she viewed as extreme brutality. Please chime in and let her know if her memory served her correctly or how these movies affected you. I know there are some sickos out there who have seen this stuff more than once! If you'd like to contribute your own Top 10 to Scene-Stealers, email your idea at eric@scene-stealers.com. Here's Sara:
I spent a great deal of my teens and twenties seeking out shocking movies like a drug addict looks for a fix. I've moved on, but the memory of what I've seen stays with me. These aren't the goriest or bloodiest moments, they are the ones that made me turn away from the screen or squirm in my chair. They are the ones I remember so vividly that I feel like a post-traumatic stress disorder victim. For your non-enjoyment, it's my Top 10 Most Unnerving Movie Scenes.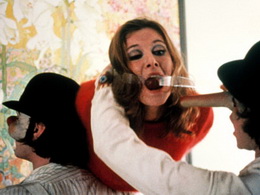 10. A Clockwork Orange (1971) home invasion scene
This seems tame now compared to some of the other flicks, but it always frightens me seeing Alex (Malcolm McDowell) and his droogs in their freaky masks breaking into the home, tying a woman up, and kicking the man while doing a song and dance to "Singin' In the Rain." It usually results in a lot of head-shaking on my part and "I can't believe there might be sickos like this out in the world." What's most disturbing about this particular scene in Stanley Kubrick's diystopian nightmare is the casualness that the gang displays. They're not angry or crazy; they're just getting some kicks. Nothing like a little ultra-violence to brighten your day, right?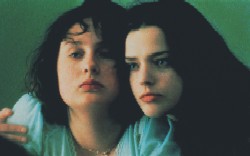 9. Fat Girl (2001) car attack
(SPOILER ALERT!) If I had a list for most unexpected endings, this French film by Catherine Breillat would probably top it. Thinking about it now, I'm still not sure if the ending was appropriate or if it was just some last-minute, tacked-on shock tactic. Pretty older sister Elena and her younger chubby sister Anais go on holiday. 12-year old Anais is fascinated by her sister's affair with a man (who is much too old) and becomes obsessed with her own virginity. I will give props to this movie for accurately capturing the mind of a child who lacks forethought and seems to have confused self-growth with self-destruction. However, the ending in which a psychotic trucker attacks the sisters and their mother at a rest stop left me reeling in a bad way. The attacker climbs onto the car, smashes through the window and brutally murders Elena and her mother. He then rapes Anais who tells the police after the fact that it's all good. Somewhere in her little half-formed brain, she's happy about having lost her virginity. The scene of violence is certainly unnerving and the end result makes it even worse—the protagonist experiences a change…in the worst possible way. A statement about society? It's probably intended to be, but I'd rather get that message through subtlety than through jarring violence.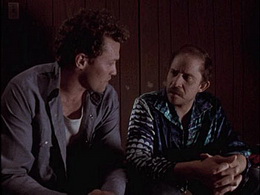 8. Henry: Portrait of a Serial Killer (1986) video scene
Based loosely on the life of Henry Lee Lucas, John McNaughton's "Henry: Portrait of a Serial Killer" stars Michael Rooker as a man so sick, he killed his own mother. This movie is frightening for its realism and one of the most uneasy scenes involves Henry and his killing companion Otis (Tom Towles) as they view a sweet little home movie they made. They casually sit on their couch and watch themselves on video as they murder a middle-class couple in their home. The viewer sees everything they see and the television framing the video makes it feel as if you're actually watching a snuff film. At the end, Otis rewinds the video. "What are you doing?" Henry says. Otis: "I wanna watch it again." Disturbing.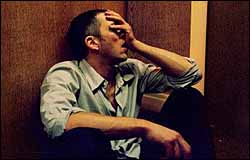 7. Irreversible (2002) fire extinguisher scene
Yes, the rape scene with Monica Belucci was brutal and went on for much too long, but that was well after I had already been traumatized by Gaspar Noé's backwards-moving shocker. I absolutely refuse to watch "Irreversible" again in order to accurately describe what happens here. I'll just say that it involves a fire extinguisher, a man's head, and movie-watchers everywhere throwing their arms up in front of their faces to cover their eyes.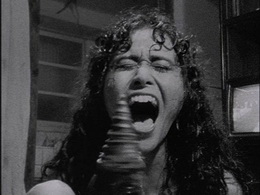 6. Tetsuo: The Iron Man (1989) drill scene
"Tetsuo: The Iron Man" is a black and white surreal Japanese cyberpunk film about a man that turns into a twisted heap of scrap metal due to an unfortunate run-in with a masochist/metal fetishist. During the scene in question, the man's, er, private bits turn into a giant drill which he uses to slaughter his girlfriend. Well, it's more like an accident, because I think he was trying to do something else. I would be lying if I didn't say the entire movie was a rather uncomfortable experience. It's definitely ahead of its time and masterfully made by director Shinya Tsukamoto, but rather hard for the average movie buff to stomach.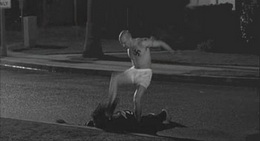 5. American History X (1998) curb stomp
I described this to a friend who covered her mouth and gasped. This is one of those moments you don't have to see in order to understand how disturbing it is. It's strangely simple compared to the rest of this list, yet just as awful. A neo-Nazi (Edward Norton) places a man's open mouth on the edge of a curb and then stomps on his head, breaking his neck. The acting in this scene is stupendous and it drives the action for much of the rest of the film, so I almost can't fault it for its graphic content. Still, I think I'll fast-forward through this bit if I ever watch it again.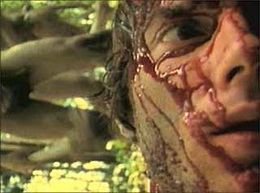 4. Cannibal Holocaust (1980) turtle scene
The director of this worthless waste of film, Ruggero Deodato, was arrested in Italy because this movie looked so realistic that authorities believed he had made a snuff film. The violence against people in this movie was certainly disturbing (there's the infamous impalement scene for one), but the fact that the animals killed in the film were actually real bothers me to no end. As a child, I wept in the theater during "Dances with Wolves" when Two Socks was shot (That's an embarrassing admission). This disdain for violence against animals has stuck with me since then and "Cannibal Holocaust" is the worst offender. In this scene, a team of documentarians in the jungle yank a turtle out a river and decapitate it. One guy proceeds to jokingly show its brutalized flesh to the camera. Isn't that just hilarious? To top it off we're then shown a close-up of the turtle corpse…twitching. (Hey, maybe this film isn't a waste—it sure would make a nice gift for those annoying vegetarians in my life.)
3. Last House on the Left (1972) last rape scene
As co-president and founder of my high school's Horror Movie Club (created solely so we could skip third hour once a week to watch movies), I thought it was important to see every Wes Craven film. Alas, this was nothing like "A Nightmare on Elm Street." It was far scarier because I became convinced gangs of sociopaths were lurking around every corner of my relatively safe hometown. The whole premise of the movie is difficult to swallow: Two teen girls are kidnapped by a band of thugs, gang-raped, humiliated and tortured. I haven't seen the director's cut, which reportedly features disemboweling (damn, that's too bad), so this scene stands out. The thugs stumble upon one of the girls in the woods and prior to raping her, they throw her friend's severed arm on the ground for her to see. Yeah, nice touch. After a nasty piece of work named Krug does his business (and I won't go into detail about that), a folk-style love ballad (WTF?!) starts playing, and the girl walks off into a lake only to be shot in the back. What's worse than this? The fact that they're remaking the movie. Unbelievable.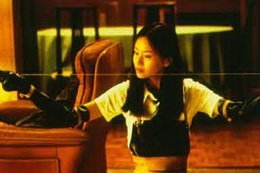 2. Audition (1999) piano-wire scene and Ichi the Killer (2001) torture scene
These scenes tie because they both come from the twisted mind of Takashi Miike, whose catalog falls mostly into the shocking category. He seems to thrive on finding the most disturbing yet hilarious ways to off his characters. Whether it's a ladle through the bum ("Gozu") or a sumo wrestler dying of a heart attack mid-coitis and smothering his tiny girlfriend (horror-musical "The Happiness of the Katakuris"), Miike has the market tapped on weird/funny/violent movie moments. In "Audition," a seemingly innocent Japanese girl places vice grips around a businessman's ankles and then nonchalantly cuts his feet off with piano wire. "You can't go anywhere without feet. This wire can cut through bone and meat easily." I tend to watch movies alone and this scene had me so disturbed, I ran into the other room shouting nonsense to my roommate: "Oh my god…ew…oh my god!" She thought something terrible had happened. Nope, it was just the piano wire scene."Ichi the Killer" is a film filled with so much outrageous gore you can't help but giggle. In one scene, a severed face slides down a wall. In another, a man is sliced in half by a shoe rigged with a blade. The execution of these scenes made them somewhat laughable, but the torture scene was plain painful to watch. A man hangs from the ceiling by several small meat hooks in his back while his torturer, Ichi, stabs a long needle through his face and then pours boiling oil over his back. Not cool.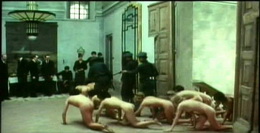 1. Salò or 120 Days of Sodom (1975) dookie banquet
Pier Paolo Pasonlini's last film is a nihilistic torturefest where young naked people run around a fancy villa being raped and humiliated by power-hungry fascists. "Salò" loosely parallels Dante's "Inferno," but it also transposes the setting of the Marquis de Sade's infamous book "120 Days of Sodom" from 18th century France to the last days of Benito Mussolini's regime in the Republic of Salò. Murder and rape are certainly difficult to watch, but do either of those things make the number one spot on this list? No. Poo-eating makes the top spot. It was gross in John Waters' "Pink Flamingos," but watching a 300-pound drag queen named Divine do it willingly in that film was a little different than seeing young slaves being forced do it against their will in this one. Totally unnecessary and unwatchable.