The recent release of Snow White and the Huntsman started me thinking back on Hollywood's best live-action fairy tales. Sure, when we think movie fairy tales Disney's animated classic films immediately come to mind, but over the years there have been several attempts to adapt, or create new, fairy tales without the use of animation. Many are best forgotten, but it turns out there are quite a few worthy of discussion. With apologies to The NeverEnding Story and Ever After (both of which will have to settle for honorable mentions), here are the Top Ten Live-Action Fairy Tale Movies.
10. Labyrinth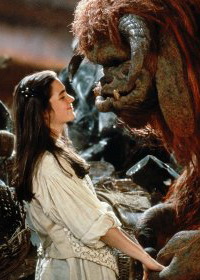 Our list begins with David Bowie as a Goblin King and a young Jennifer Connelly on a quest to navigate an elaborate labyrinth and save her baby brother who she rashly wished would be taken away by goblins in a moment of anger. Aside from goblins, the film features us an obstinate dwarf (Brian Henson), magic, an assortment of odd creatures (created by director Jim Henson's famous Creature Shop) and a series of puzzles and obstacles to be overcome. Although initially seen as both a box office and critical disappointment (it would be the last film Henson would direct before his death), the film has found success on home video and managed to cultivate quite a fervent cult following online.
9. Splash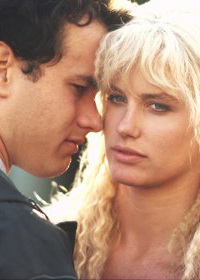 Half a decade before Ariel swam out of the sea to fall in love with Eric in Disney's The Little Mermaid wholesale fruit owner Allen Bauer (Tom Hanks) fell in love with a mermaid (Daryl Hannah) of his own in this charming fairy tale romantic comedy which casts Eugene Levy as a misguided villain intent on exposing the woman's secret. Even after learning the truth, Allen is unable to give up on the woman he loves and ends up saving her from military experimentation before the couple rides, make that swims, off into the sunset together. The film was a commercial and critical success (it even got an Oscar nomination for Best Original Screenplay) that spawned a made-for-TV sequel that no one I've ever met has admitted to seeing.
8. Legend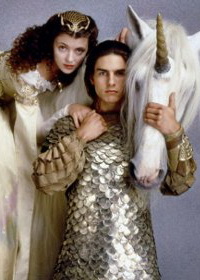 Director Ridley Scott's 1985 fairy tale centered around a Lord of Darkness (Tim Curry) and his plans to kill to two unicorns vanquishing The Light and releasing his evil into the world. The only thing preventing his plan are an unlikely group of heroes in a "forest child" (Tom Cruise), a mischievous princess (Mia Sara), an elf (David Bennent), a fairy (Annabelle Lanyon), and two dwarves (Billy Barty. Cork Hubbert). Only 89 minutes of Scott's original 125-minute cut of the film made it into theaters (although a longer version has been released on DVD and Blu-ray). Legend met with a mixed response from critics although it did earn multiple award nominations for special effects and makeup (which includes the terrific design of Curry's character).
7. Enchanted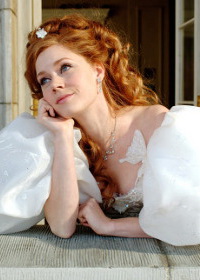 Amy Adams stars as a fairy tale princess trapped in New York City in this bubbly 2007 adventure. We get an evil queen (Susan Sarandon) with her loyal toady (Timothy Spall), not one but two dashing heroes (Patrick Dempsey, James Marsden), talking animals, true love's first kiss, and some memorable musical numbers. Adams runs with the eternally optimistic and romantic character who makes the best out of her time in a new world and begins to think for herself and discover where her heart truly lies. The film found praise with critics as well as at the box office (where it opened at #1) an earned three Oscar nominations and a Golden Globe nomination for Adams.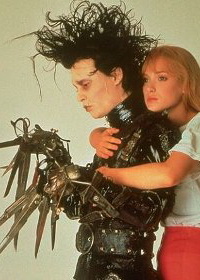 You can tell right from the start that Edward Scissorhands came from the mind of writer/director Tim Burton. And yet there's something wistful about Burton's melancholy tale of a skittish young man named Edward (Johnny Depp) with scissors for hands who falls deeply in love with a teenage girl (Winona Ryder) that tugs at the heartsrings in a way most of the director's films do not. The film may not deliver a traditional happy ending found in most fairy tales but trademark scenes of the misunderstood monster, flawed characters somewhat more (and less) than human, and tragic love are very much staples of the genre. Two decades after it's release theaters, it is still considered one of Burton's best films.
5. Excalibur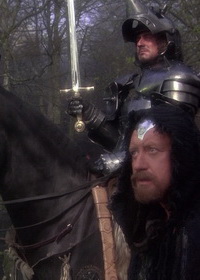 Whereas recent movies on King Arthur have attempted to ground the legend in history, director John Boorman's 1981 film embraced the magic and mythical elements pushing it far more into the realm of a fairy tale. We get the mysterious Lady of the Lake, the sword from the stone, the breadth of the dragon, the Holy Grail, and the villainous maneuverings of Morgana (Helen Mirren) and Arthur's bastard son Modred (Robert Addie). The film packs much of the legend into the movie including Merlin (Nicol Williamson), and the rise and tragic fall of Arthur (Nigel Terry) and Camelot. Excalibur is also responsible for helping to launch the careers of Gabriel Byrne, Liam Neeson, Ciarán Hinds, and Patrick Stewart.
4. Ladyhawke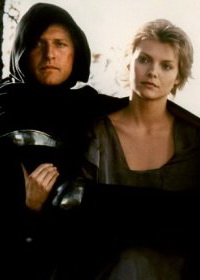 A pair of starcrossed lovers (Rutger Hauer, Michelle Pfeiffer), an evil ruler (John Wood), a curse, revenge, a fallen hero's (Leo McKern) chance at redemption, and a comedic character (Matthew Broderick) on whom the fate of all rely – now, I ask you, what's not to love? It's arguably the best film for everyone involved. Broderick stars as a thief who, through fate or chance, finds himself lost in the tragic love story of a former Captain of the Guard (Hauer) and a noble woman (Pfeiffer) who are trapped in a curse that keeps them always together but forever apart. The film won a Saturn Award for Best Fantasy Film, was nominated for two Academy Awards for sound, and is also memorable for Andrew Powell's score.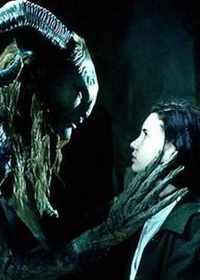 A universally hailed critical success, and the darkest film on the list, writer/director Guillermo del Toro's tale centers around a young girl named Ofelia (Ivana Baquero), the possible reincarnation of the princess of the Underworld, who escapes into a world of fantasy when she goes to live with her new stepfather, a sadistic army officer (Sergi López) during WWII. Lewis Carroll's Alice's Adventure in Wonderland helped inspire the film and several parallels can be made about a young girl stepping through the looking glass into a brave new world. Doug Jones gives us two of the film's most memorable, and important, characters – one who help guides Ofelia on her journey and one with an appetite for children.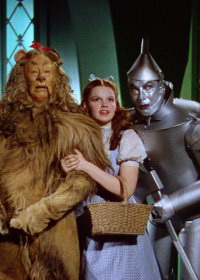 When Kansas farm girl Dorothy Gale (Judy Garland) finds herself transported to a magical world filled with witches, flying monkeys, magic, an all-powerful Oz, adventure, and and a trio of true friends in a Scarecrow (Ray Bolger), Tin Man (Jack Haley), and Cowardly Lion (Bert Lahr), she takes us along for the ride. And from Garland's solo of "Somewhere Over the Rainbow" to her clicking her heels three times, it's a hell of a ride that helped pave the way for many of films on this list and countless others. Even after more than 70 years after its release, The Wizard of Oz is considered one of the best films ever produced showing up on the top ten of several all-time movie lists including the AFI's 100 Years…100 Movies.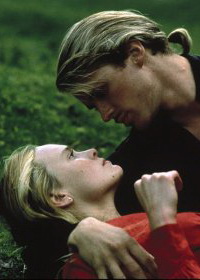 Some of the other movies on the list shuffled a bit before finding their final spot on the list but the easiest decision by far was the choice for the top spot. It was simply inconceivable that it go to any other movie. Adapted from William Goldman's book, director Rob Reiner's best film has everything you'd want: pirates, a swordsman (Mandy Patinkin) on a quest for vengeance, an evil prince (Chris Sarandon), miracles, a self-proclaimed criminal genius (Wallace Shawn), a giant (André the Giant), fire swamps, and the true love of Westley (Cary Elwes) and Buttercup (Robin Wright), all framed in the form of a story a grandfather (Peter Falk) shares with his sick grandson (Fred Savage). The Princess Bride, beloved by critics and fans the world over, is the perfect movie fairy tale.