This weekend, "30 Minutes or Less" opens in theaters, mining the well-worn territory of dumb bank robbers in movies. Some of the robberies on this list were of banks, but not all. More specifically, "30 Minutes or Less" is in the grand tradition of films about inept criminals. This list focuses on the 10 best films in that genre (although admittedly, I had to limit the amount of Coen brothers movies here to two, despite their recent corner on the market in that respect). If you'd like to contribute a Top 10 to Scene-Stealers, email me at eric@scene-stealers.com.
Enjoy the Top 10 Inept Movie Criminals.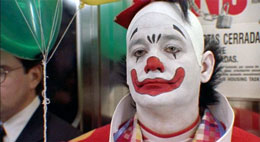 10. Quick Change (1990)
This comedy about a bank robber who dresses as a clown and has a tough time getting away with the money was a big flop for star and co-director Bill Murray when it came out. It opened at #7 that week and stalled out at 1 paltry $15 million. It's uneven for sure, but it doesn't deserve that kind of fate, and I think it's getting somewhat of a resurgence in respect lately. Murray is dry as ever, and he lets everyone else play the goofballs (Randy Quaid, Tony Shaloub, Jason Robards, and Geena Davis as his girlfriend) while he deadpans all of his lines, jaded as ever.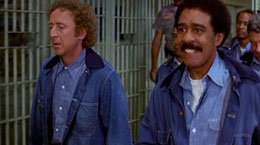 9. Stir Crazy (1980)
OK, so technically Richard Pryor and Gene Wilder weren't criminals at all in "Stir Crazy." They are out-of-work dudes making some quick cash by dancing in woodpecker costumes for a bank promotion when the real robbers use their costumes to rob the bank. But they certainly are inept convicted criminals, because the go straight to jail for the robbery. Pryor and Wilder have such great screen chemistry, and the plot never really goes anywhere, but "Stir Crazy" reaches manic hilarity several times.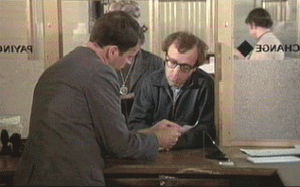 8. Take the Money and Run (1969)
Woody Allen's directorial debut introduces the bumbling crook Virgil Starkwell (Allen), a man so inept at crime that he can't even write legible holdup notes . It's definitely goofy and some of the slapstick hasn't aged well, but it's so fast-paced and it goes for so many jokes that do land soundly, that it's hard to fault it for letting some other jokes fall flat.
BANK TELLER #1: "Does this look like "gub" or "gun"?"
BANK TELLER #2: "Gun. See? But what's "abt" mean?"
VIRGIL STARKWELL: It's "act". A-C-T. Act natural. Please put fifty thousand dollars into this bag and act natural."
BANK TELLER #1: "Oh, I see. This is a holdup?"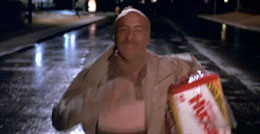 7. Raising Arizona (1987)
Remember when Nicolas Cage used to take really bizarre roles and make them even crazier? This second outing for Joel and Ethan Coen features Cage at his nutty best as H.I. "Hi" McDonnough, a career criminal who is arrested so often that he eventually falls in love with the officer who takes his mug shot photo (Holly Hunter). "Raising Arizona" is so strange it seems like it exists in its own bubble. Like a cartoon come to life, Cage runs around stealing babies, Huggies, and "whatever cash you got" while the camera zooms all over the place and from every which angle. Like most of the people on this list, Hi's got a good heart, which is what makes him so likable and honorable in his own twisted way.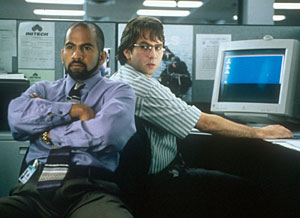 6. Office Space (1999)
Peter (Ron Livingston), Samir (Ajay Naidu), and Michael Bolton (David Herman) think they have come up with a way to get rich off the company that gainfully employs them—but which also relegates them to a soul-sucking existence. The perfectly, generically named Initech is the target of their computer scam to embezzle unnoticeable amounts of money at a time. Besides not sure if they should commit to it anyway, the plan goes awry and Peter, after weeks of living the high life as a corporate freeloader, is ready to admit it all. If it weren't for the old 'deus ex machina,' these guys would have been toast. Mike Judge's comedy remains a huge, culturally relevant hit today.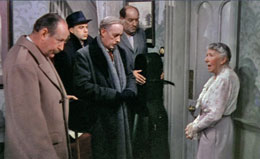 5. The Ladykillers (1955)
See, even when I'm trying to limit Coen exposure on this list, they pop up tangentially! This is not included for the confused Tom Hanks-led Coen remake in 2004, but rather for the 1955 original being a prime example of a great Ealing Studios comedy. Alec Guinness and Peter Sellers headline a cast of funny Englishmen trying to hoodwink Mrs. Wilberforce (Katie Johnson), an old lady who's smarter than she looks. (Or is she? She's asleep for most of the movie's mishaps.) The van robbery goes off without a hitch, but like "Quick Change," it's the followup that gets royally screwed up, as the criminals realize they have to off the old bag when she's on to them. Maybe the Coens would have had better luck remaking this with Steven Seagal and calling it "Hard to Kill."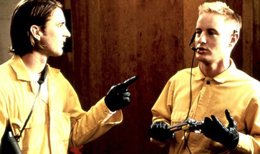 4. Bottle Rocket (1996)
Looking back at it now, Wes Anderson's debut seems more in line with the stuff he's done since then. But in 1996, this movie was idiosyncratic filmmaking that seemed to come out of nowhere, certainly not Texas. Owen Wilson co-wrote the screenplay and stars as Dignan, the sweetest would-be criminal ever put to film. A man who comes up with a great idea only to abandon it completely minutes later, Dignan is a fast-talking hot air machine. How Wilson makes him so lovable is beyond me, but "Bottle Rocket" has a sweet charm that keeps you on the edge of your seat because of the dangerous situations Dignan's naivité puts he and his friends in and because it seems like anything can happen at any time.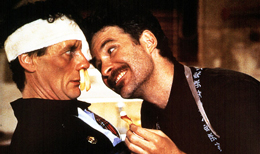 3. A Fish Called Wanda (1988)
One of the funniest and most inept criminals of all time actually won the actor who played him an Oscar. "A Fish Called Wanda" may star and be written by British comedy legend John Cleese, but its Kevin Kline's pontificating American numbskull Otto who steals the show. It's no coincidence that Ealing Studios director Charles Chrichton helmed this modern masterpiece of black comedy—Cleese was going for a classic dark farce vibe. Like many other of the movies on this list, the robbery itself is pulled off without a hitch, but getting the money out proves to be a bit much for Kline, Jamie Lee Curtis, and Michael Palin, who have never been funnier. Cleese also gets a lot of mileage out of U.S./U.K. cultural differences, and there's something very timeless about those.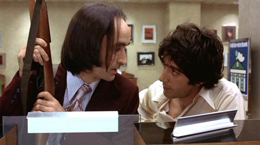 2. Dog Day Afternoon (1975)
Loosely based on a true story, Sidney Lumet's masterful black comedy/drama boasts Al Pacino's greatest performance. It also straddles the line between making fun of its protagonists (Pacino as heartbroken and disillusioned Sonny and the wonderful John Cazale as the sympathetic Sal) while squeezing every ounce of danger and tension out of the unlikely hostage situation they have gotten themselves into. Like "Bottle Rocket," "Dog Day Afternoon" seems to be on a fast track to anywhere without any safety rails. As unpredictable as it is affecting, the movie also serves as a perfect snapshot of New York's cultural diversity and growing pains in the 1970s. Sometimes a movie just works on every level perfectly, and this is one of those films.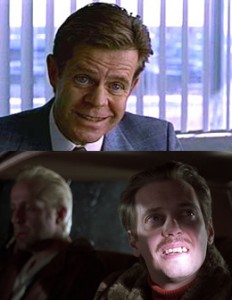 1. Fargo (1996)
Not one but three of the best bumbling crooks ever committed to film reside in "Fargo." Actually, the movie takes place in Minnesota, which is the first of many times that Joel and Ethan Coen pull the wool over our eyes in this classic, their best film to date. Oh, Jerry Lundegaard, how I love you. William H. Macy's desperate sense of self-righteousness is by turns pathetic and sympathetic. He's just trying to be a man. At least that's what he tells himself as he hires Steve Buscemi (Carl) and Peter Stormare (Gaear) to kidnap his wife in order to extort money out of his father-in-law. Buscemi has never been better either, and Stormare's hulking dimwit is as truly frightening as he his funny—in a really dark, dark way. It's this film that balances the Coens' black humor with their knack for staging uncomfortable drama perfectly and Jerry, Carl, and Gaear are eminently re-watchable inept criminals. She's on the other side of the law, but I didn't even have time to mention sweet Margie (Frances McDormand)!
Jerry Lundegaard: [answering the phone] Jerry Lundegaard.
Carl Showalter: [voice over the phone] Alright, Jerry, you got the phone to yourself? Are you alone?
Jerry Lundegaard: [into the phone] Well, yeah.
Carl Showalter: [voice] You know who this is?
Jerry Lundegaard: Well, yeah, I got an idea. How's that Ciera working out for ya?
Carl Showalter: [voice] Circumstances have changed, Jerry.
Jerry Lundegaard: Well, what do ya mean?
Carl Showalter: [voice] Things have changed, circumstances, Jerry… force majeure, acts of God.
Jerry Lundegaard: How's Jean?
Carl Showalter: [puzzled] Who's Jean?
Jerry Lundegaard: My wife! What the-?
Carl Showalter: Oh… right. She's alright, but there's a few people in Brainerd who aren't so okay, I'll tell you that.
Jerry Lundegaard: What the heck are ya talking about? Let's just finish this deal up here.
Carl Showalter: Blood has been shed, Jerry.
Jerry Lundegaard: What the heck do ya mean?
Carl Showalter: Three people, in Brainerd… are dead.
Jerry Lundegaard: Oh, jeez!
Carl Showalter: That's right, we need more money.
Jerry Lundegaard: What the heck are ya talking about? What do you fellas have yourself mixed up in?
Carl Showalter: Never mind. We need more money…
Jerry Lundegaard: [interrupting] This was supposed to be a no rough stuff type deal!
Carl Showalter: [angry] DON'T EVER INTERRUPT ME, JERRY! JUST SHUT THE FUCK UP!
Jerry Lundegaard: Well, I'm sorry, but I just… I don't…
Carl Showalter: I'm not gonna debate with you, Jerry! I'm not gonna debate! Three people in Brainerd were killed. We now want the entire 80,000!
Jerry Lundegaard: Oh, for chris'sake here!