Jason Cheung is the self-described half-Chinese prodigious eater of the air band Airpocalypse, who gained much fame and notoriety last year on "America's Got Talent." When I finally met him in person at this year's US Air Guitar competition in Chicago, Jason talked up his love for kung fu, Asian cinema, and all things Hong Kong and said: "I will write you a Top 10." In fashion true to his rebellious rock n' roll spirit, he over-performed and broke the rules. As such, this list of recommended "chop socky" double features is a officially called Top 10 Hong Kong Double Features (*well, most of them, anyway…). It's a great list from a great guy and I hope you enjoy it!
If you have a Top 10 list you'd like to contribute to Scene-Stealers, email me at eric@scene-stealers.com. Here's Jason:
We'll start with something arty and pretty, so that ya'll don't think that I'm some kind of thuggish brute. (Enough of those kinds of films later…)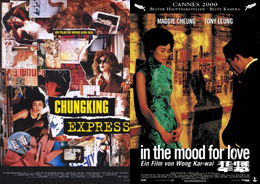 10. Chungking Express (1994) and In the Mood for Love (2000)
In the early 90's, I lived for a year in Hong Kong. It was crowded, loud, and I loved it. You couldn't help but hear about all kinds of crazy rumors about Chungking Mansions, which was practically a city unto itself. A neighbor and I would go there every Sunday and eat great Indian food at this little hole in the wall (literally) place on the 7th floor. I was introduced to Kingfisher beer and Matter Paneer there. Wong Kar-wai's "Chungking Express" is set there.
"In the Mood for Love" reminds me of my Aunt and Uncle's apartment, and the incomparable Maggie Cheung once had a drink at the restaurant that I worked at. All the Chinese employees there went nuts when they found out she was there. I thought she was kind of skinny, and smaller then I thought she would be. Both are Wong Kar-wai films, and need to be seen!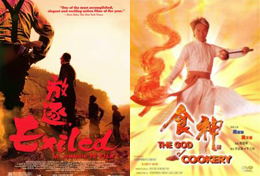 9. Exiled (2006) and The God of Cookery (1996)
I'll say this right now: These are two very different films. (Hell, "Exiled" isn't even set in Hong Kong!) I heard about Johnnie To's  "Exiled" after I had moved back to the States, and was jonesing for some good old-fashioned HK mayhem leavened with some good old-fashioned male bonding. This film's got it. Good (ridiculous, but in a good way) action and a good bit of dark humor make this one stand out. I saw "The God of Cookery" while I was still in HK. My girlfriend, who spoke NO English, insisted that I see this with her. (Yay for dates where you don't have to talk that much!) Stephen Chow, (who went on to make "Kung Fu Hustle") plays a disgraced celebrity chef who plots his comeback–which involves a stint at the Culinary Academy in the basement of the Shaolin Temple and the 18 Bronze Men of Shaolin (Don't ask.) — and eats and shows off a lot of great food on the way. I suggest ordering out for your favorite Chinese delivery while seeing this one, or going to your favorite Chop Suey joint IMMEDIATELY afterwards, because if you are anything at all like me, seeing all that damn beautiful-looking food is gonna make you hungry real fast.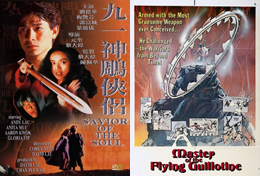 8. Saviour of the Soul (1991) and Master of The Flying Guillotine (1976)
These are just flat-out CRAZY.
Directed by David Lai and Corey Yuen and staring Andy Lau, "Saviour of the Soul"… um … Plot? Good Luck! Decent wire work and lots of flying around with swords? Check!
"Master of the Flying Guillotine" features, well, a flying guillotine and an early effort at an MMA tournament. Worth seeking out. Its English-language trailer touts it as "A Speical Movie for Kung Fu Lovers," and that sentence pretty much captures the movie right there.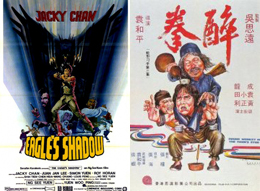 7. Snake in the Eagle's Shadow (1978) and Drunken Master (1978)
Any true fan of Kung Fu flicks or Jackie Chan will know these two films, but if you are new, I am envious of the fact that you are about to see for the first time the genius of the equation of director Yuen Woo Ping and star Jackie Chan. (You remember Yuen Woo Ping, right? He's the guy that brought you the fight sequences in "The Matrix.") "Snake in the Eagle's Shadow" was Yuen's first film as a director, and "Drunken Master" was his second. I grew up in a little logging town in Southwest Washington, and let's just say that we didn't see a lot of foreign language movies roll through town. Dad took us on Saturday to Portland, OR, to a little theater in Chinatown that only screened movies on the weekends, and "Snake in the Eagle's Shadow"was the first Kung Fu movie I ever saw on the big screen… Well, ok, Chuck Norris's "Good Guys Wear Black" was the first martial-arts movie I ever saw in a theater, but it doesn't count here…He's a Ka Ra Te practicioner. Anyway,it was awesome! "Drunken Master" will always remind me of visiting my Uncle in San Francisco. We would load that into Uncle Jimmy's Betamax player and watch it repeatedly every time we would visit. I think we finally wore it out.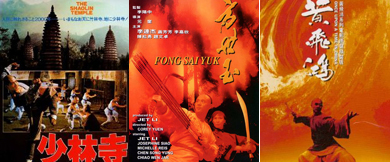 6. The Shaolin Temple (1982), The Legend aka Fong Sai Yuk (1993), and Once Upon a Time in China (1991)
Sorry…I lied. This one is a TRIPLE feature! I'd suggest watching these gems from Jet Li in this order: "The Shaolin Temple," "Fong Sai Yuk," and "Once Upon a Time in China" (I), although, if you want to make a marathon of it, pick up "Fong Sai Yuk" (II) and "Once Upon a Time in China" (II) as well. Remember that theater in Portland? "Shaolin Temple" was the second Kung Fu movie that I saw on the big screen. It was Li's first move role, and was the first time I ever saw Drunken-Style Kung Fu and the Rope Dart. Amazing. "Fong Sai Yuk" came out after "Once Upon a Time in China," but I'd still suggest it first. Jet Li as a kind of bumbling ne'er do well in this film contrasts sharply with his heroic Wong Fei Hung from "Once Upon a Time in China." (The ladder scene at the end is just, man….jaw-dropping.)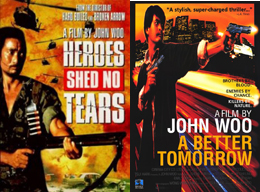 5. Heroes Shed No Tears (1986) and A Better Tomorrow (1986)
Woo Woo! Two from director John Woo here– an early effort called "Heroes Shed No Tears" could have been lumped in with "Saviour of the Soul" out of sheer kookiness, but it's not a Kung Fu movie.) It does, however, feature an iron-jawed hero who communicates well with his eyebrows. Crack a brew or two, sit back, and get ready to laugh. "A Better Tomorrow," however, is a much, much tighter movie, and marks the beginning of Woo's collaboration with the legendary Chow Yun-Fat. Funny story: In an early scene of the movie, Fat's character Mark is shown pretending to understand what two English guys are talking to him about. The shorter guy with the mustache was a regular at the restaurant that I worked at in Hong Kong. Hell of a nice guy.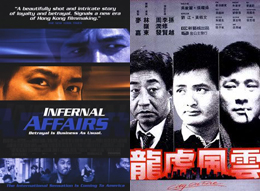 4. Infernal Affairs (2002) and City on Fire (1987)
Let's call this entry "Hooray for remakes!" (or, um, films that "heavily influence" American films. I'm looking at you, Quentin Tarantino.) Martin Scorsese's "The Departed" was a remake of a great Lau Wai-keung flick called "Infernal Affairs."
Director Ringo Lam's "City on Fire," uh, "heavily influenced" Tarantino's "Reservoir Dogs". You be the judge. (I'm just gonna put this out there, too…
There is a line, either in "A Better Tomorrow" (I) or (II)– Yes, there was a sequel — where one of the main characters saying something like, "What are we? Just DOGS from THE RESERVOIR?" Hmmmmm….)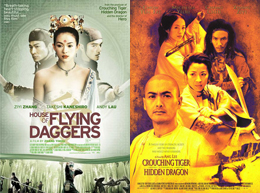 3. House of Flying Daggers (2004) and Crouching Tiger, Hidden Dragon (2000)
I'm gonna turn some people off here. I thought "House of Flying Daggers" was a steaming pile of monkey crap and you couldn't pay me to watch it again. The glory (and it is glorious) of every other scene of that movie is ruined for me by the ending fight in the snow storm. Zhang Yimou,you should be ashamed of yourself. All that money, all that talent, and you manage to ruin a damn Kung Fu duel? Shame on you. I've seen better fight choreography and filming watching local pro wrestling. You should have fired everyone involved in that scene burned the film.
Do yourself a favor. Spare yourself the disappointment, (unless you are a masochist,) and watch Ang Lee's "Crouching Tiger, Hidden Dragon" instead. That film is brilliant. (…as is the YouTube video where they make the swords into LIGHT SABERS. SWEET!)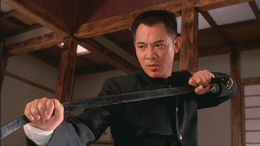 2. Fist of Legend (1994)
Ok…I lied again. End of double features. These last two are in a class by themselves. Gordon Chan's "Fist of Legend"  starring Jet Li is a remake of Bruce Lee's "Fists of Fury," and I was lucky enough to see this film when it opened in Hong Kong. It was released around Christmas, and the crowds were tremendous for it. My Aunt insisted on taking me to it, and I am ever so glad she did.
For my money, "Fist of Legend" is simply the best Kung Fu movie to have been made since the death of Bruce Lee. The film opens with a bang and just doesn't let up. The opening fight and the duel with the old Karate master are simply brilliant.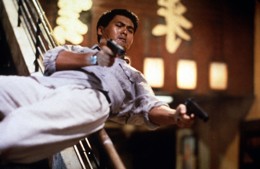 1. Hard Boiled (1992)
Annnnnnnd…..thanks for sticking with me this long.
John Woo's "Hard Boiled," starring Chow Yun-Fat, is THE BEST ACTION MOVIE EVER.
Again, the movie opens with a bang, and just builds, builds, and builds to a (literally) explosive climax. I can't think of a better opening action sequence. Depending on the translation of the subtitles on the print that you see, Woo, (who plays a bartender) delivers one of the most hilariously mistranslated lines in all of cinema. (Well, ok, maybe I'm exaggerating just a little bit, but it is hilarious!) Check it out, and watch the legendary action director explore his "Gun Fu" style to the max.