It's a timely week to be writing this because after this past weekend's domestic box office take, we have a new number-one movie on this list. Comedies are not usually as big a box office draw as an action/adventure or superhero/fantasy film, but due to a minimal amount of money spent on casting, sets and costumes, and usually no special effects, they are one of the most affordable risks for a studio. However, an R-rating severely limits mainstream potential. The films on this list are rare beasts indeed. They all rode some sort of cultural wave to become the top-grossing R-rated comedies in America. If you have a list you'd like to contribute to Top 10 Tuesday, email me at eric@scene-stealers.com.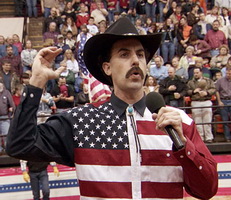 10. Borat: Cultural Learnings of America for Make Benefit Glorious Nation of Kazakhstan (2006) – $128,505,958
Sacha Baron Cohen's first reality-based prank movie debuted on only 837 screens in 2006, but grossed a wholly unexpected $26.5 million. "Da Ali G Show" was a mild hit on HBO, but it had a huge buzz and people were talking about this movie. Uninitiated moviegoers were intrigued by these strange ads and TV appearances by Cohen in character as Borat. Many people, in a funny parallel with "The Blair Witch Project," thought this Borat guy was for real. The mix of real situations and a fictional plot made it hard for audiences to tell what was "real" and what wasn't. They told their friends, and "Borat" did something few movies do. It grossed more in its second weekend. Expanding to 2,566 theaters, "Borat" made $28.3 million in its second week. "Brüno" opened this weekend with a bigger "30.4" million, but it was on 3,400 screens and—even though its material is more outrageous than "Borat"—it suffers from feeling a little too familiar following the groundbreaking status of its predecessor.
9. National Lampoon's Animal House (1978) – $141,600,000
Besides entering the words "toga party" and "food fight" into the popular lexicon, "Animal House" also one of the most profitable movies of all time. This John Landis-directed comedy featured John Belushi (from the still-new late night "Saturday Night Live"), Donald Sutherland, and a cast of then-unknowns (including Kevin Bacon, Karen Allen, Thomas Hulce, and Tim Matheson). It only cost $2.7 million to make, and $50,000 of that was spent on Sutherland alone. (He was actually offered a lower salary at one point and percentage points, which he turned down—assuming the film would go nowhere—and costing him millions of dollars.) This was released back in a time when there were fewer prints and they remained in theaters for a longer time, making it the most impressive box office run on the list. Its opening weekend? A mere $276,538 in 12 theaters. Regardless, it ended up being the third biggest movie of 1978 and stayed in theaters even longer than that.
8. American Pie 2 (2001) – $145,103,595
1999's "American Pie" was credited with bringing the R-rated teen comedy (a genre popularized by "Animal House") back into vogue. Ads showing star Jason Biggs putting his—ahem—member into a warm pie were enough to stir curiosity and good reviews earned the movie positive word of mouth. While its sequel wasn't so lucky in that area, "American Pie 2" falls into the category of films that benefitted from their predecessor greatly. The first "American Pie" was a $102,000 smash, but it only opened at $18 million. Two months later, it was still earning a million a week. The 2001 sequel scored a huge opening weekend of $45 million off of the first movie's good name, but posted a bigger drop-off. Two months later, it was earning only $300,000.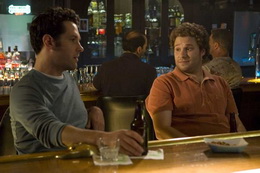 7. Knocked Up (2007) – $148,768,917
The same might be said about Judd Apatow's follow-up to "The 40-Year-Old Virgin," an unexpected 2005 smash that launched the career of then-unknown Steve Carell. The posters for "Knocked Up" even featured Seth Rogen with a nerdy look—similar to Carell's "Virgin" poster—and the tagline "What if this guy got you pregnant?" The difference between "Knocked Up" and American Pie 2," however, was lots of critical acclaim and great audience response. It made several critics' best-of-2007 lists (including the AFI Top 10, and lists from the New York Times, Newsweek, Entertainment Weekly, The Onion's AV Club, Associated Press, Rolling Stone, and mine(!)). Like Carell before him, it made Rogen (a supporting player in "Virgin") a star and began the onslaught of Apatow Frat Pack 'Junior Varsity' player movies—a stupid term used to denote anything starring, written by, or produced by Apatow or his friends. "Knocked Up" spent eight weeks in the box office top 10, the longest streak amongst May-June openers in 2007.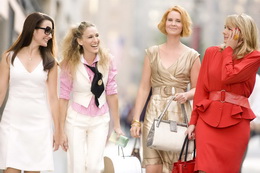 6. Sex and the City (2008) – $152,647,258
Really? Wow. Who woulda thunk it? Never underestimate the power of women. The magnitude of this 6-season HBO show spinoff's box office take can only be described one way: Women like raunchy movies too, especially when they're told from a woman's perspective. The film was set three years after the series finale, and like "American Pie 2," it benefitted from a huge opening weekend ($57 million), due mostly to a built-in audience from the popular show. Despite middling reviews, "Sex and the City" recorded the biggest opening ever for an R-rated comedy and for a romantic comedy. You know what this means: All four actresses (Sarah Jessica Parker, Kim Cattrall, Cynthia Nixon, and Kristin Davis), as well as writer-director Michael Patrick King, are set to return for "Sex and the City 2," due in theaters May 28, 2010.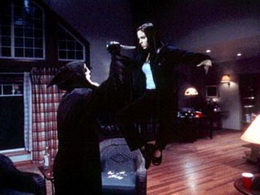 5. Scary Movie (2000) – $157,019,771
This Keenan Ivory Wayans-directed parody film struck a chord with viewers who had been big fans of the late 90's rebirth of teen horror flicks—due mainly to the "Scream" trilogy that began in 1996. It was co-written by, and starred, his brothers Shawn and Marlon and it also launched the career of current go-to funnygirl Anna Faris. Unfortunately, it also launched the careers of low-budget parody hacks Jason Friedberg and Aaron Seltzer, who wrote and directed "Date Movie," "Epic Movie," "Meet the Spartans," and "Disaster Movie" (which all also star the equally talented Carmen Electra and are hugely profitable affairs). The first "Scary Movie," however, was actually very funny—a raunchy, no-holds-barred spoof that was also smart enough to make fun of non-horror flicks like "The Usual Suspects" and "The Matrix." In addition to the Friedberg/Seltzer movies, "Scary Movie" spawned three sequels of diminishing returns, with David Zucker ("The Naked Gun," "Airplane!") taking over for Ivory Wayans in 2003 on "Scary Movie 3."
4. Pretty Woman (1990) – $178,406,268
Is it weird to have never seen the movie that catapulted Julia Roberts into the spotlight? I missed out on this little $14 million romantic comedy in the theaters and by the time it turned into this big deal, I wasn't really interested. Richard Gere was the name star at the time, but Roberts went on to become one of the most bankable stars of the 90s following the success of "Pretty Woman." She even won a Golden Globe and was nominated for an Academy Award for Best Actress (losing to Kathy Bates in "Misery") for her star-making turn. "Pretty Woman" was initially intended to be a dark drama about prostitution in Los Angeles called "Three-Thousand," but was reconceptualized somewhere along the line by screenwriter J.F. Lawton as a romantic comedy. Maybe if it would have stayed a drama Roberts would have had a better chance at that Oscar. Ha!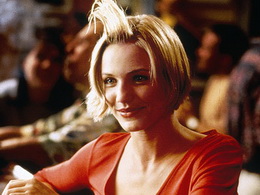 3. There's Something About Mary (1998) – $176,484,651
First: The stats. By combining over-the-top gross-out humor with a dash of romantic comedy, the Farrelly brothers struck paydirt and made Ben Stiller a bankable comedy star. This movie absolutely exemplifies a word-of-mouth success. It opened in July, but didn't hit the number-one spot on the box office chart until its eighth week of wide release in September! Second: The sad personal story. This movie cost me a chance at $250,000. Click here to read the story of how I lost an easy, easy question about "Mary" on VH1's "World Series of Pop Culture." (Hint: It involves me not answering the words "hair gel" correctly and an explicit second-by-second recounting of the thoughts in my head at that moment.) Third, an epilogue to this tragedy: I moved last year and discovered something awful in the bottom of a box—an official "There's Something About Mary" promo item. What could it have been? You guessed it. It was a packet of hair gel with the movie logo plastered all over it. If only I had unpacked since the last time I moved. So lame.
2. Wedding Crashers (2005) – $209,255,921
Sure, it followed the success of "American Pie," but the record-breaking gross of "Wedding Crashers" was only just eclipsed this past weekend, which is pretty amazing. Over $200 million for an R-rated comedy was unheard of. The high-concept "Wedding Crashers" really paved the way for "The 40-Year-Old Virgin" and lots of modern comedies' willingness to "go there." The movie feels about a half hour too long, but features a winning combination of raunchy sex humor and sweetness, anchored by Owen Wilson and Vince Vaughn's natural rapport. This movie also waited for a while—three weeks—to hit number one at the box office. It was held back by Tim Burton's "Charlie and the Chocolate factory," which would gross a little more than half as much by the end of its run. This was one of the first movies Scene-Stealers.com reviewed, as evidenced by the clip we used in our Scene-Stealers trailer/parody of KISS' "Lick it Up" video.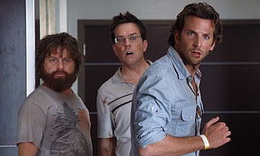 1. The Hangover (2009) – $222,442,000 (as of July 13,2009)
Here it is, folks—your new number-one R-rated comedy champ. Todd Phillips' sloppy-but-funny "The Hangover" follows the same pattern as a lot of movies on this list: It combines raunchy, male-oriented humor with a cast of on-the-cusp stars and an easy-to-describe high concept. ("Oh, did you see the movie about the guys who wake up in Vegas with after a bachelor party and they've lost the groom?" It's just like: "Did you see the movie about the 40-year-old virgin?" or "Did you see the movie about the guys who crash weddings to get unattached chicks?") One big difference is that its producers saw its impending success before it was even released, ordering a sequel, which is already in the works. It remains to be seen whether Bradley Cooper, Ed Helms, and Zach Galifianakis are able to capitalize on their newfound fame like Carell or Rogen or Stiller did, but right now let's just marvel that a movie as dirty as this IS the mainstream. "Brüno" certainly pushed the raunch factor further this week, but Cohen's movie is too confrontational to be a $200 million hit. In the end, "The Hangover" has that "Wedding Crashers" sweetness, which gives it a much wider audience potential. It has only been out for 6 weeks, and last weekend's $9 million take proves that it's still got some legs.