Yesterday "The Dark Knight" surpassed the $471 million mark, which means that it has overtaken "Star Wars" (and all of its re-issues) as the second-highest grossing film of all time in the U.S. Next up? 1997's "Titanic," which sits atop the all-time grossing list at a safe distance of $600 million—an amount that seems almost unattainable in this information age when you can download movies for free and get them on DVD four months after they've left theaters. The thing that makes a movie a runaway hit—something people feel the need to see right away and share with others—is its cultural resonance. And while "The Dark Knight" certainly signals the darker tastes of a country at war, it also speaks to our need for heroic myth and the inherent tragedy of Heath Ledger's untimely death.
Not to take anything away from "The Dark Knight," but the true test of a movie's massive and popular cultural significance can be better tracked through an all-time grossing list that has been adjusted for inflation. The number of tickets sold for a movie is a bigger indicator of true interest and obsession than how much money was made total. The 10 movies on this list are already decided. Rather than merely ranking them as they appear, I'll give a little perspective on each one so we can measure their lasting impact on society. This is the Top 10 Grossing Movies Adjusted for Inflation. As of today, "The Dark Knight" registers on this list at number 39, below "Home Alone" and "Love Story."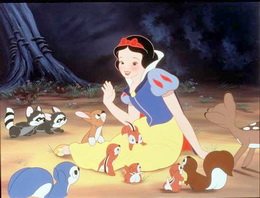 10. Snow White and the Seven Dwarfs (1937)
Adjusted gross: $771,720,000
Once dubbed "Disney's Folly," this risky Disney film was the first full-length animated feature film ever to be made, and took just under four years and an astronomical $1.7 million to make. It used the multiplane camera to create depth and introduced human characters modeled on live actors, with and without rotoscoping It was the first film to release a motion picture soundtrack album, and its only Oscar nomination was for Best Score. Walt Disney, however, was awarded with an Honorary Oscar and was the movie was "recognized as a significant screen innovation which has charmed millions and pioneered a great new entertainment field for the motion-picture cartoon." The movie changed the way people viewed cinema, and charmed legendary filmmakers such as Charlie Chaplin and Sergei Eisenstein. Adolf Hitler even supposedly offered Disney anything he wanted in exchange for the creation of feature-length animated features in Germany. For a short time, "Snow White" was the most poular film ever made.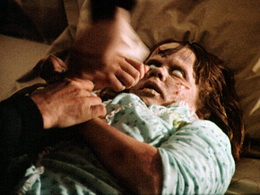 9. The Exorcist (1973)
Adjusted gross: $782,826,200
Linda Blair's possessed little turn in this shocking and supremely scary film got her enough death threats that Warner Bros. had to hire bodyguards for her during the six months after the film's release. Love it or hate it, it is impossible not to ignore this William Friedkin-directed horror classic. People kept going back to get scared again and again. When it was released, it seemed to prey on the anxieties parents felt watching their kids' generation grow distant and cynical amid a recession and the Watergate scandal. How terrifying was it to see their worst fears come alive, since Ellen Burstyn's daughter wasn't just experimenting with new lifestyles, but actually, literally, possessed by the Devil himself? Divorce was on the rise, the hippie hangover was in full swing, and parents everywhere felt like they were losing control of their kids. "The Exorcist" tapped into some of the country's deepest, darkest fears and spawned hundreds of low-budget devil shockers (of which I tried to see as many as possible when I was young).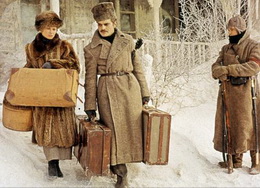 8. Doctor Zhivago (1965)
Adjusted gross: $878,879,200
Really? Omar Sharif and Julie Christie in director David Lean's overly long early-1900s Bolshevik Revolution epic romance film? This was kind of a shocker for me, but here it is. Sweeping romances have the ability to enchant, for sure—just look at "Titanic." Composer Maurice Jarre thought that Lean used his theme for Christie's character too much in the movie, but its haunting melody has made it one of the most recognizable movie themes ever. "Doctor Zhivago" is also almost singlehandedly responsible for the brief popularization of the Balalaika, a three-stringed Russian guitar-like instrument. Christie's wardrobe was also hugely influential, and soon women everywhere wearing long, thick fur coats and fur hats.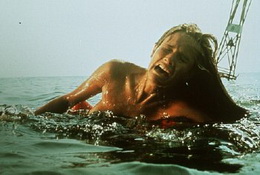 7. Jaws (1975)
Adjusted gross: $906,798,200
Steven Spielberg's terrifying story of what lurks just under the surface of the water has an impact that simply cannot be overestimated—for better or worse, "Jaws" invented the summer blockbuster. Can you imagine a time before that idea even existed? I can't. It was always that way for me growing up, and I doubt moviegoing cycles will ever stray too far from the inevitable summer-blockbuster hype. This happened because Universal Pictures made it an event: "Jaws" was the first film ever to get a "wide release" (409 theaters, expanded one month later to a whopping 675). They also took out massive media ads, including blanketing the TV. Up until then, studios built a movie slowly across the country, but when "Jaws" became a sensation, people were able to see it immediately and be a part of the movement. Beach attendance went way down, sharks have been stereotyped as vicious man-eaters ever since, and John Williams' "du-dun-du-dun" score has become a classic piece of suspense music, forever synonymous with approaching danger.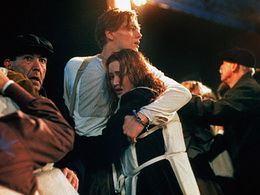 6. Titanic (1997)
Adjusted gross: $908,688,900
Here's an interesting point to consider: Before James Cameron's record-breaking movie was even in the theaters, the term "titanic" had already strayed from its original definition of being of colossal or gargantuan size to becoming a foolhardy exercise in hubris. So, how do you measure the cultural significance of a movie based on an event so well-known that it spawned new meanings for a word? I measured it in screams—and not just those of the poor passengers who plunged to their deaths in a watery abyss, but also the screams of women all over the world whenever Leonardo DiCaprio was on the screen. He was such a teen sensation that Oscar even denied him a nomination, for fear of sullying their Best Actor category with a teen idol. Females returned to the theater in droves to relive the tragic romance of two fictional passengers on the ill-fated ship. And yet, there were more screams—namely the ones by Canadian devil-incarnate Celine Dion, who wailed "My Heart Will Go On" for what seemed like three years straight on the radio to bleeding eardrums everywhere who could find no release from the song's constant torture. Like "Snow White and the Seven Dwarfs," the budget for "Titanic" was enormous for the time (over $200 million), and Hollywood thought it would sink both 20th Century Fox and Paramount. Guess what? It didn't.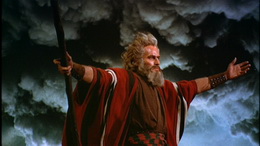 5. The Ten Commandments (1956)
Adjusted gross: $927,480,000
You can't beat religion for mainstream appeal. Cross it with an epic scope, and you've got "The Ten Commandments." Charlton Heston was Moses in this movie, billed as "The Greatest Event in Motion Picture History!" It was the last picture directed by the legendary Cecil B. DeMille. Getting another crack at the same story he filmed as a black-and-white silent movie in 1923, DeMille realized this one as an epic in widescreen VistaVision glory with color by Technicolor. The script contained 308 pages with 70 speaking parts and thousands of extras. Whether its being shown for a church fundraiser or just being shown on TV around Easter (since 1973) by ABC, this long, wooden, pretentious, and grueling movie still remains popular. Produced for a then-staggering cost of $13 million, the movie went on to become Paramount's biggest-grossing movie ever, and it ranked as the most successful film in Hollywood history for many years.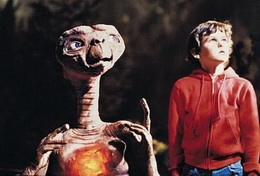 4. E.T: The Extra-Terrestrial (1982)
Adjusted gross: $1,004,328,700
A little perspective: Steven Spielberg received the U.N. Peace Medal from the United Nations after a screening of this movie. Seriously. "E.T." opened at number one with $11 million in June of 1982, and stayed at the top of the box office for six weeks. It then fluctuated between the first and second positions until—yes, you read it right—January 1983. This is back in the days when movies had legs. These days, it's opening weekend and a couple more if you're real strong. But six months? No way. "E.T." was Spielberg's fantasy about growing up, something everyone can relate to. Audiences were enchanted by its fairy-tale charm, and liked the familiarity of E.T.'s Christ-like resurrection, even though they may not have known why. Even director Richard Attenborough, whose "Gandhi" took home Best Picture and Best Director Oscars over Spielberg that year, said of the film: "I was certain that not only would 'E.T.' win, but that it should win. It was inventive, powerful, [and] wonderful. I make more mundane movies." Besides, if it inspired Neil Diamond to write the non-authorized cash-in 1982 single "Heartlight" with Burt Bacharach and Carole Bayer Sager, you know there's real magic in it somewhere.
3. The Sound of Music (1965)
Adjusted gross: $1,008,300,900
Filmed in in the 70mm widescreen hi-def Todd-AO format, Rodgers and Hammerstein's "The Sound of Music" is responsible for a lot of U.S. staples from yesteryear: Julie Andrews; the songs "My Favorite Things," "Do-Re-Mi," and the title track; and a soundtrack album that has never been out of print. A steady diet of airings on TV never hurt the movie's popularity, of course. I think this movie has been shown every Sunday afternoon since the beginning of time (which was good enough reason for me to stay away from it throughout my childhood).The thing about musicals is that, if you like the music enough, they don't really get old. And a lot of people reeeaaallly like the music in this one. My two favorite versions of "My Favorite Things" are by John Coltrane and Bjork. If that doesn't speak to the film's varied and enduring popularity , then I don't know what does.
2. Star Wars (1977)
Adjusted gross: $1,261,086,700
…and no, I refuse to call it "Episode IV: A New Hope." Besides being responsible for accidentally redefining science fiction as a setting rather than a genre (Just because the lasers are in space doesn't mean it's not a Western!), George Lucas' original "Star Wars" also opened up the world to the possibilities of movie tie-in merchandise. The detailed world he created in "Star Wars" was not only enough to spark the imaginations of kids of every age, but it was deep enough to ensure that the world would never run out of action figures and trading cards. Lucas based the story on the traditional inspirational hero myth, forging ahead with his vision of a "space opera." Turns out he knew what audiences wanted. Demand for tie-ins was so high that toy manufacturer Kenner sold boxed vouchers in its "empty box" Christmas campaign. The vouchers could be redeemed for the toys in March 1978. At the height of the film's popularity that same year, Lucas proved that the lure of money was too much and approved "The Star Wars Holiday Special," which aired on TV and featured the movie's stars singing with wookies.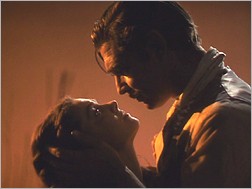 1. Gone With the Wind (1939)
Adjusted gross: $1,430,476,000
Here's another epic (clocking in at 226 minutes) that looked like it would bankrupt the studio, but producer David O. Selznick perservered and got the sweetest reward of his career. President Jimmy Carter would later recalled that the Atlanta premiere of "Gone With the Wind" was "the biggest event to happen in the South in my lifetime." Georgia's governor declared one of the three days of screenings for the film "a state holiday." For six months, the film played only advance-ticket road show engagements at a limited number of theaters, going into general release only in 1941. Simply put, more U.S. citizens have bought tickets to this movie than any other movie in history, and the cramble to see this event picture in the theater was absolutely huge. Like almost every other movie on the list, this total includes all theatrical reissues of the movie such as 1947, 1954, 1961, 1967, 1971, 1989, and 1998. Rhett Butler's farewell line to Scarlett O'Hara, "Frankly, my dear, I don't give a damn", was voted in a poll by the American Film Institute in 2005 as the most memorable line in cinema history. Looking at the adjusted gross for this movie makes me realize how far "The Dark Knight" has to go.