Oh, glorious day!  Though we Americans consider baseball to be our national pastime, when it comes to buzz, anticipation, and sports-related excitement, this country doesn't produce anything more intense than the Super Bowl.  Maybe it's because there is just one game, one contest to decide something that has been building for five months. Unlike baseball, hockey, tennis, or even golf, football is all about one match, and the superior will of what may very well be a lesser team that nevertheless finds a way to be better, if only on that given Sunday. Though soccer usually sets its tournaments up so that the championship is a best of one affair, the more fluid nature of that sport creates a different dynamic on game-day, for American football puts far more pressure on the nerves. While Europeans often deride our glorious sport as too halting, I'd argue that football creates an anxious atmosphere that puts more emphasis on each and every play, making the experience of watching an especially close game one of the most thrilling joys still legal.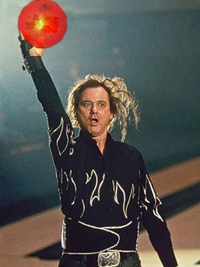 Soon, Americans and football enthusiasts around the world will get to watch one of the greatest sporting events on the planet, and will either celebrate or lament those raising Lombardi's trophy once it's all over. Today's list celebrates the most thrilling sports victories in some of the best sports movies ever made, and will rank the candidates based on (1) the quality of the film, (2) the relative size of the victory, and (3) how vividly that picture brought the joy of the victory to life on the big screen. Over at the 10rant, we are doing a year-long best sports movies series that celebrates movie athletes: giving each sport a month to showcase their notable cinematic ambassadors.  January saw a ranking of the Top 10 Greatest Movie Bowlers, and February will likely see a football ranking, yet all of these lists will dance around the bigger event in most of the mentioned pictures: the ultimate victories.  The best part of sports movies is usually the triumphant raising of a trophy (well, unless there's a sweet-ass training montage), so with the Super Bowl opponents locked in, I thought it appropriate to honor the greatest sports victories in movie history.
Now, there were an ass-load of candidates to peel through, and I thought it appropriate to really try to give every sport a good look, hence the varied composition of the pictures listed today.  Some very tough eliminations included wonderful victories in sports movies The Program, The Replacements, Happy Gilmore, Kingpin, Remember the Titans, and Days of Thunder.  To the fans of these sports movies, I can only offer my condolences, if not my apologies. Indeed, I won't say "sorry" for ranking the victory scenes in any of these pictures over that in …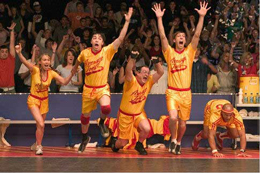 10. Dodgeball: A True Underdog Story (2004)
The final matchup between the Average Joes and the Cobras in Dodgeball had all the hallmarks of a wonderful climactic sports showdown, what with the clearly defined good and bad guys, a one-on-one showdown between them, and even a surprise appearance by Chuck fucking Norris.  The final, sudden-death draw between Vince Vaughnn's Peter La Fleur and Ben Stiller's White brought to a terminus a rivalry that had building between the two men for years. Having escaped from the brink of defeat due to a technical violation by White, the Joes had one last chance to take home the Las Vegas International Championship. After he voluntarily blinded himself, La Fleur dodged White's throw and returned the favor with a blistering toss right into his opponent's face.  Not only did Peter enjoy the exuberance of the moment by basking in all the glory that came with smiting his nemesis in front of a cheering audience, he also got the girl, and wrapped up a little wager he'd placed on himself, which instantly made him a millionaire. In all, not a bad day!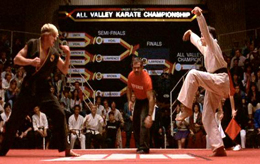 9. The Karate Kid (1984)
Though M.M.A. fighting through organizations like the UFC and PRIDE have definitely legitimized martial arts as a widely recognized sport, this was hardly the case 25 years ago.  Indeed, the All Valley Karate Tournament where the protagonist of The Karate Kid, Ralph Macchio's Daniel LaRussa fought his climactic duel against his school nemesis Johnny (William Zabka), was hardly the steel-cage M.M.A. environment we know and love today. The tournament's rules dictated that only point-sparring, not continuous fighting, would be allowed, making the format for the contest foreign to most modern-day martial arts fans. This point-scoring relies heavily on a student's technique, however, and their ability to both defend and attack, something that gave Daniel a bit of an edge. This was definitively proven during the final match, between Johnny and Daniel, where the movie's brave hero crane-kicked the shit out of his long-time tormenter.  The first-place trophy in his hands whilst the crowd inexplicably rushed the surprised kid, his mother and girlfriend nearby to help celebrate, Daniel basked in all the glory a half-assed suburban karate tournament could offer.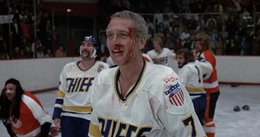 8. Slap Shot (1977)
Probably the definitive movie for its sport, Slap Shot is to the game of hockey what Caddyshack is to golf. Indeed, it is hard to suit up and get through an entire game on the ice without hearing at least one quote or obscure aside from Slap Shot. Those who have hit the links can attest to this phenomenon as it pertains to regularly-quoted Bill Murray or Chevy Chase lines that come up when sinking a putt or getting ready to drive a Cinderella-story-level shot. The story of the minor-league hockey Charlestown Chiefs, Slap Shot centered on aging player-coach Reggie Dunlop (Paul Newman), and his desperate efforts to get his lousy team winning again. Dunlop pulled this off through a series of deceptive ploys, and got his players fighting and acting otherwise goonish so as to draw bigger and bigger crowds. Dunlop and the Chiefs abandoned traditional "old time hockey" for a no-holds-barred style of play that stressed aggression and immediate retaliation above all else.  Miraculously, it worked!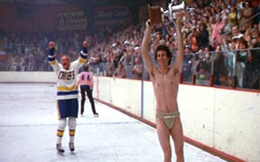 Well, the scheme was successful insofar as it was able to get people to the games, and increase interest in the Chiefs, yet it was not enough to impress the owner of the team, who still had every intention of folding the team after the season so as to snag a juicy tax write-off. Once Dunlop realized that their thuggish play had earned them little more than a chance to play for a low-level championship, he resolved to play it straight, and encouraged his boys to do the same. Unfortunately, the team they faced for the title had stacked their roster with all the cruelest and most vicious enforcers the game had ever known, leading to a full-blown, benches clearing riot by the second period. After an on-ice, mid-game striptease protest, one of the referees got his ass knocked down by one of the ringers, and the match was declared a forfeit in favor of the Chiefs. The team celebrated their victory surrounded by the jubilant cheers of their fans, who seemed to enjoy the semi-naked victory lap that was, to this author's knowledge, unmatched in sporting history.  If only for this, I thought it worthy of the number-eight slot, just one position behind …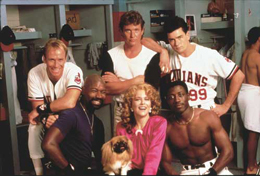 7. Major League (1989)
Easily one of the best sports movies and most quotable films of the last 30 years, Major League became an instant classic once released. The whole worst-to-first scenario is a familiar one in sports movies, for stories need some kind of an arc, and if a film's sporting team starts out awesome and just cruises to a championship, there will likely be some sleepy audience members out there. Major League embraced this underdog formula, but true to the era it showcased, it also took it up a notch by injecting the rags-to-riches contrivance with a concentrated dose of high-grade steroids!  The Cleveland Indians squad that the film put together wasn't just bad, it was catastrophic. This was due to the meddling of the team's new owner (Margaret Whitton's Phelps), a former showgirl who wanted to exercise a clause in the team's contract allowing the team to move if they sold less than 800,000 tickets per season. To this end, Phelps assembled the most deplorable team imaginable, hauling out broken-down old catchers from the Mexican Minor Leagues, along with convict pitchers, voodoo-practicing outfielders, and a straight-up-pussy third baseman.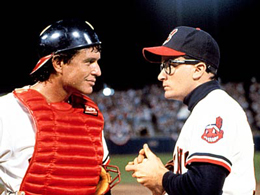 Despite their motley array of defects and imperfections, the untraditional, rag-tag group of misfits started winning, and eventually came together as a team to get into a one-game playoff with the Yankees for the A.L. pennant. The game to decide the division had all the hallmarks of a wonderful championship-level game. Though the Indians went down two runs in the seventh, badass long-ball hitter Pedro Cerrano (Dennis Haysbert) came to the plate and fucking crushed a two-run shot to tie it up once again. Though the Yankees rallied and got the bases loaded at the top of the ninth, Wild Thing Vaughn (Charlie Sheen) blew three straight heaters right by his nemesis, leaving it up to the Indians' bats to wrap things up during the bottom of the ninth. The tension mounted as the catcher, Jake Taylor (Tom Berenger) faked a called shot, then laid down a bunt to get their lead-off man home from second.  After a slow-motion slide into home, all of Cleveland erupted, the Indians went wild, and Bob Uecker famously exclaimed "The Indians win it! The Indians win it! Oh my God, the Indians win it!"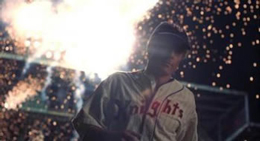 6. The Natural (1984)
I really tried to keep this list somewhat even as far as the choices go, as I didn't want one sport to take over the ranking (indeed, on the 10rant, there will be a time and place to honor each well-represented sport).  I just couldn't decide between Major League and The Natural, however, and decided to put a pair of baseball movies into the mix. The story of Roy Hobbs (Robert Redford) might not have been as flashy, funny, re-watchable, or exciting as the miracle run of Wild Thing Vaughn and the Indians, but it was a baseball movie in the most genuine sense of the word. In that way, The Natural was also exceedingly American, and represented the incorruptible, idealistic values that are supposed to make up the foundation of this country. Hobbs was a middle-aged rookie who emerged as a baseball super star from relative obscurity, yet only got his shot in the big leagues once he was well into middle age.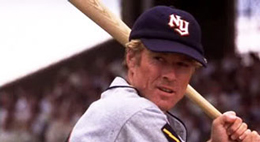 Though he battled adversity first from his coach, and later from the unscrupulous club owner, Hobbs overcame all hurdles.  Some were a bit tougher to clear than others, admittedly. Hobbs had been shot 16 years before making his comeback, something that kicked up a terrible fuss down in his stomach after he'd consumed a poison éclair (long story). Ultimately, Hobbs battled through pain and near-certain death, suited up to play in his team's decisive one-game elimination playoff, and about knocked the cover off a ball that flew so far it crashed into the flood lights. With that home run, Hobbs sent his team to the playoffs, and rounded the bases a champion with the sparks of his victory showering down all around him. If that's not an awesome championship moment in one of the best sports movies, shit, I don't want to know what is.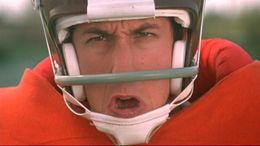 5. The Waterboy (1998)
There have been a lot of great American football movies, but few of them had an ending as ruthlessly awesome as what The Waterboy gave us. Young Bobby Boucher (Adam Sandler), a walk-on starter for the (fake) SCLSU Mud Dogs, had no playing or athletic experience whatsoever, and still was able to absolutely thrash any and every Division I opponent he came across. More of a roving, human buzz-saw than a middle linebacker, Bobby didn't just hit people, he knocked the will to live out of them. This was a boon to his team, which apparently hadn't won a game since 1994 prior to Bobby's arrival, and didn't have much to say for itself except that its coach was pants-crapping insane. Of course, Bobby changed all of this. Thanks to their hard-hitting new linebacker, and a newly inspired coach (Henry Winkler's Coach Kline), the Mud Dogs made it all the way to the prestigious (fake) 'Bourbon Bowl,' where they faced their evil arch-nemesis, the (also fake) University of Louisiana Cougars.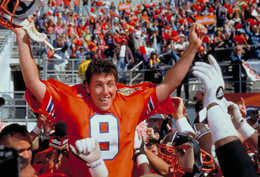 Crafting a movie in such a way so that the climactic sports showdown pits the honest hero against a black-hearted villain always increases the stakes, something that made Bobby's final play to beat the Cougars and their evil Coach Red Beulieu (Jerry Reed) all the more delicious. Coach Beulieu had fired and humiliated Bobby earlier in the movie, and had robbed Coach Kline of his manhood some years back.  Even though Bobby had dominated the second half of the game on defense, he came in only after his Mud Dogs had fallen behind the Cougars considerably. Though they had caught up, it took Bobby coming in to play a little offense for the final play to get SCLSU their championship.  Though he'd never been shown throwing a forward pass at any point in the film, Bobby was able to drop a perfect bomb into the arms of his quarterback, who miraculously caught the game-winning touchdown and kicked off a wild, field-storming celebration reminiscent of Pamplona.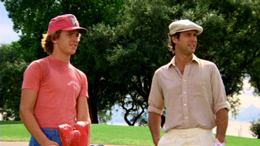 4. Caddyshack (1980)
Even though the ultimate showdown between Judge Smails (Ted Knight) and Al Czervik (Rodney Dangerfield) was less a championship and more a wager match, the implications of the ultimate victory carried just as much weight as any professional encounter. Though Czervik and his chosen match partner, Ty Webb (Chevy Chase), were down early after about nine holes, an opportune "injury" to Czervik allowed Bushwood's resident caddy-ace, Danny Noonan (Michael O'Keefe) to step in and turn the tide. Though it started as a private match worth twenty-large, after a crowd started to gather and Czervik saw his opportunity, the stakes were doubled, and before long, young Danny Noonan had a putt worth $40,000 in his hands. Though the initial strike left his ball dangling over the lip of the 18th hole's cup, just short of ultimate victory, the sports Gods were clearly in attendance that day, and saw to it that the right squad won.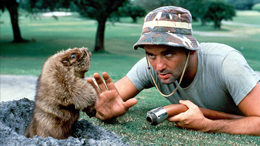 The assistant greens keeper of the course, Bill Murray's Carl Spackler, was engaged in a life-and-death struggle with a resident gopher. Unbeknownst to Danny, Smails, and Czervik, Carl had rigged most of the golf course with plastic explosives on that particular day, and was ready to light the fuse on the whole thing right around the time Danny was taking his final, championship shot. The force of Carl's multiple charges were enough to edge a putt that was just short into the final hole, giving the Noonan-Webb-Czervik team the victory. There was wild jubilation after the shot was made, with hugging, cheering, kissing, rousing orchestral music, and the immortal line of Dangerfield's Czervik who exclaimed "we're all gonna get laid!"  A fantastic victory that took place on a moderately large stage, and in one hell of a picture, it just barely missed out on the top-three, which was cracked by a relative newcomer…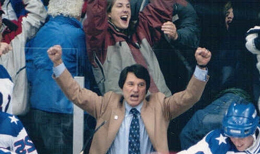 3. Miracle (2004)
I kept shuffling this one around in the order, and finally settled on number three for Miracle, the film that told the story of the 1980 U.S. Olympic Hockey team. Over the course of six months, Coach Herb Brooks (Kurt Russell) brought together a group of non-professional collegiate hockey players, most of whom harbored intense rivalries between each other prior to making the Olympic squad. As is the case in so many wonderful sports movies, the coach first had to break his team down. Coach Brooks' rigorous training got the boys in shape, but also chased away any of the hate left in the hearts of players still holding grudges against their new teammates. Though the guys on the 1980 U.S. team had once played hard against each other for NCAA titles, Coach Brooks needed them playing as one cohesive unit, one that could skate with the best in the world. By the time the U.S. team made it to the Olympics, they were ready. Though not as physically talented as some of their foes, the Americans fought Sweden to a draw, then kicked the shit out of Czechoslovakia, who was considered maybe the second best team in the world at the time.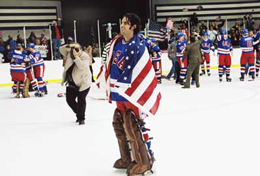 The best, and without any real argument, was the Soviet squad, which had taken home the gold in the four previous Olympic Games. Coach Brooks explained to his team that their semi-final game against the Ruskies was there time, their moment. Russia might have fielded the technically better team that night, but the U.S. wanted it more, and had worked hard enough to skate and play with the world's best that night. Though they fell behind early, the U.S. team came roaring back in the third period to go up 4-3.  As the movie worked its way to its nerve-jangling climax, and the players, announcers, and crowd all started to reach for the victory nearly in sight, Miracle worked its magic on the audience.  By the time the picture had cut to the actual broadcast of Al Michaels speaking his "do you believe in miracles!" line, any patriotic American should have been on their feet, cheering a twenty year old victory most of us already knew was in the bag.  As the players celebrated, Russell's Coach Brooks retreated to an empty tunnel underneath the stadium to silently cheer a victory that had largely become his life's work. Just try to watch this one without cheering: I dare you.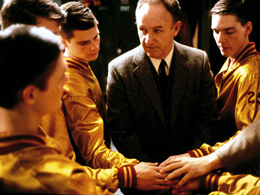 2. Hoosiers (1986)
For basketball fans, Hoosiers is the cinematic Holy Grail, the standard. All of the things that basketball traditionalists love and cherish about their sport (things that are mostly absent in today's N.B.A.) were on display in Hoosiers, and were elevated to a sort of codified, dogmatic imperative for any coach who wants to build a solid team. This last word, "TEAM," was really at the heart of the picture's basketball message, for Hickory High School's new coach, Norman Dale (Gene Hackman), began the film by emphasizing how important teamwork was for ultimate success.  Second only to teamwork was conditioning, a concept that was foreign to small-town Indiana folk whose concept of "practice" was shooting drills and endless scrimmaging. Coach Dale worked his boys hard, and set them to work on all the tedious exercises that foster positive habits and good, fundamental techniques. Though some of the players were slow to come around to the Dale's methods, which involved playing only the guys who followed his instructions (even if it put them a man down), the team eventually came together and started to win.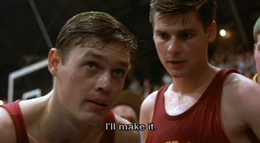 Though undersized and overmatched by a number of the much larger schools they faced, Hickory's Cinderella team made it all the way to the state finals. Though pushed around a bit and clearly off-balance early on, Hickory finally found their rhythm and put themselves in a position to take home Indiana's High School Championship. As is the case in many of the films listed today, the final few moments came down to a slow motion vignette whereby the heroic underdogs worked a play perfectly to see the ball into the hands of their star forward, Jimmy Chitwood (Maris Valainis).  Corn-fed prodigy that he was, Jimmy knocked down the jumper as the final seconds ticked off the clock, winning the championship for his coach and team. A feel-good ending to a movie that worked hard to get to this fitting conclusion, this ending got millions of teenagers out into their driveways to practice last-second shots that all came down to the final few seconds of a championship match.  Speaking of which…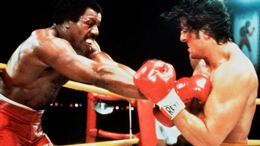 1. Rocky II (1979)
Of course this is #1!  Jesus, have you seen this movie? If you're going to try and sit there and say that Rocky II had anything less than the most inspirational, exciting, and satisfying sports-victory in cinematic history, then I have no faith in any claim you might make to being a sane individual.  Though Rocky Balboa had earned himself a personal, moral victory in the first Rocky, remember that in number one he ultimately lost the split decision against Heavyweight Champion Apollo Creed (Carl Weathers). The events of the sequel picked up right where the original had left off, with both fighters arriving at the hospital battered all to hell, and with a full press corps in tow.  Sylvester Stallone's Balboa started Rocky II by telling all the reporters in the hospital that his fight with Apollo had convinced him to retire, and the movie started to unfold as an exploration of what might become of a small-time club boxer flush with a new celebrity status (yet few genuine opportunities). For his part, Apollo was anxious for a rematch against the man who had embarrassed him so badly in front of the world, and put his P.R. team to work cooking up a rematch.  It wasn't long before Rocky was training with Mickey once again, ripping iron, chasing chickens, and running around Philadelphia in one of the most splendid training montages in a series famous for turning out the best.  The hard work paid off, too. Rocky II found the film's title character going up against a determined, mad-as-fuck Apollo that actually trained for the second fight, and was on a mission to drop Balboa before the end of the second round.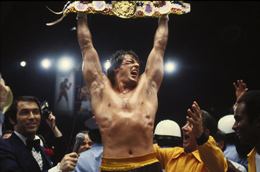 Yet Rocky had been training in scrap-metal junkyards and carrying logs through the park at five in the morning, and was just as determined as Apollo to salvage a reputation that had been sullied since their first encounter. Though Apollo got ahead on points early in the fight, Rocky's trademark grit and old-fashioned American resiliency saw him through to the fifteenth and final round. To win, Rocky needed to knock the champ out, something that would have been next to impossible had Apollo decided to play it safe, and keep his distance for two-and-a-half more minutes in the 15th.  This was an all-or-nothing fight, however, and was one both men wanted to finish on the mat, and not in the scorecards. Like two Greek gods fighting in an other-worldly realm, Rocky and Apollo went at each other in the 15th in a way that mortal men rarely dare. Holding nothing back, both fighters went punch for punch with the other, culminating in a double-knock down in slow motion: each fighter desperately reaching for a rope so as to get on their feet before the referee finished his ten-count. As the auditorium fans, corner men, and television viewers cheered each man on, the movie slowly built to that glorious moment when Apollo fell, and Rocky stood. The underdog had won, the crowd went wild, and audiences everywhere rejoiced for a hero that represented the best parts of every honest dream.