I watch movies for one reason. I want to experience something emotionally. I want to be moved—it's that simple. Whether it's the high-flying action and romance of "Spider-Man 2" the introspective chaos of "Fight Club," or the non-stop absurdity of "Monty Python and the Holy Grail," I want to feel something. The blackest and bleakest of dramas have a tough road to travel. In order for it to be worth two hours of depression, I have to feel like there is some kind of enlightenment, some human truth. Many of these dark films, like Roman Polanski's "The Pianist," keep me coming back for repeated viewings. Some, on the other hand, give me that cathartic experience but also take to me to a place I'm not likely to visit again. I'm not sure that "enjoy" is the right word for this, but try renting one of these exceptional films some night when you're ready for some artistically disturbing material. I've stuck to modern films to keep it to 10, but feel free to comment with additions from any era of filmmaking. Also, here's J.D.'s response!
10. In the Bedroom (2001)
A whopper of a directorial debut, Todd Field's adaptation of the Andre Dubus short story "Killings" earned five Oscar nominations including Best Picture. Grief overtakes married couple Sissy Spacek and Tom Wilkinson after their 18 year-old son is unexpectedly murdered by the separated husband of his older girlfriend, played by Marisa Tomei. A slow burning rage in both of them eventually boils to a head after the murderer gets out on bail and keeps showing his face in the small Maine fishing community where they live. Wilkinson's attraction to Tomei and his wife's accusing glances only make the tension even more unbearable. The ending seems a little incongruent since the rest of the film kept the fury to a simmering level, but "In the Bedroom" remains an illuminating look at the unexpected side effects of severe grief.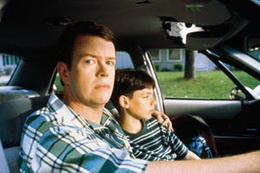 9. Happiness (1998)
Todd Solondz followed up his darkly hilarious "Welcome to the Dollhouse" with another seriously twisted and (depending on your aptitude for masturbation and human misery) funny film. "Happiness" depicts the social misadventures of three sisters and the pathetically disturbed freaks that surround them. Philip Seymour Hoffman is a maladjusted introvert whose only social interaction with women is filthy prank phone calls. Dylan Baker plays a suburban father who turns out to also be a child molester (and who has the most stomach-churning conversation in recent memory with his 11 year-old son). Many of Solondz's characters come to the eventual revelation that they are incapable of any real emotion at all. There are so many wrong things happening here that the iconic writer/director seems to be suggesting that the kind of behavior depicted in his characters' search for happiness is not abnormal, but instead the norm for today's society. It's been ten years since I first saw this movie, and I have only been recently considering that I may be ready to watch it again.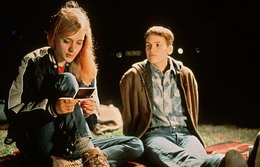 8. Boys Don't Cry (1999)
This beautifully-shot independent movie moved me so much when I saw it in the theaters that I bought it on DVD as soon as it was released—and then never watched it again. Hilary Swank won an Oscar for playing the true-life transgendered Brandon Teena, who lived life in a small Nebraska town as a boy until it was discovered he was really a girl. Brandon develops friendships both romantic and platonic, but his friends' confusion manifests itself in extreme violence and guilt. Brandon himself was unprepared to deal with his own gender identity crisis, and first-time feature writer/director Kimberly Peirce ("Stop-Loss") elucidates why none of his friends were either. The whole experience is enlightening, tragic, and completely maddening.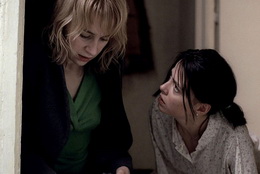 7. 4 Months, 3 Weeks, 2 Days (2007), The Death of Mr. Lazarescu (2005)
Cinematographer Oleg Mutu shot both of these disturbing neo-realist pictures, which herald a burgeoning new movement in Romanian film. Cristian Mungiu's Cannes Palm d'Or winner"4 Months" follows the trials of two female college students in 1980s Communist Romania who seek out an illegal abortion, while Cristi Puiu's "Mr. Lazarescu" follows an aged alcoholic widow who has a terrible headache and is puking blood through the ailing Bucharest medical system. The low-light documentary style of the camerawork and elimination of any soundtrack music only serve to heighten the reality of these awful situations. The events in each film provide very little relief from the insensitivity of human beings, even though the DVD box of "Mr. Lazarescu" calls it a black comedy. I admired both movies, and am glad to have achieved a level of emotional participation, but I never cracked a smile during either film, and I never want to watch either of them again.
6. In the Company of Men (1997)
Two misogynist yuppies set out to ruin the life of the most innocent young woman they can find in this difficult play-turned-independent feature from writer/director Neil LaBute. An ultra low-budget sledgehammer satire on modern corporate power and the male libido, "In the Company of Men" can be as funny as it is malicious, but it is anything but an easy watch. It launched the film career of Aaron Eckhart, who plays the most single-mindedly evil office worker ever—a man drunk with power and so heartless that he gets off on toying with the affections of a pretty, deaf subordinate just so he can crush her completely. There is something to be said for the unusually high level of uncompromising cruelty that LaBute puts on display here. As hard as the movie is to get through, "In the Company of Men" has a lot to say about the fear-driven complex that can lead to this kind of abuse.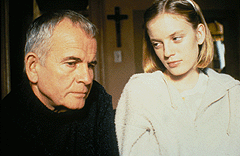 5. The Sweet Hereafter (1997)
If grief was the overriding emotion that drove "In the Bedroom," then is the soul of every frame of director Atom Egoyan's adaptation of the novel of the same name by Russell Banks. A school bus accident in a small Canadian town leaves the residents crippled with loss. Ian Holm plays a lawyer who tries to convince the families to sue for damages (and thus keeps the town's wounds open and fresh), and Sarah Polley is a survivor who lies to keep her sexually-abusive father from benefiting financially from the crash. This haunting movie draws a sympathetic portrait of everyone, including Holm's lawyer, who's dealing with his own family tragedy as well. More than any other film on this list, the pervasive downbeat mood of "The Sweet Hereafter" outweighs any specific plot developments, making it one singular, depressing examination of human suffering and healing.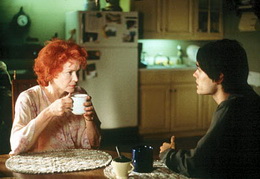 4. Requiem for a Dream (2000)
Often inappropriately devalued as nothing more than an extremely graphic anti-drug PSA, Darren Aronofsky's imaginative and kinetic film will stay with you long after the final credits roll. Based on Hubert Selby Jr.'s book, "Requiem for a Dream" is really about the dangers of an unattainable dream. Every character in the movie—from Ellen Burstyn's diet-pill abusing, infomercial-addicted elderly mother to her weak, heroin-addicted son (played by Jared Leto)—makes desperate, stupid attempts to achieve their dreams, and each are thwarted in their own unfortunate way. "Requiem for a Dream" isn't always as downbeat as some of the other films on this list, but in one particular way, it is way, way harder on an audience than the others: Its characters have hope, and they live for that hope with every passing season. And then reality comes back into focus and kicks every single one of them in the nuts.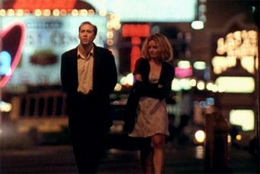 3. Leaving Las Vegas (1995)
This remarkable movie, helmed by Mike Figgis and starring Best Actor winner Nicolas Cage and Best Actress nominee Elisabeth Shue, is the least judgmental love story ever written. It achieves a clarity and beauty of vision that few movies about alcoholics ever have, mainly because it is all about acceptance. "Leaving Las Vegas" refuses to engage with the typical "life-changing moment" formula that almost every screenplay in the world sticks to. Instead, it observes the often stubborn immovability of the human will. By the time Hollywood screenwriter Cage reaches Sin City, he has left the shattered remains of his life behind and his goal is clear—to spend the last of his money drinking himself to death. An unlikely relationship with Shue's hooker gives Cage something to look forward to each day, but only under the condition that his ultimate fatalistic goal remains undeterred. Figgis co-wrote the screenplay with the novel's author John O'Brien, who committed suicide himself two weeks into the shooting of the film.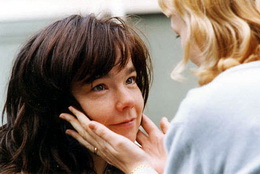 2. Dancer in the Dark (2000)
A Czech immigrant factory worker named Selma (played by musician Bjork) has a degenerative disease that's causing her to go blind in Lars Von Trier's emotionally draining, digitally-shot musical. Horrible situations keeping piling up for our heroine, who retreats into her mind to stage elaborate musical numbers that feature the characters in her miserable life. She holds out hope that one day she'll be able to pay for an operation that will save her son from the same fate. Tragedy and uplifting music have been combined in many a musical before, but because Von Trier shoots in a handheld realist style and the level of heartbreak is so enormous, the effect is very jarring in "Dancer in the Dark." Selma's situation goes from bad to worse, but she shows great courage in the face of her misfortune and uses music to escape from an increasingly grim reality. The movie won the Palm d'Or and Bjork was awarded Best Actress at Cannes that year, but not without controversy. Supposedly, Von Trier's method of directing Bjork was so harsh and personally abusive that the singer swore off acting for good after this. A friend of mine was so angry at the movie that he bolted out the door after its conclusion and ran down the street screaming—a reaction that I don't find to be all that strange, all things considered.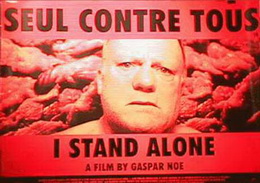 1. I Stand Alone (1998)
There are plenty of movies out there, like Gaspar Noe's "Irreversible," that I never want to watch again because I learned absolutely nothing from them. But before that film, Noe made "I Stand Alone"—a movie that stands alone for me as the single most grueling cinematic experience I've ever had. At least the despair in "Dancer in the Dark" is broken up with false joy every now and then. "I Stand Alone" is one gut-wrenching sucker punch after another, climaxing with a title screen that abruptly comes up and warns theatergoers that they have 30 seconds to leave the theater. There I sat. For 30 seconds, it counted down: 29, 28, and so on. Some people, fed up with the relentless despair and shocking violence they had seen up to that point already, 15, 14…promptly got out of their seats and headed for the exits. 2,1…I sat there, riveted, with the hair on my arms standing at end. Set in Paris in 1980, the film follows a former butcher who lashes out at a world that condemns the lower class to abject poverty. Stuck in a loveless relationship with an overweight, screeching, pregnant woman, he grabs his gun and sets out to find the mentally-deficient teenage daughter he gave up years ago when he went to prison. As hopeless as his outlook is, we get to know the butcher through his inner monologue, which is more than I can say for the poor saps that inhabit the equally shocking but pointless "Irreversible," which looks at the how one little decision can change the course of your life. "I Stand Alone" involved me emotionally and gave me something to think about, while "Irreversible" just pissed me off and made me feel like I'd seen an NC-17 version of "Sliding Doors" but with no Gwyneth Paltrow.