In honor of his 62nd birthday on Thursday, in honor of his fire-breathing and blood-spitting antics so clearly inspired by the classic Universal horror films, in honor of the fact that he was my rock idol at an early age and I still pay lots of attention to him despite the fact that I want to muzzle him every time he opens his mouth — today's Top 10 will pay tribute to the acting genius of Gene Simmons.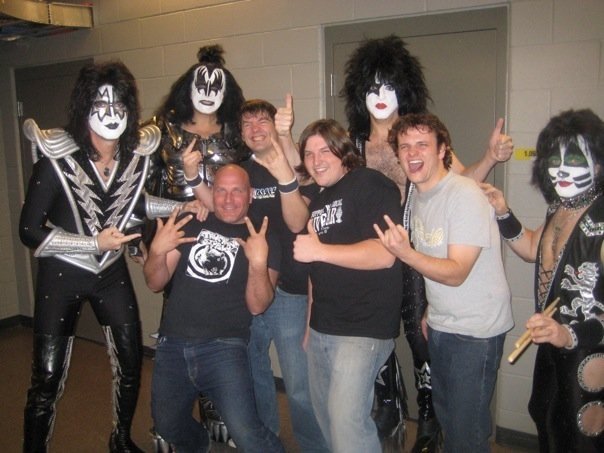 Can I call him a childhood hero? Yes. I can also call him an egotistical sociopath. (For the record, Gene was very nice and complimented my band more than once when we played a show with KISS in 2009 — the greatest rock moment of my life? Probably. That's me grinning like an idiot on his left shoulder. Now you see how deep the conflict runs!)
But today we honor his work on the tube and the big screen. Just wait til you get a hold of some of these babies. In tribute to the line "No gratitude need be voiced, your mind speaks to us!" from "KISS Meets the Phantom of the Park," this Top 10 will be less talk and more rock. Or, as we call it in movie parlance, "acting." I hope you enjoy the Top 10 Gene Simmons Performances. If you'd like to contribute a Top 10, email me at eric@scene-stealers.com.
10. Red Surf (1990) – Doc
I can't believe this came out in 1990 because it looks so much like an 80s flick, but I'll bet George Clooney wishes he could erase this from the Earth. Simmons shows up at :49 with a sweet ponytail wig.
9. Ugly Betty (2008) – himself
I don't have any idea what this is, but Gene is on multiple episodes of "Ugly Betty." Becki Newton sings a song here called "Gene Simmons is my Daddy." In the show, apparently Simmons (playing himself) pretended to be her father to fuel a father-daughter-inspired reality TV show. It's a stretch, I know.
8. Miami Vice (1985) – Newton Windsor Blade
Here's a fun little artifact of the times. Simmons plays an untouchable drug dealer in this episode of "Miami Vice," surrounded by babes. So versatile!
7. Trick or Treat (1986) – Nuke
Simmons had a cameo as a DJ and is only seen briefly in this summary of the movie, but Chuck Dowling has as much reverence for the film as I did when I was 15, so this video is a lot of fun. (I still think it's a pretty terrific movie.)
6. Extract (2009) – Joe Adler
Joe Adler is a character from Mike Judge's classic TV show "Beavis and Butthead," so when Simmons showed up playing a money-grubbing lawyer (fitting) in Judge's worst movie, "Extract," it kind of made sense. Gene hadn't acted for a while, and it's painfully obvious here. It's so over the top though, I can't help but laugh.
5. Wanted: Dead or Alive (1986) – Malak Al Rahim
As your typical Middle Eastern terrorist, Simmons has one of the funniest death scenes in movie in this completely forgettable piece of Rutger Hauer action trash.
4. Gene Simmons: Family Jewels (2006 – present) – Gene Simmons
You didn't think this was an actual reality show, did you? This show is so scripted and performed and massaged in editing, it should submit in the Best Drama series at the Emmys. It may also be the performance of Gene's lifetime because he has to make himself palatable to the public. The thing is, he and his family are so used to it. Is this much-talked-about heated appearance on The Today Show part of the performance? For Gene, yes. For Shannon Tweed, his non-wife of 28 years, clearly not. She is PISSED. The thing that gets me is that this was filmed AFTER the season-ending finale where he proposes to her.
3. Runaway (1984) – Luther
Luther (Simmons) made guns that shot bullets around corners and menaced Tom Selleck with spiders loaded with acid. Only in the 80s, man. First, another memorable death scene, then the whole film in a couple minutes. Great stuff.
2. KISS Meets the Phantom of the Park (1978) – The Demon
Gene playing himself/The Demon in the best made-for-TV movie of all-time. His roars are replaced with burps by the funnymen who made this video, but this has a lot of the most brilliant moments of this classic teleplay. Enjoy!
1. Never Too Young to Die (1986) – Carruthers/Velvet Von Ragner
This one truly has to be seen to be believed. Gene's evil hermaphrodite is scary, scary, scary as he/she battles John Stamos and Vanity and tries to poison the water supply. I can't believe this ever got made. Seriously, just watch some of this. So good there are three clips!