Today's Top 10 is a good one for the people who love Halloween but don't like being scared as much as they like the costumes and fun of it all. Brian Reeves from Kansas City contributed this good-humored list of funny horror films. If you have a Top 10 list you'd like to contribute, email me at eric@scene-stealers.com. Here's Brian:
Another Halloween is upon us, which means it's time for costume parties, trick-or-treating with the kids, and scary movies. Well, not always "scary" movies. I consider myself a big horror movie buff. I'm the guy in college who watched every horror movie I could get my hands on. Good ones, bad ones I didn't care, if it falls in the horror section, chances are I've seen it. But I figure there are going to be a lot of articles this week talking about scary movies you should watch for Halloween, so I'm going to take this one in a little different direction. I was originally going to write a list of the Top 10 reasons "Paranormal Activity" was a sucky movie, but I decided there was only so many creative ways to call a movie boring and uneventful. (Really, a slightly moving door and people standing in the dark is scary? Really?) Instead, I decided to have some fun with this list. After all, isn't Halloween really about having fun? Dressing up as crazy things, getting together with your friends or family, and having a good time is what it's all about. With that in mind, my thoughts immediately turned to one of my favorite films of the year, "Zombieland." It's a perfect combination of a few scares and good laughs–a perfect movie for this time of year. So with out further ado, here are my Top 10 fun movies to enjoy on Halloween.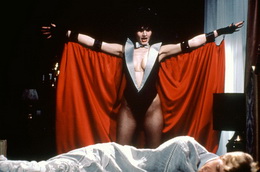 10. Transylvania 6-5000 (1985)
Okay, there's more comedy here then horror to start off, but this one is safe for the whole family. A movie financed by the Dow chemical company in order to spend "frozen" finances that the company had in Yugoslavia, this 80's comedy takes us straight to the heart of classic monster country. Frankenstein has reappeared in Transylvania and an American tabloid wants in on the story. They dispatch two reporters, Jack Harrison (Jeff Goldblum) and Gil Turner (Ed Begley Jr.) to investigate. With Carol Kane, Geena Davis, Jeffery Jones, and Michael Richards all making appearances in the film, it's like a name-that-actor trivia challenge for the adults in the room. The presence of the Wolfman, two hunchback lab assistants, and even a mummy makes sure all of the classic Transylvania monsters are present to get in on the fun. Campy, Cheesy, Perfect.
Gil Turner: Do you smell perfume?
Jack Harrison: Yes. I know what was in this room.
Gil Turner: What?
Jack Harrison: The Creature from Estee Lauder.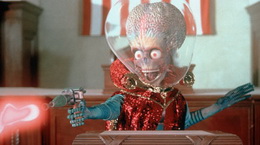 9. Mars Attacks! (1996)
I had a hard time deciding if this movie even belonged on the list since it's really more sci-fi than horror. But then I decided, "Screw it. It's my list anyway, who cares!" The first film from director Tim Burton to appear on this list, "Mars Attacks!" is a campy send-up of 1950s alien invasion movies. The premise here is simple: The aliens are invading, they do not come in peace, and what the hell are we going to do about it? It's the little things here that keep this one so near and dear to my heart. From the rayguns that take their sound from "War of the Worlds" to the subtle background taken straight from "Plan 9 From Outer Space" when the aliens first address earth, this film really shows it's love for old-style matinee B-movies. "Mars Attacks!" also features yet another cast that reads as a who's who of Hollywood, with Jack Nicholson, Glenn Close, Annette Bening, Danny DeVito, Michael J. Fox and many, many more recognizable faces (including one of the early roles for Jack Black) all come together to make this easily the most impressive cast on this list.
President Dale: I want the people to know that they still have two out of three branches of the government working for them, and that ain't bad.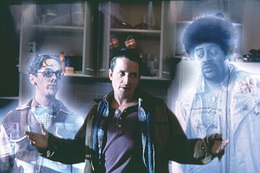 8. The Frighteners (1996)
Looks like 1996 was a pretty good year. Long before he was spinning tales about hobbits and rings, Peter Jackson was making some amazingly twisted horror movies. And while I love "Bad Taste" and "Dead Alive," the Michael J. Fox vehicle "The Frighteners" is his film that makes the most sense for this list. Fox plays Frank Bannister, a psychic who can see and talk to ghosts. He uses this skill to open his own ghostbusting business.I don't want to give too much away with this one, just know that this movie is a rollercoaster thrill ride and here things are never quite what the seem. Featuring great supporting performances from Jake Busey and R. Lee Ermey, "The Frighteners" is sure put you on the edge of your seat and tickle your funny bone at the same time.
Frank Bannister: Why is it that flies stick to you guys like shit to a blanket?
Cyrus: Ha ha, very funny. You're a funny guy, Frank. You know, all you think about is
yourself. I could complain, too, you know. I would like some new clothes. You get to dress
nice. Here I am still looking like Linc from The Mod Squad.
Frank Bannister: You died in the 70's. It's a bummer.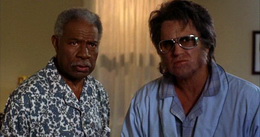 7. Bubba Ho-Tep (2002)
Elvis and JFK, both alive and in a nursing home, fight for the souls of their fellow residents as they battle an ancient Egyptian mummy. Yes, you read that correctly. All that needs to be known about this movie can be summed up in four words: Bruce Campbell as Elvis. Well, what are you waiting for, go watch it! I mean like, right now!
Elvis: Ask not what your rest home can do for you. Ask what you can do for your rest home.
JFK: Hey, you're copying my best lines!
Elvis: Then let me paraphrase one of my own. Let's take care of business.
JFK: Just what are you getting at, Elvis?
Elvis: I think you know what I'm gettin' at Mr. President. We're gonna kill us a mummy.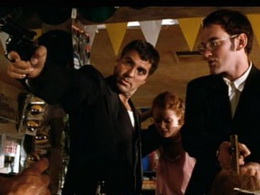 6. From Dusk Till Dawn (1996)
Welcome back. A little more serious than the movies on this list so far, this Quentin Tarantino-written, Robert Rodriguez-directed journey into a lair of Mexican vampires is a little hard to classify. It starts out as a Tarantino-like crime movie about two brother bank robbers on the run. They take a family hostage to cross into Mexico, and then abruptly it turns into a B-movie horror splatterfest. While some point to the film's unevenness as a flaw, I think it just adds to the fun. It certainly keeps it from getting boring. George Clooney and Harvey Keitel both help the movie keep its serious side, while never undermining the B-movie late night fun this film is obviously intended to be. Danny Trejo and Tom Savini (the man behind the effects in the original "Friday the 13th" and "Dawn of the Dead") appear in supporting roles.
Kate: Are you okay?
Seth: Peachy, Kate. The world's my oyster, except for the fact that I just rammed a wooden
stake in my brother's heart because he turned into a vampire, even though I don't believe in
vampires. Aside from that unfortunate business, everything's hunky-dory.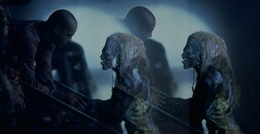 5. Tales from the Crypt: Demon Knight (1995)
Ah yes, "Tales from the Crypt." The HBO series that started in 1989 was always a favorite of mine. With this film, the premium cable series made its first and best transition to the big screen. The plot is fairly simple: A man carrying something very important holes up in a roadside motel while being chased by the forces of Hell itself. From there it becomes a simple survival tale. Who lives, who dies, who cares? Much like the television series, this film doesn't take itself too seriously. And much like "From Dusk Till Dawn," eventually this film becomes about the demon body count. With tongue firmly planted in cheek, Billy Zane, William Sadler, and Thomas Haden Church takes us through what the Crypt Keeper affectionately calls a "deadtime story." This movie also has a killer soundtrack for any metalheads out there featuring music from Pantera, Machine Head, Biohazard, Minstry, Melvins and Sepultura.
Crypt Keeper: Fasten your drool cups, and ready your vomit bags! We're going to the movies!
Frights, camera, action!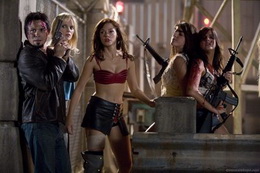 4. Planet Terror (2007)
Two words: Machine-gun leg! Robert Rodriguez makes his second showing on my list. The first half of the under-appreciated double feature "Grindhouse," "Planet Terror" is an almost perfect homage to 70s B-level horror. A bio-virus is released on a small town and zombie style hi-jinks begin as El Wrey (Freddy Rodriguez), a man with a secret past, tries to save the town and the woman he loves. Rodriguez is able to again strike a nice balance between the horror and comedy. Purposely bad dialogue and plot holes galore (including a missing reel) are a great nod to the large number of terrible low-budget horror films that are released every year. But this movie never falls into the tedium that comes with most of the films "Planet Terror" parodies. Josh Brolin, Michael Biehn, Bruce Willis, and the smoking-hot Rose McGowan combine to give us yet another example of how Rodriguez can do big budget terror with a sly smile and Halloween fun sensibilities.
El Wray: I need someone to drive my truck.
Sheriff Hague: I'll do it.
El Wray: You're bleeding like a stuck pig. Your vision is probably blurred, and you're on
your last leg…
Sheriff Hague: [sarcastic] Anything else?
El Wray: Don't wreck it.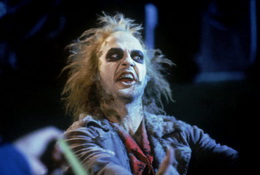 3. Beetlejuice (1988)
He's the ghost with the most. Another Tim Burton film comes in at number three. It's hard to imagine there's anyone out there who hasn't seen this Michael Keaton classic. In a role that was originally intended for Sammy Davis Jr., Keaton put on one of the iconic performances of his career as Beetlejuice. A recently deceased couple who's stuck living in their own house for the afterlife wants to get rid of the new living family that's moved in. They enlist the services of Beetlejuice to exorcise the living from their home. A wacky movie with ghosts, laughs, and island music numbers. This film is one of a kind. You know you love it, so go watch it again this Halloween.
Adam: What are your qualifications?
Betelgeuse: Ah. Well… I attended Juilliard… I'm a graduate of the Harvard business
school. I travel quite extensively. I lived through the Black Plague and had a pretty good
time during that. I've seen the EXORCIST ABOUT A HUNDRED AND SIXTY-SEVEN TIMES, AND IT
KEEPS GETTING FUNNIER EVERY SINGLE TIME I SEE IT… NOT TO MENTION THE FACT THAT YOU'RE TALKING TO A DEAD GUY… NOW WHAT DO YOU THINK? You think I'm qualified?
2. Army of Darkness (1992)
The third film in Sam Raimi's "Evil Dead" series, "Army of Darkness" takes the camp of the first two to an entirely different level. Ash (Bruce Campbell again) has been sucked through a vortex and ends up in medieval times. He then must begin his quest to find the Necromonicon. Raimi's trademark style and Campbell's one-liners make this about a much fun as you can have battling an army of the dead. I don't know what else to say about this one except if you haven't seen it, I don't think we can be friends anymore. There are simply too many great lines from this movie to pick just one, but I suppose I'll have to try.
Ash: Alright you Primitive Screwheads, listen up! You see this? This… is my boomstick! The twelve-gauge double-barreled Remington. S-Mart's top of the line. You can find this in the sporting goods department. That's right, this sweet baby was made in Grand Rapids, Michigan. Retails for about a hundred and nine, ninety five. It's got a walnut stock, cobalt blue steel, and a hair trigger. That's right. Shop smart. Shop S-Mart. You got that?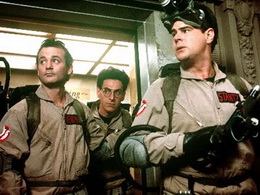 1. Ghostbusters (1984)
If I have to tell you why this is number one then you haven't seen "Zombieland" yet and that, my friends, is a true shame. Go see it and then re-live this Ivan Reitman-directed classic. It still makes me laugh out loud every time I watch it. Happy Halloween, everybody!
Dr. Peter Venkman: Alice, I'm going to ask you a couple of standard questions, okay? Have you or any of your family been diagnosed schizophrenic? Mentally incompetent?
Librarian Alice: My uncle thought he was Saint Jerome.
Dr. Peter Venkman: I'd call that a big yes.