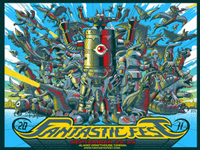 Fantastic Fest 2011 is up and running.  Last week, I published a Top 10 list of the best movies that  played at FF still in need of a U.S. release. This week, we'll look at the ones you can stream right now. Here's a big reference guide of almost everything: 90 past Fantastic Fest titles available to stream on either Netflix, Amazon, or Hulu.
While nearly every one there is worth checking out, today we bring you the less-daunting Top 10 titles from that list. For simplicity, all the below titles are currently available to stream on Netflix. Check them out now to get excited for this year's continuing coverage!
10. Merantau (2009)
Indonesia is not exactly known for its Martial Arts films, so this somewhat conventional film feels like a breath of fresh air, with exciting fight scenes featuring a unique style.
9.
House of the Devil
(2009)
Director Ti West's loving homage to slow burn horror of the late 70s and early 80s works brilliantly as both a loving tribute and a well-crafted thriller that could easily be mistaken for a lost classic.
8.
Not Quite Hollywood
(2008)
Director Mark Hartley's manically paced and hysterical documentary chronicling "Ozploitation" films has to be seen to be believed. Taken only as a list of movies you MUST RENT NOW, it is an invaluable resource. Thankfully, it's much more than that.
7.
The Man From Nowhere
(2010)
While it may tread familiar territory, solid execution helps this movie's Bourne-like badass transcend cliche to help it become one of the best South Korean action films ever.
6.
13 Assassins
(2010)
The insanely prolific director Takashi Miike surprised nearly everyone with this masterfully executed samurai film that stands alongside some of Kurosawa's best.
5.
A Somewhat Gentle Man
(2010)
Tonally, this Norwegian crime comedy most resembles the Alexander Payne films "About Schmidt," and "Citizen Ruth" by finding cathartic laughs in awkward and borderline absurd social situations and uncomfortable sexual encounters.
4.
I Saw the Devil
(2010)
This relentless, bloody South Korean thriller starts as a typical thriller about a serial killer, but quickly diverges into a very bizarre yet poignant tale about obsession and vengeance. It's rare for a movie to simply not be concerned with making its protagonist likable or redeemable, but that is precisely what makes this film so tragic and affecting.
3.
Rubber
(2010)
Who would have thought a gory, subversive comedy about a sentient, murderous tire would be so divisive? This surprisingly re-watchable film brilliantly satirizes slasher films, road movies, and filmmaking in general. While it may not be for everyone, there has never been anything quite like it.
2.
The Good, The Bad, and the Weird
(2008)
An energetic, funny, and bloody rollercoaster ride for grown-ups that mines its historical setting for all its worth, this intelligent South Korean action film owes an equal debt to "Raiders of the Lost Ark" as well as the films of Sergio Leone.
1.
Let The Right One In
(2008)
A beautiful and heartbreaking film about a troubled youth and the vampire he befriends, this Swedish film is about as close to perfect as movies can get.
---
And when you're done with those, these 20 movies were all strong contenders: Antichrist, Apocalypto, Big Man Japan, Buried, The Burrowers, The Chaser, Chocolate, Cropsey, Daybreakers, Enter The Void, Human Centipede, Ip Man 2, Isolation, Just Another Love Story, Legend of the Fist: The Return of Chen Zhen, Let Me In, Paranormal Activity, Red White and Blue, Terribly Happy, and Trick R Treat.