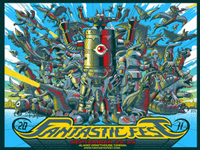 I have seen just over 40 of the films that played Fantastic Fest this year. It was an almost uniformly great lineup, and narrowing this list down to my 10 favorites was tough. It should be noted that I have not yet seen the audience favorites "Bullhead," or "Elite Squad: the Enemy Within," but otherwise I feel confident this is the comprehensive Top Ten Fantastic Fest 2011 Movies.
The also excellent runners-up:"Clown," "Comic-Con Episode Four: A Fan's Hope," "Extraterrestrial," "The Innkeepers," "Melancholia," "Michael," "Rabies," "Sleep Tight," "Smuggler," and "You Said What?"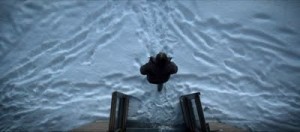 10. Snowman's Land (2010)
This German film brings a low key charm and wicked sense of humor to the increasingly familiar cinematic world of hitmen. While its quiet and mostly exhausted lead may seem like a curious choice for protagonist, a lot of humor is derived from his desire to stay as uninvolved in the madness around him as possible. With similarities to "In Bruges," "Fargo," and even "The Shining," it all adds up to a crime comedy that takes its time but makes its mark all the same.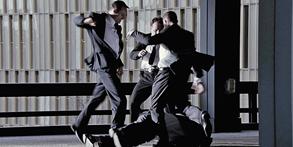 9. Carre Blanc (2011)
Great science fiction uses the future to comment on the present; the French film "Carre Blanc" is a fine example of this. It is set in a bleak future where suicidal ideation is widespread, the meat industry is simply creatively re-packaged cannibalism, and children are cruelly manipulated into becoming cold corporate cogs. It follows a childless married couple, both at their first chance meeting as children, and later as adults struggling to find meaning in a world seemingly devoid of hope or any sense of purpose. This film is tough, but with an unmistakable sense of humor just poking out from under the surface. Its loose narrative may leave some wanting, but its evocative imagery and uncompromising vision make it worthy viewing regardless.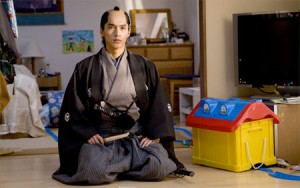 8. A Boy And His Samurai (2011)
Who knew a heartwarming family film from Japan could play so strongly to genre-loving Fantastic Fest attendees? This crowd-pleaser from Yoshiro Nakamura, the director of past favorites "Fish Story" and"Golden Slumber," tells the story of a positively adorable boy, his single mother, and the man they befriend who claims to be a Samurai that has traveled through time. As expected, hilarity ensues and everyone learns valuable life lessons. But regardless of the familiarity of its framework, there is no denying its wit and warmth. The film's original Japanese title is "Chonmage purin" or "Samurai Pudding." While that alludes to the food-centric second half of the film and its overall sweetness, "A Boy and His Samurai" is a winner no matter what you call it.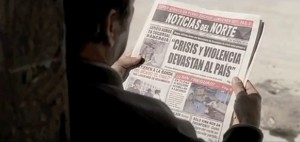 7. El infierno (2010)
This Mexican crime comedy, referred to as "El Narco" during Fantastic Fest, is mostly pretty straight forward. Benny Garcia (Damián Alcázar), a Mexican who has been living in America for twenty years, returns home to his small village only to find that his younger brother has been murdered after cultivating a reputation as one of the most feared drug runners in the area. We follow Benny as he attempts to avenge his brother's murder and provide for his family without losing his soul in the process. Set against the backdrop of the Mexican bicentennial, the film earns its sometimes heavy-handed social commentary, as well as some big laughs. Despite the eventual gruesome violence, it is tonally reminiscent of the dialogue driven "Paris, Texas," with an ending that recalls "Nashville" in a particularly eerie manner.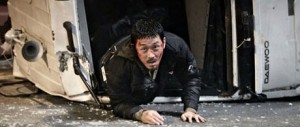 6. The Yellow Sea (2010)
No one does revenge and knife fights in films quite like South Korea does. Director Hong-jin Na follows up his excellent film "The Chaser," by reuniting with two principal cast members and telling the story of a quiet man from an ethnic minority, forced to murder in order to earn passage to Seoul to try and locate his wife. Despite relying on Paul Greengrass-style shaky-cam action, this tense thriller leaves an indelible impression with its epic knife and hatchet battles as well as the tragic struggle of its flawed protagonist.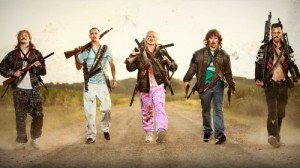 5. New Kids Turbo (2010)
This unrestrained Dutch comedy is so relentlessly funny that it makes it easy to forget just how abrasive and unlikable its characters should be. An inventive send-up of action movie excess, with at least a little bit of intelligent social satire mixed in, "New Kids Turbo" winds up making total and complete stupidity feel fresh and fun again. I'm not sure if that's an accomplishment to celebrate, but I do know this is a film to watch and re-watch with friends. I just wish it was easier to quote. Maybe I should learn Dutch. My review of "New Kids Turbo."
4. Sleepless Night (2011)
This French thriller dusts off the old "dirty cop has day from hell" formula from the 70s and reinvigorates it with modern action style. Taking place almost entirely in one location over the course of a very eventful evening, the filmmakers achieve a sense of desperation and claustrophobia by shooting almost entirely in hand held close-ups and medium shots. If you like your crime films unbearably tense and your heroes flawed but determined, you will love "Sleepless Night" as much as I did. Hopefully it will have a U.S. release before the planned remake from Warner Brothers hits.
3. Take Shelter (2011)
What "Black Swan" did for anxiety disorder, "Take Shelter" does for schizophrenia as a father (Michael Shannon) finds himself bombarded with apocalyptic nightmares and hallucinations. As he obsesses over preparing for a future the entire world thinks is paranoid fantasy, he risks losing his job, his family, and his mind. With only his second film, writer/director Jeff Nichols shows a remarkable mastery for the material and a very steady hand that takes the film to a stirring emotional crescendo featuring stunning performances from Shannon and Jessica Chastain as his wife.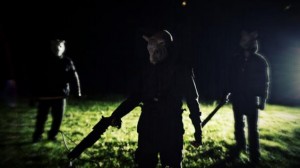 2. You're Next (2011)
At a risk of overselling it, "You're Next" is just about perfect. It's the "Die Hard" of home invasion horror, as killers in animal masks attack a wealthy and dysfunctional family on holiday. Of course the killers didn't count on Erin (Sharni Vinson), the fiery girlfriend of Crispian (AJ Bowen), who was raised by her paranoid parents in a survivalist compound in the Australian outback. Ever calm even when the bodies start piling up, the remaining family members just might make it through the night if they follow Erin's lead. While it has no shortage of gore or comedy, "You're Next" doesn't forget that horror should also be scary too. This film was picked up by Lionsgate for a rumored release twelve months from now. Hopefully they realize just how great this film is and will shepherd it to the triumphant theatrical run it deserves.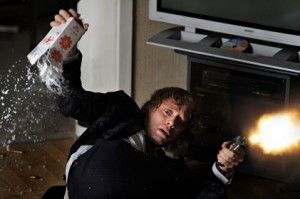 1. Headhunters (2011)
I'm not completely sure how this Norwegian crime comedy emerged as my favorite of the entire festival, but something about the way it handles the emotional relationship between the protagonist and his wife mixed with the hilarious absurdity of his bad luck has really stuck with me. Much like "You're Next," it perfectly executes a tricky combination of comedy and thrills with a plot and tone that still manage to satisfy. Out of all the films I saw at Fantastic Fest this year, the one I am most anxious to revisit is the one about the 5'5″ corporate recruiter who moonlights as an art thief. Who knew? My review of "Headhunters."