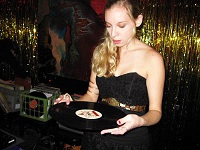 Today's Top 10 of the most essential movies about rock music was written by Chicago-based DJ Meghan Brozanic aka DJ Gloria Vanderbilt, who blogs at Faintly Amused.
J.D. and I have previously listed some of our favorite movies about rock musicians, both real and fake (as well as hilarious rock star cameos), but somehow we left off a lot off these essential flicks, so I'm glad Meghan's picking up where we left off on this solid list of Top 10 Essential Rock Movies. Here's Meghan:
10. 8 Mile (2002)— Starring Eminem
Released at the peak of Eminem's critical and professional success, 8 Mile gives a semi-autobiographical look of his early life and a realistic glimpse of battle rapping. It also has many strong supporting performances, and Eminem reveals himself to be a good dramatic actor. In my opinion, it has a lot of similar theme and parallels to Purple Rain. The movie's theme song "Lose Yourself" won Eminem an Academy Award.
9. All You Need Is Cash (1978)— Starring The Rutles
A parody of the Beatles with probably the most impressive list of comedian co-stars in history, most of whom are plucked from the glory days of SNL (The Rutles originally started off as a skit on SNL). Also features genius cameos by George Harrison, Mick Jagger, and Paul Simon. The Rutles' songs were so expertly crafted to sound like Beatles songs that Neil Innes got sued. Whoops. Cheese and Onions!
8. DIG! (2004)— Starring The Brian Jonestown Massacre and The Dandy Warhols
A documentary of two Portland, OR bands that are lead by two charismatic frontmen (Anton Newcombe and Courtney Taylor-Taylor) that have a love-hate friendship and competitive musical relationship. You're probably thinking, why do I want to watch a documentary about two mildy successful indie rock bands? Well Anton is a total self-destructive weirdo that gets jealous of the more slickly commercial Dandys and watching The Brian Jonestown Massacre implode is highly entertaining. Both bands are great and highly underrated if you ask me.
7. Monterey Pop (1968)— Starring Various Artists. Shot by D.A Pennebaker
Woodstock gets more acclaim these days, but Monterey Pop was the first big music festival dedicated to pop music and features many bands in the blissful period of their careers when they were just taking off and times were groovy (Janis Joplin, Hendrix, The Who, The Jefferson Airplane). Monterey Pop is notable for also featuring one of Otis Redding's first concerts in front of a primarily white audience and also being his last filmed performance before his death in late 1967. The documentary also captures the summer of love in all of its glory, with some amazing crowd shots that give a good perception of what it was like to live in California at that time.
6. HEAD (1968)— Starring the Monkees
The first of many collaborations between Bob Rafelson and Jack Nicholson featured The Monkees as a symbol of manipulation by Hollywood and the pop culture climate of the time. The Monkees effectively killed their career with this film and sometimes appeared giddy to do so. The movie pioneered many film and editing techniques and has grown to be a cult classic that is routinely taught in film school and shown on the big screen even in 2012.
5. Don't Look Back (1967)— Starring Bob Dylan
D.A Pennebaker follows Dylan around the U.K during the height of his fame. Dylan was not thrilled by this documentary, but it features many classic and influential moments, like the music clip of "Subterranean Homesick Blues", Dylan's complicated and enigmatic relationship with the press and in his reluctant role as a celebrity. Also features memorable cameos from Donovan and Joan Baez (not seen in flattering lights, unfortunately).
4. Purple Rain (1984)— Starring Prince
Prince aka "The Kid" is a musician in Minneapolis, MN and comes from a troubled family life. The movie focuses on this, as well as his romance with Apollonia, his sweet motorcycle, the color purple (naturally), and his rivalry with Morris Day of the Time, who is genius in the antagonist role. Prince isn't the most natural actor but you are treated to a bevy of performance footage of Prince in his peak of sexiness and popularity.
3. This is Spinal Tap (1984)— Starring Christopher Guest, Michael McKean, and Harry Shearer
A classic mockumentary of famous hard rock and prog bands in the 70s and 80s that was a little too realistic for many bands of that era (Jimmy Page, Steven Tyler, and Eddie Van Halen thought it hit a little too close to home.) The movie was mostly ad-libbed and much of the plot points and quotes have become legendary ("These go to 11"). Before you go through airport security, always remember to take the cucumber out of your pants, by the way.
2. Gimme Shelter (1970)— Starring The Rolling Stones
A documentary by the Maysles Brothers of the Rolling Stones' 1969 American Tour. The 1969 Tour was supposed to be an epic welcome back for the Stones who had not played the US since 1966 and instead became a symbol of the death of the 60s and hippie culture. Much of the film focuses on the tragedy at Altamont Speedway and the most memorable moment is Mick Jagger watching the playback footage of Meredith Hunter getting stabbed to death in front of the stage. Also notable is the footage of the Jefferson Airplane and the Keith Richards attempting to make the crowd chill out. Very moving film.
1. A Hard Days Night (1964)— Starring the Beatles
What would it be like to be the biggest pop band in the world? This film gives a fairly accurate depiction. It's also notable for film techniques that would revolutionize the world of promo films and music video, and giving the Beatles their own archetypes that they would be saddled with for much of their career (John- the sarcastic one. Paul- the cute one. George- the quiet one. Ringo- the funny one). It features snappy smart dialogue and a killer soundtrack with all original Beatles songs.