One of the last true glamorous Hollywood legends passed away on last Wednesday at the age of 79. Elizabeth Taylor was an actress whose tumultuous private life—she was married eight times to seven different husbands—ensured her constant coverage in the tabloids even after her theatrical film appearances all but stopped in the mid-1970s. Looking back at the films she made, however, it is clear that her sheer magnetism and charisma made an indelible mark on American movies. Here are the Top 10 Elizabeth Taylor Performances.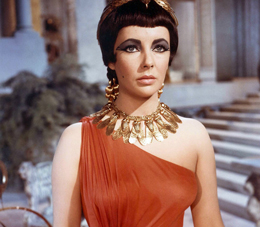 10. Cleopatra (1963)
Taylor broke two records when she appeared in this overly long and stagey epic production that as started in 1960 and not completed and released for three more years. She became the highest-paid actress ever, with a contract for $1 million to play the title character. She also went down in the Guinness Book of World Records for the most costume changes in a film, with 65. This is also the movie she met Richard Burton on, and their affair was one reason the film received so much negative publicity. The other was its ever-ballooning budget, which finally topped out at a whopping $44 million. Taylor is as melodramatic as the 246-minute movie itself, but boy does she ever look fantastic.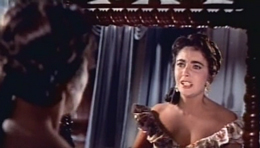 9. Raintree Country (1957)
This Civil War-era epic pairs Taylor again with Montgomery Clift (see #2), except this time for the kind of opulent grandeur one would expect in a Technicolor drama. It's pretty standard "Gone With the Wind"-type stuff, but Taylor is riveting as a Southern belle who seems to have inherited a touch of madness. Well, maybe that's a little too subtle a description for the kind of loud histrionics she goes through in "Raintree County." From depression to insanity to tragedy? Hell yes, she earned her first Oscar nod for this movie.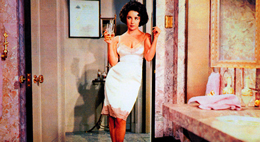 8. Butterfield 8 (1960)
Taylor co-starred with her Eddie Fisher in this sordid drama where she plays a hooker who steals Laurence Harvey away from his wife. Ironically, she had broken up Fisher's marriage to Debbie Reynolds at the time, so life was imitating art and the tabloids pounced. Forced to make the movie through a contract with MGM (so she could film "Cleopatra" for Fox), Taylor always professed hate for "Butterfield 8" (calling it "Butterball 4" to her friends), even though the role helped her win her first Best Actress Oscar—after four consecutive years of being nominated. Even after the film ended up being a hit, she said of it: "I still say it stinks." Still, the film showcased her talent for playing tragic characters.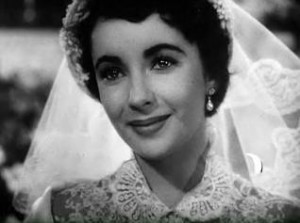 7. Father of the Bride (1950)
Cast as Spencer Tracy's little girl who's about to get married in this Vincente Minnelli-directed film, the 17-year old Taylor is positively radiant. If anyone had any doubt that the child actor previously known for starring in movies with horses and dogs would be able to transition to adult roles, those thoughts were erased when this big-hearted comedy was released. Everything goes wrong that could, and it's essentially Tracy's movie, but Taylor is warm and charming, providing the heart of the movie. Yes, this is the film that would be later remade with Steve Martin. Don't let that sour you on this one.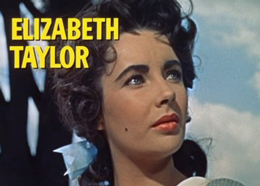 6. Giant (1956)
Another epic, this one directed by George Stevens, "Giant" is now primarily known as James Dean's last movie. Taylor turns in a strong performance, however, as the sympathetic wife of a rich Texas rancher (Rock Hudson). Throughout the film's three-hour-and-seventeen-minute running time, she undergoes a lifetime of changes in character. It may be Dean, Hudson, and co-star Mercedes McCambridge who were all nominated for Oscars, but it's Taylor who holds down the fort. It wasn't until her more showy Southern belle role the following year (see #9) that she would earn her first, perhaps partially due to her snub here.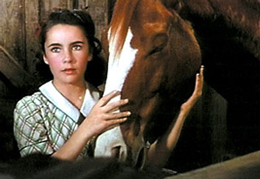 5. National Velvet (1944)
After the success of "Lassie Come Home" in 1943, the young Elizabeth Taylor campaigned hard at MGM to get the role of Velvet Brown, the rural English girl who trains a wild stallion to compete in the world-famous Grand National horse race. This wholesome family film, co-starring Mickey Rooney and Angela Lansbury, still holds up as an inspiring against-all-odds tale (especially since female jockeys weren't allowed in the steeple chase). Taylor is plucky and so very charming in the lead role—an absolute natural in front of the camera. Audiences agreed, and the Technicolor "National Velvet" was an instant success, making the 12-year old Taylor an instant movie star.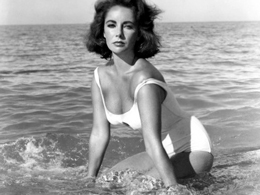 4. Suddenly, Last Summer (1959)
Taylor earned her third consecutive Best Actress nomination (and third loss) for Joseph L. Mankiewicz's atmospheric melodrama. The movie poster promised in big capital letters: "THESE ARE POWERS AND PASSIONS WITHOUT PRECEDENT IN MOTION PICTURES." With Gore Vidal and Tennessee Williams adapting Williams' lurid one-act play, who would expect anything else? Themes of sexual repression and forbidden desire run rampant through the film, while a sensual Taylor shines as a girl apparently driven mad by her cousin's death. As if that's not enough, her domineering aunt (Katherine Hepburn) wants her lobotomized to cover up a dark family secret!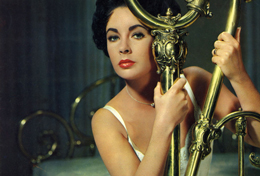 3. Cat on a Hot Tin Roof (1958)
This Pulitzer Prize-winning play from Tennessee Williams about a wealthy Southern family rotting from the inside out was toned down by writer/director Richard Brooks to remove the suggestion of homosexuality on the part of Paul Newman's character. Still, it remains a classic, and it gave Taylor a chance to show off her dramatic chops. Cast as Newman's frustrated wife "Maggie the Cat," she is sultry and heartbroken as the woman who can't get her alcoholic ex-football star of a husband to love her. It was her second consecutive Best Actress nomination and with it, she showed film audiences that she was capable of films with more range.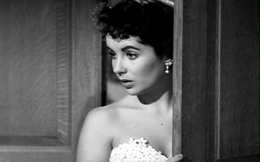 2. A Place in the Sun (1951)
It was the role of glamorous socialite Angela Vickers in this lusty George Stevens-directed drama that forced audiences to take notice of Taylor as an adult actress. Her magnetic onscreen chemistry with Montgomery Clift—who would become a close personal friend of Taylor—is what sells this sordid love triangle of a movie. Clift is a working-class guy who gets a poor girl (Shelly Winters) pregnant, but soon becomes obsessed with Taylor's gorgeous society girl and dreams of a life he thought he'd never have. This dark, disturbing tragedy set the tone for the kind of ravishing dream-girl roles that Taylor would later inhabit in the 50s and 60s.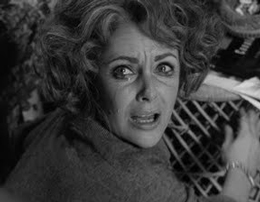 1. Who's Afraid of Virginia Woolf? (1966)
Ironically, Taylor's best and most fully realized performance may be her least glamorous. She gained 30 pounds and was playing a 50-something woman when she was just 34 herself. Playing opposite her then-husband Richard Burton (whom she divorced and remarried and divorced again in the mid-70s), Taylor is riveting as the abusive, alcoholic Martha. Able to go from seductive to horribly cruel in a heartbeat, she deservedly won her second Best Actress Oscar for this groundbreaking Mike Nichols film, based on the Edward Albee play. Its use of language and adult content pushed the boundaries of good taste and helped create the need in the MPAA's eyes for a film rating system. Sadly, Taylor would never work on such a groundbreaking movie again.