Last week contributor/filmmaker Trey Hock wrote up his list of the Top 10 Dysfunctional Families in Movie Comedies because when he started a list of dysfunctional families in general, it was way too long. You could look at today's list as a sort of Part Two. Separating them into two list gave him the opportunity to concentrate the second list on drama and horror films. I have to say, this one is even more disturbing than last week's list. So read on and enjoy Trey's Top 10 Dysfunctional Families in Movie Dramas. Here's Trey: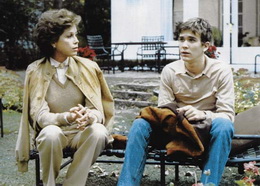 10. The Jarrets in "Ordinary People" (1980) Dir. Robert Redford
If you want to see a movie with puffy vests and large knit sweaters on men that still manages to age pretty well, this is your film. " Ordinary People" is a about the Jarrets. All are dealing with the loss of their son, Buck, in a boating accident, but none more so than Conrad, Buck's younger brother, who is recently home from a psyche hospital after an attempted suicide. Conrad, played by Timothy Hutton, tries to get back into his normal routine, but the loss and guilt he feels over his brother's death are made more acute because of his stern and loveless mother, played by Mary Tyler Moore. There are some genuinely great performances here. Moore lost out on an Oscar because she was up against Sissy Spacek in "A Coal Miner's Daughter." Timothy Hutton won for best actor in a supporting role and the film took Best Picture. The movie is a really smart tear-jerker without the sappy syrup of a traditional chick flick.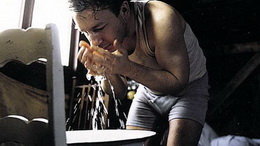 9. Karol and Dominique Karol in "White" (1994) Dir. Krzysztof Kieslowski
I may be going a little outside of box with this one, but the second film in Kieslowski's "Colors" Trilogy is really great and there is one terribly unhappy marriage at its center. Karol Karol is a successful Polish hairdresser working in Paris. He is obsessed with his wife Dominique, played by the smokin' hot Julie Delpy, but she begins the process of getting a divorce when Karol is unable to perform sexually. She has him kicked out of the country, and has sex with other men while Karol is on the phone. Karol must find a way to smuggle himself back to Paris in order to exact his revenge and resolve his inadequacy. This is both a man's worst nightmare and greatest triumph, and is an incredible story about a tragic union.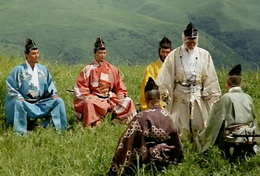 8. The Ichimonjis in "Ran" (1985) Dir. Akira Kurosawa
Kurosawa returns to his love of Shakespeare and gives us his take on "King Lear." This is classic screwed-up family stuff here. An aging lord decides to split his kingdom among his three sons. The youngest of the sons tells the lord this is a bad idea and is banished. The older two split the kingdom, turn on their father, and then each other. Wealthy landlords make for the most fascinating and screwed up family members. If you want Japanese filmmaking that is accessible Western sensibilities, and you need to see a huge palace dripping with the blood of your brother's army, well you're in for a treat.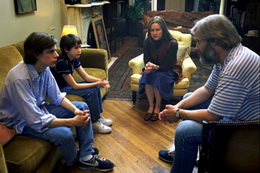 7. The Berkmans in "The Squid and the Whale" (2005) Dir. Noah Baumbach
I thought I wanted Jeff Daniels to adopt me until I saw this film. The Berkmans show us that smart and socially conscious parents don't solve the problem when it comes to screwing up families. Bernard Berkman (Daniels) is on the shady side of his career slope as his wife, Joan Berkman (Laura Linney) , is coming into her career renaissance. Neither can keep their feelings of jealousy and bitter animosity towards each other concealed from their sons, Frank and Walt. Why would they? Frank and Walt should see the process of their parents imploding marriage. It will be good for their intellectual and emotional development. All it manages to do is confuse Walt and Frank, who are both at slightly different stages of sexual and social development. Crushingly real and beautiful, "The Squid and Whale" owns the viewer from start to finish.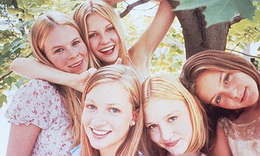 6. The Lisbons in "The Virgin Suicides" (1999) Dir. Sofia Coppola
Let's forget this family stuff, and just kill ourselves. That's one option I guess. When one of the five Lisbon daughters commits suicide, Mr. Lisbon decides that an ironclad grip on his remaining daughters' lives is the solution. We watch as the sisters rebel and waste away until there seems to be only one way out. This gauzy, eerie film gives us a glimpse into the lives of four relatively normal sisters, who are destroyed by their father's emotional siege. As someone whose punishment in high school was being grounded, this movie spoke to me. I thought about showing it to my mother, but the poignancy has passed.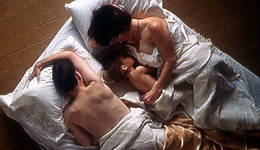 5. The Brunells and Stevens in "The Sweet Hereafter" (1997) Dir. Atom Egoyan
We get a two-fer with this one. Ian Holm plays Mitchell Stevens, a corrupt lawyer who is trying to get the people of a small town to sue after tragic bus accident has left the town all but childless. While pursuing the lawsuit, Stevens attempts to reconnect to his daughter, Zoe, who he lost to excessive drug use. Then we have Sam and Nicole Brunell. Nicole (Sarah Polley) is a young girl, and one of two survivors of the bus crash. She and her father struggle with the loss they feel, survivors guilt and whether or not to attempt to profit from the tragedy that grips their town. Crushingly beautiful, "The Sweet Hereafter" shows families being torn apart by loss.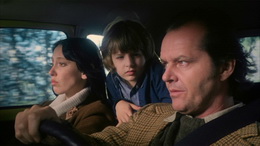 4. The Torrances in "The Shining" (1980) Dir. Stanley Kubrick
I did say mostly silent, and even for those Kubrick haters out there, you've gotta admit that this is a totally fucked up family. Jack, Wendy, and Danny Torrance start out well enough, but throw in a haunted hotel and the men of the family start going a little batty. Danny begins seeing the real and sordid history of the hotel and starts speaking and writing backwards. Jack (Jack Nicholson) becomes obsessed with typing redundant clichés about himself and goes full-on homicidal. Wendy (Shelly Duvall) runs away from her ax-wielding husband and leaves him to freeze in the Van Allsburg-like hedge maze outside. Like Kubrick or not, this is not a family vacation you want any part of.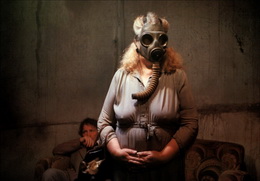 3. Bubby and his Mam in "Bad Boy Bubby" (1993) Dir. Rolf De Heer
Get ready because sex and death are a theme from here to the end of the list. Holy crap, this film has a totally jacked up mother/son relationship. I think I would have put it at number one if I thought anyone else may have seen it, but it was a small independent that flew way under the radar. Regardless, if it has a mom that convinces her son, Bubby, that the air outside is poisonous, thus trapping him for his 30-some years inside their small concrete walled home, it makes the list. If that same mom then has consistent, gratuitous, and disgusting sex with Bubby, well it gets into the top five. There's more. A whole lot more. Animal and human suffocation. Rock bands. Huge tits. This movie is actually really great. Just be warned, there are some really disturbing visuals.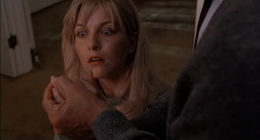 2. The Palmers in "Twin Peaks: Fire Walk with Me" (1992) Dir. David Lynch

If you haven't already seen all of the series "Twin Peaks" and watched "Fire Walk with Me," then you deserve to have them ruined by what I'm about to write (for those less observant readers, that was a SPOILER ALERT). This is a movie based on the screams of a daughter that is raped and murdered by her father, and of a mother who is drugged so the crime can be committed. Wow, Mr. Lynch you sure know how to make the fans happy. In all fairness, it is a prequel that gives the series devotees a sliver of hope, and an awesome cameo by David Bowie. Agent Cooper (Kyle MacLachlan) is in the Black Lodge, and so are the rest of us after "Fire Walk with Me." Thanks Bob.
1. Leatherface and family in "The Texas Chainsaw Massacre" (1974) Dir. Tobe Hooper
Sure chainsaws can be very scary and dangerous. Homicidal maniacs in general may startle you. The part of "The Texas Chainsaw Massacre" that should keep you up nights is the fact that Leatherface is feeding his victims to his family. There is real creepy tenderness among the members of this cannibal clan. I am not a fan of the horror genre, but there is amazing psychological terror that results when you make the killing and eating of five young travelers a family affair. Disturbing through and through. Worst family of all time.