Today's kick-ass two-part list comes from indie filmmaker Trey Hock. I'll let him explain:
When I suggested this list to Eric, I thought I was in for a simple and fun project. I knew I could think of a number of funny, awkward and weird families in films. Why not come up with film families who really put the 'fun' in dysfunctional? As with most of the adventures I embark on, it quickly became a huge undertaking and I realized that I had bitten off more than a mouthful. There were just too many great screwed up fams, and it is hard to prioritize comedy over drama. So I went Golden Globes over Academy Awards, and present, for your enjoyment, a two-part Top 10. Part One is in the category of comedy, while Part Two's drama/horror category will continue next week. Without further ado: The Top 10 Dysfunctional Families in Movie Comedies.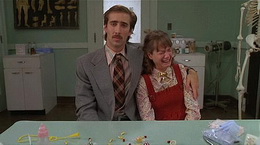 10. The McDunnoghs in "Raising Arizona" (1987) Dir. Joel Coen
You couldn't have a more perfectly mismatched pair than H.I. (Nicolas Cage) and Ed McDunnough (Holly Hunter). Not only do you have H.I.'s penchant for poorly planned petty theft and Ed's adherence to the law as an Arizona state corrections officer, but you mix in the desperation of possible infertility, and off we go. H.I. hatches the plan to build a family by taking a baby from a local celebrity business man, Nathan Arizona (Trey Wilson), and Ed caves in to her own yearning for a child. This of course is no way to make a stable loving situation, especially when pursued by a horrid post-apocalyptic vision of a bounty hunter (Randall "Tex" Cobb). It is one of the Coen Brothers' more perfect funny films. Watch it and wish that your parents would reveal that you were procured through less natural means.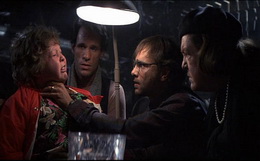 9. The Fratellis in "The Goonies" (1985) Dir. Richard Donner
I have to give my wife, Jaime, credit for this one, but as soon as she mentioned them, I knew they were in. I mean, what kind of bank-robbing family locks their son/brother in a basement, and chases children through caves in search of pirate treasure? Only the Fratellis. These would-be criminals take sibling rivalry and bad mothering to a whole new level. Hopefully you've got your slick shoes, and an enormous Electric Company-loving giant on your side whenever you decide to take on the Fratellis.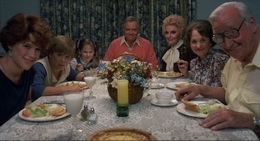 8. The Bakers in "Sixteen Candles" (1984) Dir. John Hughes
Your sister is marrying a Bo hunk and all of your family is in town. Your grandparents take over your room and leave you with the couch. Grandma Helen takes notice of your perky developing breasts one morning, and goes so far as to cop a feel. Your younger brother is a jerk-off, and everyone has forgotten that it's your sixteenth birthday. Life couldn't get any worse, and thank God John Hughes put Molly Ringwald through all of this and gave us "Sixteen Candles." Many forget that the film that gave us Gedde Watanabe as Long Duk Dong and Anthony Michael Hall as Farmer Ted was really about a 16-year-old Samantha Baker dealing with her apparent invisibility, and her totally real and completely screwed up family. John Hughes, you may have lost me with "Baby's Day Out," but I will love you forever for "Sixteen Candles."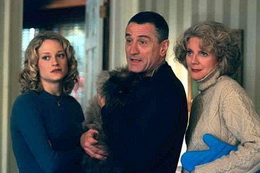 7. The Byrnes in "Meet the Parents" (2000) Dir. Jay Roach
This movie makes me really uncomfortable. To this day, I have only sat through it once. I just have a lot of difficulty watching a sweet sincere guy get completely blown up by his in-laws. That said, this film takes the over-protective father (Robert De Niro) and gives him CIA cred and gadgets. It also takes what all of us are capable of when love and our own insecurities get the best of us and turns the volume way up. When Ben Stiller spray-painted the cat's tail, I thought, "Well of course he'd do that. He's in love with your daughter." This film also made your in-laws' toilet with the jiggly handle impossible to use.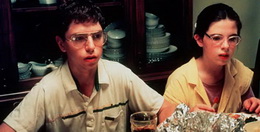 6. The Wieners in "Welcome to the Dollhouse" (1995) Dir. Todd Solondz
When the best part of your day is having the bully at your school threaten to rape you, well something's probably not going so well at home. This film is a beacon of light for those weirdos, fatties, or anyone who wore all the wrong things in middle school. Dawn Wiener (Heather Matarazzo) is awkward perfection, and her brother Mark can offer no help as a nerd himself. He does let her know that high school is better, because at least kids aren't as mean to your face. Missy, the youngest Wiener, is on her way to coolness and stands as a constant reminder of where her older siblings fall short. If your older sibling could have said something to make things better, but instead offered a dose of reality, you'll know how Dawn feels.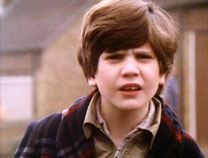 5. Kevin, his Mom and Dad in "Time Bandits" (1981) Dir. Terry Gilliam
All kids at some point wish they could escape into their fantasies, but only Kevin has parents who are so inept and self-absorbed that he is able to. Kevin's parents care for little more than mindless evening game shows and new kitchen appliances. Because of this, Kevin is able to escape into a series of time holes with a band of dwarves. Kevin tries to make a new family with King Agamemnon (Sean Connery), but the dwarves save him and return him to his parents after a run-in with the most evil being in the universe. When Kevin finally gets home, he finds his house has burnt down and his parents haven't noticed his absence at all. When his mother and father touch a chunk of pure evil pretending to be a roast, they explode, leaving Kevin alone on his front lawn. It's not all sour grapes though. Most of the cast of Monty Python make appearances, and Ian Holm is really great as Napoleon.
4. Harold and his mother in "Harold and Maude" (1971) Dir. Hal Ashby
I mean really how else should a young man build a loving relationship with his mother if not through fake suicide attempts? Harold (Bud Cort) and his mother really don't see eye to eye, but Harold keeps trying to get her attention by pretending to kill himself. His methods include slitting his wrists, hanging, self-immolation, and seppuku among others. Mrs. Chasen has seen it all before and is completely nonplussed by the proceedings. She just wants Harold to get rid of his hearse, meet a nice young woman, and settle down, which Harold does. Sort of. Harold begins a friendship and romance with the 79-year-old Maude (Ruth Gordon). When his mother and uncle find out, they are less than pleased. There wasn't much sincerity in "There's Something About Mary," but the Farrelly brothers were right about one thing: "Harold and Maude" is one of the best romances of all time.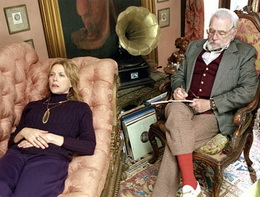 3. The Finches and the Burroughs in "Running with Scissors" (2006) Dir. Ryan Murphy
This is a story of from bad to weird. Augusten Burroughs (Joseph Cross) is the son of an alcoholic father (Alec Baldwin) and mentally unstable mother (Annette Bening). He tries to be the glue which holds his family together, but when his parents divorce, he is abandoned to the Finch household. Run by eccentric psychiatrist, Dr. Finch (Brian Cox), the Finch household is one that explores emotional and sexual desires to the point that new problems are created daily. This isn't a great film on the whole, but it has some truly inspired moments. Anytime you see a father yelling at his daughter to get out of his "masterbatorium," that's time well spent as far as I'm concerned.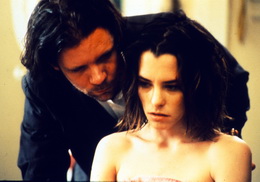 2. The Grims in "Henry Fool" (1997) Dir. Hal Hartley
Simon Grim (James Urbaniak) and his sister, Fay (Parker Posey), were living a perfectly forgettable life with their mother until Henry Fool (Thomas Jay Ryan) came along. Henry is a hilarious yet untalented author in pursuit of the next great American novel, and a little under-aged action. Simon befriends Henry, and in turn Henry encourages Simon to begin writing poetry. While Simon's career as a poet takes off, Henry takes turns having sex with Simon's sister and mother. This is a family of completely selfish individuals, who are turned in on themselves by this fast-talking outsider. Hal Hartley is a genius at crafting memorable dialogue, and this may be his masterpiece.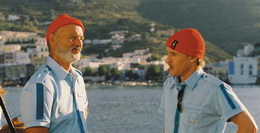 1. Steve and Eleanor Zissou, Ned Plimpton in "The Life Aquatic with Steve Zissou" (2004) Dir. Wes Anderson
The current king of films with daddy issues, Wes Anderson gives us this dysfunctional tour de force. Steve Zissou (Bill Murray) had no idea he even had a son until Ned Plimpton (Owen Wilson) shows up, fully grown. Steve then proceeds to pursue the same woman as Ned, the stunning and pregnant Jane Winslett-Richardson (Cate Blanchett). This all takes place on the confined space of Zissou's oceanography vessel. Eleanor is the estranged wife of Steve and questions the legitimacy of the Ned's claims to be Steve's son. Glocs, interns, and pirates all play a part leading to Ned's accidental death. I couldn't think of another movie that mixed death, sex, pregnancy, illegitimate sons, estranged ex-wives, and Jeff Goldblum to such an extent. For this reason, "The Life Aquatic" gets number one.