It had been awhile since I'd seen a great "red scare" picture—a movie filled with the type of paranoia and fear that so thoroughly informed a huge number of films in the 1960s, and had a Reagan-era resurgence through the 80s. This weekend, we got a sneak peek at the latest big-budget Hollywood action/adventure flick which brilliantly employed a late-Fifties "red menace" backdrop and it got me thinking…what are the ten best films born from the Cold War and the U.S. rivalry with communism, particularly the variety found in the former Soviet Union? So, I present you with my Top 10 Cold War films list. And just for fun while you're reading this list, push play and repeat on the Scorpions "Winds of Change," Even if you don't have the song, you and I both know it's still on the iPod in your head.
10. Indiana Jones and the Kingdom of the Crystal Skull (2008)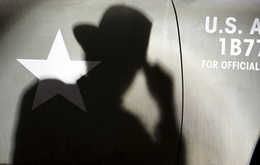 I don't want to reveal too much about the film until Thursday, but I feel a rock fist up coming on for the return of Indiana Jones. George Lucas made a savvy choice to move the storyline up twenty years into the future and set it in 1958. Within the first act of the film, Lucas gets in a ton of "American Graffiti"-style moments—complete with preppies and greasers—which are fantastically tongue-in-cheek and, along with a barrel full of other twists and turns, place the audience squarely in the middle of the anti-Communist era. As it turns out, even Indy's loyalty to America is called into question as the film opens and introduces a new era with a new set of friends and enemies. Lucas and Spielberg always knew how to skewer the Nazis for gags and laughs, and the iconic Soviet baddies get a similar treatment in this heroic reprisal.
Mutt Williams: What's he gonna do now?
Marion Ravenwood: I don't think he plans that far ahead.
Indiana Jones: I'd cover my ears if I were you!
9. A Beautiful Mind (2001)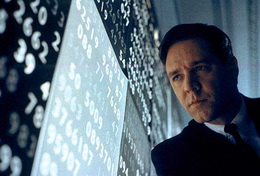 The best things about director Ron Howard's "A Beautiful Mind" were Russell Crowe's performance as Nobel Prize winner John Nash, a brilliant mathematician plagued with schizophrenia, and the scenes of delusion and paranoia that Nash experienced. Nash begins a relationship with Agent Parcher of the Defense Department and begins decoding secret Soviet communiques. In spite of the film's many flaws, the international intrigue and red menace paranoia gave the film tension and excitement it would certainly have lacked without it.
Nash: I've gotten used to ignoring them and I think, as a result, they've kind of given up on me. I think that's what it's like with all our dreams and our nightmares, Martin, we've got to keep feeding them for them to stay alive.
8. Rocky IV (1985)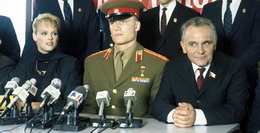 What matter of man must we send to end the new Cold War? Who could possibly repair decades of hatred and misunderstanding between the U.S. and Russia? Why, the Italian Stallion of course. I'm not going to lie, I didn't think much of the Soviets until Rocky put the smack down on Ivan Drago, and said "now that we've kicked your chemically and technologically enhanced ass, I guess we can be friends." The training in the snow scenes are indelibly etched in my brain. A bearded Rocky Balboa trudging down snow-covered roads all the while being tailed by the KGB. Sly directed and wrote this 80s-era Cold War classic.
Rocky: During this fight, I've seen a lot of changing, in the way you feel about me, and in the way I feel about you. In here, there were two guys killing each other, but I guess that's better than twenty million. I guess what I'm trying to say, is that if I can change, and you can change, everybody can change!
7. Spies Like Us (1985)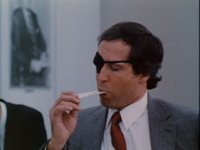 There's always a little room for some Cold War comedy, John Landis-style. Just remembering the names of the main characters in "Spies" makes me laugh, Dan Aykroyd was Austin Millbarge, and Chevy Chase was Emmett Fitz-Hume (and still funny.) Millbarge and Fitz-Hume are two bumbling government employees turned "spies" who have a few memorable run-ins with a small group of Soviets and their nuclear warhead. The duo does their part for improving international relations, and Paul McCartney chips away at his diminishing 80s credibility with the film's goofy themesong.
Austin Millbarge: For once I'm completely in agreement with my partner. I'm not going down there. Do you know what those things can do? Suck the paint off your house and give your family a permanent orange afro.
6. Red Dawn (1984)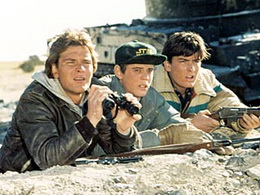 For all you "Red Dawn" fans, it sounds like a remake may be in your future, although it's hard to top Soviets parachuting down on top of your high school. While I didn't grow up in the era of duck-and-cover drills, however, thanks to this film and "The Day After," I did grow up thinking that a Russian invasion or full-on nuclear holocaust was pretty much inevitable. "Wolverines!"
Col. Andy Tanner: …The Russians need to take us in one piece, and that's why they're here. That's why they won't use nukes anymore; and we won't either, not on our own soil. The whole damn thing's pretty conventional now. Who knows? Maybe next week will be swords.
Darryl Bates: What started it?
Col. Andy Tanner: I don't know. Two toughest kids on the block, I guess. Sooner or later, they're gonna fight.
5. Good Night and Good Luck (2005)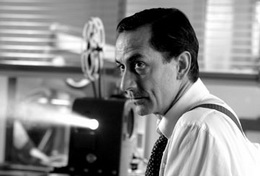 Director George Clooney's ode to journalist and pioneer Edward R. Murrow "Good Night and Good Luck" is a fantastic film depicting the struggles for some Americans during the height of McCarthy-era communist paranoia. Murrow famously challenged Senator Joseph McCarthy on his fear and propaganda campaigns and helped to turn the tide on the red scare mania that had whipped the nation into a dog-eat-dog frenzy.
Colonel Anderson: Wouldn't you guess that the people who have seen the contents of that envelope might have a better idea of what makes someone a danger to his country, or do you think it should just be you, sir, who decides?
Fred Friendly: Who? Who? Who are these people, sir? Who are the people? Are they elected? Are they appointed? Is it you?
4. The Hunt for Red October (1990)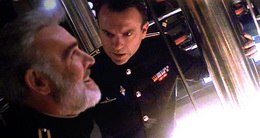 Inspired by the Tom Clancy novel of the same name, as I have mentioned a time or two before, director John McTiernan's "The Hunt for Red October" is one of my all-time faves. Like "Rocky IV," this script finds Americans and Soviets learning to get along, but not without some explosive and claustrophobic cat-and-mousing in the ocean deep.
Capt. Vasili Borodin: I will live in Montana. And I will marry a round American woman and raise rabbits, and she will cook them for me. And I will have a pickup truck… maybe even a "recreational vehicle." And drive from state to state. Do they let you do that?
Captain Ramius: I suppose.
Capt. Vasili Borodin: No papers?
Captain Ramius: No papers, state to state.
3. The Right Stuff (1983)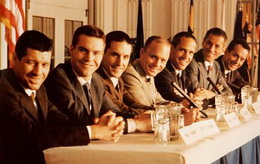 Director Philip Kaufman's ("The Unbearable Lightness of Being") adaptation of the Tom Wolfe novel about the space race is another bonafide Cold War classic. While the Cold War was "cold" because the U.S. and the Soviets weren't directly engaging in warfare, space was a hotly contested ground which became the new front upon which the two giants waged their battle. "The Right Stuff" features one of the all-time great ensemble casts with fresh-faced performances from Ed Harris, Dennis Quaid, Scott Glenn, Fred Ward and Sam Shepard.
Lyndon Johnson: And as I was sayin', whoever controls the high ground of space controls the world. The Roman Empire controlled the world because it could build roads. Later, the British Empire was dominant because they had ships. In the Air Stage, we were powerful because we had the airplane. And now the Communists have established a foothold in outer space. Pretty soon they'll have damned space platforms so they can drop nuclear bombs on us, like rocks from a highway overpass. Now HOW IN THE HELL did they ever get ahead of us?
2. Dr. Strangelove or: How I Learned to Stop Worrying and Love the Bomb (1964)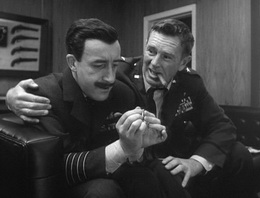 There are few films as important to cinephiles and students of the art as "Strangelove". It is also a film that an awful lot of people just don't get. I have to admit, I'm still somewhere in the middle on this one. I haven't spent the kind of time with "Strangelove" that may be required to fully digest the entirety of its importance and contribution to film. What I can say with certainty is that it has stuck with me and it hasn't stopped perplexing me since the first time I screened the film. "Strangelove" is challenging in ways that few films can claim to be and it's wicked funny. Kubrick's satirical look at the Cold War conflict between the U.S. and the Soviets has a distinctly different tone and intention than most of the red menace films of the sixties or later. It is as profound and hilarious a statement about the ridiculousness of warfare, and of human behavior in general, as any that have been made since.
General Jack D. Ripper: Mandrake, do you recall what Clemenceau once said about war?
Group Capt. Lionel Mandrake: No, I don't think I do, sir, no.
General Jack D. Ripper: He said war was too important to be left to the generals. When he said that, 50 years ago, he might have been right. But today, war is too important to be left to politicians. They have neither the time, the training, nor the inclination for strategic thought. I can no longer sit back and allow Communist infiltration, Communist indoctrination, Communist subversion and the international Communist conspiracy to sap and impurify all of our precious bodily fluids.
1. The Manchurian Candidate (1962)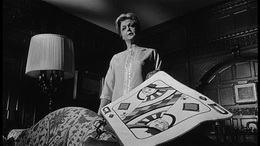 The ultimate in Cold War/red scare films has got to be the original "Manchurian Candidate," directed by John Frankenheimer, and starring Frank Sinatra, Laurence Harvey, Janet Leigh and one super-nasty Angela Lansbury. That's right—the same Angela Lansbury who starred for years in "Murder She Wrote" gave us one of film history's most vivid and truly evil villainesses, Mrs. Iselin. Raymond Shaw (Harvey) is brainwashed in a twisted communist plot to win the Cold War from the inside out. Sinatra's tortured Major Bennett Marco fights to remember what memories they stole from him and Shaw in time to stop the communists from executing the final stage of their plans. "Candidate" is a remarkable film with one of the most riveting and original plot twists in film history.
Bennett Marco: 52 of them! Take a good look at 'em, Raymond, look at 'em, and while you're looking, listen. This is me, Marco, talking. 52 red queens and me are telling you… you know what we're telling you? It's over! The links, the beautifully conditioned links are smashed. They're smashed as of now because we say so, because we say they are to be smashed. We're busting up the joint, we're tearing out all the wires. We're busting it up so good all the queen's horses and all the queen's men will never put old Raymond back together again. You don't work any more! That's an order.