Scene-Stealers contributor Abby Olcese wrote a Top 10 That Guy list that was so popular she turned it into a regular feature on her blog No More Popcorn. She also writes for The Amateur Critics Guild. Today she presents a list of the best creative partnerships in film history. Check out Abby's Top 10 Cinematic Partnerships: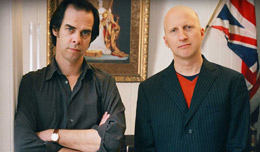 10. Nick Cave and John Hillcoat
Achievements: "The Proposition," "The Road"
Forthcoming: "The Death of Bunny Munro"
Nick Cave is something of a renaissance man. His biggest claim to fame is as frontman of such great bands as The Birthday Party, Nick Cave and the Bad Seeds, and Grinderman. But he's also a writer and composer. He first teamed up with director John Hillcoat on "The Proposition," for which Cave penned the script and the haunting, spare score. He also provided the music for Hillcoat's next directorial outing, the much-discussed "The Road." Seems these two get along like gangbusters. Hillcoat is up to direct a screen adaptation of Cave's novel, "The Death of Bunny Munro" (starring Ray Winstone, whose enthusiasm about the project and previous involvement in "The Proposition" suggests he'll be another Hillcoat-Cave regular) and directed a few short, wonderfully creepy music videos for the latest Grinderman album. This is still a young partnership, but it's one that seems to be flourishing, and I can't wait to see what it brings.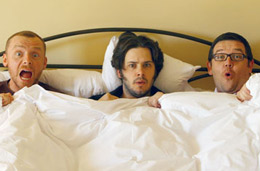 9. Edgar Wright, Simon Pegg and Nick Frost
Achievements: "Spaced," "Shaun of the Dead," "Hot Fuzz"
Forthcoming: "The World's End" (working title)
Most Americans (myself included) had no idea who these three men were until "Shaun of the Dead" came out in 2004. But since then, the world has seen a lot from Edgar Wright, Simon Pegg and Nick Frost. "Spaced," the TV show that launched the whole enterprise, has become a cult favorite, and the trio has had plenty of success since both with collaborative projects like "Hot Fuzz" and solo work (you can't not be excited about Pegg and Frost getting back together for the upcoming "Paul"). Rumor has it that these guys plan to finish off the "Three-Flavored Cornetto Trilogy" started with "Shaun" and "Hot Fuzz"—each film features a different flavor of the ice cream treat—with a futuristic movie called "The World's End." Personally, I can't wait to have Wright, Pegg and Frost get together on another project. It's been way too long.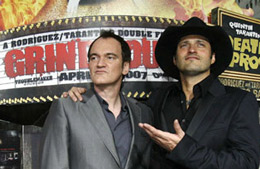 8. Quentin Tarantino and Robert Rodriguez
Achievements: "Four Rooms," "From Dusk 'Till Dawn," "Desperado," "Grindhouse"
Quentin Tarantino and Robert Rodriguez appear to be cut from the same cloth. Both men have a great love for classic B-movies and exploitation flicks. Both have a distinct directorial style and a gift for writing dialogue that's as quick as the guns their characters shoot. Both men revel in violence, blood and camp. If there's really a difference to be seen, it's that Rodriguez is a little more versatile, given his success with children's movies like the "Spy Kids" franchise. But when these two get together, you know the resulting product will be fun. The two biggest cases in point are "From Dusk 'Till Dawn," which Rodriguez directed and Tarantino wrote/starred in, and "Grindhouse," a double-feature salute to low-culture cinema of the 60s and 70s featuring one film from each director. "From Dusk 'Till Dawn" is my favorite — a sleazy but effective blend of Tarantino's dialogue (the opening sequence is brilliant) and Rodriguez's south-of-the-border aesthetic style (including appearances from Rodriguez regulars Cheech Marin and Danny Trejo).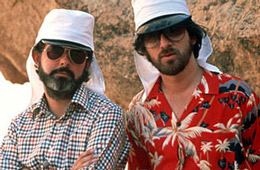 7. Steven Spielberg and George Lucas
Achievements: The "Indiana Jones" franchise
There are few directors around whose styles fit together so well. Individually, George Lucas and Steven Spielberg have built empires on beloved movies. Together, they created a pop-culture dynamo. The two men may not have a long list of collaborations to their credit, but the size of the achievement certainly counts for something, and the three original "Indiana Jones" movies (plus the one abomination—2008's "Indiana Jones and the Kingdom of the Crystal Skull") are about as huge on a cultural scale as the rolling boulder from "Raiders of the Lost Ark." These are old-school adventure movies—they're exciting and brightly-colored and full of a sense of wonder—classic hallmarks of both directors. The fact that pretty much any kid growing up after 1981 was raised watching these movies and loving these characters is pretty big deal.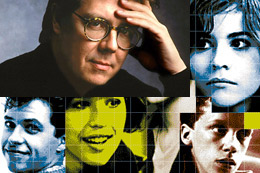 6. John Hughes and The Brat Pack
Achievements: "The Breakfast Club," "Sixteen Candles," "Pretty in Pink," "Weird Science"
John Hughes' movies defined the teen movie genre in the 80s. His films have been recycled, parodied and alluded to for over 20 years now. A large part of the credit is due to Hughes, but just as much is due to the group of young actors and actresses he frequently used, particularly Molly Ringwald and Anthony Michael Hall, who showed up the most often. Ringwald worked perfectly as a suburban princess in "The Breakfast Club" and as an outsider with an awesomely 80s fashion sense just trying to survive high school in "Pretty in Pink" and "Sixteen Candles." Hall, of course, is the iconic epitome of teenage geekdom in "The Breakfast Club," "Sixteen Candles" and "Weird Science." In fact, Hughes' teenaged collaborators fit their roles so well that some had a tough time shaking their star-making turns as their careers continued.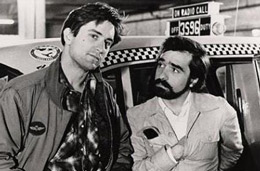 5. Martin Scorsese and Robert De Niro
Achievements: "Taxi Driver," "Mean Streets," "Raging Bull," "The King of Comedy," "Goodfellas," "Casino," "Cape Fear"
Scorsese and De Niro. The two names go together like peanut butter and jelly. It's been a while since these two have made a movie together, and some might argue that Martin Scorsese's work with Leonardo DiCaprio is higher profile these days. But in terms of quality, the Scorsese-DeNiro partnership is tough to beat. It may have been "The Departed" that finally got Scorsese his Best Director Oscar, but everyone knows he should've been nominated in 1976 for "Taxi Driver," to my mind one of the best films ever made. Not to mention other modern classics like "Raging Bull" and "Goodfellas." Much of De Niro's reputation as an actor is due to his work in Scorsese's movies, and it's arguable that the distinction goes both ways: many of Scorsese's best films wouldn't be what they are without De Niro's performances. Could you imagine anyone else playing Travis Bickle? I didn't think so.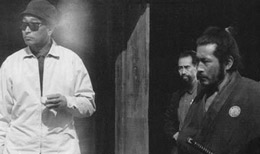 4. Akira Kurosawa and Toshiro Mifune
Achievements: 16 films (most of which are required film-nerd viewing) including: "Seven Samurai," "Rashomon," "Yojimbo," "Throne of Blood," "High and Low," "The Lower Depths," "The Hidden Fortress" and "Stray Dog."
Of all the partnerships on this list, I'd say only Michael Powell and Emeric Pressburger are as well represented on the Criterion Collection. Mifune was Kurosawa's go-to guy from 1948 to 1965, when personal issues divided them on the set of "Red Beard." Mifune's intense performances in movies like "Rashomon" and "Yojimbo" helped cement Kurosawa's spot in the cinema pantheon. As with De Niro (whose similar intensity helped some of Martin Scorsese's best films), Mifune poured himself into his roles, doing tons of research beforehand. It must have helped, since just about all of Kurosawa's best-known movies feature his performances.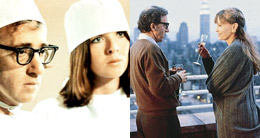 3. Tie: Woody Allen and Diane Keaton/Woody Allen and Mia Farrow
Achievements: Allen/Keaton: "Sleeper," "Interiors," "Manhattan," "Annie Hall"
Allen/Farrow: "Hannah and Her Sisters," "Purple Rose of Cairo," "Husbands and Wives," "Crimes and Misdemeanors" (among others)
Woody Allen has his muses. After "Sleeper," his movies tended to focus on characters in existential or personal crisis (sometimes both) that involve a neurotic male (usually Allen) and one other character: an intelligent woman who's as screwed up as he is (the muse—often the actress he was in a relationship with at the time). The best examples of this setup are his movies with Diane Keaton and his movies with Mia Farrow. The earlier years — the Keaton years — gave us "Manhattan" and "Annie Hall," two movies that have come to define his career. Diane Keaton played right along with Allen's on-screen insecurities, particularly in "Annie Hall," a role which not only got her an Oscar, but came to define the actress' career as well. The Farrow years provided audiences with another Allen classic, "Hannah and Her Sisters," where Farrow's titular Hannah tries to nurture her family and neurotic ex-husband (Allen), while failing to see the cracks in her own life.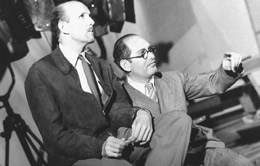 2. Michael Powell and Emeric Pressburger
Achievements: "A Canterbury Tale," "Black Narcissus," "The Red Shoes"
It's hard to find the right words to say about Powell and Pressburger, together known as The Archers. The fact that Martin Scorsese seems borderline obsessed with their work probably says a great deal (he was a driving force behind the restoration of "The Red Shoes," and his longtime editor, Thelma Schoonmaker, is Michael Powell's widow). I will say that you don't watch an Archers movie for the script—dialogue isn't really their strong suit. No, for Powell and Pressburger, you watch for the visuals. Almost every frame of every film is like a painting (sometimes, as with "Black Naricissus," they are— many of their outdoor backgrounds were brilliantly painted drops). It's hard to say which is my favorite. It's a toss-up between "The Red Shoes" and "Black Narcissus." Both are gorgeous. They also present a distinct perspective—"Black Narcissus" in particular is a bit heavy on native stereotypes and British imperialism. But in any case, whether it's examples of British patriotism, high art or visual metaphor, Powell and Pressburger present textbook examples of what a good film looks like. For the burgeoning film nut, these are the movies you watch.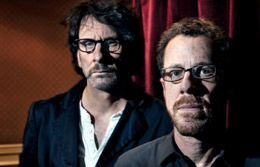 1. Joel and Ethan Coen
Achievements: "Blood Simple," "Raising Arizona," "Miller's Crossing," "O Brother Where Art Thou," "Fargo," "No Country for Old Men," "A Serious Man," and "True Grit" among many, many others.
I often wonder what Joel and Ethan Coen were like as children. Did they argue a lot? Was one of them a better student than the other? Did they always have the same interest in filmmaking, or did one simply follow the other one into it? It's easy to think of these two prolific auteurs as a single unit ("The Coen Brothers") instead of two separate people, since they've always worked together. But that's what they are—two separate personalities who work perfectly in sync with each other and have produced amazing movies from 1984's "Blood Simple" all the way to this year's Oscar contender "True Grit" with barely a break in between (the longest being a couple of three-year dry spells). I can't think of any partnership around that's been this consistently successful for this long. I don't know how they do it.

Vanessa Hudgens may be known best for being in the "High School Musical" series, but in "Sucker Punch," she plays what street-smart character?