Did you own a replica Michael Jackson Glitter glove? Or were you more the leggings and Lycra type?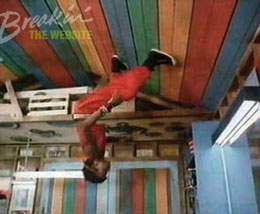 In honor of this week's remake release Footloose, we are moonwalking back to the well to visit our favorites for the Top 10 Cheesiest Dance Flicks.
Today's list comes from Joshua Beaudry, a Chicago resident who reviews on Twitter and Facebook with Ho and Beau Review the Show. If you have a list you'd like to contribute, email me at eric@scene-stealers.com. Here's Joshua's Top 10 Cheesiest Dance Movies:
10. Staying Alive (1983)
Please understand it pains me to do this, but it has to be done. We all fell in love with Tony Manero (John Travolta) at the first sight of his strut in Saturday Night Fever. He appeared to float down that busy New York sidewalk as the Bee Gees played his soundtrack. But five years and some bad spandex later we find Manero in Staying Alive. He's gone from disco to Broadway, downtown to uptown, as he tries to make it as a legitimate dancer. The wardrobe isn't as cool and the swagger is lacking. But this film takes advantage every chance it can in order to show a young, oily muscled Travolta in dancing glory.
I love the Actor but I hated "Staying Alive," so let's take a moment to fondly remember the real Tony Manero.
9. Save the Last Dance (2001)
Where do you begin with this film? Watching this one for the first time I didn't know if people should be offended or find it endearing. Sara (Julia Stiles) moves to Chicago after a tragic car accident takes her mother's life. With all that pain inside she finds it hard to keep dancing, a talent which was affirmed by her mother. That is until she meets Derek (Sean Patrick Thomas) from the Southside and he teaches her a new way to express herself. He gives her a crash course in "hood-life" by showing her dance moves and attitude — just the tools Sara will need in order to blend in with this new crowd. The film's cheesiest moment is during one of these apprenticing moments when Derek is teaching her how to sit with more swagger. The art of sitting never struck me as an action in which required practice. But in the world of Save the Last Dance, it's all about the attitude.
8. Footloose (1984)
You're asking yourselves; "How could they? Why would they?" Because we have to, that's why. We are trying to present you with a respectable non-biased list of cheese. So there is no way around this classic that definitely carves a place in all our hearts. I'll even admit to currently having Kenny Loggins' title track loaded on my iPod right now. It's a jam in every sense of the word! But it doesn't change the fact that this film defines the term "cheese" on many levels. A city boy moves to a country town where rock is outlawed and dance is forbidden. Laws preached and upheld by the town Reverend (John Lithgow) in order to keep the children safe. Where else can this lead but for the new kid to start shaking his hips and stirring up this small repressed town? Ren (Kevin Bacon) struts into town in his tight trousers and skinny tie ready for a good time. He soon catches the eye of the Reverends daughter; Ariel (Lori Singer). Audiences get dance montages, overbearing parents, god-fearing Christians and a game of tractor chicken that will bring you to the edge of your cinema seat.
7. Flashdance (1983)
Where does one even begin? Flashdance is the story of Alex (Jennifer Beals), a welder by day and exotic dancer by night. She has big dreams of being a professional ballerina. When she isn't spot welding in the center of Steel Town, she's melting men's hearts in a poorly-lit strip club. But that is not the sum of her parts. Alex is working her tail off to slip into those ballet slippers. The cheesiest scene is the most memorable of the entire film: A montage overdubbed by the soundtrack favorite "Maniac" by one-hit wonder Michael Sembello showcases Alex wildly thrusting and gyrating in a feverish sweat. It's a scene that highlights more of Beals' derrière than it does her dance moves.
6. Step Up (2006)
This was yet another pandering attempt at bringing dance from the streets to the screen. Step Up is yet another film about two worlds colliding on the dance floor. Just like our earlier selection Save the Last Dance, this movie also has cupid's arrows striking the hip-hop breaker Tyler Gage (Channing Tatum) and Nora Clark (Jenna Dewan) the ballerina. But unlike Save the Last Dance, you don't have a Julia Stiles-caliber talent saving this film. Step Up shows us there still needs to be substance behind those well choreographed moves. Tatum has gone on to star in better films, but I would say his biggest reward of starring in Step Up, was marrying his co-star; now known as Jenna Dewan-Tatum. Love may have found the actors, but it fell short of its audience.
5. Stomp the Yard (2007)
Before America was naming its Best Dance Crew on live TV, we had to go to the neighborhood cinema to watch moves that sick. This  slot goes to a dance flick with so little plot and depth that one of the official trailers simply featured a loud hip-hop soundtrack and a dance montage of portions of the film. No dialogue, no character introductions, and especially nothing from Mr. Movie Trailer with a chilling voiceover synopsis. Stomp the Yard takes the audience on a journey with 19 year-old DJ (Columbus Short), from the LA streets to an Atlanta University campus. It's a brand new world for DJ as he is confused by a group dancing in the quad on campus. "They're stomping the yard! Where the hell you from?" But DJ chooses to join one of these crews, as he goes from Juvie to Fraternity. His new frat brothers need his 'Ill' dance still to help them win a stomp competition on campus. But he was just hoping to get an education and maybe meet a girl. This film failed to find a voice and make us care. It was shooting for an edge and a feel of the street but it just got obnoxious. But hey, if you have Chris Brown in your movie that gives you some street cred, right? Too soon?
4. Fame (2009)
In 1980, filmgoers loved the raw, heartfelt story of New York City misfits who find confidence in their various talents while attending a performing arts school. But this updated 2009 re-telling of "Fame" doesn't have you singing along to the title track. There were some bright moments involving the veteran members of the cast, however: The characters of Mr. Martin Cranston (Kelsey Grammer) and Mr. James Dowd (Charles S. Dutton) were refreshing breaks from the overall stale tone of the film. With so many talented kids, you know there will be one character that lacks the confidence to excel. But all she needs is someone to say, "I believe in you and you should believe in yourself!" If that doesn't have you reaching for some wine with your cheese, I don't know what will.
3. You Got Served (2004)
Our number-three pick stars members of classic R&B acts Immature and B2K. But it also has some killer dance throw-down moments that beckon you back to the first time you saw MJ's video for "Beat It." The protagonists in this feature are David (Omarion Grandberry) and Elgin (Marques Houston) who have big dreams of opening their own recording studio. In order to reach the unreachable, they must first win the city's big dance competition — a battle of pride against the toughest street acts in the game. The scene that wins this flick the 3 spot is the Steve Harvey-refereed dance off between the rich posers and our band of heroes; a totally legit street crew. They're just trying to come up in this crazy world, yet the rich kids beat them down. This scene starts the ball rolling for an epic final dance payoff, culminating with sickest moves committed to celluloid. The only thing one can do after knocking down the competition is to look that other fool in the eye and proclaim, "You Got Served!"
2. The Last Dragon (1985)
Have you ever prayed for someone in Hollywood to make Xanadu meets Enter the Dragon? Well stop praying now because that wish was granted in 1985 with The Last Dragon. Taimak (Leroy Green) is a martial-arts student trying to achieve the master level known simply as The Glow. This tale of love meets violence is peppered with the cheesiest of special-effects lighting. The Glow is a lightsaber-esque shimmer that encapsulates its master and pulsates with every skillful blow he administers to his nemesis. Who wouldn't want that gift? This film's hero is faced with an epic battle against an evil martial-arts master and a rescue of his damsel in distress from a music promoter gone crazy. The love interest Vanity (Laura Charles) is an aspiring pop act showcased in the film with almost music-video-type musical numbers. This film is definitely an overly ambitious bomb that must've looked awesome on paper, otherwise why would anyone have ever financed it?
1. Breakin' 2: Electric Boogaloo (1984)
After the first film Breakin' we were all in love with Special K (Lucinda Dickey), but wanted to have moves like Ozone (Adolfo Quinones) and Turbo (Michael Chambers). So it's no surprise that the sequel Breakin' 2: Electric Boogaloo was rushed into cinemas during the same year as Breakin'. This time with the local recreation center in trouble, the gang has to come up with a plan to save it from demolition. Of course this can't happen without some killer poppin' and lockin' going down. A common enemy brings city factions together to fight for what's right. You just have to believe in the beat in order to accomplish your dreams!
Turbo aka Boogaloo Shrimp (above)
Trailer (above)