This weekend "The Green Hornet" was number one at the box office. Although it's kind of a superhero movie, i'ts really a buddy comedy. Ever since "The Odd Couple," it seems that getting two hot Hollywood stars together to bicker and fight is an easy way to guarantee box office success. This is not always the case, however. In fact, for every "Butch Cassidy and the Sundance Kid," it seems like there are a thousand movies like "Tango and Cash" or Larry Fishburne and Stephen Baldwin in "Fled." Here are the Top 10 Buddy Movies. If you have an idea for a Top 10 list of your own, email me at eric@scene-stealers.com.
**And if some of them don't necessarily fall under the traditional cop/odd couple mold of buddy flicks, then that may just be a reflection of the quality of this particular genre.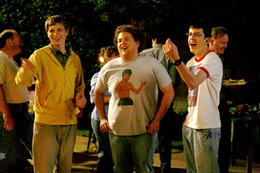 10. Superbad (2007)
Evan Goldberg and Seth Rogen, so-writers of the new "The Green Hornet" started this screenplay as high schoolers and were smart enough to have Judd Apatow and Greg Mottola come on board as producer and director, respectively. It's from the "one crazy night" genre, and stars Michael Cera and Jonah Hill as high school best buddies on the verge of going off to college. This event-filled one night becomes not only the turning point in the friends' relationship, but also the culmination of years of pent-up frustration. In addition, a parallel between the cops and the high schoolers suggests that some insecurities are more than just growing pains and leave lasting scars. If you can sneak a nice little bit of emotional development in a hilariously bawdy comedy without adhering to every standard feel-good formula, then that's a minor miracle, and "Superbad" is definitely that.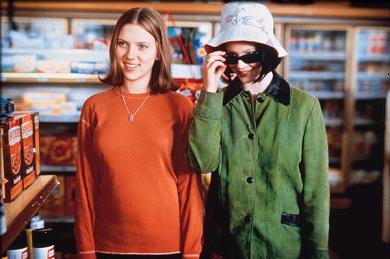 9. Ghost World (2001)
Thora Birch and Scarlett Johansson are way cooler than Thelma and Louise in this post-high school, what-the-fuck-am-I-gonna-do-with-my-life-now movie. It gets all the attitude and scary details of growing up with lots of big question marks just right, and also illustrates the natural dissolution of high school friendships perfectly. As a bonus, Steve Buscemi's best performance ever (save "Fargo") is in this overlooked gem of a film. No stranger to comic books, having directed the amazing documentary on comic legend Robert Crumb, Terry Zwigoff took a spare, existential series of stories from Daniel Clowes' excellent "Eightball" comics and brought it to feature-length life. The movie fleshes out the outcasts and captures the listlessness of post-high school/pre-real-world life in both a cynical and touching way.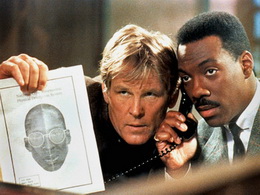 8. 48 Hours (1982)
This movie was so popular and so influential that it was pretty much the blueprint for all buddy movies since then — especially those that feature a love/hate relationship between two detectives on the trail of a mystery. You couldn't hit a theater for a good 10-year period after "48 Hours" came out that wasn't showing at least one buddy cop movie (an even more specific genre — and one rife with potential for a future Top 10 list, hint hint) at all times. There would be no "Lethal Weapon" without hard-nosed cop Nick Nolte and wise-cracking criminal Eddie Murphy in "48 Hours." There would also not be "Another 48 Hours," but that's a whole different son of a bitch, let me tell you.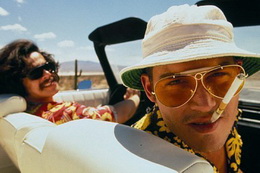 7. Fear and Loathing in Las Vegas (1998)
Raoul Duke (Johnny Depp) and Dr. Gonzo (Benicio del Toro) are based on the counterculture buddy team of Hunter S. Thompson and Oscar Acosta. Apart from putting more drugs in their systems than "Maria Full of Grace," these two hellraisers alternately threaten and save each other's lives. Director Terry Gilliam faced a lot of challenges in adapting Thompson's infamous piece of gonzo journalism, and the movie is still a bit of a mess. But why shouldn't it be? The relationship between the two is alternately toxic and slapstick, and despite all the surreal goings-on, they retain a strong and strange bond. Now that's a true buddy, through thick and mescaline.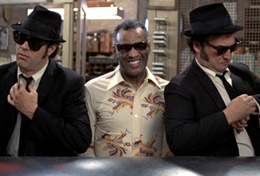 6. The Blues Brothers (1980)
I may have a certain inflated reverence for this movie, since its the first R-rated picture I ever saw in the theater. (After convincing my parents it was PG, I ended up pleading with them at the ticket counter when they finally saw it was R:" It's not that bad, it's probably just a couple bad words!") John Landis ("An American Werewolf in London, "Animal House") made the only truly great film ever based on "Saturday Night Live" characters. (And, no "Office Space" doesn't count; Milton was animated and didn't become the main character!) John Belushi and Dan Aykroyd saunter through this frenetic movie with all necessary cool, sing some great tunes with the best in rhythm and blues, and have a generally unforced anarchic spirit that seems too believable. I mentioned this in reviews of "The Green Hornet" because there were scenes that reminded me of this movie, but the crazy, no-holds-barred car chase at the end is still tops.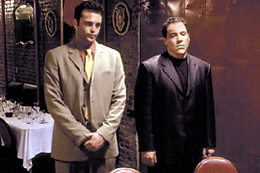 5. Made (2001)
Before it got kind of tiresome, Vince Vaughn tested the limits of his hyperactive asshole routine in Jon Favreau's theatrical directorial debut. I'm like those skaters and snowboarders who drink Mountain Dew, I guess, because both this movie and "Fear and Loathing in Las Vegas" are EXTREME buddy relationships. This ain't your mommy's buddy movie! Who-hoo! And it's way funnier than "Swingers." Yes, Vaughn plays another dim-witted, loudmouth jerk. Yes, Favreau once again plays the lovable lunk. "Made" is darker and just plain funnier than "Swingers," although it didn't change mainstream culture and inspire any of the same "lounge music" craze that "Swingers" did. The story is another fish-out-of-water tale, this time they're pretending to be mobsters rather than swingers. Sean "Diddy" Combs does a  passable job, and three "Sopranos" cast members was a bit excessive (as much as I love that show), but "Made" is convincing enough and very very funny.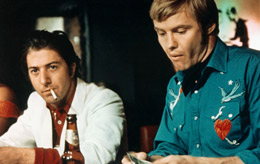 4. Midnight Cowboy (1969)
John Schlesinger's controversial movie featuring big city fink Ratso Rizzo (Dustin Hoffman) and country boy wannabe hustler Joe Buck (Jon Voight) is the only Best Picture winner to receive an X rating. (It was later changed to an R when the whole meaning and intent of the X rating changed completely during the early 70s.) It may not be strictly a comedy, but Ratso and Buck have a strong love/hate bond, with neither admitting to the other what really lurks beneath their seemingly hard exterior. The unlikely bond that develops between this very odd couple overflows with pathos, and the film's blunt depiction of sexuality was a harbinger of things to come.
3. Midnight Run (1988)
Despite what you witnessed last night at the Golden Globes and a month ago on "Saturday Night Live," Robert De Niro used to have great comedy chops (see "The King of Comedy" and "Meet the Parents" for more proof). De Niro is amazing as Jack Walsh, a bounty hunter attempting to return "The Duke" (Charles Grodin) to L.A. before the cops, the mob or the competition catch up with them. Grodin's deadpan humor is sometimes overbearing, but here he's perfectly matched against De Niro's mounting frustration. It may still look like an 80s movie (it is after all), but "midnight Run" holds up just as well today, if not better than it did in 1988. If you haven't seen it in a while, do yourself a favor and check it out again …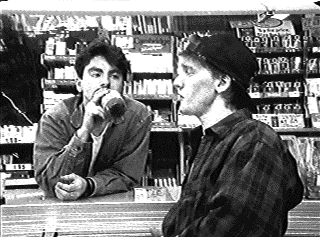 2. Clerks (1994)
Sure, it looks crappy, and some of the acting is below sea level, but Kevin Smith's directorial debut is frothing at the mouth. Smith set the bar pretty high for clever bad language with "Clerks" and this ultra low-budget black-and-white feature is where he first showed his knack for writing unabashedly frank dialogue. Smith knew these guys so well that a relationship seemingly built up through hate and resentment (but which slowly reveals itself to be quite close) contained a surprising amount of truth in it. Through it all, lead actors Brian O'Halloran and Jeff Anderson actually develop a pretty strong bond, though neither of their characters would want to admit it, of course, for fear of being called gay. Smith is at his best when he's writing characters that are close to his heart. Let's hope he gets back to that ASAP, because his last buddy comedy was a good example of a low point in the genre (even thought he didn't write it).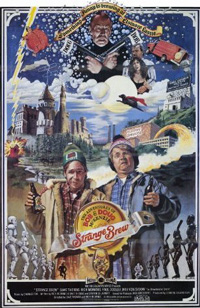 1. Strange Brew (1983)
Loosely based on Shakespeare's "Hamlet" (yes, you read that right),  Rick Moranis and Dave Thomas wrote, directed, and starred in this bizarre, brilliant, and hilarious tale of two beer and donut-loving Canadian brothers who unknowingly stop a maniacal plot by Brewmeister Smith (Oscar nominee Max Von Sydow, although not, sadly, for this film) to control the world through mind-altering beer.
Completely absurd and vastly underrated, this comedy, based on the duo's "SCTV"-created characters, introduced the terms "hoser" and "eh?" to the world. Besides featuring perhaps the the strong and most pathetic bond between brothers ever portrayed onscreen, "Strange Brew" (full title "The Adventures of Bob & Doug McKenzie: Strange Brew") features all kinds of surreal moments, such as the time where the duo are starring in a picture within a picture, the scene where they crank the MGM lions tail to get him to growl, and a scene where they cloud up a projection booth with moss in am effort to wreck a screening and get their money back — and that's just the first 7 minutes!
Seriously, "dumb" comedies have rarely been this smart. I've seen this one a hundred times, and it never gets old. Like "This is Spinal Tap," it is eminently quotable as well. It's also filmed in 3-B — hose-a-rama — three beers and it looks good, eh.