This is an archive article, originally printed on Sept. 13, 2005 from site co-founder J.D. Warnock. Since Men In Black 3 was number-one this weekend, it's kind of appropriate. Eric's list of the Top 10 Buddy Movies is right here, for comparison's sake.
If you'd like to contribute a Top 10 to Scene-Stealers, email Eric at eric@scene-stealers.com.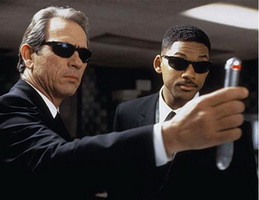 10. Men In Black (1997)
While it's not too cool to admit liking this sci-fi buddy flick from director Barry Sonnenfield, it appeals to my uncontrollable love of space shit. Will Smith, Tommy Lee Jones and Rip Torn star.
Don't think, just have a good time and be entertained. What?…It's funny.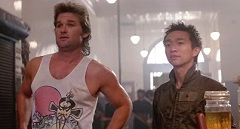 9. Big Trouble In Little China (1986) 
John Carpenter and Kurt Russell have a long and sometimes great history. Big Trouble in Little China teams them again in a supernatural kung-fu mystery that is silly and full of what now look like cheesy special effects. But as a kid, this one was played every Saturday morning until I killed the videotape. Sex and the City's Kim Cattrall does her best to ruin this one, but even her amazing power of annoyance can't derail the movie's over-the-top sweetness.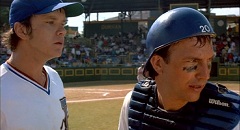 8.  Bull Durham (1988)
Kevin Costner and Tim Robbins are unforgettable in writer/director Ron Shelton's classic. Sports movies are not usually this funny or well-written. Here, it is a struggling minor league pitcher who receives guidance and an appropriate amount of hazing from old-school master on his way out. Genius.
And from this movie, you'd think Costner could act. He didn't use an accent, so that may have something to do with it.

7. !Three Amigos! (1986) 
John Landis used to make me laugh like crazy. This is only the first of his movies on this list.  Martin Short, Chevy "Why aren't you funny anymore, you used to be so damn funny" Chase and Steve Martin have never been any more amusing than they were in Three Amigos.
Come on, you know I had to do it. I watched this movie so many times that I think I could close my eyes and play it back complete. Tom Cruise, fighter planes, Kelly McGillis naked, that Berlin song, Tom Skerritt grumbling about something, Anthony Edwards as Goose, Val Kilmer, and cool lingo — what's there not to like?
Well, there's the shirtless volleyball match … and a lot of Kenny Loggins. OK. This movie is some good, some bad, but what can you do? It's ridiculously badass, and Tim Robbins was Merlin.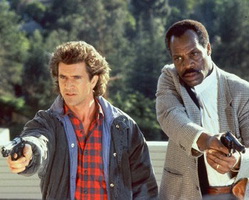 5. Lethal Weapon (1987)
Directed by Richard Donner, this classic is more along the lines of a conventional buddy-cop flick. It is the original that launched a by-and-large all-good franchise of pictures. Danny Glover and Mel Gibson's undeniable onscreen magic even captivated us for three more movies.
The darkest of the Lethal Weapons, it's got good dialogue, great villains, and Gibson at his best, on the verge of explosion at all times.
This is Eddie Murphy's best movie and at the height of his powers as funniest man alive. Murphy and Arsenio Hall are so memorable in John Landis' second of two entries on my top 10, that I am positive this is one of the most quotable classics of the entire 1980s era.
An African prince Akeem (Murphy) and Semi, his trusty sidekick (Hall) literally come to America in search of an Akeem's true love. In addition to these two friends, the pair also play a host of other memorable characters throughout the movie under heavy make-up.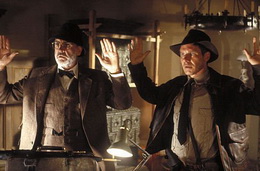 3. Indiana Jones and the Last Crusade (1989) 
This isn't a Rush Hour or Tango and Cash-style buddy flick, but Harrison Ford and Sean Connery are so good together in the last of the Indiana Jones series (so far), that it fits the bill perfectly. They play father and son, an unlikely duo forced together by circumstance who team up to win the day.
Why don't they make them like this anymore?
This movie falls on my top 10 all-time favorite movies list. No, it's not important filmmaking, but this movie was absolutely illuminating for me as a geeky teenager looking for any hope that things would eventually turnout okay. Val Kilmer and Gabe Jarret star as an unlikely pair of super smart science fair overachievers who accidentally design a interstellar weapon system for their maniacal professor and have to, well you know, fix it.
Laslo Hollyfield, the guy in the closet, played by Jonathan Gries (Napolean Dynamite's video taping uncle) is one of the all-time greatest bizarro side characters, and Kilmer proves that we should talk about him for more than just Tombstone. Val, come on, what happened?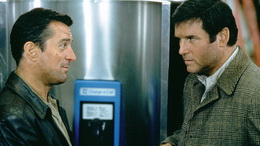 1. Midnight Run (1988)
This is one of my all time favorite movies, and it gets better every time I watch it. Robert De Niro is amazing as Jack Walsh, a bounty hunter attempting to return "The Duke" (Charles Grodin) to L.A. before the cops, the mob or the competition catch up with them.
This isn't a traditional buddy flick, but the chemistry between De Niro and Grodin is spectacular and rare in film. I'm always blown away when people tell me they've never even heard of Midnight Run. Director Martin Brest also directed the first Beverly Hills Cop and more recently handled the embarrassment that was Gigli.