He's appeared in ho-hum mainstream fare like "The Curious Case of Benjamin Button," "Troy," and "Meet Joe Black," but it's when Brad Pitt plays smaller roles that he's able to really show off his acting chops—especially his impeccable comic timing (see this weekend's #1 movie "Inglourious Basterds"). These 10 movies show that Pitt is a dangerous scene-stealing co-star, especially in quirkier material. Please enjoy my list of Brad Pitt's Top 10 Supporting Performances. Click on the links to see video of each entry. If you have a list you'd like to contribute, email me at eric@scene-stealers.com.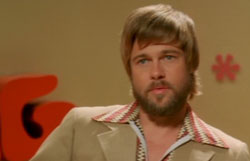 10. Confessions of a Dangerous Mind (2002) Brad, Bachelor #1
In this Charlie Kaufman-penned directorial debut by George Clooney, Pitt cameos as a contestant named Brad on "The Dating Game," alongside Matt Damon (who plays "Matt"). In the movie, Sam Rockwell portrays Chuck Barris, the creator of the show (and purportedly undercover CIA hitman) and the joke is that the slightly overweight dorky guy with the mustache wins the date over two superhunks because she can't see them. There's not much to the scene other than that one joke (which is why it's at #10), but it just goes to show how synonymous Pitt is with good looks and how eager he is to lampoon that notion as much as possible. You'll see how true that is when you get to the number-two entry on this list.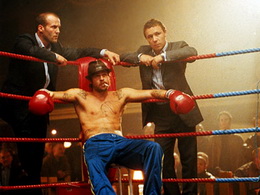 9. Snatch (2000) Mickey O'Neil
I'm not sure if it was a conscious choice to mock the bad reviews of his brogue in the standard and unremarkable Harrison Ford movie "The Devil's Own," but Pitt plays gypsy hustler-turned-bare-knuckle-fighter Mickey O'Neil with an Irish dialect that's incomprehensible by just about every other person in this multi-character Guy Ritchie crime movie. The plot is pretty incomprehensible as well and uses a lot of Ritchie's tricks from his previous "Lock, Stock, and Two Smoking Barrels," but Pitt is hilarious, and sticks out the most in a movie so scuzzy and violent that dead bodies are fed to pigs.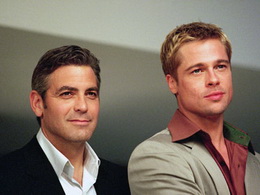 8. Ocean's Eleven (2001) Rusty Ryan
Pitt is the perfect comic foil to fast-talking Danny Ocean (George Clooney) in the first of three "Ocean's" movies directed by Clooney pal Steven Soderbergh. Here Pitt takes advantage of his movie-star persona again, except this time he's undercutting his handsome image and expensive wardrobe with a self-disparaging sense of humor and some pretty silly disguises. For someone who seems to have everything, Rusty has a problem holding on to money and he's often seen eating something, although he rarely finishes. The "Ocean's" series has resulted in to-be-expected diminishing returns, but Pitt's witty banter with Clooney is always a highlight of each film. Here's the scene where he and Clooney teach Topher "All Reds" Grace, Josh Jackson, and other young movie stars how to play poker.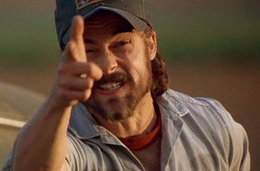 7. Kalifornia (1993) Early Grayce
The premise sure is a lot of coincidence to accept, but Pitt still makes a memorable turn as a redneck parolee-turned-serial-killer who shares a cross country trip with an egghead grad student (David Duchovny) writing a book on … you guessed it … serial killers. While it's somewhat of a crapshoot who is the lead character in this movie (like it is in the excellent "The Assassination of Jesse James by the Coward John Ford," where Pitt's James is in the title—further blurring the lines is the fact that Casey Affleck got a supporting actor nod even though he's in the movie more than Pitt), I'm sticking with Pitt as the supporting player because it's his actions that cause Duchovny's character to re-evaluate his obsession. Pitt uses his movie-star charm to generate a good amount of empathy despite the mounting body count, playing against type but to his strengths again.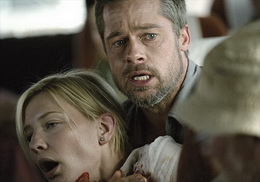 6. Babel (2006) Richard Jones
A contrived-but-vigorous ensemble drama directed by Alejandro González Iñárritu with a multinational cast, "Babel" was nominated for seven Oscars, but Best Supporting Actor was not one of them. Pitt plays an older, well-off American family man on vacation and in a rough patch in his marriage when his wife (Cate Blanchett) is suddenly hit by a stray bullet. Pitt showed a powerful combination of entitlement and desperation that we've never seen from him before. His anguish and rage was potent, and it was believable across the board even if his particular storyline was not as compelling as other characters—two of which (Rinko Kikuchi and Adriana Barazza) received supporting actress nominations instead. Here's the HD trailer.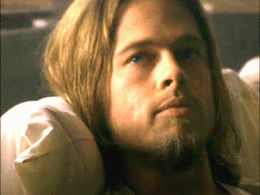 5. True Romance (1993) Floyd
Smoking pot out of a makeshift plastic honey bear bong, in nothing more than a cameo, Pitt steals the movie from a huge cast of heavyweights (Gary Oldman, Chistopher Walken, Dennis Hopper, Samuel L. Jackson, Val Kilmer) as Floyd, the clueless but merry stoner who rats out his roomie Dick (Michael Rapaport). Perhaps this was a hint of "Basterds" to come, since Quentin Tarantino wrote this Tony Scott-directed film. (Too bad he didn't direct "True Romance" as well.) When future "Soprano" James Gandolfini comes by looking for Christian Slater's main character Clarence, Floyd delivers one of the most quotable lines of the film as only a man of wealth and taste could: "They were here and then they said they were going to go there. And then they went."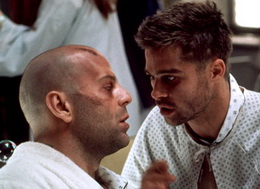 4. 12 Monkeys (1995) Jeffrey Goines
His first Academy Award nomination (and a Golden Globe win) came for this Terry Gilliam-directed thriller, where Pitt plays mental patient Jeffrey Goines, who turns out to be of central interest to the film's lead character (played by Bruce Willis). Since the movie takes place in a bleak post-apocalyptic future where everybody lives underground, Pitt provides some much-needed levity with his wild ravings and jumping about (which include a full moon). The film gets a little bogged down with its constant flow of red herrings and take-backs, but Pitt still stands out as something fresh (if not pretty hammy) in "12 Monkeys," which is an expanded version of the far-superior 1962 French short "La Jetée."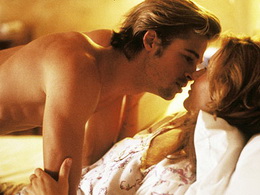 3. Thelma & Louise (1991) J.D.
This is the second Scott brother-directed film on the list, only it was Tony's older brother Ridley who directed a young Pitt in his breakthrough performance as a handsome young drifter named J.D. Geena Davis and Susan Sarandon are the title characters who encounter rampant sexism and get in a heap of trouble at every turn. Davis, however, finally indulges her sexual side during a hot night in a hotel room with the muscle-bound and shirtless J.D. He may have turned out to be a bank robber and stolen all of the road-tripping couple's cash, but Pitt made a wildly favorable impression on moviegoers (especially female ones) everywhere. This is the movie that officially launched his career.
2. Burn After Reading (2008) Chad Feldheimer
If you thought Floyd from "True Romance" was dumb, wait until you see Pitt portray sweetly deficient gym employee Chad in this wickedly black Coen brothers comedy. The real irony here is that the combination of he and Clooney really got butts in the seats to see this Debbie Downer of a movie. The ads featured Pitt acting zany, jumping up and down, and getting punched in the face, making the movie look like a nutty romp. But when dorky little Chad exits the premises very suddenly, this existentialist comedy takes some unpredictably nightmarish turns. Best line: "I'm sorry to call you at this late hour but I thought you might be worried … about the security … of your shit." Check it out and other of Pitt's best moments from the film edited together here.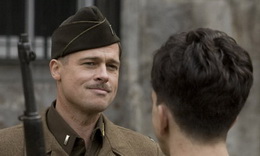 1. Inglourious Basterds (2009) Lt. Aldo Raine
Maybe it's a little early to call this one, but I'm still reeling from the many unexpected pleasures of Tarantino's newest genre twister. The previews hinted at Pitt's redneck accent, but his perma-smirk and the pure relish he takes in killing Nazis (rhymes with gnat-sees) can only be matched by his unwavering confidence. Also, I know what you're thinking and I'm way ahead of you: Yes, his is the supporting role—I don't care what the posters and ads are selling. This is really the story of "The Jew Hunter" Col. Hans Landa (Christoph Waltz, another scene-stealer) and Shosanna Dreyfus (Mélanie Laurent), the young Jewish girl he once let go. Lt. Raine and his basterds are outliers. Hell, Raine doesn't even get to participate in the final shootout! But Pitt's delivery and timing are so funny in this movie that he gets laughs sometimes just for a look. Pitt's really at the top of his game these days taking these quirky little roles and I sure hope he continues in this vein because he's producing some of his best work to date. Start at :43.