Eric: It seems a bit strange to talk about this one night of television in terms of how much it entertained us when the focus really should be on the nominated movies themselves. So, before we dive into what we liked and hated about Sunday night's Oscars, let's get one thing out of the way.
Screw ratings. Who cares if they were low? Should the Academy nominate crappier movies with bigger box office so that ABC can sell more ads during the ceremony? All I have read about this telecast is how poorly it did in the ratings. And all I care about is that the two least mainstream and most challenging movies of the year, "There Will Be Blood" and "No Country for Old Men," got the hottest spotlight in Hollywood for one night, which proves that the Academy's taste is more sophisticated than most people give them credit for. Now maybe they'll reach as many people as the $309 million-grossing pirate movie. A boy can dream, can't he?
As host Jon Stewart said, "Even 'Norbit' got a nomination, which I think is great. Too often, the Academy ignores movies that aren't good."
For a great list of classic all-time hilarious moments, check my Top 10 Most Outrageous Oscar Moments here. With all that in mind, here are my five best/least favorite moments of the night: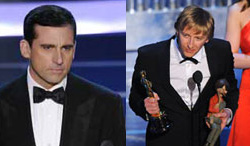 5. Who's that guy with the puppet? And did Steve Carell just say "shit"?
You bet your anus he did. Doing a little bit with Anne Hathaway (who showed perfect comic timing, by the way) about how he had the completely wrong category booted up for his introduction, Carell played embarrassment like only Steve Carell can. Maybe he was supposed to say "sheesh" or something like that, but he threw his head in his hands and clearly uttered "shit!" Cursing on live TV is one of the few tried-and-true formulas to always put a smile on my face. Later, Hugh Welchman wins Best Animated Short and brings a special little friend with him. He says something about it being "only the beginning for Peter," referring, I suppose, to the wooden puppet he's cradling in his arms. I guess it's a good thing Brad Bird's rat was only CGI.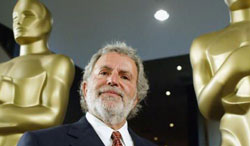 4. The "How We Vote" short film
AMPAS President Sid Ganis seems like a nice guy, but as befitting the producer of "Deuce Bigalow: Male Gigolo," "Big Daddy," "Mr. Deeds," and "The Master of Disguise," he produced the worst picture of a night that was full of stinkers. No doubt the writer's strike forced the show to stockpile a hefty batch of recycled Oscar moments, but did they have to use them all? Worst of all was Ganis narrating a piece describing the Oscar process. It's actually nice to know how some of this works, but Ganis tried to spice up the mini-doc with stale jokes and too much self-impotance. What's worse, he ended the short with a horribly unfunny bit where he, the president of the Academy no less(!), gets shut out of the super-secret tallying room and turns to the camera, mock-stunned. It was so bad that host Jon Stewart, dripping with sarcasm immediately following the bit, remarked, "That was amazing."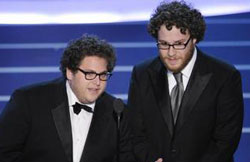 3. Halle Berry and Dame Judi Dench
…couldn't be here tonight, goes the joke, so Jonah Hill and Seth Rogen filled in for them at the last minute. Sure, it's a silly set-up, but watching Hill and Rogen exchange petty one-ups about which of them gets to "be" Halle Berry was twisted and hilarious. Freud would have a field day with this conversation. The funny thing is, you can imagine that these guys have probably already had this conversation. Even as they were announcing the first nominees, they were acting like children, still trying to get the last word in. "I'm Halle Berry," Hill says again as he leans into the microphone. One of the "Bourne Ultimatum" sound award winners proved he's no slouch at one-liners either when he quipped after taking the stage, "Would it be alright to kiss Halle Berry now?" These sick Hollywood perverts.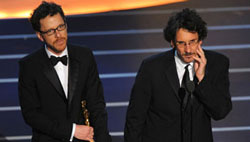 2. Ethan Coen is really uncomfortable
How great was it to see Joel and Ethan Coen finally get their due after years of terrificly weird little movies? Those two strange-looking brothers from Minnesota? Oscar darlings? I would have never believed it. Joel's wife Frances MacDormand could barely believe it. She was exchanging private glances with Joel and beaming from the audience like a proud mother (and looking a lot like Mrs. Miller from "Almost Famous") every time the brothers were onstage. Joel had some great lines about making films since childhood and being allowed to make films in their "corner of the sandbox," but Ethan had a plastered-on smile and looked right through presenter Martin Scorsese like he wasn't even there. Some people deal with high stress situations differently, and I'll bet Ethan can't wait to get back to what he does best–making movies. His first speech, in its entirety: "We…uh…thank you very much." His second: "I don't have a lot to add to what I said earlier…Thank you."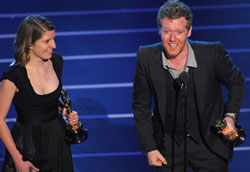 1. Glen Hansard & Marketa Irglova
"Once" was the little indie movie that everyone loved, but didn't know where to show it. Thank God it was nominated for Best Original Song. During a night filled with three over-the-top songs from Disney's "Enchanted" (although Amy Adams' performance was a nice throwback to old school musicals) and that awful "August Rush" faux-inspirational mess, Hansard and Irglova, stars of "Once" and songwriters of its signature tune, saved us from a night of musical hell. Not only did they perform a beautiful version of "Falling Slowly" with Bill Conti and the orchestra, but they had the most memorable speech of the night, and arguably created the one truly memorable Oscar moment. I'll let J.D. talk about Irglova's speech, but Hansard was genuinely in shock and as refreshingly humble as can be while at the microphone. When they walked off the stage there was this glowing feeling coming from everyone in the building. Enter Jon Stewart with the funniest, most shocking line of the night: "Wow, that guy is so arrogant." It took a moment to register and then there was huge laughter from everyone. Please bring Stewart back next year.
J.D.: Yes Eric, you can dream. It's beyond ironic that one of the best Oscar telecasts – thanks to Jon Stewart and an impressive handful of movies we can all actually get excited about – scored poorly in the ratings department. Quality won out over celebrity this year, and the themes in the nominated films were challenging and often dark. It made for a fantastic year in film, a great night for filmmakers, and thanks to Stewart, a very funny Oscars. Here are my best/worst moments of the evening.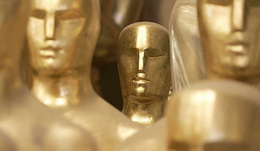 5. The Animated Introduction Montage

What in the world was up with that intro animation montage? They spent months wondering whether the telecast would go ahead or not, and apparently during that time the producers were so concerned with the writers strike that they neglected to consider the show's opening segment until the night before. It's possible that the poor planning resulted in a desperate hail-mary pass thrown to a couple guys from Van Nuys in an unmarked van with some editing equipment and a dream, and on short notice that second-rate, bad videogame-looking monstrosity was the best they could do. Talk about opening without impact.
4. Nicole Kidman gets a night off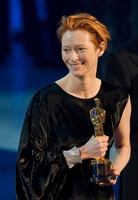 Like a solar eclipse or a leap year, every once and awhile someone with undefinable and yet comparable strangeness stands close enough to Nicole Kidman to make her seem more warm and approachable. I guessed correctly that British practitioner (now Best Supporting Actress winner) Tilda Swinton would walk away with the little golden guy Sunday night for her role in "Michael Clayton," but I had no idea she would give one of Oscar's oddest acceptance speeches, touting her intentions to hand over the most prized trophy in all of Hollywood to– care to hazard a guess?…mother, father, grandma, best friend, famous cousin, children, mentor, acting coach, Meryl Streep, no, no, no…wait for it…her agent! I have to imagine that among the fastest ways to get that particular audience to turn on you – internally of course – is to admit in your bizarre acceptance speech that the award you now hold in your hot little hand, the one nearly everyone staring at you would actually consider killing for, will forever decorate the office of your American agent. That's right, instead of taking its rightful place in a spectacular glass case with custom lights, permanently affixed to a properly feng-shuied spot in your "crib," your golden statue will be in the one place worse than the bathroom, the ever-popular "anti-awards response," it will be sitting on your agent's desk. Swinton's uncomfortable delivery was totally believable, and as a result Swinton accomplished the unlikely, snatching the odd-bird of the evening award right out of Kidman's capable hands.
3. "Transformers" gets robbed live on national television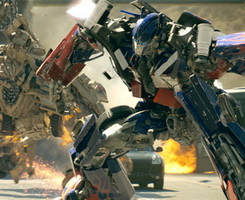 Of course it makes the artistic elements inside the Academy queasy every time they have to consider giving a Michael Bay film an award- even a technical one. And I personally couldn't be more excited about the non-commercial nature of many of the films that were acknowledged this year, since it's usually the other way around. I've often complained that box office receipts propelled lesser works to undeserved nominations, and there is hardly a better example of a typical commercial filmmaker than Bay, but the fact is the visual effects award belonged to "Transformers." A flawless film it is not, and it wasn't destined to win any screenplay or acting awards, but the work done to bring shape-shifting alien robots to life was nothing shy of phenomenal. Oscar party bragging rights belong solidly in the hands of anyone who picked "The Bourne Ultimatum's" run in the technical section, but the visual award selection (which went instead to talking polar bears in the far less impressive "The Golden Compass") was absolute highway robbery.
2. Marion Cotillard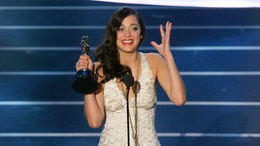 This award for French star Marion Cotillard's embodiment of Edith Piaf is as well deserved as Daniel Day-Lewis' for his groundbreaking performance as Daniel Plainview. All of the members of the Academy received their unsuspecting screeners for the film "La Vie En Rose," and of those who watched the film, few of them could shake the mind-blowing makeup work, evident in a flurry of extraordinary close-up shots, and Cotillard's otherworldly transformation into Piaf in all stages of her adult life. This award is a rare moment where truly fantastic work, that which is utterly undeniable, receives proper recognition that will guarantee a life for this relatively unseen film– a film which otherwise would surely have slipped into obscurity without anyone knowing that it contains one of the most enigmatic performances of all-time and a daring display of movie magic from an equally deserving team of make-up artists. Cotillard's impassioned and wholly unexpected speech in which she thanked "love" and "life," and the film's director for "rocking her life," was aces as well.
1. Marketa Irglova returns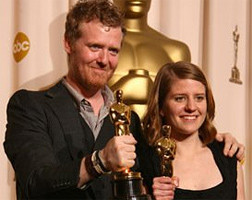 Jon Stewart is all class. My absolute favorite moment of the evening was when Stewart escorted newly crowned Oscar winner Marketa Irglova back to the stage to give a lovely and articulate speech, one that we had been denied before the commercial break in the most unsatisfactory fashion– that being the orchestra cutting her off just as she stepped up to the microphone. I could write a book on the reasons I love Jon Stewart, but if I didn't already like Stewart, that moment – whether he was personally responsible for it or not – would've been enough to turn me around. Glen Hansard and Irglova's much-deserved award for best song, and Irglova's inspired return were, for me, the highlight of the evening.