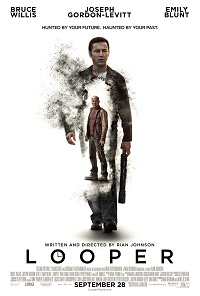 This weekend marks the wide release of the much-anticipated Looper, a time-travel sci-fi movie written and directed by genre mixer-upper Rian Johnson. There are recent movies like Donnie Darko and the demented Detention with elements of time travel in them, but not that many films where the premise revolves completely around time travel. Surely when one thinks of great time-travel movies, a couple jump to mind immediately. Of course, I'm talking about Hot Tub Time Machine and Bill & Ted's Excellent Adventure, so I'm sad to say they have been left off of this Top 10 and are relegated only to the opening remarks section here. Sidenote: I haven't seen Safety Not Guaranteed, but I hear it's rather good.
Instead, I present the Top 10 Best Time Travel Movies, a list of the greatest time-hopping films ever made. If you have a Top 10 list you'd like to contribute, email me at eric@scene-stealers.com.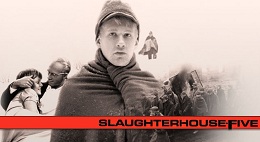 10. Slaughterhouse-Five (1972)
No adaptation of a Kurt Vonnegut book has ever been 100% successful, but this George Roy Hill movie starring Michael Sacks as Vonnegut's "hero" Billy Pilgrim, comes close. Billy is "unstuck in time," and his life is experienced out of sequential order, with an emphasis placed on his experiences during the real-life World War II fire-bombing of Dresden. Jumping back and forth throughout time means the films is challenged with making the audience care for a passive character who doesn't grow emotionally like a normal person does. But Slaughterhouse-Five does find a rhythm, as Billy learns to accept all parts of his past as "now" moments, thanks in part to the alien race that keeps him in zoo-like containment in the future, with only a Hollywood starlet (Valerie Perrine) for company. So it goes.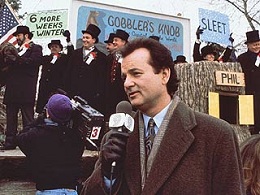 9. Groundhog Day (1993)
I feel like the sheer quality and repeat watchability of Harold Ramis' Groundhog Day should help it place higher on the list, but I'm placing it at a relatively low number-nine spot because the conceit of its time-travel plot is rather simple and repetitive. Bill Murray is perfectly cast as a self-absorbed weatherman forced to cover the annual story of Punxsutawney Phil, the groundhog who may or may not see his shadow and thus predict the arrival of spring. What's worse, he's stuck in a time loop, forced to repeat the hated Groundhog Day over and over again. Smart-assed Murray goes through the full range of emotions as this inexplicably happens, mining them for laughs, but eventually settling on a surprising amount of poignancy.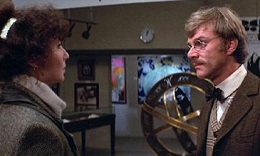 8. Time After Time (1979)
Although I think Groundhog Day is the better film by far, I'm ranking Time After Time higher on this list by the sheer nature of its audacity, adherence to more traditional time-travel tropes, and the fact that it actually pulls off this most ridiculous story. H.G. Wells (Malcom McDowell), author of The Time Machine (yes, I left off all filmed versions of this classic book — they're not so good) travels from 1893 to 1979 in pursuit of Jack the Ripper (David Warner), who used Well's machine to escape the police. Shocked that the future (San Francisco to be exact) is not a bold vision of Utopia, but rather a crime-ridden concrete jungle, he tracks down the man now known as the "San Francisco Ripper"  and must save Mary Steenburgen, who has boldly started up a romance with Wells. Sure, there's some plot holes and conveniences you have to ignore, but it's some good, old-fashioned fish-out-of-water fun.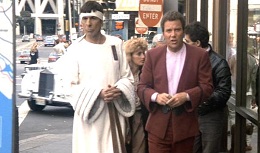 7. Star Trek IV: The Voyage Home (1986)
Say what you will about the first incarnation of the Star Trek movie franchise, but no movie traded in on the charm of its lead actors Leonard Nimoy and William Shatner and the love audiences had for their characters like the fourth Star Trek film. Directed by Nimoy himself, it's a funny message movie (you don't get too many of those) that finds the former crew of the Enterprise traveling back in time to save humpback whales from extinction. Like Time After Time, it's best not to concentrate too much on the mechanics of the situation and just enjoy the ride, as Nimoy mines comedy gold from every possible fish-out-of-water situation from all crew members while their spaceship sits cloaked in the San Fransisco Bay. (Come to think of it, there's a lot of similarities between this and Time After Time.) It's silly, yes, but somehow very satisfying, and still my favorite Star Trek movie.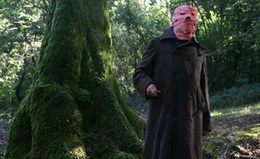 6. Timecrimes (2007) aka "Los cronocrímenes"
A short, 89-minute movie with a small budget, Timecrimes combines the tried-and-true suspense trope of vouyerism with the idea that inconsistencies in time could lead to disaster. A Spanish man in the woods (Karra Elejalde) stumbles upon a secluded laboratory and soon realizes he is several hours behind the current time. Seeing himself in the past, the film follows his struggle to piece together the reality of his situation and how he can rectify it. Director Nacho Vigalondo maximizes this seemingly simple plot for maximum suspense and sticks to a rigid logic. It could even be considered a neo-noir, with its main character getting in over his head and a unique spin on the femme fatale.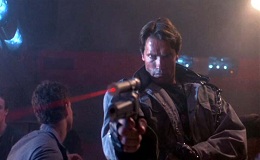 5. The Terminator (1984)
James Cameron's initial low-budget entry in The Terminator franchise kicked off interest in time travel in the mid-80s to early 90s and is probably responsible for many of the entries on this list getting greenlighted. It's also the film that ignited Arnold Schwarzenegger's career and utilized him best, with little dialogue and an imposing physicality. As a cyborg sent back in time from the machine-dominated year 2029 to present-day 1984 to kill Sarah Connor (Linda Hamilton), the woman who gives birth to the future leader of the rebellion, Schwarzenegger gave us a classic character. The risky movie also wasn't expected to do much at the box office, so when it did, it established James Cameron as a visionary genre filmmaker as well. Further sequels, however, have really muddied up an already questionable timeline of events for the Terminator mythology.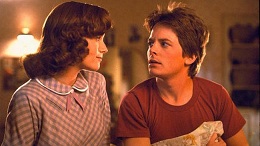 4. Back to the Future (1985)
More than any other movie, though, it was Robert Zemeckis' crowd-pleasing blockbuster hit Back to the Future that solidified time-travel as mainstream entertainment. It's influence is so far and wide that Doc Brown (Christopher Lloyd) and the "flux capacitor" has entered the pop culture lexicon and when most people think of time travel, I think they probably visualize it in a DeLorean with pop-up side doors. The movie also gave new meaning to the idea of an Oedipus Complex, allowing Marty McFly's Mom (Lea Thompson) the opportunity to fall in love with her son (Michael J. Fox) while they were both teenagers. Hot!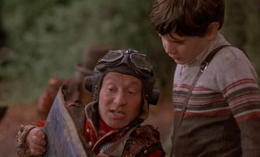 3. Time Bandits (1981)
As I wrote in the Top 8 Kid-Centric Adventure Movies list, "This is a fantastic, original, campy, fun, and scary kids' adventure film and it written by Monty Python's Terry Gilliam and Michael Palin and directed by Gilliam. An 11-year-old boy's bedroom wall suddenly becomes a portal through time and he stumbles into other dimensions with a band of nutty dwarves. They have stolen a map of holes in the space-time continuum and are gathering up as much treasure as they can from each era they land in. Not only does the movie give the boy (Craig Warnock) a chance to come into his own, but it also contains some really original old-school special effects and several memorable set pieces. More than any other film on this lit, it evokes a more innocent time (like they all do) but with a little malevolent, anti-authoritative sentiment thrown in for good measure. With appearances from John Cleese, Sean Connery, Ian Holm, and Palin, it's also the funniest film on the list — hands down."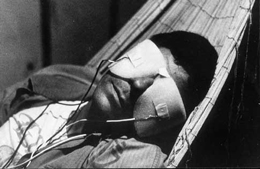 2. La Jetée (1962), 12 Monkeys (1995)
Wow — another Terry Gilliam movie in this Top 10? Not so fast. 12 Monkeys is on this list, but by itself I would never have it at number two. No, that Gilliam film is imperfect for sure, but it takes its inspiration from the extraordinary 1962 Chris Marker short film La Jetée, so I'm including it here as a bonus. Read this post about the recent Criterion Blu-ray issue of La Jetée for a full examination of the themes and format of the film, but suffice it to say that once you see this remarkable 28-minute short, it will haunt you forever. It doesn't focus on the specifics of how time travel was accomplished, but more on the effect that memories and experiences have over us as human beings. When Chris Marker passed away this summer, we lost on of cinema's true experimenters.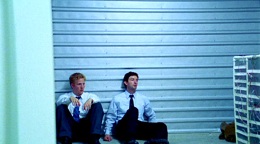 1. Primer (2004)
If you wanted to find a down-to-earth film that looks as closely at what a reality that included time travel would look like, this is the film to see. Shane Carruth wrote, produced, directed, and stars in this really low budget but very provocative film, which won the Grand Jury Prize at the 2004 Sundance Film Festival. A former engineer himself, Carruth's film revolves around two engineers who stumble upon a way to successfully travel in time and use it to make money off of the stock market. There are no special effects, yet the scenes where time travel take place are part mundane, part crazy-tense suspense. It involves creating doubles (kind of like — SPOILER ALERT — Christopher Nolan's The Prestige), which is … well … better explained in this Primer time-travel infographic. But beyond being a boring technical explanation of a what-if situation (there is a little of that as well), Primer is a devastating drama that takes a cold, hard look at how messed up things can get when you try to manipulate time. By the end, it's clear that once Pandora's Box is opened for all of humankind, there's no going back. Brutal.