What are the best movies of 2011? Before I started tallying up the movies that made the biggest impression this year, I thought that 2011 may have been a weak year for film.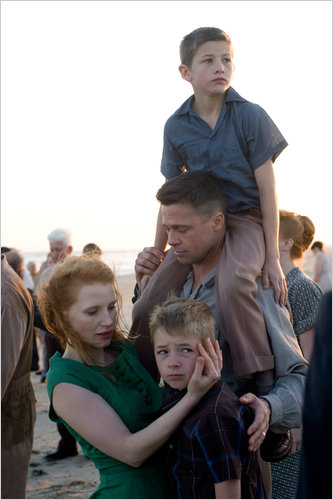 It turns out I was dead wrong.
Although only one film this year made my hair stand up on end, there were plenty of moving, adventurous, and original films in 2011.
More sequels may have been released in the year 2011 than any year previous, but none of them made much of a contribution to the film world from an artistic standpoint. In fact, the year's best films were the ones that played with an audience's expectations and gave us something thrilling and original.
My runners-up this year for the best movies of 2011 were many: Moneyball, Shame, Attack the Block, Beginners, The Artist, Bridesmaids, Hanna, Carnage, We Need to Talk About Kevin, Win Win, Rise of the Planet of the Apes, Contagion, and The Guard.
But there can be only 10.
Here are the Top 10 best movies of 2011.
10. Martha Marcy May Marlene
Sean Durkin's debut film Martha Marcy May Marlene is dripping with menace. A young woman escapes a cult and attempts to return to normalcy, but the movie embeds the audience with her paranoia and is structured around her thoughts and memories. Elizabeth Olsen is riveting in a star-making performance as the title character, and John Hawkes plays the cult leader with edgy charm. Martha Marcy May Marlene may have a title that is the hardest to remember of the year, but it's a movie you'll never forget watching.
9. The Descendants
George Clooney's subtle, earnest performance in Alexander Payne's latest filmic exploration of the middle-aged man is one of the reasons The Descendants is able to nimbly jump from comedy to tragedy in a single scene. It also helps that Payne's script and direction are whip-smart and not interested in playing big, broad comedy. The Descendants contains deft characterization all around and plenty of poignancy, sometimes when you least expect it.
8. Young Adult
With the wicked black comedy Young Adult, director Jason Reitman and screenwriter Diablo Cody give us a very different movie than Juno, the pair's last collaboration. Charlize Theron does some very fine, funny work as one of the least likable main characters in recent movie memory, Patton Oswalt is her very funny foil, and the film itself is unpredictable in the most thrilling way. Young Adult doesn't have any jokes, but it is laugh-out-loud funny as it fearlessly walks a tightrope of uncomfortable situations and reveals some surprising truths about its characters.
7. Terri
2011 saw John C. Reilly give great performances in Cedar Rapids, We Need to Talk About Kevin, and Carnage, but nothing was as well-rounded and touching as his turn as Assistant Principal Fitzgerald in the overlooked independent film Terri. As he struggles to help an overweight 15-year old misfit at his school, it's gradually revealed that Fitzgerald doesn't have all the answers and that he was very probably in the same situation himself when he was in high school. Reilly has genius comic timing, but it's his unique ability to bring depth and nuance to Fitzgerald that gives the film its heart.
6. A Separation
Iranian filmmaker Asghar Farhadi's A Separation is a morally complex tale of a middle-class family thrown into chaos under societal pressures when a man makes the decision to care for his sick father at home. From that description, you may expect a self-important civics lesson, but Farhadi's film moves swiftly and with the expert timing of a thriller, even as it raises all kinds of complex questions about contemporary Iranian life. I cannot stress enough how enthralling and easy to appreciate this movie is, regardless of your culture. A Separation is more than a character study; it's a deftly plotted drama that unfolds layer after layer and will leave you asking all kinds of questions about your beliefs and moral judgments. Fascinating stuff.
5. Take Shelter
Jeff Nichols' new movie Take Shelter takes one father's fears of providing for his household and gives them a physical presence—a gathering storm. Michael Shannon, usually cast in more sinister roles because of his craggy, expressive face, is perfect in the everyman role here. It's impossible not to sympathize with him, even though he might be losing his mind. Jessica Chastain had many memorable performances this year, but none was as fully realized as her work here. Nichols creates an atmosphere of mounting dread and taps into contemporary fears with Take Shelter, a riveting and haunting movie that sticks with you.
4. Melancholia
From its rapturously beautiful and impressionistic still-life opening shots to its breathtaking finale, Lars Von Trier's Melancholia is a triumphant return to form for the Danish provocateur. The entire film is anchored by a revelatory Kirsten Dunst, who plays a self-destructive new bride awaiting the end of the world with a sense of acceptance. There's a dark sense of humor at play here too, when you'd least expect it. Melancholia helped the director himself out of a depression and the movie mixes penetrating personal filmmaking with a majestic scope for a unique and thrilling experience.
3. Hugo
Martin Scorsese's adaptation of Brian Selznick's award-winning 2007 illustrated kids' book The Invention of Hugo Cabret is full of exactly the kind of film magic that it pays tribute to. It's an arresting adventure-fantasy shot in 3D and featuring the kind of daring shots and art direction that silent film innovator Georges Méliès would be proud of. That Méliès becomes an integral part of the story is no coincidence, nor is the dreamlike feeling of the entire story. I've seen Hugo twice in 3D with very different crowds now, and I am convinced that it can play like gangbusters to anybody with a vivid imagination of any age. It's a beautiful and unexpectedly moving movie with a triumphant message about the power of dreams and art that will be considered a classic for many years to come.
2. Drive
Nicholas Winding Refn's Drive is everything modern action movies aren't these days. It's stylish, methodical, efficient, and relies very little on plot. The story is one you have seen a million times before (criminal with a code breaks code, everything goes to hell), but you've never seen it told like this. A synthesizer-heavy beat pulses through the movie, while Refn employs slow motion, dissolves, and slick nighttime cinematography to create a thick, rich atmosphere that permeates every frame of the film. Ryan Gosling exudes tough-guy manliness with barely any dialogue and the movie surprises at every turn. Albert Brooks is a particular standout as a wise-cracking mob boss who is a lot more powerful than he first lets on.
1. The Tree of Life
No other movie this year was as narratively ambitious and challenging as Terrence Malick's hotly debated The Tree of Life. On one hand it is a deeply affecting portrait of a middle-class Texas family in the 1950s, with stellar performances from Brad Pitt, Jessica Chastain, and the young Hunter McCracken. On the other hand, it tackles the entirety of human existence on this planet with one eye towards a deep sense of spirituality. Besides sporting the most exquisite cinematography of the last decade, The Tree of Life is a fascinating movie that pushes the boundaries of what filmic storytelling can be. It is at once both specific and detailed and vast and open-ended. You will leave the screen bringing all of your life experiences to bear and may find yourself rummaging through your own shared memories as you try to get a handle on your own interpretation of this striking and breathtaking picture. No list of the best movies of 2011 is complete without The Tree of Life.