Martin Scorsese has a lot of recurring themes in the movies he's directed over the last 44 years, but he's never helmed a 3D kids' movie. That is until Hugo, his adaptation of Brian Selznick's award-winning children's book, is released on November 23. With that date approaching, I thought it would be a good time to tackle the filmography of Martin Scorsese, one of America's greatest directors. Here are the Top 10 Martin Scorsese Movies. If you want to contribute a Top 10 list, email me at eric@scene-stealers.com.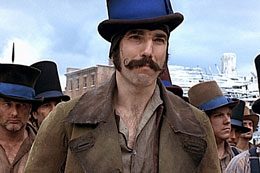 10. Gangs of New York (2002)
Although its a little bloated for sure, Martin Scorsese's tale of the 19th Century greed and corruption that birthed New York is teeming with rich historical detail and atmosphere, not to mention a riveting performance by Daniel Day-Lewis as Native gang leader Bill the Butcher. Gangs of New York was Scorsese's long-gestating dream project, and attacked with aplomb. The entire movie bristles with energy and tells a fascinating story about a chapter in American history that is mostly overlooked. After two and a half heartfelt hours of blood, sweat, and tears from the colorful denizens of New York's early criminal underworld, Scorsese shows the graves of these men deteriorating and mossing over in full view of the Manhattan skyline. It's a poignant and fitting ending.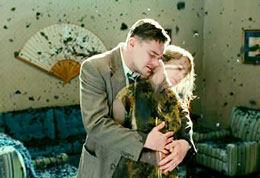 9. Shutter Island (2010)
Yes, it contains one of the more obvious twist endings in recent memory, but Shutter Island has enough Gothic atmosphere, deep emotional scar tissue, and surreal reality-shifting to be anything but a plot-driven thriller. In fact, the twist itself has another plot point at the end that gives it even more emotional resonance. It's almost as if Scorsese was saying, "Yeah, you saw that coming, but let's examine what that twist means for this guy." The film feels like a straight up gothic horror picture; a sort of highbrow-yet-grotesque modern-day Val Lewton B-movie. Leonardo DiCaprio plays a haunted man searching for answers in a an isolated insane asylum, and Scorsese is firing on all cylinders with rich production design and surrealistic montages that put the audience in the head of its conflicted protagonist. For all its style, Shutter Island plays the emotional truth of DiCaprio's character and ends up being a truly satisfying tragedy.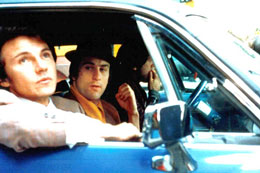 8. Mean Streets (1973)
Martin Scorsese's big breakout film was this gritty drama filmed on — you guessed it — the streets of New York. It's a setting he grew up with and he populates Mean Streets with characters he knows well: Harvey Keitel plays a low-level gangster dealing with his own Catholic guilt and Robert De Niro is mesmerizing as the unhinged friend who Keitel takes on as his personal cause. Of course, everything blows up in his face and Keitel has to realize that he can't have it both ways. Scorsese's people often have compromised moral codes, and Mean Streets is sly in how effortlessly these themes are wrapped up into the everyday life of these thugs. So much so that Mean Streets sometimes feels plotless and it tends to ramble. But Scorsese illuminates this subculture with two conflicting styles: a cinema-vérité realism combines with expressionistic angles and lighting to create a captivating portrait of life on the edge.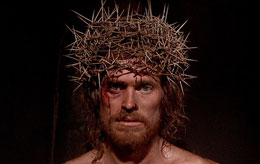 7. The Last Temptation of Christ (1998)
Here's more of Scorsese's upbringing creeping into his movies. This adaptation of Nikos Kazantzakis' novel was hugely controversial because many religious figures didn't want people to see a reluctant Jesus (Willem Dafoe) who is wracked with self-doubt. What they failed to understand about The Last Temptation of Christ is that by making Jesus' struggle human, it was something that people could relate to even more. Gradually, of course, Jesus accepts his divinity and his fate, but not before several digressions from the standard text that infuriated some fundamentalist religious leaders. Regardless of your faith or background, the film itself is a deeply felt and personal story, and it's rough-around-the-edges quality is a welcome departure from the glossy Biblical epics of the past.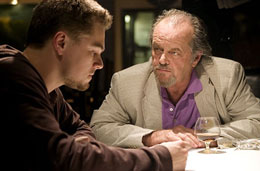 6. The Departed (2006)
Apart from being a technical marvel with great performances from Leonardo DiCaprio, Matt Damon, and Jack Nicholson, The Departed is also a bleak and terrifying study of cyclical violence. Both sides of the law are intensely dedicated to seeing their team win, and the psychological toll on the main players is almost unbearable. Di Caprio in particular turns in a remarkably harrowing performance that was stupidly passed over for Oscar recognition that year in favor of the histrionics of Blood Diamond. The streets of South Boston are a battlefield, with soldiers in both armies losing their lives for an ideal that becomes more corrupted and increasingly devoid of honor. The blaring classic-rock soundtrack, energetic editing, and local color add even more life to a film that's already up to its ears in style and panache. Even with an inordinate amount of plot and style, however, Martin Scorsese keeps his story focused on the characters, and that is why it's eminently re-watchable.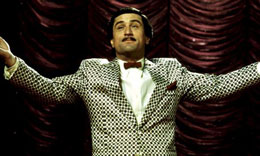 5. The King of Comedy (1983)
You have seen the breadth of Robert De Niro's acting prowess until you've seen this hilarious and uncomfortable movie that satirizes the lengths people will go to to be famous. In 1983, perhaps it was hard to swallow the concept of a desperate stand-up comedian (De Niro as Rupert Pupkin, one of the best character names in movie history) who kidnaps a popular talk-show host (Jerry Lewis) in hopes of getting a spot on his show. These days, it still seems a little off-kilter, but with the freaks and murderers that populate this generation's reality TV shows, I wouldn't put it past them. Celebrity stalker or not, Rupert Pupkin is one weird dude, and De Niro is so far away from anything else he's ever done here in this movie. I love the fact that in America, there are those who believe that sheer determination is enough to "make it" — and that talent and luck don't enter into it! The ending of The King of Comedy is a topic of much debate (and similar in theme to the #1 movie on this list, if not in tone) and I am of the opinion that there is a major POV shift towards the end and — without giving anything away — we aren't seeing the truth anymore. It's a perfect ending to a bizarre little film about one particularly deluded man.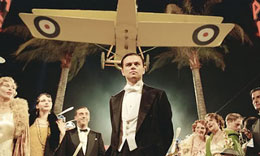 4. The Aviator (2004)
Yes, The Aviator is a biopic, and that's not necessarily a genre of films known for innovation. But Martin Scorsese frames his story of Howard Hughes around one very specific time period: Hughes' early years in Hollywood. Scorsese's fractured American dream explores Hughes the dreamer, a man who had a brilliant aviation mind and drive for perfection that frequently led to self-destruction. Leonardo DiCaprio grows into the role as the film progresses, and we get glimpses of the mental illness that would so cripple the eccentric millionaire in his later years. With a quick look from a character or a subtle camera movement, Scorsese conveys deeper meanings that the time constraints of a film don't allow. DiCaprio is so restrained and natural as Hughes that it's easy to overlook the magnitude of this performance — the actor is in almost every scene in the two-and-a-half-plus film. Scorsese films each decade in a different color hue and contrast (nice touch), but its his ability to keep a film that covers so much historical ground firmly rooted in Hughes' personal story that gives The Aviator an emotional whallop that's quite unexpected.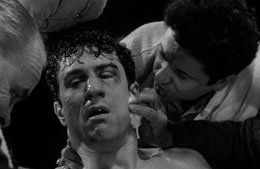 3. Raging Bull (1980)
Where do you start with a movie like Raging Bull? It currently sits at number four on the AFI list of greatest American movies because I believe, for many people it feels like a cinematic turning point. Robert De Niro convinced Scorsese to take on the story of Jake La Motta, a boxer who lets his rage, fear, jealously, paranoia, and sexual confusion get the best of him. His outlet is violence, and he takes out his issues on those in the ring and his friends and family that try to help him. The black-and-white cinematography, raw language, and naturalistic acting give it a realistic feel, while its very deliberate framing and editing raise its aesthetic quality. You can't take your eyes off De Niro, who packed on 60 pounds to play La Motta in his later years, and Joe Pesci and Cathy Moriarty are unrefined and honest in their first major roles. The boxing scenes are brutal, made more so by the skillful and painstaking editing of Thelma Schoonmaker and Frank Warner's amazing sound mix, which added all kinds of impressionistic effects to De Niro's blistering punches. Although the entire film is framed as a flashback, that's about the only things that Raging Bull has in common with other biopics. This movie is one of a kind.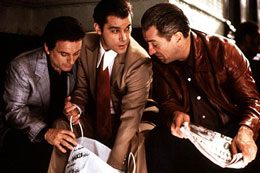 2. Goodfellas (1990)
Picking a number one and number two on this list is maybe the hardest decision I've made on a Top 10 list up to this point. In the 21 years since its release, Goodfellas has become one of the most influential movies of all time. The direct antecedant to HBO's The Sopranos, Scorsese's masterful mob epic removed most of the links to Sicilian tradition that permeated The Godfather movies and stranded his gangsters in a world of *ahem* moral decline. Even as Henry Hill (Ray Liotta) climbs to the intoxicating heights of a made man, members of "the family" are getting caught and informing on their old pals. Things just aren't what they used to be, but they are scarier and more violent. One one hand, Goodfellas is a typical rise-and-fall story with very strong performances from Robert De Niro, Liotta, and Joe Pesci. But it's Scorsese's passionate, kinetic direction that is the real star of the film: the long tracking shot as Hill enters the Copacabana nightclub on top of the world, Hill's cocaine-fueled paranoia as a helicopter flies overhead — these are the moments when movies come alive and you realize why you spend so much time sitting in dark theaters.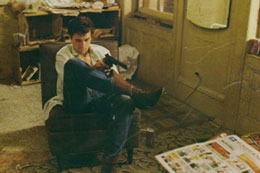 1. Taxi Driver (1976)
Screenwriter Paul Schrader channels the darkest, most paranoid feelings of the post-Watergate period and wraps them all up into the character of Travis Bickle (Robert De Niro), an outsider filled with hate. Scorsese's best movie is dripping with menace and cultural confusion as "God's lonely man" struggles to find meaning in a world he doesn't understand. His job as a New York cabbie gives him full access to the worst of modern society. As Bickle says, "All the animals come out at night – whores, skunk pussies, buggers, queens, fairies, dopers, junkies, sick, venal. Someday a real rain will come and wash all this scum off the streets." Taxi Driver is one of those films that feels like it could go anywhere at any time. His brief encounters with a teen hooker (Jodie Foster), her pimp (Harvey Keitel) and a pretty, bourgeois campaign worker (Cybill Shepherd) are misguided, hilarious, and tragic. Scorsese's cinematic language is varied and unpredictable as well, ranging from big, expressive camera moves and saturated colors to Bernard Herrmann's seamy jazz soundtrack. With all of this cinematic prowess on display, it may be surprising to learn that De Niro's "You talkin' to me?" was an improvisation. Taxi Driver is a profound masterpiece of cinema that puts you in a frightening world of utter alienation and strands you there for two hours with all kinds of things to chew on.