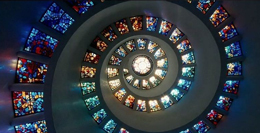 Cinematography is the realm of every movie's director of photography. It's not necessarily what is in front of the camera — that is the realm of the art directors, set designers, and costume designers — but more what the camera is doing to capture that.
A good DP can be subtle or overwhelming, depending on the part the movie calls for, but great cinematography always tells the story more effectively. Sometimes the camera is a character (and sometimes that can get annoying), but its really up to the cinematographer to make the movie come alive in a way that assists the film's storytelling strategy.
Here's my Top 10 list of the Best Cinematography of the Last Decade. If you have a Top 10 list you'd like to contribute, email me at eric@scene-stealers.com.
10. Eternal Sunshine of the Spotless Mind, Ellen Kuras (2004)

9. Kill Bill, Robert Richardson (2003-4)

8. The Diving Bell and The Butterfly, Janusz Kaminski (2007)

7. The Fall, Colin Watkinson (2006)

6. Road to Perdition, Conrad L. Hall (2002)

5. The Fountain, Matthew Libatique (2006)

4. No Country for Old Men, Roger Deakins (2007)

3. Children of Men, Emmanuel Lubezki (2006)

2. There Will Be Blood, Robert Elswit (2007)

1. The Tree of Life, Emmanuel Lubezki (2011)