With this weekend's release of Dreamworks' 3D computer-animated feature "Monsters Vs. Aliens," 2009 is officially the rebirth of 3D as a mainstream movie-going experience. It's already the fourth major 3D film to debut in wide release this year (after "My Bloody Valentine 3D," "Jonas Brothers: The 3D Concert Experience," and "Coraline") and tons more are on the way as the technology gets better and the number of digital screens continues to increase across the country. 3D receipts are already higher than the 2D releases of the same films, so even the audience is telling theaters they need to convert screens ASAP. With high-profile 3D releases like James Cameron's "Avatar," Robert Zemeckis' "A Christmas Carol," Pixar's "Up," "Cloudy With a Chance of Meatballs," and the horror flick "Final Destination: Death Trip 3D" in the pipeline for this year, the list I present here will likely look a lot different this time next year. So, before the explosion of new-fangled 3D hits theaters, take a look at the Top 10 3D Movies So Far. If you have an idea for your own Top 10, send it to eric@scene-stealers.com.
Note: As much as I wanted to include the terrible "Jaws 3-D" from 1983, a signature 3D movie for anyone of my generation because of the glass-shattering moment, I covered that (ironically) in my Top 10 Movie Series That Jumped the Shark and therefore decided not to include it here as well.
10. Robot Monster (1953)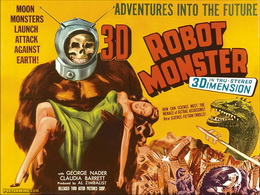 The evil Ro-Man has entered the pop culture lexicon if not by name then at least by sight—the alien identified in the title of this schlocky B-movie from director Phil Tucker is basically a guy in a gorilla suit wearing a diving helmet with two bug-like antennae. "Robot Monster" looks more like a sponsored advertisement for a new product called the Billion Bubble Machine than a real movie, even giving the machine's manufacturer credit in its opening titles. Ro-Man uses the bubbles to communicate to his superior while he finishes off the last survivors on Earth (only eight left—if only he hadn't fallen in love with an Earth babe!) with his "calcinator" death ray!? If that wasn't enough, the entire movie is revealed to be a dream from the babe's little kid brother (who apparently wants a gorilla alien to fall in love with his sister, kidnap her, and rip her clothes)! Pervert. The movie was received so poorly that Tucker reportedly attempted suicide shortly after its release. Only true connoisseurs of terrible movies should watch this 3D mistake by itself, but luckily Mystery Science Theater 3000 spoofed it in a January 1990 episode.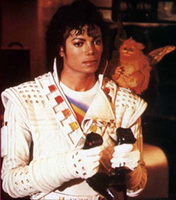 9. Captain EO (1986)
A 17-minute film that cost $30 million to make, stars Michael Jackson, was written by George Lucas, directed by Francis Ford Coppola, and was shown only at Disney theme parks from 1986-1998? Hell yes, I'm putting it on this list. As the narrated intro says, "A rag-tag band lead by the infamous Captain EO" travels the universe to present a gift to the evil Supreme Leader (Anjelica Huston) in an attempt to turn her into a personage of beaming goodness. The gift? A song called—ever so subtly—"We Are Here To Change the World." The song transforms her guards into dancing maniacs, and they fall in step behind Jackson, "Thriller"-style. Smoke actually extended into the audience and a huge amount of 3D effects were used. The movie was being shown so long that it must have been jarring to try to merge the 90s "uber-plastic surgery" version of Jackson with the 1986 "just gettin' started" version.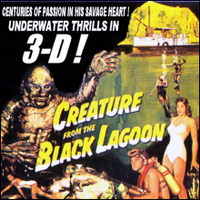 8. Creature From the Black Lagoon (1954)
After the success of "House of Wax," producer William Alland decided that his half-man/half-amphibian story that had been gestating for 10 years should be filmed in 3D. And so another famous Universal monster was born. Like Frankenstein's monster before him, the "Gill-man" has a soft spot for humans, specifically a woman named Kay who is part of an expedition in a largely unexplored area of the Amazon Rainforest. The body count in "Creature From the Black Lagoon" is pretty high, with Gill-man's human tendencies showing just enough for the audience to have sympathy for him even as he kidnaps poor Kay (who can't even be a researcher; she's merely a doctor's girlfriend!) and takes her to his lair. Of course, a remake is scheduled. Some reports (including IMDb) have Brock Eisner (the man who brought us "Sahara"!), son of former Disney chief Michael Eisner, listed as director. Ugh.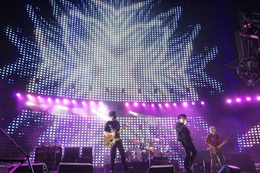 7. U2 3D (2008)
Sure, the Jonas Brothers and Miley Cyrus have recently released 3D concert films, but do you think I'd actually sit through those? This groundbreaking movie was shot with 18 3D cameras on U2's 2006 tour in Mexico, Brazil, Chile, Argentina, and Australia. Including audience microphones, the total number of audio channels used was 110. The result, screened in 61 IMAX theaters throughout the country, is a completely immersive experience. (The movie played in 600+ non-IMAX theaters.) "U2 3D" really is the perfect marriage of surround sound and 3D visual technology, and although U2 is not my favorite band by a longshot, seeing this movie loud and up close in an IMAX theater is probably the best way to see them. (Who knows how much money you'd be paying to sit in the back row of a concert arena and watch them on the mondo-giant screens on either side of their stage?)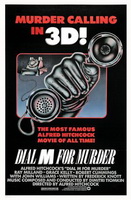 6. Dial M for Murder (1954)
An Alfred Hitchcock suspense movie (not his most famous of all time, despite what the poster says!) based on based on the stage play of the same title by English playwright Frederick Knott, "Dial M for Murder" stars Ray Milland, Grace Kelly, and Robert Cummins. The film, which details a man's plot to kill his wealthy wife, was shot with the Natural Vision 3D camera rig also used on "House of Wax." By the time of its release, however, the 3D craze of the early 50s was nearing its end. Most theaters that played the claustrophobic movie—shot mostly on one set— during its original run played it in flat 2D. In 1980, however, a San Francisco theater played a revival of "Dial M" in 3D and it did so well that Warner Bros. re-released the film in its 3D format in February 1982 during a brief 3D renaissance. Mainly, however, the film is known for being a taut thriller and not a huge 3D experience. The poster to the right is from that 1982 reissue. On DVD, the only version I have found is the 2D version.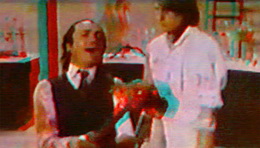 5. Flesh for Frankenstein (a.k.a. Andy Warhol's Frankenstein) (1973)
Director Paul Morrissey's gory and funny satire was shown originally in 3D in theaters (it was also originally rated X), which means that, had you seen it in theaters, a spear would have jumped right out of the screen at your eye, along with several graphic disembowelments. If you're lucky, you may be able to catch a 3D screening at an art house or midnight showing, but these days, the movie is preserved on 2D DVD by the Criterion Collection. Udo Kier plays the mad Doctor (who's married to his sister, by the way) and things go awry when he places the head of a would-be monk on his monster instead of the head of a lustful peasant. Unbridled sexuality seems to be the target of Morrissey's parody, because all those who engage in that kind of behavior (which is almost everybody) meet a ridiculously bloody end.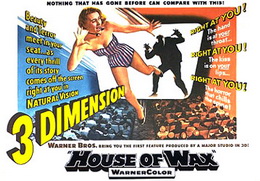 4. House of Wax (1953)
Perhaps the zenith of the 3D film craze of the early 1950s, this remake of 1933's "Mystery of the Wax Museum" starred Vincent Price as the disfigured wax sculptor and Charles Bronson as his deaf mute assistant Igor and itself led to a remake in 2005. An homage to one of the film's most famous "comin' atcha" scenes involving a paddleball appears very early on to greater effect in "Monsters Vs. Aliens," but at least "House of Wax" far exceeds its computer-animated 3D companion in the thrilling plot department. Ironically, the director of "House of Wax", André De Toth, couldn't even see in 3D because he was blind in one eye. Maybe his concentrating on the story rather than just effects is why the movie succeeded on its own merit without the then-gimmicky technology.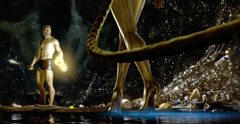 3. Beowulf (2007)
Roger Avary and Neil Gaiman had to take great liberties with the original epic poem of "Beowulf," which may date back as far as the 8th century, in order to make an involving motion picture. Director Robert Zemeckis uses the best motion-capture technology available in 2007 to recreate human faces that look similar to actors Ray Winstone, Anthony Hopkins, and Angelina Jolie, but still ends up with a lot of unconvincing facial movements. What he and his technical staff succeed at, though, is making one fantastic 3D experience. The settings are completely immersive (especially on IMAX screens), the action pops, and the sound is huge. My original review, said "Don't go see this if it's not on a 3D screen," and I stand by that. Since it's hard to relate to any of the rubbery-faced characters, there is at least a certain one-of-a-kind thrill in feeling like you are in the middle of the mess hall when the monstrous beast Grendel starts throwing people around.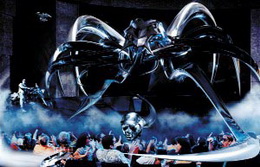 2. T2 3-D: Battle Across Time (1996)
This impressive James Cameron-directed "rideshow" is still playing at Universal Studios theme parks in Orlando, Hollywood, and Japan. Starring Arnold Schwarzenegger, Edward Furlong, Linda Hamilton, and Robert Patrick (as the menacing T-1000), "T2 3-D" immerses the audience via 3D and a wrap-round triptych of screens that literally surround the filmgoers. Actors portray their filmic counterparts, disappearing into and then riding out of the screens. When the entire theater is revealed to actually be a giant elevator and it begins descending into the bowels of the Earth, the game is on. Cameron and Co. up the ante by having moving robotic terminators surround the theater, as well as water sprinkling on the audience when glass is shattered. Cameron may not be the "king of the world" anymore, but he still remains the champion of extreme, show-oriented 3D, which makes me real excited for "Avatar" this winter.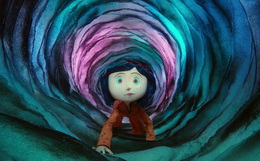 1. Coraline (2009)
Henry Selick's 3D stop-motion animation movie is based on Neil Gaiman's novella, which makes it Gaiman's second appearance on this list. "Coraline" has some typical jump-out-at-you moments, but not many. Instead, it relies on a slow, spooky build-up of suspense and culminates in a pretty scary transformation of space, arranging some perspectives of Coraline's nightmare world for maximum uncomfortability. The goal was to envelop the audience, not merely trick them. Rather than using 3D imagery in a gimmicky way, Selick's painstaking work on the set design and puppet animation pays off in one fantastical vision that is always in service of the story. It sets a great template that all future 3D computer animation films should use.