Man, this seems like a tough day for movie watching, doesn't it? There is a minefield of generic, re-hashed, formulaic, uninspired Ashton-Kutcher-Katherine Heigl-Gerard-Butler-Jennifer-Aniston-Sarah-Jessica-Parker-Kate-Hudson-Matthew-McConaughey-Reese-Witherspoon-Adam-Sandler movies out there that are liable to swear you off from romantic comedies for good.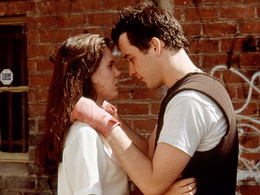 I don't blame you.
But we are here to help. It doesn't have to be this way.
Here is the ultimate list of movies you can rent or watch instantly on Valentine's Day that won't make you sick from all the sugar and unearned sentimentality … as well as some that are just purely romantic and not a comedy at all, but just a little more offbeat.
Good luck navigating the battlefield and let us know how it goes:
The Top 10 Romantic Comedies of All-Time, featuring runners-up like: His Girl Friday (1940), Roman Holiday (1953), The Princess Bride (1987), Adam's Rib (1949), When Harry Met Sally… (1988), My Man Godfrey (1936), Moonstruck (1987), The Philadelphia Story (1940), It Happened One Night (1934)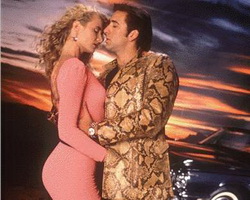 10 Movies for those who Love (and Hate) Valentine's Day, featuring five movies for those who want to celebrate the romance of the day with something sweet and charming, and five more films that prove that happy endings are only in the movies.
The Top 10 Weirdo and Unlikely Couples list, which celebrates  the odd, the unlikely, and the just plain bat-shit crazy couples we've come to love …
If you're not careful on Valentine's Day, one of you will end up convincing the other to settle for something neither of you want to see. It may be hard to believe, but there are some romantic films that surprise and some that even work despite their formulaic underpinnings. This Top 10 list of top romantic movies will start with the easiest to swallow and get crazier as it goes. Each and every one of them is recommended for Valentine's Day movie watching:  The Top 10 Modern Romantic Movies That Don't Suck.
Lately, there's been a lot of movies where the schlub gets the hot girl. This list of Top 10 Hot Girl – Nerdy Guy Movies should keep the fires of romance stoked AND please the geeky and hopeful …
Then there's the Top 10 Chick Flicks Guys Will Enjoy Too. These aren't always romantic comedies, but our guest contributor classifies each one as a chick flick of some sort — the kind that will make any boyfriend or husband look like tops while also appealing to their sensibilities as well.
Back in 2008, former Scene-Stealers co-host J.D. Warnock created a list of his favorite romcoms and, although there'a a little bit of repeat in terms of my runners up, it's stil a solid list with s couple of new surprises and a lot of cool movie quotes. Check out J.D.'s Top 10 Favorite Romantic Comedies.
Lastly, let's leave you with a scene of Quentin-Tarantino-by-way-of-Tony-Scott love: