So, you've had a week to congratulate or ridicule Mr. Melin for his list of the best "School Life" films not directed by John Hughes. With a handful of the quintessential pictures out of the running and a Harry Potter embargo in place – oh yeah, "Prisoner of Azkaban" would be on the list – here's what I came up with. Enjoy and let the games begin.
1. "Dead Poets Society" (1989)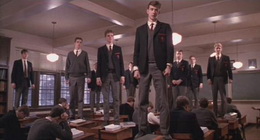 We're off to a melancholy start with director Peter Weir's ("The Truman Show) prep school classic. This boasts an extraordinary cast of young actors including Ethan Hawke and Robert Sean Leonard. Of course the real star of the film is "Mr. Hit-or-Miss" himself Robin Williams. While Williams has participated in numerous misadventures such as "Bicentennial Man," "Father's Day" and "License To Wed," one need not look any farther than "Dead Poets," "The Fisher King" or "Good Will Hunting" to realize that given the right role and script, Williams is capable of inhabiting characters with uncommon skill and humanity. This film is expertly directed and acted and remains an unforgettable cinematic experience.
John Keating: O Captain, my Captain. Who knows where that comes from? Anybody? Not a clue? It's from a poem by Walt Whitman about Mr. Abraham Lincoln. Now in this class you can either call me Mr. Keating, or if you're slightly more daring, O Captain my Captain.
2. "Real Genius" (1986)
"Real Genius" one of my favorite films of all time and a forgotten 80's gem. A refuge for the geeks of the world, it was also a geyser of hope for the ostracized masses of smart kids enduring gifted programs and high I.Q.s – neither of which get you very far with cool kids or the ladies in the 9th grade. Thanks to this movie, Gabriel Jarret (who plays Mitch Taylor) is a player in three of the most indispensable artifacts of my entertainment collection. I now relish the moments when he pops up, oddly enough, in Best Picture nominee "Apollo 13" or Emmy-winning series "The West Wing." Oh, and the star of "Real Genius," Val Kilmer, was awesome. He followed this movie up with a role as Lt. Tom "Iceman" Kazanski in a little movie from 1986 you may recognize called "Top Gun."
Dr. Dodd: Why is that toy on your head?
Chris Knight: Because if I wear it anyplace else, it chafes.
---
Chris Knight: Kent puts his name on his license plate.
Mitch: My mom does the same thing to my underwear.
Chris Knight: Your mom puts license plates in your underwear? How do you sit?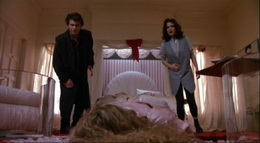 3. "Heathers" (1989)
Long before "Mean Girls" there was "Heathers." If you haven't seen this film in a while, the gratuitous violence and biting satire will seem even more harsh and scathing than it did back then. Having Christian Slater play a character with my name in such a hip film helped me feel cool for the first time in my life. I used to annoy everyone by mimicking the J.D. character played by Christian Slater, who was fresh his starring role in "Gleaming the Cube." Ironically, Slater was also doing a pretty awful impersonation himself, making J.D. sound just like Jack Nicholson.
Veronica Sawyer: Dear Diary, my teen-angst bullshit now has a body count.
---
Veronica's Dad: Will someone tell me why I smoke these damn things?
Veronica Sawyer: Because you're an idiot.
Veronica's Dad: Oh yeah, that's it.
4. "Fast Times At Ridgemont High" (1982)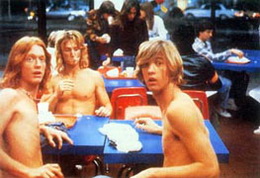 "Fast Times" director Amy Heckerling followed up this undeniable high school classic, penned by Cameron Crowe, with the gangster spoof "Johnny Dangerously." (Ouch, that's gonna leave a mark!) This may have been one of the only times Sean Penn has openly displayed a sense of humor in Hollywood, but Spicoli isn't a household name for nothing.
Damone: Can you honestly tell me you forgot? Forgot the magnetism of Robin Zander, or the charisma of Rick Nielsen?
---
Businessman: It says one hundred percent guaranteed, you moron!
Brad Hamilton:Mister, if you don't shut up I'm gonna kick one hundred percent of your ass!
5. "Half Nelson" (2006)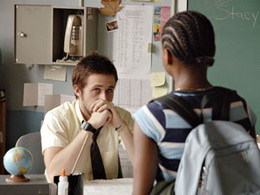 This film takes us back to the dark side of school life. In spite of the fact that teachers and drug problems are probably in the same places far more than we know, we don't usually see outstanding movies about the issue. Stars Ryan Gosling and Shareeka Epps act up a storm in a micro-budgeted film that was good enough to back up the attention it received and still deserve more. (A Best Actor win for Gosling would have been nice.) If you still haven't seen the film, you owe it to yourself to do so.
Dan: Who might say that Aristotle's wrong, right? But that doesn't make any sense; these things need each other. The idea that… that all God's creations are perfect, perfect – so just to suggest that – that a tree it's – it's crooked and it's straight… it's strong and it's weak… is to suggest that – that God created something imperfect. They do however acknowledge it in people; we are sinners but we can strive to be good just not in nature itself I guess.
6. "Napoleon Dynamite" (2004)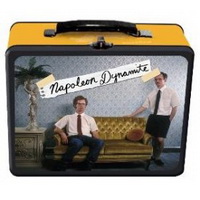 If we were judging best films strictly on quotability, "Napoleon Dynamite" would take the cake. As is the case with "The Simpsons," I often find that many things from this movie are funnier when told to me by friends. Admittedly, I was a latecomer to "Dynamite" because I honestly couldn't imagine the movie being any better than the back-and-forth riffing of my music store buddies. But then I finally watched it and became both a participant and instigator myself. Just thinking about it for this piece has caused me to place it on top of my list of things to watch this week. Coincidentally, "Napoleon Dynamite's" Uncle Rico is played by the underemployed Jonathan Gries, who played Lazlo Hollyfeld (better known as "the guy in the closet") in "Real Genius."
Don: Hey, Napoleon. What did you do last summer again?
Napoleon Dynamite: I told you! I spent it with my uncle in Alaska hunting wolverines!
Don: Did you shoot any?
Napoleon Dynamite: Yes, like 50 of 'em! They kept trying to attack my cousins, what the heck would you do in a situation like that?
Don: What kind of gun did you use?
Napoleon Dynamite: A freakin' 12-gauge, what do you think?
---
Napoleon Dynamite:Well, I have all your equipment in my locker. You should probably come get it cause I can't fit my numchucks in there anymore.
7. "Mean Girls" (2004)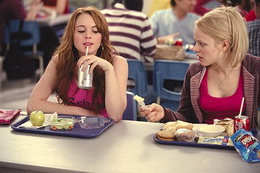 Insert your own up-to-date Lindsay Lohan joke here if you must, but this movie is hilarious. It takes a good deal of inspiration from my number three entry "Heathers," but journeys even further into high school kids' psyches and their troubled world of dominant and submissive stereotypes. The brilliant Tina Fey (of "Saturday Night Live" fame) co-stars, wrote the screenplay and managed to secure work for Tim Meadows all at the same time. Way to go Tina!
Damian: She's fabulous, but she's evil.
---
Coach Carr: Don't have sex, because you will get pregnant and die! Don't have sex in the missionary position, don't have sex standing up, just don't do it, OK, promise? OK, now everybody take some rubbers.
8. "Election" (1999)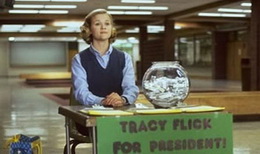 Everybody went all bat-shit for "Election" director Alexander Payne's wine tasting snorefest "Sideways," but I'm a much bigger fan of "About Schmidt" and "Election." Reese Witherspoon is unforgettable as Tracy Flick, the would-be student president who leaves Matthew Broderick's personal and academic life in shambles.
Tracy Flick: It's like my mom says, "The weak are always trying to sabatoge the strong."
---
Tracy Flick: [narrating] None of this would have happened if Mr. McAllister hadn't meddled the way he did. He should have just accepted things as they are instead of trying to interfere with destiny. You see, you can't interfere with destiny. That's why it's destiny. And if you try to interfere, the same thing's going to happen anyway, and you'll just suffer.
9. "Summer School" (1987)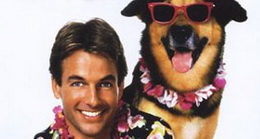 I would like to remember this film without Kirstie Alley or Courtney Thorne-Smith, but all the wishing in the world can't make it so. Believe it or not, "Summer School" was directed by the same guy who did "The Jerk" – that's right friends, Carl Reiner delivered this school days classic. Mark Harmon has one crazy summer to whip a rag-tag band of misfits into shape enough to pass a remedial English class. Add a lovable big dog and a pair of students who know way too much about horror film make-up, and you have a recipe for school movie magic.
Chainsaw: You passed and I failed! You asshole! How could you do that to me?
Dave: It was an accident. I'll take it again. I can fail, I know I can.
---
[Shoop is calling roll]
Shoop: Francis Gremp?
Chainsaw: Don't ever call me that, the name's "Chainsaw".
Shoop: As in "Black and Decker"?
Chainsaw: As in "Texas Massacre".
10. "Hiding Out" (1987)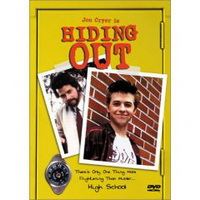 I debated long and hard if I should include this one, since in all honesty its been years since I watched it. I remember loving it back in the day, though, so here goes nothing. Stock broker Jon Cryer is placed into witness protection as a high school student named Max Hauser. Cryer has to avoid being discovered and learn how to survive high school all over again. That's a spectacular premise for a school film if ever there was one. "Hiding Out" co-stars Annabeth Gish ("The West Wing") and Keith Coogan ("Adventures in Babysitting").
Andrew Morenski/Max Hauser: Do you ever ask yourself "How did I get here?"
Patrick Morenski: Yeah, I used to, but now I just ask myself "How do I get out?"