You've had a week to chew on Eric's list of Top Ten Directorial Debuts. Now its my turn to throw down with some sweet picks. Sharpen your comment sticks, boys and girls and go get em'…
1. The Shawshank Redemption (1994)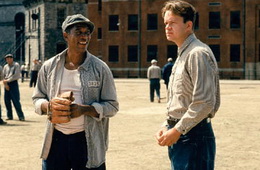 How in the world this film was a first attempt at feature direction is beyond a mystery. "Shawshank" is easily one of the most universally appreciated films of all-time – by critics and audiences alike – and with good reason. Have you ever known someone who tried to make a case against the film? If so, don't trust them in matters of import. Director Frank Darabont has gone on to make "The Green Mile" and "The Majestic" – I don't care what anyone says "The Majestic" was fantastic – his latest project is "Stephen King's The Mist" scheduled to release November 21st.
Red: [narrating] I have no idea to this day what those two Italian ladies were singing about. Truth is, I don't want to know. Some things are best left unsaid. I'd like to think they were singing about something so beautiful, it can't be expressed in words, and makes your heart ache because of it. I tell you, those voices soared higher and farther than anybody in a gray place dares to dream. It was like some beautiful bird flapped into our drab little cage and made those walls dissolve away, and for the briefest of moments, every last man in Shawshank felt free.
2. This Is Spinal Tap (1984)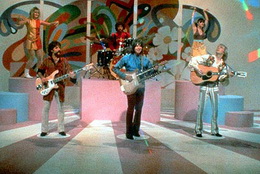 While Eric and I may disagree on any number of films and film topics we are always together on Rob Reiner's directorial debut "This Is Spinal Tap." There's right and there's wrong and here again anyone who tells you "Spinal Tap" sucks cannot be trusted. Comedy has its share of high watermarks in the last three decades and this spandexed journey to the center of comedy genius belongs right there at the top.
Ian Faith: Nigel gave me a drawing that said 18 inches. Now, whether or not he knows the difference between feet and inches is not my problem. I do what I'm told.
David St. Hubbins: But you're not as confused as him are you. I mean, it's not your job to be as confused as Nigel.
3. American Beauty (1999)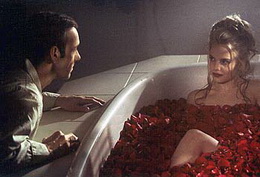 Kevin Spacey has taken a backseat as of late, but after his performance as Lester Burnham in Sam Mendes' "American Beauty" he seemed virtually unstoppable. American Beauty is a landmark because of its illuminating exploration of darkness and self-contempt just below the surface in American society and the elegant beauty of a plastic bag in the wind.
Lester Burnham: Janie, today I quit my job. And then I told my boss to go fuck himself, and then I blackmailed him for almost sixty thousand dollars. Pass the asparagus.
4. Say Anything (1989)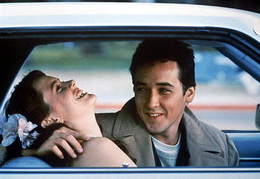 I am unabashed in my love of all things Cameron Crowe. Some directors or writers just seem to make art from a place that feels more authentic to your soul than others – "Say Anything" and "Almost Famous" are those films for me. There was no better hero in 80's romantic comedy than Lloyd Dobler and the remarkable John Mahoney deserved an Oscar for his unforgettable performance as James Court.
Jim Court: You're not a permanent part of her life. You're a distraction.
Lloyd Dobler: I'm the distraction that's going with her to England, sir.
5. Reservoir Dogs (1992)
You won't find me defending the honor of Tarantino very often, so dig it while it lasts. This is the first film on the list that actually feels like a debut. The energy and daring that made "Dogs" so riveting was enough to catapult Tarantino to the A-list. If the ridiculously overappreciated "Pulp Fiction" was his first film he'd be way off the A-list and "Fiction" wouldn't appear on any top films lists. "Dogs" was so good it started the firestorm that put a powerful spell on audiences that masked "Fiction's" flaws. "Dogs" also gave the song "Stuck in the Middle With You" a new, super-creepy context and made the dudes in Stealers Wheel some cash money.
Mr. Brown: I'm blind, man. I'm fucking blind.
Mr. Orange: You're not blind, you've just got blood in your eyes.
6. Sling Blade (1996)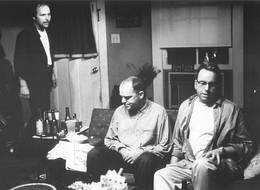 "Sling Blade" put Billy Bob Thorton on the map permanently. His career choices have gone to "Mr. Woodcock" lately, but his turn as Karl Childers was extraordinary. "Sling Blade" had more than its share of great performances. John Ritter, Natalie Canerday and Lucas Black are amazing and then there's Dwight Yoakam. Yoakam surprised everyone with his stellar portrayal of Canerday's cruel boyfriend Doyle Hargraves. This little-film-that-could has always felt like a genuine instance of lightning in a bottle. Thorton has directed just two pictures since "Sling Blade," but his debut remains atop his list of credits.
Doyle: [shouting] We don't got no Goddamn band! We don't need to fucking practice, Randy! We don't no shit-ass manager neither! You motherfuckers! You all are a bunch of losers! I'm the only sane son-of-a-bitch here! So get the *fuck* out of my house now!
7. Everything Is Illuminated (2005)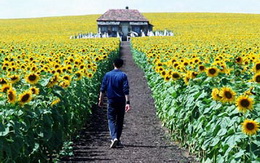 I've found yet another reason to talk about this great little movie that went mostly unnoticed a few years back. The film is based on the phenomenal novel "Everything Is Illuminated" by Jonathan Safran Foer and was actor Liev Schreiber's first feature from behind the lens. I love everything about this story, I recommend the novel and film to anyone who will sit still long enough to hear the pitch. This is the incredibly rare instance when an film adaptation is the perfect companion piece to the book rather than the usual let down. Our original on-camera review.
Alex: Make sure to secure the door when I am gone. There are many dangerous people who wanna take things from Americans, and also kidnap them. Good night!
8. Hard Eight a.k.a. "Sydney" (1997)

Originally titled "Sydney," "Hard Eight" is "Magnolia" director Paul Thomas Anderson's fascinating first film. If you aren't already prepared to bow at the alter of Philip Baker Hall, P.T. Anderson has given Hall two of his most fantastic roles in "Eight," and "Magnolia." While Hall's philandering quiz-show host Jimmy Gator was the highlight of the brilliant ensemble in "Magnolia," "Eight" rests firmly on Hall's capable shoulders. If you're a fan of P.T.A. and you've only seen the high profile pictures, don't miss out on this early gem.
Sydney: I have a friend in Los Angeles. Someone… maybe someone who can help. I can make a call for you, tell him you're a friend, so on and so forth, and we can work this thing out here. I think if you need help paying for your mother's funeral, we can work it out. I want you to see that my reasons for doing this are not selfish, only this: I'd hope that you would do the same for me.
John Finnegan: I would. Thank you.
Sydney: [shakes John's hand] It's always good to meet a new friend. I'll see you later.
9. Serenity (2005)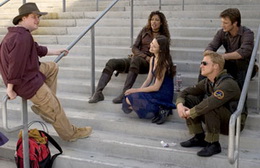 Sure, Joss Whedon is no stranger to the director's chair, having directed numerous episodes of "Angel," "Buffy the Vampire Slayer" and the basis for "Serenity," the short lived "Firefly." However, this is his feature directorial debut so deal with it. "Serenity" is unfortunately the last word on Whedon's ridiculously bad-ass western in space. Despite the fervor of nutty fans just like me, this will probably be the last we hear from the crew of Serenity, but here's to hoping Whedon has the clout and desire at some point down the line to change his mind and ride again. Our original on-camera movie review and my complete retraction.
The Operative: That girl will rain destruction down on you and your ship. She is an albatross, Captain.
Capt. Malcolm Reynolds: Way I remember it, albatross was a ship's good luck, 'til some idiot killed it.
Capt. Malcolm Reynolds: [to Inara] Yes, I've read a poem. Try not to faint.
10. Boyz N' the Hood (1991)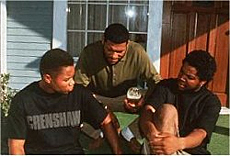 John Singleton's debut "Boyz N' the Hood" is my final pick for the list. At a time when Gangster Rap artists were scaring the hell out of middle America with horrifying tales from the streets, Singleton came along with a captivating film that brought the reality of gang violence to the screen with clarity and depth. The film has become a classic and features superb performances from stars Cuba Gooding Jr., Ice Cube and Lawrence Fishburne.
Furious Styles: Why is it that there is a gun shop on almost every corner in this community?
The Old Man: Why?
Furious Styles: I'll tell you why. For the same reason that there is a liquor store on almost every corner in the black community. Why? They want us to kill ourselves.