2007 has definitely had its share of ups and downs at the box office. I was genuinely surprised to find it difficult to come up with ten films that I felt strongly enough about to include on my best films of the year list. 2007 had an unusually high amount of good films, but only a handful of great films. Fortunately, of those several turned out to be timeless, instant classics that are sure to be talked about for years. Here are my picks for the best films of 2007.
Runners-up: "Juno," "3:10 to Yuma," "The Assassination of Jesse James by the Coward Robert Ford," "Superbad," "Transformers," and "Zodiac."
10. The Savages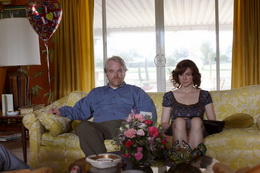 For the last few days "The Savages" and "Juno" have been duking it out, as I've considered the final spot on my top 10 of 2007. In the end, director Tamara Jenkins' frank and often surprising film about two middle-aged New Yorkers forced to care for their nursing-home bound father, "The Savages," gets the nod. Laura Linney and Philip Seymour Hoffman are brilliant together, portraying siblings Wendy and Jon Savage, both of whom work in theater and both of whom are unsure of their feelings for their estranged father (Philip Bosco). "The Savages" has a clever and acidic screenplay penned by director Jenkins, top-notch acting and enough unexpected ingredients to make the film stand-out as something truly special. "The Savages" is the best fictional exploration of the muck and mire associated with getting older in America since "About Schmidt," and it has my favorite closing scene of the year.
"The Hunting Party" is my under-the-radar pick of the year. A smart, daring, and funny screenplay and killer performances from Richard Gere and Terrence Howard – 2/3 of one of the better trio ensembles since "Jaws" – help make it one of the year's most interesting films. Among the reasons for "The Hunting Party's" unsung status may be the film's blending of clever humor and a plot that centers around the tragedy of the ethnic horrors committed in Bosnia. Just as "The Hunting Party" writer/director Richard Shepard delivered fresh humor, alongside violence and aggression through Pierce Brosnan's portrayal of a hardened assassin in "The Matador," he again walks a fine line, artfully juggling contrasting themes with intriguing results.
8. Once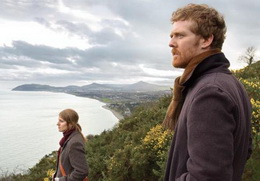 "Once" is the greatest long-form music video ever made. Only minutes after screening the film, I bought the soundtrack, which is easily this year's personal high watermark achievement for any film. It will be a crime if one or more of these fantastic songs are not acknowledged by the Academy with Song of the Year nominations. While "Once" is hardly a realistic look into the process of creating inspired songs, its gritty pseudo-documentary aesthetic, as well as the authenticity contained in the performances of its neophyte lead actors, Glen Hansard and Marketa Irglova, make "Once" seem remarkably intimate and genuine. "Once" is a real gem.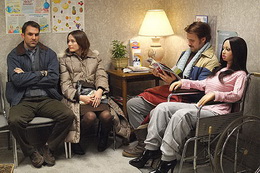 7. Lars and the Real Girl
No question "Lars and the Real Girl" is one the stranger concepts in film this year. The film's Capra-esque treatment of a town full of people who embrace a troubled young man who carries on a very public relationship with a sex doll has, I'm certain, gone over the heads and exceeded the maximums on the plausibility scale of more than a few viewers. Ryan Gosling continues to prove there are no boundaries to his range with his quiet, sweet and subtle turn as Lars and Emily Mortimer deserves a Supporting Actress nomination for her role as Lars' supportive sister-in-law.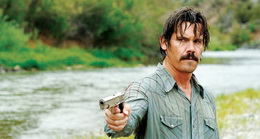 6. No Country For Old Men
The Coen Brothers made everyone sit up and take notice all over again with this beautiful and brutal story about three men caught in dramatically different roles of the same snare. While much of the critical focus has been on Javier Bardem's peculiar and menacing performance as icy killer Anton Chigurh, it's the work of Josh Brolin as Llewelyn Moss and particularly Tommy Lee Jones as Sheriff Ed Thom Bell that propels the film's plot to nuanced and fascinating places. To walk away from a theater with the overwhelming sense that you've just watched an incredibly well-directed film is rare, and often depends on a knowledgable film background. With "No Country," the Coen's have an achievement that even the least discerning film-goers will recognize as phenomenal direction.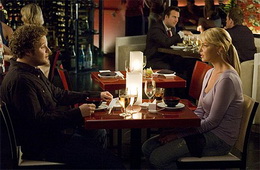 5. Knocked Up
My favorite aspect of Judd Apatow's hilarious hit "Knocked Up" is the whip-smart side story of Leslie Mann and Paul Rudd. The scene in which Mann and stars Katherine Heigl and Seth Rogen follow Rudd on a clandestine encounter, suspecting to find him in bed with a mistress, only to discover him in the midst of a fantasy baseball draft is brilliant and grabs a handful of truth about the condition of the modern American relationship. 2007 was Apatow's year, with writing and directing credits on "Knocked Up" and producer credits on "Superbad" and "Walk Hard: The Dewey Cox Story" (which he also wrote), it's safe to say he's been handed the reins – and all the expectations that come with it – as the current king of big box office comedy.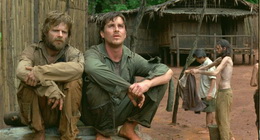 4. Rescue Dawn
The only issue I had with Werner Herzog's "Rescue Dawn" were the far-fetched final scenes in this film, which is based on the real life of U.S. pilot Deiter Dengler during the early days of Vietnam. As it turns out, that's what actually happened, so I have no issues with "Rescue Dawn." Until Daniel Day-Lewis' performance in "There Will Be Blood," no other single performance stood out as much as Christian Bale's turn as Dengler. Consummate funnyman and one of my personal favorite actors, Steve Zahn, goes pound-for-pound with Bale in performance and weight loss, cementing his impressive dramatic range. If I were told me that Hertzog made these guys live on maggots and weeds in the jungle for three months before beginning this shoot I would have no problem believing it. Incredible performances and a gripping story weren't enough to stave off controversy. The film has received some bad press over some significant discrepancies between "Rescue Dawn" and Hertzog's 1998 documentary also about Dengler, "Little Deiter Needs to Fly." If nothing else, see this film for Bale and Zahn's unbelieveably good performances.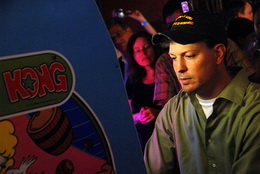 3. The King of Kong: A Fistful of Quarters

This is one of my favorite documentaries period. "The King of Kong" director Seth Gordon has taken on the heroes and villains of a nearly impossible-to-explain phenomenon, that of grown men playing old-school arcade games competitively, with Spielbergian craftsmanship. This exceptional documentary follows past and present Donkey Kong legends Steve Wiebe and Billy Mitchell as they participate in a tug-0f-war for the title and the exclusive claim on the Donkey Kong world record high score.
Ridley Scott's "American Gangster" is the best gangster picture since "The Godfather II" and "Goodfellas." Denzel Washington and Russell Crowe come together for the first time since "Virtuosity" in 1995, to deliver nothing shy of titanic performances. With a major league screenplay by "Schindler's List" screenwriter Steve Zaillian and an equally impressive ensemble cast featuring quality performances from Chiwetel Ejiofor, Wu Tang Clan's RZA and Josh Brolin, "Gangster" tells the story of New York kingpin Frank Lucas (Washington) with style and power. Washington's charm and immense talent make him capable of delivering riveting and marvelously complex bad guys. He won an Oscar for "Training Day" and most definitely deserves a nomination for "Gangster" as well. Crowe is as dependable as any A-lister. He had a nice 2007 with memorable roles in both "Gangster" and a film that just missed the cut for my list– the straight-up classic-styled western "3:10 to Yuma."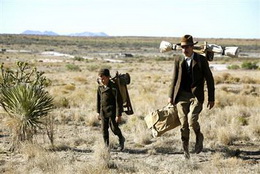 1. There Will Be Blood

Truth be told, no film moved me in 2007 like Paul Thomas Anderson's masterwork "There Will Be Blood." Hands down, it is the best film of the year. Hands down, it is the best direction of the year. Hands down, it is the best screenplay of the year. Lastly, without a doubt, it has the best acting performance of the last decade, from Daniel Day-Lewis. I remain in awe of Lewis' embodiment of oilman Daniel Plainview, a charcter that is wicked, driven, and enigmatic. Lewis' work in "Blood" places him conclusively and permanently in the pantheon of world class film actors, right alongside DeNiro in "Taxi Driver" or Pacino in "Dog Day Afternoon." I've believed with the release of "Magnolia" that Paul Thomas Anderson was a genius, which makes it even more astonishing that "There Will Be Blood" is a cut above all of Anderson's previous work and every other release this year. This film elevates Anderson into the elite stratosphere as one of the world's most dangerous directors; those most capable of blowing open new and challenging avenues in modern cinema.