You've had a week to mull over Eric's "Director's Cut" picks for "Top 10 Movies that Prove the Future Will Suck" so, now its my turn to dust off my previous list and make a few adjustments. Since Eric excluded the marvelous "Children of Men" from his updated list, I have also omitted it from mine, even though it certainly belongs in the mix. I also made a few necessary course corrections, including removing "Alien" from my original list and replacing it with "Serenity," Joss Whedon's superb feature film continuation of the television series "Firefly." So get in touch with your big brother paranoia and strap on your pressure suits boys and girls and lets all have a stroll through the dismal future that just may come to pass.
10. Reign of Fire (2002)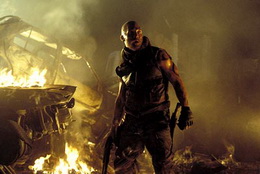 Yeah that's right, I went there. Few films justify a six-pack of cheap beer and an obscene surround sound system quite like "Reign of Fire." I, for one, just plain love dragons, can't help it. Now- it's not likely dragons will soon be rediscovered after having camped out, dormant for centuries, in an English mine shaft, salivating gasoline and waiting for their chance to break free– but if they did, that future would be less than rosy. Catastrophic disaster pics are usually suspect for one reason or another, and "Reign of Fire" is no exception. I will defend it exclusively on the explosive auditory work and the aforementioned dragons.
Denton Van Zan 'Dragon Slayer': You see they have great vision during the day, and even better vision at night. But in the failing light, they can't focus. Magic hour.
9. Star Trek IV: The Voyage Home (1986)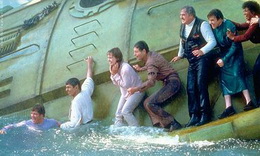 There are many arguments to be made that this film is tragically flawed, but I love it anyway. The plot device is true science fiction and actually pretty sweet. "The Voyage Home" finds our intergallactic heroes Kirk and company in modern day San Francisco – thanks in large part to the fact that "Home's" original script was developed to co-star Trek-fan Eddie Murphy, who eventually backed out to do "The Golden Child." On par with gritty futuristic concepts like that of "Children of Men," "Home's" premise is that humans have been such terrifically bad stewards of the planet Earth that we've managed to kill off a single species (humpback whales) who turn out to be crucial to our eventual survival. Of course, a killer premise isn't everything and is entirely dependent of the execution, which, in this case, is lacking. Despite the heavy cheese factor, however, this remains one of my favorite of the original cast "Star Trek" pics and I stand by my claim that the story is rather clever if you can muster up a forgiving mood.
Spock: They like you very much, but they are not the hell "your" whales.
Dr. Gillian Taylor: I suppose they told you that.
Spock: The hell they did.
8. Serenity (2005)
One of my favorite things about Joss Whedon's conception of the future in his brilliant, but short-lived western-series-in-space "Firefly" and subsequent feature film continuation "Serenity," is that there are no aliens. Whedon has dreamed up a fate for humans in which we successfully colonize space, but haven't made contact with any alien life. In this version of the future, the humans prove that in the space travel years, it looks like we're going to need several languages and a whole bunch of planets to make a proper mess of things in the 'verse.
Capt. Malcolm Reynolds: You all wanna be looking very intently at your own belly buttons. I see a head start to rise, violence is going to ensue. Probably guessed we mean to be thieving here but what we're after is not yours. So, let's have no undue fussing.
7. Blade Runner (1982)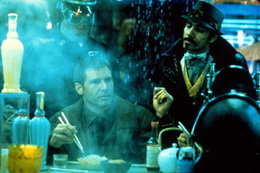 Has anyone got an accurate count on how many versions of this thing Warner Brothers has released since the advent of the DVD? Ridley Scott's classic futuristic thriller doesn't get less good with time, just harder to sit through. For starters, you have to decide which version best represents Scott's definitive vision. "Blade Runner" remains easily one of Harrison Ford's most interesting roles and a genuine science-fiction noir with indelible imagery that continues to set a standard for the sci-fi genre. A future with replicants sounds scary, sure, but better that than a future filled with nothing but Sean Young films.
Deckard: They don't advertise for killers in the newspaper. That was my profession. Ex-cop. Ex-blade runner. Ex-killer.
6. The Matrix (1999)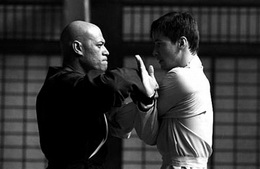 Before the Wachowskis went and screwed this whole thing up with two unnecessary and extraordinarily disappointing sequels, "The Matrix" was absolutely revolutionary in its contribution to modern filmmaking. And like "Highlander" and "The Terminator," it represented truly original storytelling in the sci-fi realm. Taken on its own in some revisionist reduction to a single film, "The Matrix" continues to stand up as one of the better movies of the genre.
Morpheus: Throughout human history, we have been dependent on machines to survive. Fate, it seems, is not without a sense of irony.
5. 12 Monkeys (1995)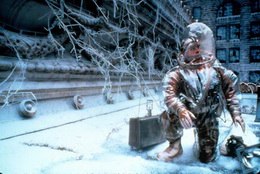 Big Brother is watching and Terry Gilliam knows it. This film gets overlooked when people think of top-notch science-fiction films, which is a shame. Gilliam has a remarkably interesting and singular aesthetic that works beautifully in this complex and non-linear thriller about one man's struggle to subvert a past, present, and future bio-chemical holocaust. The creepy interrogation scenes and the shots of Willis navigating snow-covered and barren cities are incredibly memorable, as are the performances of both lead actor Bruce Willis and Brad Pitt, who received a Best Supporting Actor Oscar nomination for his role as Jeffery Goines.
Jeffrey Goines: You know what crazy is? Crazy is majority rules. Take germs, for example.
James Cole: Germs?
Jeffrey Goines: Uh-huh. In the eighteenth century, no such thing, nada, nothing. No one ever imagined such a thing. No sane person, anyway. Ah! Ah! Along comes this doctor, uh, uh, uh, Semmelweis, Semmelweis.
4. AI: Artificial Intelligence (2002)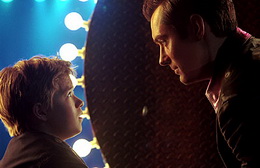 If director Steven Spielberg had cast anyone other than Robin Williams for voice-work and then left the kid and the audience at the bottom of the ocean, I would have said this blend of Kubrick and Speilberg was one of the finest pieces of sci-fi ever. In spite those hobbling choices, though, there is still plenty to like about "A.I.," and it most definitely presents an ill picture of the future and a less than triumphant end to humanity. The philosophical aspects of the story are it's strongest elements and, years later, remain absolutely haunting.
David: What's for dinner tonight?
Monica: You know you don't eat.
David: Yes. But I like sitting at the table.
3. The Abyss (1989)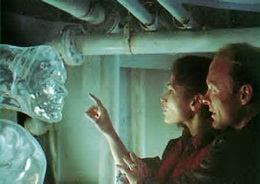 While Jim Cameron's "The Abyss" wasn't set in the future, the films big plot twist – and the majority of what was cut out of the theatrical ending – was that aliens had been observing us and decided it would be favorable to destroy us before we destroyed the planet. Next to "Close Encounters of the Third Kind" I think "The Abyss" represents one of the great notions about a first contact with extraterrestrials. For an even more dramatic take on alien intervention in human affairs, pick up a copy of Arthur C. Clarke's "Childhood's End." Between these two science fiction masterworks, you'll be up nights wondering who out there is watching and more than likely thinking we aren't doing such a swell job minding the store.
Alan "Hippy" Carnes: What is all this stuff?
Ensign Monk: Fluid breathing system, we just got it. You use it when you go really deep.
Alan "Hippy" Carnes: How deep?
Ensign Monk: Deep.
Alan "Hippy" Carnes: HOW deep?
Ensign Monk: It's classified.
2. Gattaca (1997)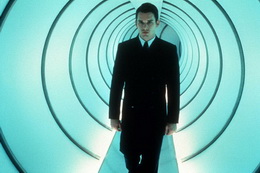 While it borrows aspects of its premise rather blatantly from Aldous Huxley's "Brave New World," "Gattaca" is a high watermark for the genre and one of my favorite futuristic flicks. New Zealand director Andrew Niccol ("Lord of War") still has yet to outdo this film, his directorial debut, in which he makes masterful use of washes of color to create a highly stylized view of a genetically altered future. Stellar performances from Ethan Hawke and a then-unknown Jude Law give "Gattaca" exceptional depth and substance. As genetic engineering becomes a reality in the 21st Century, it is possible that the stratification of humans described in "Gattaca" will prove to be eerily prophetic.
Vincent: I was never more certain of how far away I was from my goal than when I was standing right beside it.
1. Minority Report (2002)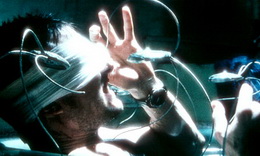 Stephen Spielberg's vision of the not-so distant future is just what the doctor ordered to make you feel nice and queasy about where were heading. Thanks to a trio of pre-cognitive beings, law enforcement is able to launch a program that convicts and sentences people for crimes that haven't yet been committed – now if that's not a hot-shit foundation for a sci-fi classic, I don't know what is. Not so surprisingly, "Minority Report" is based on a short story by the legendary novelist Phillip K. Dick ("Do Androids Dream of Electric Sheep?," which became "Blade Runner"), and once again Spielberg does a bang-up job creating extraordinary movie magic in the form of a fascinating and believable future world.
John Anderton: Mr. Marks, by mandate of the District of Columbia Precrime Division, I'm placing you under arrest for the future murder of Sarah Marks and Donald Dubin that was to take place today, April 22 at 0800 hours and four minutes.