On the heels of spoof-biopic "Walk Hard: The Dewey Cox Story," here is a list of ten of my favorite films about musicians real or imagined. This list is excluding as usual, Rob Reiner's spandex-infused masterpiece "This is Spinal Tap," because everyone knows that any list of movies-about-musicians worth reading would have it at the top.
10. 24 Hour Party People (2002)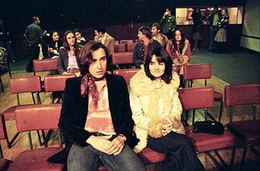 This brilliant and totally overlooked film stars Steve Coogan ("I'm Alan Partridge") as English record label visionary Tony Wilson. "Party People" follows Wilson through the fertile Manchester music scene in the 1970s, 80s, and 90s as he discovers and fosters some of the biggest stars of the period. This is a spectacular little film, with clever, edgy British humor and all the rock and roll excess required for a proper music movie. Look for a small role from a pre-Gollum Andy Serkis as record producer Martin Hannett.
Martin Hannett: Well, this is goodbye. I mean, we obviously have nothing in common. I'm a genius, you're all fucking wankers. You'll never see me again. You don't deserve to see me again.
9. Light of Day (1987)
Paul Schrader wrote the screenplay for "Raging Bull" in 1980 and directed "Auto Focus" in 2002. In 1987, he directed "I Love Rock n' Roll"-er Joan Jett and Michael J. Fox in a film about a brother and sister-fronted bar band, not-so cleverly called The Barbusters, in "Light of Day." Co-starring David St. Hubbins himself Michael McKean, "Light of Day" is no Shakespeare, but Jett is convincing as the unstable, loose-cannon rebel rocker and there are some truly charming moments in Fox's performance opposite kid-actor Billy Sullivan.
Patti Rasnick: Music is all that matters. One hour on stage makes up for the other 23.
Patti Rasnick: You really oughta start your own band. Call it The Attitudes.
8. Hustle & Flow (2005)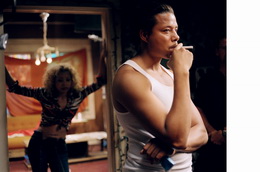 This one is all about the Terrence Howard. In spite of a relatively silly scene in which the principal cast creates the hit song that will catapult MC Djay out of obscurity (and win the Three Six Mafia an Oscar), the film's tone is as authentic as the would-be hip-hop star pimp that Howard channels so convincingly. Rapper Ludacris provides proof of the disadvantage in hiring inexperienced actors, even if they are huge stars and add both hip-hop credibility and novelty to your film, as he does his level best to subtract quality and believability from an otherwise interesting film.
DJay: That's a bottom bitch for you. I mean, we got everything we need right here. And all this stuff in this… this little-bitty space, man, it just looks so much bigger now. I'm here trying to squeeze a dollar out of a dime, and I ain't even got a cent, man.
Key: It takes time, Djay.
7. Krush Groove (1985)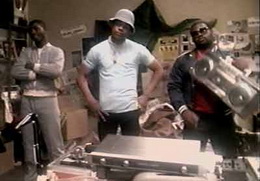 No one is going to confuse this hip-hop classic with any Oscar-worthy writing, directing or acting. In fact, only with a special set of nostalgia-coated eyewear can this film be appreciated for its genius and historical significance. "Krush Groove" is best when viewed as the fantastic document of the early days of hip-hop that it is. A film which for better or worse forever preserves a bygone era, as well as many of that seminal period's brightest stars including Run-D.M.C., New Edition, Fat Boys, and L.L. Cool J, as it was in that momentary flash of lightning's inspired beginnings for all-times.
6. Still Crazy (1993)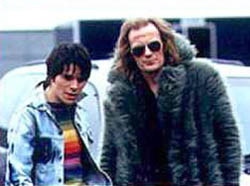 By no means a film of great importance, "Still Crazy" is the oddball tale of a group of aging rockers putting the band Strange Fruit back together after 20 years apart. The film was helmed by Tina Turner biopic "What's Love Got to Do With It" director Brian Gibson and stars Stephen Rea ("V for Vendetta") and the fabulous Bill Nighy. Nighy has received some well deserved recognition as of late for his work in "Notes on a Scandal," "Gideon's Daughter" and as the man behind Davy Jones in the "Pirates of the Caribbean" sequels. "Still Crazy" was the first time I remember taking notice of Nighy, as Ray Simms, a long-in-the-tooth rocker in the midst of a massive crisis of confidence. He was so good, the role has endeared me to him permanently. "Crazy" also makes good use of the perversely underused Billy Connolly – you know, the guy who took over on "Head of the Class" after Howard Hessman left. "Still Crazy" is definitely a barrel full of strange fruit and no doubt a getting-the-old-gang-back-together flick, but it's also a welcome departure from the typical musician storyline.
Beano: Are you still a road dog, Hughie?
Hughie: Nah. The last tour I did was ten years ago. It was Aerosmith, but they've gone and cleaned up their act. It's all wheatgrass juice and fuckin' pumpkin seeds. I hope you guys are still crazy, or I'm outta here.
5. The Wedding Singer (1998)
I don't care what anyone says, "The Wedding Singer" may be goofy as hell, but I dig it. Adam Sandler has thrown down his share of indefensible duds, but here he's at his best in a film with a fantastic cast, loveable characters and a charming story that nails an era full of references. I have to admit, I fall in love with Drew Barrymore everytime I watch this movie, and I'm completely down with the sickly-sweet sentimentality of the film. The chemistry is so obvious between Barrymore and Sandler that they tried it again with "50 First Dates," a film which is way better than it has any right to be (with the exception of Sandler buddy Rob Schneider, and we don't have time to unravel that mystery). I'm all for a Barrymore and Sandler series, a la Hanks and Ryan–I'm betting they've got at least two more quirky love stories worth of chemistry left in that partnership–and Sandler's gonna keep getting it right occasionally, even if he's "Mr. Deeds"-ing it the rest of the time.
Robbie: You hit two cones back there. Those could have been people… they could have been guests at her wedding!
Sammy: They were *cones*!
4. Amadeus (1984)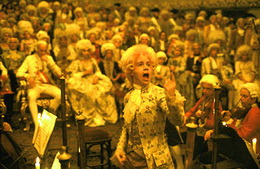 Tom Hulce has been off the radar for awhile now, but in 1985 he was one of Hollywood's most promising young actors, earning an Oscar nomination for his superb performance as Wolfgang Amadeus Mozart in Milos Forman's "Amadeus." The film won eight Academy Awards including best director for Forman, Best Picture, Best Adapted Screenplay and Best Supporting Actor for the remarkable performance by F. Murray Abraham as Antonio Salieri, a man filled with a maddening envy and admiration for Mozart. Hulce's is nothing shy of brilliant and the film remains a worthy classic.
Salieri: Mozart, it was good of you to come!
Mozart: How could I not?
Salieri: How… Did my work please you?
Mozart: I never knew that music like that was possible!
Salieri: You flatter me.
Mozart: No, no! One hears such sounds, and what can one say but…"Salieri."
3. Ray (2004)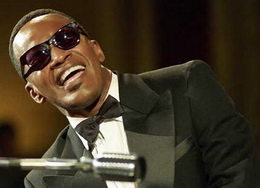 Speaking of performances, Jamie Foxx followed a well-deserved Oscar for his mind-boggling embodiment of Ray Charles in "Ray" with a dizzying array of questionable choices, including a successful R&B record and a not-so-successful string of forgettable films (most recently "The Kingdom"). Not even "Miami Vice" can diminish the accomplishment Foxx delivered in director Taylor Hackford's ("The Devil's Advocate") look at the life of "The Genius" Ray Charles. The role and actor seemed positively destined for one other and the film's numerous flaws fall by the wayside in the face of Foxx's riveting portrayal.
Ray Charles: You know that I appreciate everything you guys have done here, Jerry. Ahmet, I'm very proud of the work we've done here together and Atlantic has done pretty good moneywise on my records, haven't they?
Ahmet Ertegun: Yes, we've done very well, Ray.
Ray Charles: You're the ones who taught me that making a record is business and find the best business deal that you can. Now seventy-five cents of every dollar and owning my own masters is a pretty damn good deal. Can you match it?
2. Almost Famous (2000)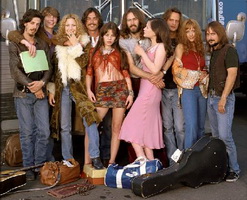 For me, "Almost Famous" is a confluence of two things that I absolutely love–the films of Cameron Crowe and rock and roll. This is my favorite Crowe film and I will forever be grateful for the ability to put myself inside that film's world whenever it suits me. The film is mostly autobiographical, featuring a myriad of experiences from Crowe's storied years as an underaged rock journalist gobbling up every bit of magic from an era in music when it actually meant something. Philip Seymour Hoffman is phenomenal as real-life journalist and legend Lester Bangs and Patrick Fugit makes one my favorite debuts in film history. The extended edition of the film "Untitled: Almost Famous The Bootleg Cut" has an amazing commentary track with Crowe and his mother. The duo break down each scene and affectionately connect the dots between what events really took place and those that Crowe imagined for the script about fictional rock band Stillwater and Crowe's thinly-veiled alter-ego William Miller.
Lester Bangs: They make you feel cool. And hey. I met you. You are not cool.
William Miller: I know. Even when I thought I was, I knew I wasn't.
Lester Bangs: That's because we're uncool. And while women will always be a problem for us, most of the great art in the world is about that very same problem. Good-looking people don't have any spine. Their art never lasts. They get the girls, but we're smarter.
William Miller: I can really see that now.
Lester Bangs: Yeah, great art is about conflict and pain and guilt and longing and love disguised as sex, and sex disguised as love… and let's face it, you got a big head start.
William Miller: I'm glad you were home.
Lester Bangs: I'm always home. I'm uncool.
1. A Hard Day's Night (1964)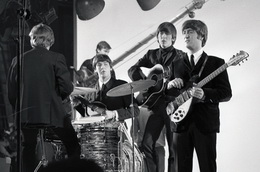 For the ultimate movie about musicians we require the ultimate musicians themselves, The Beatles. No less than the most important rock band of all-time. The group's early Beatle-booted, no-collared, fab four period was caught in all it's glory in a pseudo/faux-documentary style by director Richard Lester ("Superman II") in the classic 1964 hit "A Hard Days Night." What a weird concept–take the most successful band in the world have a writer hang out with them for a spell and develop a script that loosely reflects their demeanor, sense of humor, and their dramatic, uber-famous existence and then place an exaggerated version of that band on the big screen for the world to devour. It's a good thing the documentary and concert film formats became the norm over the years because I hate to imagine what pitiful characterized films would have come from others destined to be called the biggest band in the world–the likes of U2, Nirvana or Huey Lewis and the News. Thankfully, for the most part, this type of treatment was limited to The Beatles and The Monkees. "A Hard Days Night" features some killer performance footage and admirable performances from Lennon and Starr, both of whom went on to do more film work. The film has become widely regarded as a classic and even thought the band went on to make three more films, "Help," "Magical Mystery Tour" and "Let It Be," "A Hard Days Night" is the only one that's an absolute necessity for any Beatles fans DVD collection.
George: That's not your grandfather.
Paul: It is, you know.
George: But I've seen your grandfather. He lives in your house.
Paul: Oh, that's my other grandfather, but he's my grandfather, as well.
John: How do you reckon that one out?
Paul: Well, everyone's entitled to two, aren't they?
Last minute update. Since I began writing this piece I screened a beautiful film from this year called "Once." I won't go to the trouble of squeezing it into this list in any particular position, but it belongs in my top ten movies about musicians, so I am happy to include it and my write up on the film from my Top Ten of 2007.
"Once" is the greatest long-form music video ever made. Only minutes after screening the film, I bought the soundtrack, which is easily this year's personal high watermark achievement for any film. It will be a crime if one or more of these fantastic songs are not acknowledged by the Academy with Song of the Year nominations. While "Once" is hardly a realistic look into the process of creating inspired songs, its gritty pseudo-documentary aesthetic, as well as the authenticity contained in the performances of its neophyte lead actors, Glen Hansard and Marketa Irglova, make "Once" seem remarkably intimate and genuine. "Once" is a real gem.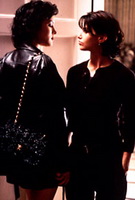 gina gershon and jennifer tilly starred in the wachowskis' first movie. what is it?