This Tuesday, J.D. is having his way with the Top 10 movies directed by actors. There are too many directors who are formerly actors, or actors who now mainly direct, so guys like Rob Reiner, Ron Howard, Harold Ramis, Clint Eastwood and yes, even Christopher Guest (thanks Eric, ya jerk!– here's his list), are out of contention for this list. Besides, that'd be way too easy! With that said, here you go. Enjoy!
10. Of Mice and Men / Gary Sinise (1992)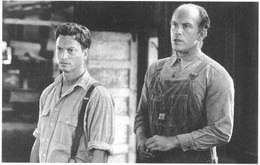 Sinise has been a small screen staple on "CSI: New York" for the last few years, but his big-time roles in "Forrest Gump" and "Apollo 13" put him front and center on the list of supporting players in the late 90's. The first time I took notice was after seeing Sinise's version of the Steinbeck classic "Of Mice and Men" starring himself and John Malkovich as George and Lenny. I remember being shocked that the lead actor, a guy I'd never heard of, was also the clearly-capable director of the film. I've been a fan ever since.
George: Guys like us that work on ranches are the loneliest guys in the world. They ain't got no family and they don't belong no place. They got nothin' to look ahead to…
Lennie: But not us George. Tell about us.
George: …well, we ain't like that. We got a future. We got somebody to talk to that gives a damn about us. If them other guys gets in jail they can rot for all anybody cares.
Lennie: But not us, George, because I… see, I got you to look after me, but you got me to look after you.
9. 61* / Billy Crystal (2001)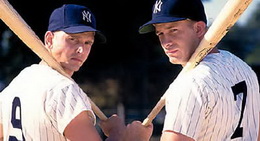 Yes, that Billy Crystal. "61*" was a produced for HBO about the home run race in 1961 between New York Yankees teammates Roger Maris (Barry Pepper) and Micky Mantle (Thomas Jane). Crystal was so committed to telling the story with authenticity that the film's art department matched a paint chip from an old Yankees stadium seat he owned and used it to paint the seats of their stadium location. He also directed "Forget Paris" in 1995, another forgotten gem that also has a sports theme.
Mickey Mantle: Roger, are we feuding?
Roger Maris: They said so on the TV, it must be true.
Mickey Mantle: Well, fuck you then.
Roger Maris: Up yours.
8. Rebound: The Legend of Earl 'The Goat' Manigault / Eriq La Salle (1996)

This film is special because of its star, Don Cheadle. A year later he was in "Boogie Nights," but at that time in 1996, Cheadle was still mostly under the radar. This performance left an indelible impression on me as Cheadle's feature-sized talent elevated this made-for-TV movie to a higher plain. "ER" star Eriq La Salle directed the film about a street basketball legend named Earl Manigault whose life and potential were derailed by drugs. After serving a prison sentence, Manigault cleaned up and returned to the streets, dedicating his life to working with young people in the Harlem community.
Tagline: From the mean streets of Harlem come the greatest basketball player the world has never known.
7. Harlem Nights / Eddie Murphy (1989)
Say what you will, but this movie has some great moments, and where else can you see Eddie Murphy, Richard Pryor and Redd Foxx working together? Memorable performances from Michael Lerner and Danny Aiello add to a stellar ensemble chemistry. It's not a great film, but there are more than enough great moments to make it worth the while. Also noteworthy, the film features "Touched By an Angel" star Della Reese cussing like a sailor and punching Murphy in the face.
Sugar Ray: You're not a gangster. we're not. We're club owners. We run a dance hall. What are they going to put on your tombstone? "Here lies a man 27 years old, he died but he ain't no punk?" He man that's bullshit okay. You know when you die, when you're 89 got you're children and grandchildren around you're bed… that's cool. It an't cool to die at 27.
6. Braveheart / Mel Gibson (1995)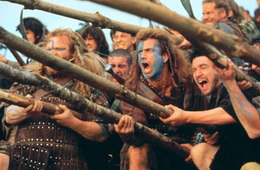 Gibson is on the verge of becoming more a director than actor like those described above, but for now we're still assuming a Mel Gibson movie means one he stars in. "Braveheart" spawned a slew of modern epics including another Best Picture winner, "Gladiator," and Gibson proved he could handle himself very well on both sides of the lens.
Stephen: Fine speech. Now what do we do?
William Wallace: Just be yourselves.
Hamish: Where are you going?
William Wallace: I'm going to pick a fight.
Hamish: Hope we didn't get dressed up for nothing.
5. Good Night and Good Luck / George Clooney (2005)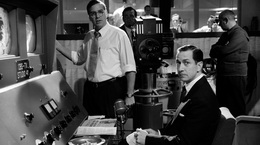 Clooney's second feature in the captain's chair was about as impressive as it gets. He gave David Straithairn the role of his career as McCarthy-resistant journalist Edward R. Murrow, and absolutely proved himself a force worthy of a spot on the A-list of directors.
Edward R. Murrow: We have currently a built-in allergy to unpleasant or disturbing information. Our mass media reflect this. But unless we get up off our fat surpluses and recognize that television in the main is being used to distract, delude, amuse, and insulate us, then television and those who finance it, those who look at it, and those who work at it, may see a totally different picture too late.
4. Cradle Will Rock / Tim Robbins (1999)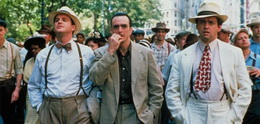 This barely-noticed ensemble piece deals with nearly every political issue at play in the 1930s. It also features Orson Welles, rampant communism, and suppression of the arts. Robbins' modern political activism manifests itself in a fascinating little film with lovely performances from John Cusack, Ruben Blades ("All the Pretty Horses") and Angus Macfadyen ("Braveheart").
Marc: I am faithful to the ideals of the party.
Orson Welles: I am faithful to the party of ideas.
John Houseman: You are faithful to the idea of a party.
3. Cadence / Martin Sheen (1990)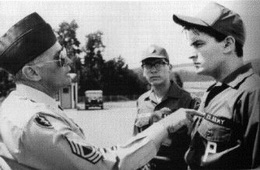 Late nights with Cinemax and HBO as a kid introduced me to strange and sometimes wonderful unsung movies including nic cage's bizarre "Vampire's Kiss" and this Martin Sheen-directed film about a American military prison on a base in Germany. At the heart of the story is a complex set of father and son relationships, played out in the odd and tragic onscreen interactions between Sheen and real-life son Charlie Sheen. The film also features memorable performances by Laurence Fishburne, Blu Mankuma ("The X-Files") and another of Sheen's sons, Ramon Estevez ("Alligator II: The Mutation").
Pfc. Franklin Fairchild Bean: I dig it.
Roosevelt Stokes: I knew that you could. Danke for the smokes, man.
Pfc. Franklin Fairchild Bean: Bitte shun, man.
2. Everything is Illuminated / Liev Schrieber (2005)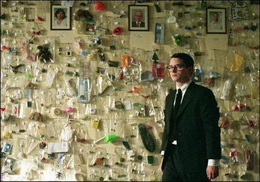 I've made about as much racket as anyone in my little corner of the world can – or should – about this novel and its fantastic indie film adaptation. "Everything is Illuminated" is about a Jewish-American, named after its author, Jonathan Safran Foer's journey to discover his family history in the Ukraine. Director Liev Schrieber also wrote the marvelous screenplay, which does a far-better-than-average job adapting a novel, choosing to focus on the contemporary storyline from the book to tell a multigenerational tale of tragedy and hope on screen. Thus far, this is my favorite amazing little film of the decade.
Alex: I have reflected many times upon our rigid search. It has shown me that everything is illuminated in the light of the past. It is always along the side of us, on the inside, looking out. Like you say, inside out. Jonathan, in this way, I will always be along the side of your life. And you will always be along the side of mine.
1. That Thing You Do! / Tom Hanks (1996)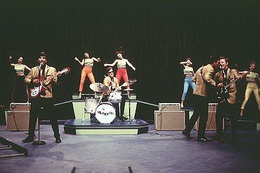 What can't Tom Hanks do? Hanks' feature-directing debut about a doomed pop band from Erie, PA called The Wonders, is charming and focused. Hanks wrote the screenplay and co-starred, but standout performances from Liv Tyler, Tom Everett Scott and Steve Zahn sold the fantastic characters that elevate this one-hit-wonder story to cult classic status.
Mr. White: Next, this "Oneders", with the O-N-E, it doesn't work. It's confusing. From now on, you boys'll just be… simply The Wonders.
Lenny: As in, I *wonder* what happened to the O'Needers?