So, what is the most efficient way to eviscerate your movie-reviewer credibility? Among the best answers to that question may be to admit to loving ten romantic comedies. Granted, I think the following list is remarkably unimpeachable, there will be those who take exception to all or several of my selections. Without further ado, in honor of the most cheese-tastic of holidays… Valentine's Day, here are ten romantic comedies that kick ass – figuratively speaking of course.
10. Knocked Up (2007)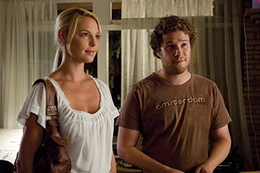 Seth Rogen struck a blow for tubby everymen everywhere by impregnating and then clumsily winning the love of Katherine Heigl in Judd Apatow's extremely funny "Knocked Up." I've said it before, but the Leslie Mann and Paul Rudd side-story was tops and added an incredibly resonant layer of observation to an already great film. The fact is this: Statistical probability means that hot girls hook up with average guys all the time, and it's about time someone made a really funny movie about it.
Pete: Did you know there's a guy whose sole job is to find chairs for these hotel rooms?
Ben Stone: Please take the chairs away.
Pete: Like this one! It's red with gold stripes and –
[sits]
Pete: – oh, this one is amazing!
Ben Stone: Please take the chairs away. I don't like them. The big one is staring at me and that short one is being very droll.
9. Forget Paris (1995)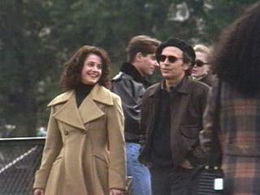 Written and directed by Billy Crystal, "Forget Paris" is a romantic comedy gem too often forgotten in the face of higher-profile pictures starring Meg Ryan. I don't give a damn what anybody says, Billy Crystal is fantastic. In addition to "Paris," I point to "This is Spinal Tap," "Saturday Night Live," "The Princess Bride" and even "City Slickers" — yes, both of 'em. What the hell? Who's really that much more likable than Billy Crystal? With a superb ensemble cast, including Joe Mantegna and "The West Wing's" John Spencer, "Paris" has a clever storytelling device and plenty of amusing situational humor. Debra Winger in the waiting room with the bird glued to her head and William Hickey are all the excuse you need to give this one a spin.
Ellen: Rodin never said what he was thinking.
Mickey: You see, what I think he was thinking was, "Goddam Rodin. Three drinks and I'm nude."
Andy: Marriages don't work when one partner is happy and the other is miserable. Marriage is about both people being equally miserable.
8. Moonstruck (1987)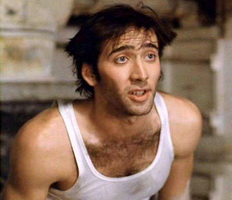 Remember when Nic Cage was so amazingly weird? I loved that Nic Cage. This era from 1986 – 1989 was a run of bizarre and captivating roles that made me a huge fan of this formerly idiosyncratic actor . From "Peggy Sue Got Married" to "Raising Arizona," "Moonstruck," and even "Vampire's Kiss," Cage was as bold and fearless in character choices as any big screen actor in decades. We got "Wild at Heart" in 1990 and then in 1992, "Honeymoon in Vegas" marked an ugly turn in Cage's agenda, but his role as Ronny Cammareri in Norman Jewison's unconventional romantic comedy "Moonstruck" is still unforgettable. As is often the case in romantic comedies that focus not only on the couple at the center of the story, but also on the sphere of friends around them, "Moonstruck" boasts a smoking ensemble cast including John Mahoney, Olympia Dukakis and yes, Cher– who is fantastic in this film.
Ronny Cammareri: They say bread is life. And I bake bread, bread, bread. And I sweat and shovel this stinkin' dough in and out of this hot hole in the wall, and I should be so happy! Huh, sweetie?
Ronny Cammareri: Loretta, I love you. Not like they told you love is, and I didn't know this either, but love don't make things nice – it ruins everything. It breaks your heart. It makes things a mess. We aren't here to make things perfect. The snowflakes are perfect. The stars are perfect. Not us. Not us! We are here to ruin ourselves and to break our hearts and love the wrong people and die. The storybooks are bullshit. Now I want you to come upstairs with me and get in my bed!
7. You've Got Mail (1998)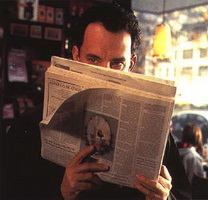 I'm sure it seemed like a good idea at the time to hang a film on what turned out to be a brief moment in technological history, but "You've Got Mail" suffers a little from the dial-up connection that drives the action between Nora Ephron's favorite and most bankable star-crossed lovers Tom Hanks and Meg Ryan. "You've Got Mail" is funny and sweet, and not at all controversial or dangerous, which may be why it's not regarded as highly as a film like "When Harry Met Sally", which did stick it's neck out just a little by telling tales on the unspoken thoughts of men and women. Ryan and Hanks work here just like they always did back then. This film recaptured and referenced the period film history with names like Tracy and Hepburn; Stewart and Capra. "You've Got Mail" is sweet, and when romantic comedies are done well, sometimes that's all you need.
Joe Fox: The Godfather answers all of life's questions. What should I pack for my summer vacation? "Leave the gun, take the cannoli."
Joe Fox: Do you know what, we are gonna seduce them. We're gonna seduce them with our square footage, and our discounts, and ourdeep armchairs, and…
Joe Fox, Kevin: Our cappuccino.
Joe Fox: That's right. They're gonna hate us at the beginning, but…
Joe Fox, Kevin: – but we'll get 'em in the end.
Joe Fox: Do you know why?
Kevin: Why?
Joe Fox: Because we're going to sell them cheap books and legal addictive stimulants. In the meantime, we'll just put up a big sign: "Coming soon, a FoxBooks superstore and the end of civilization as you know it."
6. The Wedding Singer (1998)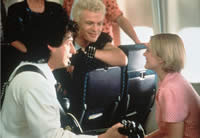 Let's face it, Billy Idol says "romantic comedy" like no other 80s rocker– with a bit part in a brilliant film about sickly-sweet romance in one of American history's most deservingly parodied eras. One of my favorite scenes in the film is the moment in the last shots when Steve Buscemi – now turned wedding singer – caterwauls "True" by Spandau Ballet. Mostly, Adam Sandler's appeal is a mystery, but every once in awhile he hits one out of the park. This is such a moment.
Glenn's buddy: Robbie Hart? Oh, man, I heard what happened to you at your wedding, that was so cold! You must've felt like shit!
Robbie: No, it felt real good, thanks for bringing that up, man. Hey, my parents died when I was ten, would you like to talk about that?
Glenn's buddy: No, why would I wanna talk about that?
Robbie: I don't know.
5. Joe Versus the Volcano (1990)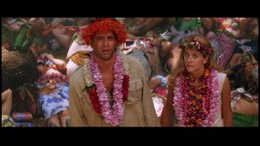 "Joe vs. the Volcano" director John Patrick Shanley has already made one appearance on today's top ten as the writer of "Moonstruck." This is clearly the only Hanks/Ryan collaboration that could be classified as strange, and that's why I like it so much. Ryan plays three roles (a la Peter Sellers, with varying results), and Hanks plays a guy who's given up on life, but with the same boyish charm that worked so well in "Big." Opposite great character actors like Dan Hedaya, Ossie Davis, Lloyd Bridges and Abe Vigoda, Hanks and Ryan make a silly story and idea one of my favorite unsung romantic comedies of all time.
Mr. Waturi: But can he do the job. I know he can get the job but can he DO the job? I'm NOT arguing that with you. I'm not arguing that with YOU. I'm not ARGUING that with you. I'm not ARGUING that with you Harry! Harry… Harry… Yeah Harry… but can he DO the job. I know he can GET the job but can he do the job?
Luggage Salesman: This is our premier steamer trunk, it's all handmade, only the finest materials. It's even watertight, tight as a drum. If I had the need, and the wherewithal, Mr. Banks, this would be my trunk of choice.
Joe Banks: I'll take four of them.
Luggage Salesman: May you live to be a thousand years old, sir.
4. The American President (1995)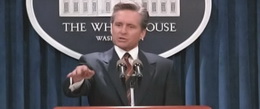 Literally the proto-"West Wing," "The American President" was the beginning of a film and television love affair for me personally with the work of Aaron Sorkin. It also marks the first time I remember liking a character played by Michael Douglas, post-Gordon Gekko. The White House framework for a romantic comedy is truly goofy, but the chemistry between Annette Bening and Douglas is solid gold and the writing is fantastic. For "The West Wing" fans it's also an opportunity to see early versions of familiar characters and even some storylines and dialogue that would eventually appear in more developed ways on the series.
President Andrew Shepherd: Let me see if I got this. The third story on the news tonight was that someone I didn't know thirteen years ago when I wasn't president participated in a demonstration where no laws were being broken in protest of something that so many people were against, it doesn't exist anymore. Just out of curiosity, what was the fourth story?
3. Groundhog Day (1993)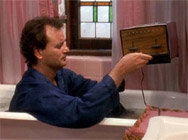 Bill Murray continues to have one of the most interesting and enviable careers in Hollywood. "Groundhog Day," directed by "Ghostbusters" buddy and co-star Harold Ramis, utilizes Murray's totally idiosyncratic abilities to create a romantic comedy whose major twist, beyond that of the plot, is Murray himself. This film relies entirely on its capable star and it pays dividends. "Groundhog Day" is the second most quotable film on my list, albeit a distant second behind the film in my number one spot.
Phil: Yeah, three cheeseburgers, two large fries, two chocolate shakes and a large coke.
Ralph: And some flapjacks.
Phil: Too early for flapjacks?
2. When Harry Met Sally (1989)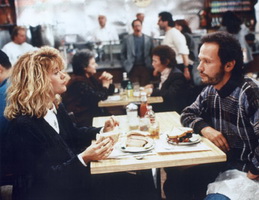 "When Harry Met Sally" is arguably the quintessential modern romantic comedy. Directed by Rob Reiner and written by Nora Ephron at the height of both of their powers, it is a classic to be certain. Crystal's transformation from a college age man-ist to a middle-aged divorcé who falls in love with his best friend may have been the most profoundly telling look inside the male psyche in comedic film until John Cusack gave the world a deeper peek in the film version of Nick Hornby's "High Fidelity." And if you're in Manhattan, don't miss out on the opportunity to eat at Katz Deli, the location for the infamous fake-orgasm scene – not so much for the film nostalgia, but because it's the best chicken noodle soup and pastrami sandwich you will ever eat.
Harry Burns: I love that you get cold when it's 71 degrees out. I love that it takes you an hour and a half to order a sandwich. I love that you get a little crinkle above your nose when you're looking at me like I'm nuts. I love that after I spend the day with you, I can still smell your perfume on my clothes. And I love that you are the last person I want to talk to before I go to sleep at night. And it's not because I'm lonely, and it's not because it's New Year's Eve. I came here tonight because when you realize you want to spend the rest of your life with somebody, you want the rest of your life to start as soon as possible.
1. The Princess Bride (1987)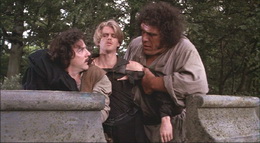 By no means a conventional romantic comedy or conventional film for that matter, "The Princess Bride" is as undeniably good a film as there is in this area. "The Princess Bride," written by William Goldman and based on his novel of the same name, is a highly-stylized, non-specific period piece about swashbuckling pirates, true love, and miracles. I remember thinking my father was out of his mind when he told me we were going to see a movie called "The Princess Bride," but it was then and remains now one of my all-time favorite films. It's easily one of the most quotable and quoted movies of my generation. A random "The Princess Bride" quote is as common and welcome as any line from Rob Reiner's other beloved uber-classic "This is Spinal Tap." When it comes to romance and comedy, there's no place I'd rather be.
Fezzik: You never said anything about killing anyone.
Vizzini: I've hired you to help me start a war. It's an prestigious line of work, with a long and glorious tradition.
Fezzik: I just don't think it's right, killing an innocent girl.
Vizzini: Am I going MAD, or did the word "think" escape your lips? You were not hired for your brains, you hippopotamic land mass.
Inigo Montoya: I agree with Fezzik.
Vizzini: Oh, the sot has spoken. What happens to her is not truly your concern. I will kill her. And remember this, never forget this: when I found you, you were so slobbering drunk, you couldn't buy Brandy!
Vizzini: And you: friendless, brainless, helpless, hopeless! Do you want me to send you back to where you were? Unemployed in Greenland!