These days it seems that part of the requirement of any suspense thriller is the big reveal; the moment of truth; the I-never-saw-it-coming twist ending. In anticipation of "The Happening" (opening Friday) and its director M. Night Shyamalan, the man single-handedly responsible for the commercial rebirth of the twist ending (thanks a lot, "The Sixth Sense"!), I present my list of the worst offenders in recent memory. In the hilarious Spike Jonze/Charlie Kaufman movie "Adaptation," Nic Cage's buzzed-about screenplay called "The 3" has a twist where the killer, the cop, and the female hostage all turn out to be the same person. What's sad is that there is probably a script floating around right now with that exact idea. This Top 10 is spoiler-heavy, obviously, so if you feel the need to see any of the awful movies below, don't read about them here. On the other hand, I look at this list as a public service—save your time and money and don't waste it on any of these movies.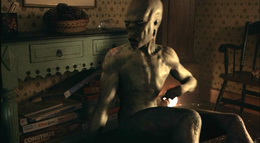 10. Signs (2002)
Let's start things off by paying tribute to the master of modern twisty mayhem—the man known as M. Night. After the critical (Best Picture, Director, Screenplay nominee) and commercial ($293 million domestic) success of "The Sixth Sense," it's been a steady downhill slope for Shyamalan. Give him some credit—he understands that the key to a good twist is that the movie has been hinting to the audience during the entire film what it's really about. Turns out this alien invasion movie starring Mel Gibson and Joaquin Phoenix isn't about aliens at all. It's about spirituality. After rejecting God because of the tragic death of his wife, Gibson's ex-priest realizes that his wife's last words—"swing away"—were directed at his washed-up baseball playing brother (Phoenix) in the event that they should find an alien lurking in their living room one afternoon. It's also lucky that one of Gibson's children has left glasses of water all over the place because water burns these invaders like acid. When Phoenix starts swinging away at the glasses at Gibson's behest, the alien is toast. Gibson's kid: "Did someone save me?" Gibson: "Yeah, baby. I think someone did." Gibson's faith is restored, ba-da-boom, ba-da bing. In the last scene, he is getting ready for church. J.D. and I argue about this movie constantly. I won't debate M. Night's skill in raising tension and stringing an audience along breathlessly. What I will say is that when the stakes are that high, the payoff better be good. Besides the fact that aliens shouldn't invade a planet that's mostly covered in the thing that kills them, the fact that Gibson returns to God because some silly coincidences saved his family's lives is enough for me to question the very nature of his faith. Is that all it takes? (Sidenote: see #6 for a discussion of the the director's cameos.)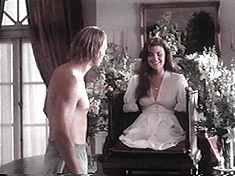 9. Boxing Helena (1993)
What is the laziest surprise ending in the world? If you guessed the "It was all a dream" ending, you're correct. It shows no imagination on the part of the filmmaker to tack crap like this on at the end of your film. It's so overwrought that Bob Newhart parodied it to great effect (and you'd have thought he'd put it to death once and for all) when his character woke up from a dream that lasted 184 episodes of "Newhart" from 1982-1990 to discover that he was still the Bob Newhart of "The Bob Newhart Show" that ran from 1972-1978. When Jennifer Lynch (yep, David's daughter) directed "Boxing Helena" in 1993, she should have known better. Yet, there it is—a lonely neurosurgeon (really?) played by Julian Sands waking up to find that he hadn't really amputated the limbs of hit-and-run victim Sherilyn Fenn and kept her in his house waiting for the moment when she relents and returns his affections—it was all just a dream. Lame. As an interesting side note, for a true-story version of the whole man-disfigures-woman-and-woman-comes-to-love-man-anyway routine, rent the documentary "Crazy Love." It's not a great film, but it proves anything is possible.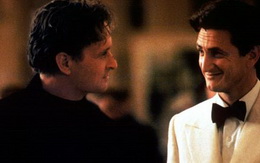 8. The Game (1997)
From the director of one of the best twist endings ever ("Fight Club") comes this labyrinthine mess of a story that tries hard to be more than what it is—an intricately silly game of Mouse Trap. David Fincher followed up "Seven," his atmospheric take on the serial killer genre, with this trite piece of bullshit that wants to be about corporate greed and cruelty. It piles twist upon twist until the final twist is so unbelievable that in order for it to have been true, somebody would have had to have scripted a whole bunch of stuff for a whole bunch of people, not the least of which is an oblivious main character. Rich businessman Michael Douglas receives the gift of a real-life role playing game that finds his bank accounts drained and attempts on his life. But not really, we find out later. So he goes to the company and shoots the first person who opens up the final door. It's his brother Sean Penn, who is now dead. But not really—blanks! Douglas is so distraught that he tries to commit suicide by jumping off the roof. But he doesn't die because there is an airbag placed at just the right spot. Little bro was trying to teach him a lesson. All the actors who were in on the scam, including his "dead" brother, appear and the game is over. Or is it? This movie is a real patience-tester. How many times can you show something is true and then take it back again? By the end, does anyone even care? Nope.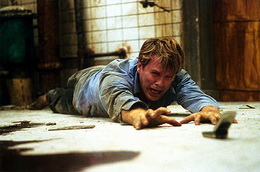 7. Saw (2004)
Here's another flick where the primary plot device is some stupidly insane person who wants to teach people that he views to be lesser than him how to appreciate life. What better way to do that than to concoct a devilish reality game where someone must make a ridiculously gory choice while chained to a radiator? The first in the wildly successful "Saw" series was the only one that worked—until the big surprise at the end, that is. There is no redeeming social commentary or inherent cultural value in "Saw," but it poses questions so ridiculous that they could have been dreamed up for the Heathers' lunchtime poll at Westerburg High. "Would you rather….cut through your leg with a hacksaw and murder an innocent man you don't know, or let your wife and child die at the hands of a maniac?" Now, that's a good one. Unfortunately, it stretches an already non-existent credulity to have the mastermind suddenly reveal himself as the corpse that has been lying on the floor next to you the entire time. You can't have an "a-ha" moment when there was nothing to suggest it was coming in the first place. It's a cheap trick for a movie that didn't need one. The shock value of the first one is all gone now that we know who the Jigsaw killer is and why he does what he does anyway.
6. High Tension (2003/5)
It wasn't enough for Alexandre Aja to skillfully pay homage to the slasher genre and actually generate some real—no pun intended—tension from a genre that has been severely lacking in that department for years. For most of the film, "High Tension," is a visceral, terrifying experience which recalls obvious influences like "The Texas Chainsaw Massacre." By staying just one step ahead of a mad trucker with a dismembered-head fetish and a big knife, a young French girl (who else?) narrowly escapes the gory death that everyone around her falls prey to and manages to stay alive until the end of the picture. At which point we find out—ready for this?—that she is the killer. The entire time she's been the one killing everyone; not the trucker. I guess that means she didn't have a car chase with herself or beat herself with a barbwire post. Granted, with her obsessive behavior towards her best friend (among other insignificant clues), Aja hinted this was coming from the beginning (and even more so in the alternate title of the movie, which was released as "Switchblade Romance" in the U.K.). But that doesn't excuse a twist that, whether plausible or not, is a remarkable turnaround that suddenly lacks the courage to stick with what the movie does best: be a first-person "what would you do?" horror experience. Now it's just another stupid serial killer flick and the next time we see it, it won't be the least bit scary because we know she's just delusional and not actually in any danger at all. Boo.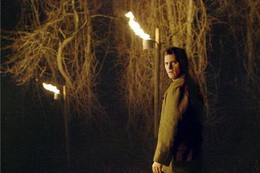 5. The Village (2004)
He's back! Shyamalan's follow-up to "Signs" (which was a box office success) was this slow-burn of a stinker. Like "Unbreakable," the twist was pretty unbelievable, but it was the post-twist handling of said twist that really pissed me off. In "Unbreakable," what angered me were the cheesy end titles that told us of Sam Jackson and Bruce Willis' fates, "Animal House"-style, as we were still trying to comprehend the fact that the pair were superhero and super-villain. In "The Village," it was the visage of Shyamalan himself as the Architect of the entire film with a capital A that really rankled me. Okay, I'll back up. The twist at the end here is that "The Village" is not actually set in the 1800s. The inhabitants live in a wildlife preserve in modern times and that the government is bribed not to fly planes over the area so that the children who were born there will still believe in the group's olde-tymie lifestyle and live as the "elders" want them to. It doesn't hold up to logic and it's kind of insulting, but what really ticked me off about this conclusion is that Shyamalan reveals that he himself is the forest ranger in charge of the preserve through an annoying and pretentious slow camera swivel where he is glimpsed only in a reflection. As if we didn't already know that he was the man behind the entire film, he had to show us—literally. In "The Lady in the Water," which doesn't really have a twist and still managed to suck more than all the rest of his flicks, Shyamalan plays no less than the savior/martyr of the world. Tasteless and stupid.
4. Perfect Stranger (2007)
"Perfect Stranger" is an offensively slick and soulless piece of Hollywood crap. Halle Berry is vacant, looking for the killer of an old friend, but poor Bruce Willis gets the worst of it. After playing head honcho in a Victoria's Secret ad for half the film, his creepy character (in a movie full of creeps) is framed by Berry for the murder; unceremoniously written out of the film without any acknowledgement whatsoever, a cheap pawn in a silly twist ending. Before that, Bruce uses his smirk for evil, trying to lure Berry; but wait—she's luring him—what a brilliant female-empowering switcheroo! No, wait. It's not. It's just the opposite. She's the killer after all. But we thought it was her slimy porn-addicted stalker friend played by Giovanni Ribisi (who builds his own Halle Berry in effigy—eww). Nope. When Ribisi says he's onto her scheme, Berry stabs him and suggests to the cops that he was probably the real killer. Slimy corporate weasel or slimy stalker? Make up your mind, Halle! I love it when last-minute flashbacks come out of nowhere at the end of a film to give a character a reason for their sudden turnaround. As a child, Berry witnessed her mother killing her sexually abusive father. Now she's a murderer herself. Oh, okay. 'Nuff said. Explained away. Thanks for that valuable piece of character shorthand. Wait—it just gets better from there. Since we can't have a murderer go unpunished (even one as hot as Halle Berry), we see a man looking out a window who has presumably seen what really happened and will do the right thing. Thank God they didn't show him turning Berry in or we'd probably have to see a shot of her with a key to her handcuffs under her tongue for another "gotcha!" moment.
3. Color of Night (1994)
Sometimes the worst twist is the one that you can see coming from so far away that you start to second guess whether it's really going to be a twist after all. "It's just too obvious," you're thinking. Surely I'm not smarter than every other person in this film, right? This can't be an actual twist, can it? Oh yes it can, and in the case of the Bruce Willis erotic thriller "Color of Night," it is a doozy. A gender-confused young man named Richie and a mysterious beautiful young woman named Rose come into his life at the same time. Despite him being a world-class psychiatrist (and the fact that he sees Rose's naked body throughout the movie), he's still not able to figure out that Richie and Rose are the same person, both played unconvincingly by poor 20 year-old Jane March. Could this movie have been inspired by Best Picture nominee "The Crying Game," which had a similar gender twist, and was released to much well-deserved fanfare in 1992? Regardless, "The Crying Game" is effective whether you saw the twist coming or not (and it doesn't even come at the end). But the reveal in "Color of Night" is so obvious that the movie becomes a whole 'nother kind of film. If you can stomach the ludicrousness, then you may as well celebrate it—at which point "Color of Night" becomes high camp.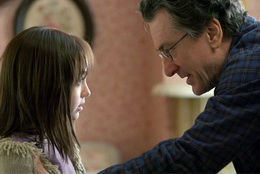 2. Hide and Seek (2005)
One good clue that you are in the middle of a movie with a twist ending is when you notice lots of characters that aren't remotely credible because they are weird when the manipulative screenplay requires them to be, but totally normal when it doesn't. This insulting thriller, starring a tortured Dakota Fanning and her mild-mannered father Robert De Niro, spends most of its time throwing out red herrings while lil' Dakota dresses like Wednesday Addams and talks to an imaginary friend named Charlie. After the stupid, stupid twist is revealed and we learn that the destructive imaginary friend is actually one half of her father's split personality, the stage is set for a little child endangerment—the kind of thing that really brings the fun out for a scare-iffic night at the movies! De Niro also discovers that under his Charlie personality, he killed his wife and then fixed it appear to be a suicide. Bummer. After the twist, "Hide and Seek" goes from just bad to purely revolting. The hole just gets deeper and deeper. De Niro is reduced to chasing his daughter and reciting dreck like "Come out, come out, wherever you are" as he follows her into a cave. It is so beneath him. It is so sad, the slumming. Sad, depressing, sad, sad, sad. De Niro had done an American Express commercial the year before, and I remember feeling weird about it. I would take a million more of those to not ever have to watch him "paying the rent" in a movie this shitty again. The DVD has a total of five endings on it, but each one of them takes place after the above twist is revealed, so they are more like afterthoughts than anything and don't really change any of the completely offensive content of the movie. It is one thing for a movie to be boring and awful, but it is quite another to be insulting, in bad taste, and utterly ridiculous at the same time.
1. Planet of the Apes (2001)
This is what you get for remaking a sci-fi classic, Tim Burton. Too bad he didn't learn; he then screwed up "Willy Wonka" not long after this atrocity, which is the worst movie of his career. Since this is a list of terrible twist endings, we'll skip over the fact that the rest of this movie was awful enough to make any sane person leave before the end. But I, like many of you, remained, hoping that something even remotely involving would happen to Mark Wahlberg. No dice. Because the 1968 original had one of the best twists ever (the crash-landed astronauts realize by seeing the ruins of the State of Liberty that they are still on Earth in the future, where man is extinct and monkeys rule!), the tepid, senseless remake gets the top spot on this list for trying to manufacture its own shock ending and failing so miserably. Let's dissect: Wahlberg goes back in time and lands in Washington, D.C. in the same period that he left, only to find Ape-raham Lincoln—a giant monument to his ape nemesis-from-the-future, General Thade! This is asinine for many reasons: If apes from the future traveled farther in the past than human astronaut Wahlberg to change Earth's history, then—with that changed history—the events which made the apes go back would have never taken place in the first place. (Or does that make sense? These time-travel "what-if" rules always make my head hurt and seem to change all the time anyway.) Also, replacing Lincoln's head with Thade's seems simply designed for this one dumbass moment when Wahlberg steps out of the pod and is surrounded by armed ape guards. Very convenient. Lastly, the obvious attempt to one-up the original by including another U.S. landmark is so forced and desperate, it's pathetic.