Some A-List movie stars are allowed to get away with murder, and no one seems to do just that more often than Bruce Willis. For every "Pulp Fiction," "Die Hard," or "Sin City" on his resume, the actor has ten movies as bad as "Perfect Stranger." And since that scummy little stinker came out earlier this year, I thought it was time to round up ten of Bruce's greatest misappropriations of film. The man seems to be flop-proof, as he showed this year by following up the paltry $23 million "Perfect Stranger" with $134 mil for "Live Free or Die Hard." So here's a quick reminder that John McClane is human, just like the rest of us. Make sure to check back next week for J.D.'s response!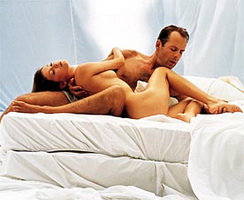 1. Color of Night (1994)
Bruce's steamiest movie seems to exist only to test the patience of those waiting for his naughty bits or those of his 20 year-old co-star Jane March. This poor girl appears in a dual role (as a gender-confused young man named Richie) so badly disguised that it makes you wonder how Willis' psychiatrist never figured it out until the very end. The audience isn't supposed to either, but its so obvious that the conceit of us not knowing is so completely blown that the entire film becomes this unconvincing camp film, and then begins to entertain on a whole different level. This is one of the funniest of Bruce's bad movies, and a big winner for Worst Picture at the Razzies.
Dr. Bill Capa: Six weeks ago I spoke harshly to a patient and she commited suicide right in front of me.
Sondra Dorio: Oh I'm so sorry.
Dr. Bill Capa: I guess she would've done this anyway, my colleagues say, but I don't know. And my patient, her name was Michelle, jumped out of a window in my office. So much blood! So red! And right before my eyes the red just disappeared just turned to grey so I don't see red now! But you see I was her doctor! And I failed, so I can't help you. I don't think you want someone like me around right now.
Buck: I think I do.
Rose: Me too.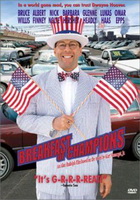 2. Breakfast of Champions (1999)
Adapting Kurt Vonnegut to the screen is no easy task—just look at "Slaughterhouse Five" and "Mother Night," two interesting, if flawed, pictures. But if one film put the final nail in the coffin of the rest of the late satirist's movie properties, it is this awful, awful, awful version of one of Vonnegut's funniest books. Alan Rudolph wrote the script soon after the book was first published in 1973, and apparently waited this long to adapt it so he could concentrate on getting everything wrong in just the right way. Willis plays deranged Pontiac salesman Dwayne Hoover with aplomb (as do his frenzied co-stars Albert Finney and Nick Nolte), but Vonnegut's non-linear novel filled with absurd little illustrations makes for one hell of a frustrating and unfunny movie.
Dwayne Hoover: Modern science has given us a vast array of colors with exciting names like Red! Blue! Orange! Brown! and pink!
Harry Le Sabre: Why don't you come right out and say it, Dwayne?
Dwayne Hoover: Say what, Harry?
Harry Le Sabre: That I like to wear women's clothing.
Dwayne Hoover: Is that what you like, Harry?
Harry Le Sabre: Yes… I mean, No! No! Of course not!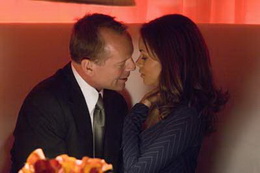 3. Perfect Stranger (2007)
As I wrote earlier this year, ""Perfect Stranger" is an offensively slick and soulless piece of Hollywood crap." Halle Berry is vacant, but poor Willis gets the worst of it. After playing head honcho in a Victoria's Secret ad for half the film, his creepy character (in a movie full of creeps) is unceremoniously written out of the film without any acknowledgement whatsoever, a cheap pawn in a silly twist ending. Bruce uses his smirk for evil, trying to lure Berry; but wait—she's luring him! What a brilliant female-empowering switcheroo! No, wait. It's not. It's just the opposite. This may still be the worst movie I've seen all year.
Harrison Hill: Do you have any idea what loyalty is?
Ro: I bet your wife is wondering the same thing!
Harrison Hill: AAAAAAAAAAAARRRRRRRRRGGGHHHH!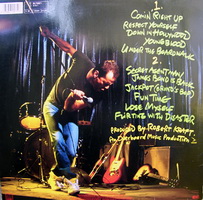 4. The Return of Bruno (1988)
Okay, it's cheating a bit to include this 56-minute vanity project, filmed under Hudson Hawk, Ltd., originally aired on HBO, and now only available on VHS, but it's worth it to further point out that movie stars shouldn't try to be rock stars. Bolstered by tons of cameos from famous friends such as Ringo Starr, Brian Wilson, the Bee Gees, Elton John, and Michael J. Fox, this "mockumentary" is as heartbreaking and impossible to listen to as "Blues Brothers 2000" (which came out in 1998). According to the film, Bruno is some mysterious and influential 1960s singer, but you wouldn't know it from the R&B classics that Willis murders all over the soundtrack. To further show how huge Bruce was back then, let it be mentioned that the Bruno album (released by Motown!) actually reached #14 on the Billboard charts.
"Respect Yourself," peaked at #5 on the Billboard Hot 100 chart (and would make the 1987 year-end Top 100 at #89), and "Under The Boardwalk" rose to #59.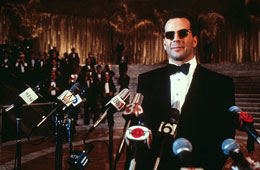 5. The Bonfire of the Vanities (1990)
This one is a legendary Hollywood flop that all involved seem to have recovered nicely from. In a role that was initially offered to both Jack Nicholson and John Cleese, Willis is woefully miscast in this notoriously sanitized satire of Tom Wolfe's book from director Brian De Palma. Originally British, his alcoholic reporter Peter Fallow tries to crucify a racist Wall Street investor (likable Tom Hanks, of all people) in the court of public opinion, but then eventually feels bad for it. A book about the tumultuous production called "The Devil's Candy" fares better, illuminating every painful decision with unprecedented, unlimited access to the making of the movie.
Peter Fallow: If you're going to live in a whorehouse, there's only one thing you can do: be the best damn whore around.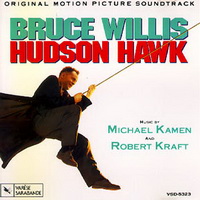 6. Hudson Hawk (1991)
Maybe this movie is where Dan Brown got the idea for "The Da Vinci Code," which was adapted into a movie that's just as bad as this one. This is certainly the most easily recognizable of Bruce's bad films— a movie where cat burglars Willis and Danny Aiello suddenly and inexplicably break out into song in the middle of an elaborate heist of lost Da Vinci treasures. You can't stop the man when he wants to sing. Once you give it points for being audaciously terrible, it's almost fun. Almost. Richard E. Grant, Sandra Bernhard and David Caruso (!) are having fun ham it up as the eccentric and over-the-top villains, but Aiello and Willis' smugness is absolutely relentless and ultimately kills what fun it is just laughing at the mixed-genre nonsense onscreen.
Hudson Hawk: Anna, we're supposed to be saving you.
Anna: I know. I got bored so I saved myself.
7. The Jackal (1997)
This one was so bad, even Sean Connery, Liam Neeson and Matthew McConaughey all turned it down. Richard Gere and Sidney Poitier get mixed up in this awful remake of the 1973 film "The Day of the Jackal." The mysterious Jackal, played by Willis in full bad-ass mode, is a legendary hitman prone to wearing silly disguises a la Val Kilmer in "The Saint." (It doesn't help that no matter what crazy long-haired wig he dons, he is always immediately recognizable as Bruce Willis.) Now, of course, the film is semi-famous for Jack Black's "serious" supporting role, where the Jackal hilariously blows off his arm and a whole lot more! 
(After adjusting a machine gun's sights, the Jackal shoots and blows Lamont's arm off.)
The Jackal: I told you it was off!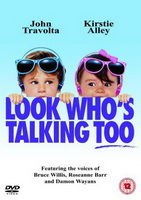 8. Look Who's Talking Too (1990)
Amy Heckerling directed the superb "Fast Times at Ridgemont High" in 1982, but by the end of the nineties, she was reduced writing and directing "talking baby" movies that were full of scatological humor. This quick follow-up to 1989's surprise hit "Look Who's Talking" again featured Willis as the voice of Mikey and John Travolta as his Daddy. Added frivolity (if poop jokes count as frivolity) also included Rosanne Barr as Mikey's baby sister and a talking toilet, voiced by Mel Brooks. As chance would have it, Travolta would be reunited with Willis in a famous toilet scene four years later when Butch guns down Vincent after using the boxer's bathroom in "Pulp Fiction."
Mikey: Poor Daddy, hanging out with buttholes all day long.
9. Lucky Number Slevin (2006)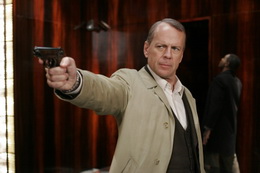 A "Pulp Fiction" wannabe film twelve years after the fact, this tedious and exhausting movie has the indecency to lure Willis, one of the original Tarantino film's stars, into the mess. There's nothing worse than Bruce (as another hitman!) when he knows the lines he's saying are supposed to be clever, and this Josh Hartnett vehicle is full of them. In an egregious overuse of his trademark know-it-all grin, Willis smirks it up all over the place with tons of mannered and phony dialogue that wouldn't ring true if Lord Tarantino spoke it himself. Whatever natural flair for comedy Bruce had in "Moonlighting" is not present here, as he struggles to be funny through a hackneyed screenplay.
Mr. Goodkat: There was a time.
Nick: [looks at his watch] 4:35.
Mr. Goodkat: You misunderstood. I wasn't asking for the time, I was just saying… there was a time.
Nick: There was a time?
Mr. Goodkat: Mmm-hmm. Take Brown Sugar back there, for example. She's pretty fuckin' foxy, right?
Nick: She's 70.
Mr. Goodkat: If she's a day. But there was a time.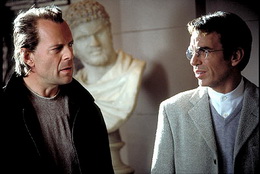 10. Bandits (2001)
Take three appealing leads (Willis, Cate Blanchett, Billy Bob Thornton), one Oscar-winning director "Rain Man" Barry Levinson), and one former "Twin Peaks" writer (Harley Peyton), and you get this lame-brained comedy caper in which Bruce and Billy Bob are a pair of mismatched bank robbers who fall for the same woman. Levinson tries every trick in the book to keep the movie fresh, including a reality-show parody and a time-shifting narrative, but its basically Thornton and Willis goofing off for two hours while Blanchett almost makes you care what's happening.
Joe: What'd you bring her here for?
Terry: One, I had no choice, two, I may have suffered a slight concussion and three, she is mentally imbalanced to a spectacular degree.
Kate: I can hear you!