For a moment, let's forget the fact that Thanksgiving is a hypocritical holiday that celebrates a symbolic peace-loving dinner between two cultures that didn't really work out too good in the long run. That would make a great Top 10 List on its own: Top 10 Movies That Show How Badly the Indians Got Screwed by the White Man. Check back for that one next year. No, this list celebrates that one moment of the year when families try to get together and get…along. This list celebrates the more modern meaning of Thanksgiving, and most of the films on the list celebrate that odd little American unit known as the family. So if you're looking for something to turn that grumbling in your stomach into a big slice of forgiveness pie, read on and enjoy this list of my Top 10 Thanksgiving Movies. We'll be back next Top 10 Tuesday with an all-new non-holiday themed list.
10. The House of Yes (1997)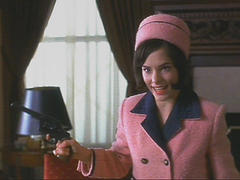 On Thanksgiving in 1983, a disturbed young woman who thinks she's Jacqueline Onassis refuses to give her beloved brother up to the new girlfriend that he brought home to meet the family. We're right there with her, and not just because said girlfriend is Tori Spelling. At the Sundance Film Festival, Parker Posey cemented her place as coolest indie chick ever by winning a Special Recognition award for her deranged performance as pill-box hatted Jackie-O. (Unfortunately, it also led to her being typecast in a dozen more quirky, bitchy roles. Aaah, but she does it so well!) This isn't the best movie ever, but Posey is hilarious and it's notable also (and really weird) because writer/director Mark Waters went on to do the family-friendly "Freaky Friday" remake and "Mean Girls," which comprise 2/3 of Lindsay Lohan's watchable filmography. (Can you name the other third?)
Mrs. Pascal: What's that gun doing there?
Jackie-O: It's not a gun. It's a camera.
Mrs. Pascal: It's a gun.
Jackie-O: It's a camera that looks like a gun.
Marty: Relax, Mama, it isn't loaded.
Mrs. Pascal: How do you know?
Marty: I checked.
Mrs. Pascal: What's it doing there?
Jackie-O: Being gunlike, gunesque, gunonic.
Mrs. Pascal: Where did it come from?
Jackie-O: God?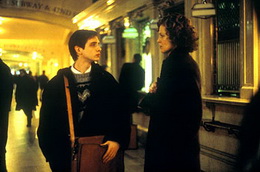 9. Tadpole (2002)
A 15-year old Private schoolkid (Aaron Stanford) comes home for Thanksgiving with one thing on his mind and it's not turkey. He's in love with his stepmother Eve (Sigourney Weaver), which leads to fling with a different hot older woman (Bebe Neuwirth). Midlife crisis meets teenage crush in a surprisingly witty movie. Quoting Voltaire and acting mature for your age may not seem like enough reason for older women to fall for him, but Stanford is convincing, and his old-fashioned courtship is more clever than creepy. This witty little delight was shot for next to nothing on digital and was directed by Gary Winick, who also produced another indie Thanksgiving movie. (see #4)
Charlie: So this means that you slept with Dianne.
Oscar: I realize now that was a mistake. I was drunk, she was wearing Eve's scarf, it smelled of her perfume, I got confused.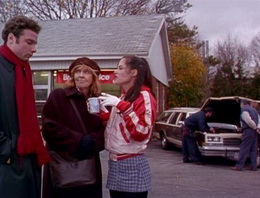 8. The Daytrippers (1996)
A love letter found by Hope Davis on the day after Thanksgiving implicates her husband (Stanley Tucci) in an affair. This is the premise for a bizarrely funny road trip in the family station wagon from Long Island to Manhattan, where she will get all kinds of advice–although not the kind of heartwarming stuff one would normally associate with a Thanksgiving movie. On her way to confront him, her parents are soon along for the ride, as is her sister (Parker Posey again), and sis's boyfriend (Liev Schreiber). Writer/director Greg Mottola ("Superbad") made his debut with this unevenly-balanced dark comedy that often vacillates between hilarious and bleak, which is just the way I like my comedy. Screw Thanksgiving, this is the hangover afterwards.
Chap: We need to open another bottle of vodka. It seems that you put most of the last bottle in your mouth.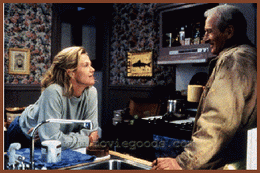 7. Nobody's Fool (1994)
If I had made the Top 10 List of Good Bruce Willis Movies instead of J.D., this one would have been on there. Willis is sometimes best in supporting roles, where a little of his trademark charm can go a long way. In this one, he is the philandering boss of the main character Sully, played by Paul Newman. As it is, it's also one of Newman's best. Newman is a cranky old bastard who is as despicable as he is likable. After a lifetime of bad decisions and running away from his family, an unexpected Thanksgiving visit by his son and grandson offers him some repentance. Newman received an Oscar nod for Best Actor, but now this small and poignant film seems all but forgotten. Supporting work from Philip Seymour Hoffman, Jesicca Tandy, and Melanie Griffith is solid as well, as is the direction of Robert Benton ("Kramer vs. Kramer," "Places in the Heart").
Peter: So if you're not a father to me, how come you're a grandfather to Will?
Sully: 'cause you gotta start someplace.
Okay, I know this is against the rules, but it's my Top 10, dammit, and all this mushy family forgiveness stuff is getting to be too much. (There's more in store, though—read on!) The funniest and most gruesome three minutes of Robert Rodriguez and Quentin Tarantino's exploitation tribute was a ripping parody of holiday-themed horror called "Thanksgiving." A fake trailer for a horror movie that doesn't exist, it contains the entirety of schlockmeister Eli Roth's great moments in one compact running time. Why waste your time watching "Hostel" or "Cabin Fever" when you could see everything good Roth has to offer for free, right here, right now? Maybe one day, the geniuses at Weinstein will see fit to restore "Thanksgiving" to its rightful place in between "Planet Terror" and "Death Proof" on a DVD release. Until then, here is the funniest and most shocking three minutes of this year. Happy Thanksgiving!
Beware: This clip may shock some and titillate others. Whether it shocks you or titillates you, it is the whole truth, and nothing but the truth, so help me for adults only.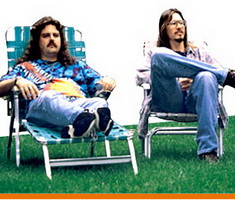 5. American Movie (1999)
One scene in this tragi-comic documentary by Chris Smith has more understated poignancy than a hundred "Miracle on 34th Street"s. It's Milwaukee in November, and the Green Bay Packers are playing on TV. Depressed, alcoholic filmmaker Mark Borchardt tells his plump, heavy-metal loving friend Mike Schank without any trace of irony or false pretense that his mere visit that Thanksgiving has made him so happy, coming at the end of an especially hard week. It is a simply-expressed moment in a movie full of them, and it speaks volumes about the friendship between the two misfit lead characters. Smith's take on the American dream is as funny as it is illuminating. Not everything takes place in New York or Los Angeles. If you enjoy great documentaries, but get bored of the same high-minded topics all the time, rent "American Movie" and discover how interesting stories right in your backyard might be.
Mark Borchardt: Would you buy this movie for $14.95?
Mike Schank: Yeah, hell yeah, man.
Mark Borchardt: If I can find 3,000 people like you across this country, man, I'm in business.
Mike Schank: Of course, man, I mean… shit, that's what Rush tickets were.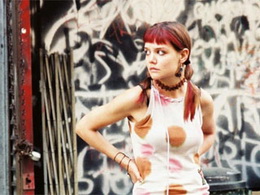 4. Pieces of April (2003)
Peter Hedges, the writer of "What's Eating Gilbert Grape" and "About a Boy," stepped behind the camera for this oft-forgotten film about the dark horse child of the family hosting everyone for Thanksgiving dinner. It was only four years, but it seems like ages ago that Katie Holmes was so lovable and charming (and not yet a staple of the tabloids) in the punk-rock-chick title role. Patricia Clarkson garnered an Oscar nomination for playing the acid-tongued Mom dying of cancer, but she's not the only one with great dialogue. Yes, it's a dysfunctional family drama, but the low-low-budget (shot in 16 days on digital film) and great ensemble work from the actresses, plus Oliver Platt and Derek Luke, bolsters the sense of realism a bit. Add in a great songtrack from Magnetic Fields singer/songwriter Stephin Merritt, and you've got a darkly funny comedy that never panders for laughs.
Joy Burns: (at the dinner table, she has yet to discuss her imminent death from cancer) I keep waiting for a good time to tell you, but there's really no good time. I need everyone to listen…I don't know how to say this…We need to discuss how each of you, Oh God…
Jim Burns: It's OK, sweetie.
Joy Burns: How each of you is going to handle…discarding food without letting our hostess know. [starts laughing]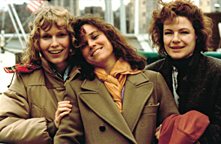 3. Hannah and Her Sisters (1986)
Woody Allen's 1986 romantic comedy about three sisters is book-ended by two Thanksgivings. The tumultuous lives of the title characters, Manhattanites played by Mia Farrow, Barbara Hershey, and Dianne Wiest (who won an Oscar for her role), intertwine in the oddest of ways with quirky paramours like Michael Caine (who took home his first Oscar as well), Allen, and Max Von Sydow. It isn't Allen's most challenging film, but it proves that he's a gifted storyteller with an unerring ear for the human heart. If this sounds overly mushy, maybe it is, but this is one Thanksgiving movie that will make you feel good without all the sicky-sweet stuffing that so many others have. Small roles from Julia Louis-Dreyfus and Lewis Black (!) are likely to stick out now.
Hannah: [after learning Mickey is infertile] Could you have ruined yourself somehow?
Mickey: How could I ruin myself?
Hannah: I don't know. Excessive masturbation?
Mickey: You gonna start knockin' my hobbies?
Katie Holmes and Sigourney Weaver again? Yep, it's true. Along with Parker Posey, they are the repeat queens of this list, apparently. It is Thanksgiving during the Watergate scandal when a bunch of drunken, married adults go to swinger's "key party" while their children are at home and elsewhere experimenting with the birds and the bees. Sound fun? It's not, but Ang Lee's somber drama is deeply felt and gorgeously rendered, from its 70s era-costume design to its icy cinematography and icier performances. Middle-aged selfishness and the post-hippie era confusion of the times weigh heavy on Joan Allen, Kevin Kline, and Weaver with disastrous results. This mature film was way ahead of its time, and launched the "serious" acting careers of several current Hollywood stars like Elijah Wood, Christina Ricci, Tobey Maguire, and Holmes. This one is not for the whole family, unless yours is the Berkman family from "The Squid and the Whale."
Wendy Hood: (at the table, saying grace) Dear Lord, thank you for this Thanksgiving holiday. And for all the material possessions we have and enjoy. And for letting us white people kill all the Indians and steal their tribal lands. And stuff ourselves like pigs, even though children in Asia are being napalmed.
Ben Hood: Jesus! Enough, alright? Paul… roll?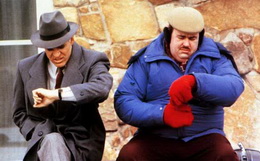 1. Planes, Trains, and Automobiles (1987)
Forget "The Breakfast Club" and all his teen movies from the 1980s, this is John Hughes' greatest movie ever. Hughes captures the true spirit of forgiveness and family in the desperate story of two men trying to make it home for Thanksgiving. Sure, Steve Martin's streak of horrible luck with mass transit are hilarious (who can't relate?), but it's his hate/hate relationship with Del Griffith, the shower curtain-ring salesman from Chicago (played by John Candy, in his best performance ever) that gives this movie that special quality. Candy's tragic early death makes Griffith an even more sympathetic character, but the Academy's shortsightedness when it comes to comedic performances was fully obvious that year after not nominating Candy for the role of a lifetime. (Eddie Murphy was similarly snubbed in "The Nutty Professor," only to be given a second chance in "Dreamgirls" with a more stereotypical 'serious' role) There too many classic moments to name, and the movie's stature has only grown with constant reruns on TV. (Watch it Wed. Nov. 21 and Thurs. Nov. 22 on Comedy Central again!) "Planes, Trains, and Automobiles" calls out for a new DVD transfer with lots of bonus features. Its current release is an embarrassing bare-bones edition. Supposedly, there is a three-hour version locked away in Paramount Studios' vault. Do I smell a petition?
Del: You wanna hurt me? Go right ahead if it makes you feel any better. I'm an easy target. Yeah, you're right, I talk too much. I also listen too much. I could be a cold-hearted cynic like you… but I don't like to hurt people's feelings. Well, you think what you want about me; I'm not changing. I like… I like me. My wife likes me. My customers like me. 'Cause I'm the real article. What you see is what you get.