Since 1952, Hollywood's biggest night has been televised. Before that, the Academy Awards had been broadcast on radio, and not always the complete ceremony. Hell, before 1940, the results weren't even in a sealed envelope. They would be printed in the next day's newspapers, which were sometimes available before the show even started.
It's a good thing they televise them now, because that would rob us of great moments like a puffed-up Sean Penn defending Jude Law to joking host Chris Rock—a moment that made Spicoli fans everywhere wonder where his sense of humor had gone. Or how about host Jerry Lewis, who had twenty minutes to kill in 1958 when the show ran early and tried to tell some jokes. He was bombing so badly that NBC pulled the plug on the broadcast and aired a short film about handguns. In 2003, Adrien Brody gave presenter Halle Berry a long, passionate kiss after his unexpected Best Actor victory over Jack Nicholson and Daniel Day-Lewis. "I bet they didn't tell you that was in the gift bag," he then quipped to a stunned Berry.
Here's a look back at past moments that are both famous and/or just plain bizarre.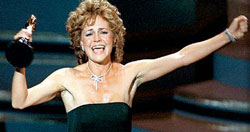 10. Sally Field knows now that you really like her
The most famous Oscar speech in history is almost always misquoted. At the 1985 ceremony, Sally Field won a Best Actress Oscar for the Depression-era drama "Places in the Heart." (Her first was for 1979's "Norma Rae.") Since then, the excited actress has been paraphrased incessantly, but the words "You like me, you really like me!" are so over-used that some people can't even tell you where they came from. What she actually said equally as weird: "The first time I didn't feel it, but this time I feel it, and I can't deny the fact that you like me, right now, you like me!"
9. Michael Moore – 2 out of 3 ain't bad
Everybody knows now that the country was lied to lied to (see this year's Oscar doc nominee "No End in Sight") , but five short days after the U.S. invaded Iraq in 2003, Michael Moore won his Oscar for the documentary "Bowling for Columbine" and started in on the President right away. Referring to Bush v. Gore, the most disgraceful Supreme Court decision of modern times, he called Bush a "fictitious president." First, the cheers. When he said the war was based on "fictitious reasons," the boos started in. Time has proved him correct on the first two statements, so it's too bad his third one couldn't have come true too: "Anytime you got the Pope and the Dixie Chicks against you, your time is up."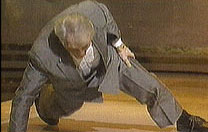 8. Jack Palance does one-armed push-ups
Veteran character actor and perennial villain Jack Palance picked up an Oscar for spoofing his bad guy image in 1991's "City Slickers." While he probably deserved one for the legendary western "Shane" or little-known film noir "The Big Knife," Palance proved that—at 72 years old—nobody was tougher. After receiving his statue, he got down on the floor of the auditorium and did one several armed push-ups. His "City Slickers" co-star (and the best Oscar host ever) Billy Crystal used Palance as fodder for his jokes all evening., giving the audience updates on the virile old man's after-show activities: "Jack Palance has just bungee-jumped off the Hollywood sign."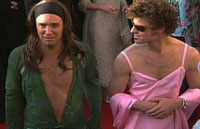 7. Parker and Stone dress the part
You can't keep the riff-raff away from the Oscars when the riff-raff is actually nominated, so when the hilarious song "Blame Canada" from the 1999 animated musical "South Park: Bigger, Longer & Uncut" received a Best Song nod, that meant the songwriters were automatically invited to the ceremony. For "South Park" creators and professional agitators Trey Parker and Matt Stone (unjustly robbed of the same nomination five years later for the brilliant "Team America"), that meant a big opportunity to poke fun at the whole Oscar affair. They did so by walking the red carpet wearing imitations of the same headline-making dresses previously worn at award shows by J.Lo and Gwyneth Paltrow. Needless to say, the divas were not amused.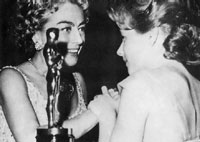 6. Crawford evens the score
Joan Crawford was a notoriously competitive movie queen (ever seen "Mommie Dearest"?) whose real-life animosity for co-star Bette Davis came through in the campy psychological thriller "Whatever Happened to Baby Jane?" In 1963, when Davis was nominated for Best Actress for the film and not her, Crawford wrote each of the other nominees and offered to accept the award if they were not able to attend. Sure enough, Anne Bancroft won the statue that night and wasn't able to be there, so Crawford slithered up to the stage to bask in the glory while Davis sat in her seat and gave her the evil eye.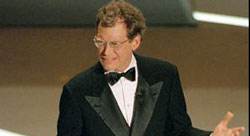 5. Letterman's first and last Oscar job
The most well-known disaster of David Letterman's infamous 1995 hosting gig is the joke that dragged on forever. Ironically, it wouldn't have become a catchphrase if someone didn't think it was funny. Introducing a confused Oprah Winfrey to a nervous Uma Thurman, Dave said "Uma… Oprah! Oprah… Uma!" Then he said it again and again. It may have fallen flat that night, but I'm one who believes the talk show host was just ahead of his time. (Give me Letterman over Whoopi Goldberg any day!) Some of his anti-Hollywood jokes hit a little too close to home, and he also turned the show into his show, having "Forrest Gump" Best Actor winner Tom Hanks onstage to help with Stupid Pet Tricks.
4. New nude fad hits the Oscar stage
In 1974, streaking was everywhere—from college campuses to Ray Stevens' hit novelty song "The Streak" to the most prestigious and most-watched event on television. British actor David Niven was introducing Best Picture presenter Elizabeth Taylor when a completely nude man suddenly streaked across the Oscar stage while flashing a peace sign. Never slow with a witty remark, the unflappable Niven calmly countered with a comedic comeback that would make most stand-up comedians green with envy: "Isn't it fascinating to think that probably the only laugh that man will ever get in his life is by stripping off and showing his shortcomings?"

3. Opening from Hell
We don't realize how good we have it these days. The 59th Annual Academy Awards, held on March 30, 1987, were hosted by—get this—Chevy Chase, Goldie Hawn, and Paul Hogan ("Crocodile Dundee"). As if that unholy trio weren't scary enough, there was yet another waiting in the wings to trump the hosts. Back then, it was tradition to open the show with a musical production number. Having already been turned down by Frank Sinatra and Dean Martin, the producers forged ahead with their original plan to open the show with a song from the musical "Guys and Dolls." It took not two, but three, men to replace the Rat Packers in "Fugue for Tinhorns," which was performed by—I'm not kidding—Telly Savalas, Pat Morita, and Dom DeLuise. You may know them as Kojak, Mr. Miyagi, and Dom DeLuise.
2. Sacheen Littlefeather is no Joan Crawford
The most puzzling event of any Oscar telecast was occurred in 1973 when Marlon Brando won his inevitable Best Actor award for "The Godfather." He sent a woman who claimed her name was Sacheen Littlefeather onstage, dressed in traditional Native American garb, to refuse his award. Why? "Marlon Brando very regretfully cannot accept this very generous award … the reason for this being the treatment of American Indians today by the film industry, excuse me, and on television in movie re-runs, and also the recent happenings at Wounded Knee." Huh? It turns out Littlefeather was really a struggling B-movie actress of largely Mexican descent named Maria Cruz. The speech caused Clint Eastwood to joke that night whether the Best Picture award should be accepted "on behalf of all the cowboys shot in John Ford westerns over the years." Seven months later Cruz appeared, sans costume, in Playboy.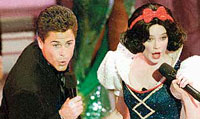 1. A New Lowe Point
Just when you thought opening musical numbers couldn't get any worse—how about a beloved young Disney heroine doing a duet with a washed-up, sex-scandalized celebrity? In the midst of a seemingly never-ending medley during the 1989 telecast that found an actress playing Snow White skipping down the aisles and embarrassing celebrities, who should show up to sing with her but—Rob Lowe! Just one year removed from a career-halting sex scandal that surfaced with the discovery of a videotape of the actor having sex with a 16-year old girl in a ménage à trois, there he was onstage singing, of all things, "Proud Mary." With Snow White! Lowe, not known for his singing—and now everyone knows why—looked like he wanted to be anywhere else but onstage being Ike Turner to Snow White's Tina. To make matters worse, Disney sued the producers (the suit was later dropped) because they hadn't cleared the use of the Snow White costume with the studio first. Ironically, director Curtis Hanson would use the scandal to its fullest potential, casting Lowe in 1990 as a perverted criminal opposite James Spader's innocent everyman in the better-than-competent thriller "Bad Influence."
[youtube -qeygd0qPDM]