Despite what massive reruns on TBS might lead you to believe, "Ferris Bueller's Day Off" and "The Breakfast Club" are not the only movies out there that encapsulate the school experience. In honor of everyone returning to school this fall and the recent success of the high school-centered "Superbad," we would like to present our lists of the Top 10 (Non-John Hughes) School Life Movies.
It should be noted that these are films that center around college or high school life rather than just having a couple of school-aged characters in them. For that reason, movies like "Good Will Hunting" are excluded, but "Back to School" would have been eligible. Also, since there are too many of them, all of the "Harry Potter" movies are excluded.
My Top 10 is as follows, but if it peeves you to no end, don't forget to check back next Tuesday for J.D.'s Top 10 (Non-John Hughes) School Life Movies
Eric's List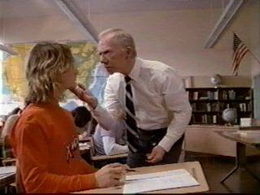 1. "Fast Times at Ridgemont High" (1982)
Still the best high school movie ever made, this Cameron Crowe-penned film has it all. Classic turns by Sean Penn (as good-natured stoner Jeff Spicoli), Jennifer Jason Leigh (everygirl Stacy Hamilton), and Judge Reinhold (stand-up guy with a string of bad luck Brad Hamilton) anchor a movie whose characters feel as real now as they did in the 1980s. Director Amy Heckerling ("Clueless") dealt with serious subjects like abortion, masturbation, and drugs without ever getting heavy-handed, and there are way too many memorable scenes to recall in this short space. It also jump-started the careers of Forest Whitaker, Anthony Edwards, Eric Stoltz, and Nicolas Cage.
Mr. Hand: Why are you continuously late for this class, Mr. Spicoli? Why do you shamelessly waste my time like this?
Jeff Spicoli: I don't know.
Mr. Hand: I like that. 'I Don't Know.' That's nice. 'Mr. Hand, will I pass this class?' Gee, Mr. Spicoli, I don't know! You know what I'm going to do? I'm going to leave your words right up here for all my classes to enjoy, giving you full credit of course, Mr. Spicoli.
Jeff Spicoli: All right!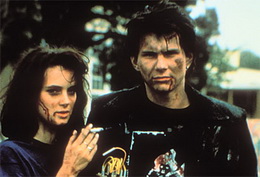 2. "Heathers" (1989)
We didn't name our team on the "World Series of Pop Culture" after this movie for no reason. In this pre-Columbine twisted revenge fantasy/satire, Christian Slater plays Jack Nicholson crossed with James Dean (and named J.D.) as a tortured high school outsider hell-bent on making the popular kids pay for their bad behavior—by killing them! No kidding. High school kids actually murder high school kids, but it's all in good fun because it's so over the top. Winona Ryder is the other attractive outsider, lured into the popular Heathers clan and forced to participate in such classic teen rituals as picking on geeks and cow-tipping. Only in our not-so-recent innocent past could a movie actually get away with blowing up the school like this one did. We won't see this twisted of a high school film again in our lifetime.
J.D.: Our love is God, let's go get a Slushie.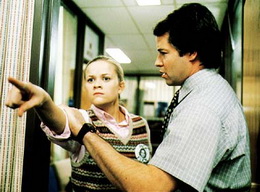 3. "Election" (1999)
He didn't detonate a bomb in the school, but Oscar nominated writer/director Alexander Payne ("Sideways") blows up some other high school sacred cows in this daring and hilarious satire. Frustrated teacher Matthew Broderick has a love/hate relationship with his ultra-motivated and annoying student Tracy Flick (Reese Witherspoon). This causes him to motivate a popular jock (Chris Klein) to run against her as school president and results in some unwanted sexual fantasies about the perky little go-getter. The razor-sharp unpredictable script, adapted from Tom Perotta's novel, is a real balancing act, spotlighting the human side of its characters despite all their outrageous behavior.
Tracy Flick: Dear Lord Jesus, I do not often speak with you and ask for things, but now, I really must insist that you help me win the election tomorrow because I deserve it and Paul Metzler doesn't, as you well know.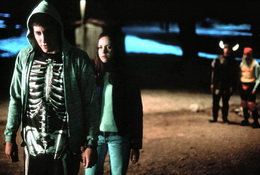 4. "Donnie Darko" (2001)
Here's some more teen angst, this time represented as a real life-and-death situation by way of some vaguely defined sci-fi time travel elements. Despite its fantasy-laced story though, Richard Kelly's breakout DVD hit (it was barely shown in theaters) is about the alienation and loneliness one can feel in their most vulnerable of years. It may be set in the 1980s, but this film is the modern template for all emo kids and goth rockers today, thanks to Jake Gyllenhaal's soulful turn as the confused title character who sees an evil bunny rabbit that talks to him. The best sci-fi tales are able to illuminate some larger truth about the human condition, and this movie gets at the core of the high school identity crisis in the most unique possible way.
Donnie: Why do you wear that stupid bunny suit?
Frank: Why are you wearing that stupid man suit?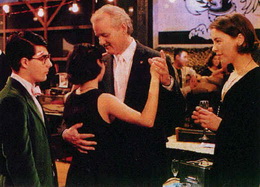 5. "Rushmore" (1998)
Trying to describe this offbeat Wes Anderson prep school comedy is not easy, but here it goes. When chronic extracurricular overachiever Max Fischer (Jason Schwartzman) becomes disillusioned with his academic career, he meets a detached wealthy industrialist (Bill Murray), and both men learn about love in an awkward romantic triangle with Max's teacher (Olivia Williams). "Bottle Rocket" introduced the world to Anderson, but this movie cemented his auteur status and revived Bill Murray's career. No jokes here, just odd observational humor and a deep sense of longing that both characters share.
Max Fischer:: So you were in Vietnam?
Herman Blume: Yeah.
Max Fischer: Were you in the shit?
Herman Blume.: Yeah, I was in the shit.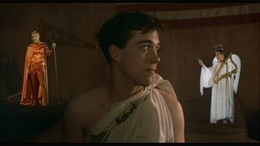 6. "National Lampoon's Animal House" (1978)
This remains the prototypical party animal movie of all time, and I just watched it again recently and realized something. "Animal House" has been copied five million different ways. The party scenes are kind of tame now, but the spirit of rebellion and flying your freak flag in the face of authority absolutely remains intact. The Delta house was the first fraternity to fight for their right to party against all the square do-gooders, military types and campus crooks. Amidst all the chaos, believe it or not, director John Landis managed to have some sweet coming-of-age storylines around touchy subjects—one involving an underage girl and the other a professor. It is easy to remember John Belushi's outlandish behavior, but you may have forgotten how funny and smart the dialogue was as well. Even "Fast Times" aped its final scene, where we learn what happened to the Deltas after college.
Dean Wormer: Who dropped a whole truckload of fizzies into the swim meet? Who delivered the medical school cadavers to the alumni dinner? Every Halloween, the trees are filled with underwear. Every spring, the toilets explode.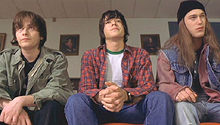 7. "Detroit Rock City" (1999)
"Fast Times" and "Dazed and Confused" tie rock n' roll closely into the high school experience, but no movie brings it so close to home as this totally underrated gem. Having tickets for a rock concert was the most important thing ever when I was young, and this film captures the excitement of going to school on that fateful day, knowing that you'll be screaming at the top of your lungs to your favorite guitar gods later that night. A parent's misguided attempts to understand her son manifests itself in the anti-devil worship sentiment that was so hilariously prevalent in the late 70s/early 80s. Parents, bullies, and religion all try to hold the four dedicated rockers in "Detroit Rock City" down, but these institutions are no match for the kids' steadfast dedication to the "hottest band in the world." And what could better than a teen losing his virginity in a confessional booth and giving his mother her comeuppance in front of a festival crowd?
Lex: You know, your clothes may say disco, but your eyes say rock n' roll.
Christine: Yeah? Well, your belt buckle may say rock n' roll, but your breath says pepperoni, baby.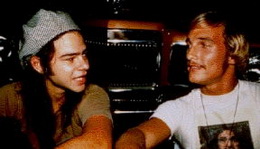 8. "Dazed and Confused" (1993)
The last day of school in 1976 is the backdrop for Richard Linklater's even-handed and nostalgic examination of growing up and being scared. There are the graduating seniors worried about what to do after football ends and whether they'll end up like townie Wooderson (a dead-on Matthew McConaughey in a career-making role). Then there are the entering freshmen who are worried about social cliques, girls and bullies. All are given a fair shake in a sentimental and funny look back at a time when getting in trouble was a big deal and school shootings were absolutely unheard of. Like "Fast Times" 11 years before it, this film launched a million careers. McConaughey , Ben Affleck, Parker Posey, Milla Jovovich, Rory Cochrane, Joey Lauren Adams, Adam Goldberg, Cole Hauser, Jason London and Nicky Katt all starred here in early roles.
Wooderson: Say, man, you got a joint?
Mitch: No, not on me, man.
Wooderson: It'd be a lot cooler if you did.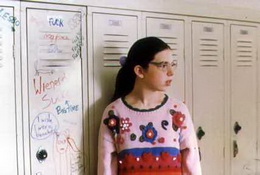 9. Welcome to the Dollhouse (1995)
Is there a more pathetic teenage misfit than the unfortunately-named Dawn Wiener (Heather Matarazzo) in this heartbreakingly funny Todd Solondz flick? Not only is her pretty younger sister more loved by her parents, but her uber-geeky and smart older brother is even cooler than her, playing in a garage band with the dreamy long-haired Steve Rodgers. Uncomfortable moments are aplenty in this disturbing tale, told from Wiener Dog's point of view, from her fumbling attempts at flirtation with Steve to lonely school thug Brandon's fumbling attempts to frighten her with violent sex talk.
Brandon: Yo Wiener, you better get ready, 'cause at three o' clock today, I'm gonna rape you!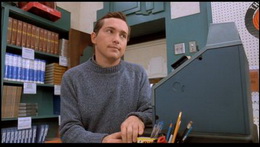 10. Three O'Clock High (1987)
Casey Siemaszko, the one "Young Gun" nobody remembers, is an average kid who accidentally touches the wrong bully (Richard Tyson) in this strangely funny high school send–up of "High Noon." The school clock is the real villain, ticking down to his inevitable after-school confrontation with a thorough beating, and he does everything in his power to avoid it. The showy camera moves (from Barry Sonnenfield, who would later direct "Men in Black") and sound-effect heavy soundtrack add to the mounting tension, adding weight to what seems like a life-and-death situation for our poor hero. Early small roles for Jeffrey Tambor, Philip Baker Hall and Mitch Pileggi add to the fun.
Buddy Revell: Today. After school. Three o'clock. In the parking lot. You try and run, I'm gonna track you down. You go to a teacher, it's only gonna get worse. You sneak home, I'm gonna be under your bed.