No sense trying to sum it up: 2007 was another year with a lot of mediocre movies, some really terrible ones, some disappointing ones, some good ones, and a couple truly amazing ones. I hate it when the studios wait to release all their "quality" films until the end of the year, but it looks like that trend is here to stay. Again, it seems that a lot of those touted as prestige pictures have simply failed to live up to the hype. So, looking back at another year gone by, here's my list of the Best Movies of 2007. Come back soon for another list, as J.D. will publish his on Thursday!
Runners-up: Hot Fuzz, Rescue Dawn, The Savages, Superbad, The Hoax, Away From Her, Once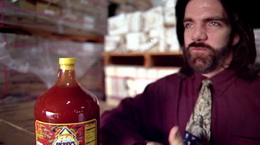 10. The King of Kong: A Fistful of Quarters

Q: Why should anybody care about the world record holder of the high score in Donkey Kong? A: Because anything that's the subject of a story that's this well told could be equally as interesting. Seth Gordon's hilarious and riveting documentary about two men in the world of competitive classic arcade gaming has more underdog appeal and cheering payoff than a hundred formulaic sports movies that are based on true stories. It may be real life, but Gordon positions his "characters" through revealing interviews and capturing key moments in their rivalry on camera. The subculture that surrounds this David and Goliath tale is fascinating as well, and while Gordon is now trying to put together a feature film with actors portraying the champion Billy Mitchell and newcomer Steve Wiebe, let's hope that he finds time to film a sequel featuring Mr. Awesome.
Unlike the linear drama of "The King of Kong," Todd Haynes' impressionistic portrait of Bob Dylan may not follow a straight line from Robert to Zimmerman, but it is a triumph nonetheless. Because of its unorthodox storyline, it feels a bit long at several points. Nevertheless, it remains a prime example of how cinema doesn't need to subscribe to certain agreed-upon tenants to be illuminating about complex ideas. Mixing documentary and fictional feature-style narratives with a host of actors portraying different aspect of the chameleon songwriter's phases and personalities, "I'm Not There" blazes its own daring path with a sense of humor and energy that is to be admired. Along with the character driven, songs-tell-the-story vibe of the lower-key musical (?) "Once," this film also boasts the best soundtrack of the year, with 2 CDs worth of fantastic Dylan covers from current artists.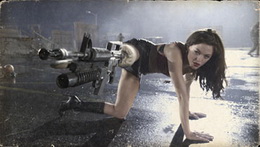 8. Grindhouse

If you didn't see this expertly-realized tribute to 1970s exploitation movies in the theater, this year, then you haven't seen it. It's as simple as that. Splitting up Robert Rodriguez's zombiefest "Planet Terror" and Quentin Tarantino's car-slasher flick "Death Proof" (and extending them) on DVD completely dilutes their effect. Leave in the hilarious fake coming attractions, ads for skuzzy local eateries, and some key missing reels, and you have a theatrical experience like no other. See it with the right crowd (preferably one that thinks its funny to see a little boy accidentally shoot himself in the face or a woman with a machine gun for a leg), and you have one night of trashy cinematic bliss. Both parts of this violently funny double feature end up being more than mere homage, especially Tarantino's half, which shows the director as capable of up setting an audience up and then subverting their expectations as he ever has been.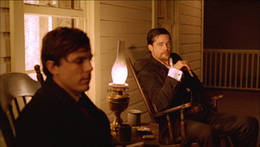 7. The Assassination of Jesse James by the Coward Robert Ford
Boy, did the studio ever bungle the release of this little-seen arthouse gem. Warner Bros. had no idea what to do with a film that took one of the best-known Western outlaws and then virtually ignored gunfights and hold-ups in favor of deconstructing the genre for two hours and 40 minutes. Released in only 300 theaters nationwide, Andrew Dominik's meditation on the price of fame and the tenuous nature of mortality during America's Westward expansion features some of the most naturalistic acting of the year, and an eye-opening performance by Casey Affleck (Oscar-bound, I hope). Brad Pitt's performance is great as well. Although his personage is larger than life, Pitt himself is measured (and perfectly cast) as the enigmatic Jesse James.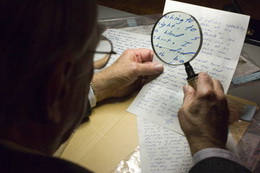 6. Zodiac
The infamous unsolved San Francisco killings of the early 1970s are the backdrop for this fascinating study of obsession from David Fincher, the director who also brought us another serial killer movie, "Seven," so long ago. Far from that successful thriller, "Zodiac" is in a category by itself—a masterful movie that thrives on a pervasive mood of unease that Fincher posits as a sign of the times. The hunt for the killer ruined the lives of many men, and during the course of the film (another long one, clocking in at just under 2:40), Fincher sucks the viewer into the same wormhole. In the traditional sense, there is no resolution to the mystery of the perpetrator, but for sheer creepiness, it's hard to find anything that comes close.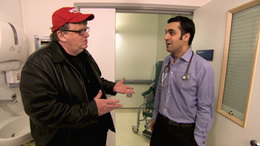 5. Sicko

Michael Moore was so huge just three years ago with "Fahrenheit 9/11" that it seems he is now out-of-fashion. The fact remains that he is the most directly provocative filmmaker of our time, and "Sicko" is one of his best movies. His newfound fame has enabled him to be a repository of information for those who have been remarkably ignored or done wrong by the broken U.S. health care system, so he has collected some real doozies—stories so tragic and unforgettable that you have to laugh to keep from crying. But "Sicko" is so much more than that. Moore moves on to ask the big questions, like "Who are we as a nation?" Even bigger—"How and why have we let things get this bad?" "Sicko" is not merely a bitchfest about the health care issue, it is an examination of our very American values and how we can get them back.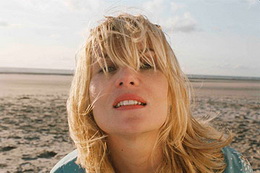 4. The Diving Bell and the Butterfly

Julian Schnabel ("Basquiat," "Before Night Falls") is a painter who has directed three films about artists struggling to create under duress. His latest puts him at the forefront of visual stylists who can wow the senses without ignoring the soul. The true story of Elle editor Jean-Dominique Bauby, who suffers a stroke that leaves him almost completely paralyzed, may have been wheelchair-bound itself in lesser hands, but with Schnabel at the helm, it becomes an amazing, life-affirming tale that never once panders for emotion. Schnabel and director of photography Janusz Kaminski even manage to pioneer some stunning new filming techniques to simulate Bauby's POV that are nothing short of exquisite.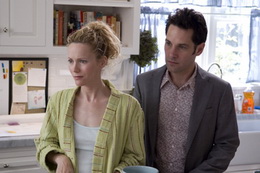 3. Knocked Up

I've been touting the greatness of director Judd Apatow's script for this surprise mainstream hit since the moment it came out. Yes, he had as gifted a cast of improvisers as you'll find this side of a Christopher Guest movie, but as many belly laughs as his co-conspirators earned off the top of their heads, Apatow's screenplay matched in acute observations about male and female relationships. Seth Rogen and Katherine Heigl are picture perfect (which is to say, not perfect at all) in their roles as a hilariously mismatched couple borne out of a one night stand, but let us not forget Paul Rudd and Leslie Mann's searing portrait of an unhappily-married couple. "Knocked Up" may begin with the high concept of an unwanted pregnancy at the worst possible time, but it ends up being a frankly funny and moving story about what it takes to do the right thing. Apatow's script deserves the Oscar for Best Original Screenplay, but will most likely get screwed out of it due to the Academy's aversion to raunchiness—even the sort of painfully true kind.
This film is all things to all people. Joel and Ethan Coen are back with a vengeance, chronicling the changing of the guard in the West by adapting Cormac McCarthy's novel of the same name. They have created the scariest movie of the year, a movie villain for the ages (Javier Bardem's pageboy from Hell, Anton Chigurh), a compelling portrait of violence, and a philosophical think piece about the ever-changing meaning of life. The tension is ratcheted up with all the skill of an Alfred Hitchcock, and Roger Deakins' haunting images are still with me as I sit and write this today. An atypical conclusion has angered many, but as much as it appears on the surface to have no rhyme or reason, it remains a mystery to keep revisiting time and time again. It is quite a coincidence that the two best pictures of the year both rely so heavily on old-fashioned storytelling, straight out of the silent age, when a picture could tell so much more than words.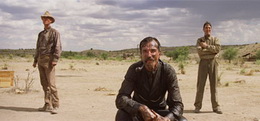 1. There Will Be Blood

Speaking of silent film, the first reel of Paul Thomas Anderson's epic movie of corrupted American ambition is entirely without words. It is a brilliant introduction to Daniel Plainview, a man so blindly driven by business that he cannot find anything left in people worth liking. When Plainview (ferociously played by Daniel Day-Lewis) runs into that other all-powerful force of humanity, religion, it is a contest of wills to challenge any other classic film rivalry. The hair on my arm was standing on end following this masterpiece. "There Will Be Blood" features nothing less than a deviously dissonant score from Jonny Greenwood, a meticulously-plotted and subtly-realized psychodrama with infinitely quotable dialogue (written by the director), top notch acting led by a man (Day-Lewis) possessed, and beautiful on-location cinematography from Robert Elswit that gives the film the sweeping feeling of history unfolding. Do not miss seeing this one in the theater if you love going to the movies.