Two weeks ago, J.D. issued his list of the best movies that revolved around musicians, real or imagined. It is a pretty broad category, and I felt that there were numerous things that he left out that I would have put in. Two of the best musician-oriented films I've ever seen came out this year, in fact. I'll exclude them both from this list, since I have full-length reviews of Todd Haynes' ambitious Bob Dylan-inspired "I'm Not There" and the low-budget indie broken-relationship romance "Once" elsewhere on the site (Just click on the movie titles to read them.) Also excluded are any documentaries. That is a list for another day. I could come up with more that ten really good rock docs, so we'll save it for later, shall we? I'll also exclude "That Thing You Do!" Because both J.D. and myself have gushed about Tom Hanks' sleeper flick about a one-hit wonder band on more than one occasion. Also, Oliver Stone's "The Doors" is not on this list because it is a very silly movie. Sure, there are a couple amazing sequences, but it worships the "poet" side of a drunken, flamed-out Jim Morrison way too much. Val Kilmer is already puffed up with his own self-importance before the naked Indian appears to lead him around. No to "The Doors." Sorry. Oh yeah, and don't forget that "This is Spinal Tap" is the best movie ever made. But you already know that. So, as Marty DiBergi once said, "Let's boogie!"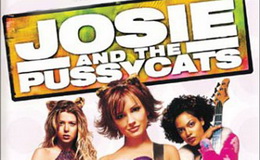 10. Josie and the Pussycats (2001)
A minor film, to be sure, but thanks to some great little power pop ditties from Fountains of Wayne's Adam Schlesinger, former Letters to Cleo singer Kay Hanley, and Matthew Sweet, this movie actually kind of rocks. Let's forget for a moment that Tara Reid is a tabloid-fodder disaster these days—in this film, her dim-bulb act works and is actually appropriate for the character and somewhat charming. Reid, Rachel Leigh Cook, and Rosario Dawson are a struggling rock band plucked from obscurity and put through the corporate wringer of the rock n' roll promotion machine. Lots of subversive humor actually finds its way into this teen-aimed film, some of it poking fun at the very audience it's trying to attract! And did I mention the tunes were catchy as Hell?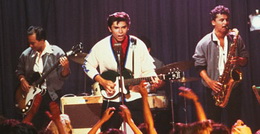 9. La Bamba (1987)
Lou Diamond Phillips' portrayal of Ritchie Valens was so on the money in this biopic of the teenage early rock n' roll star, that my friend Rich Yarges was inspired to pick up a guitar and start writing songs. Three years later, Truck Stop Love was born and I was playing the drums for the band. Thanks, Lou! This sweet and sentimental movie covers Valens' short and tragic life from a poor family life as a migrant worker to unexpected superstardom and finally, his death at 17 in a 1959 plane crash that also claimed the lives of Buddy Holly and The Big Bopper. Los Lobos covered Valens' biggest hit for the soundtrack (as well as all the other Valens songs that Phillips lip-synched for the movie), and it became a hit all over again. Marshall Crenshaw (who also wrote songs for last year's "Walk Hard: The Dewey Cox Story") plays Holly and ex-Stray Cat Brian Setzer has a brief cameo as Eddie Cochrane, giving the movie some extra rock cred.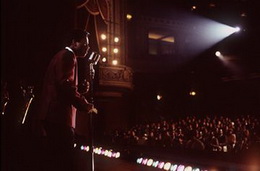 8. Why Do Fools Fall In Love (1998)
Another teenage sensation that burned brightly and fizzled out almost just as fast, Frankie Lymon was on top of the world at age 13. By the time he was 18, he was washed up and addicted to heroin. In an interesting structure for a biopic, director Gregory Nava's story flashes back and forth between the 1950s and 1980s, as three women claiming to be his wife try to get their fair share of royalties in a courtroom. Paul Mazursky plays Roulette Records head Morris Levy, whose half-songwriting credit on Lymon's biggest hit (and the movie's title) is oft-disputed. He represents a big ugly side of the record industry in its infancy—where label heads routinely ripped off their artists, although nothing much has changed since then. Larenz Tate plays the tragic Lymon, who had to adopt a soprano singing tenor once his voice changed and was clean for three years before a celebration of a new record contract resulted in his fatal overdose. All the songs in the film are original recordings of Frankie Lymon and the Teenagers, and you may be surprised to find out just how vibrant and alive they really are.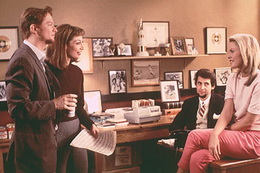 7. Grace of My Heart (1996)
Illeana Douglas plays a talented singer/songwriter who wants to perform her own material but ends up writing for others in this thinly-disguised tribute to Carole King and the Brill Building song factory. Director Allison Anders covers lots of different eras of rock history, cramming it all into one movie. It's a bit of a jumble, but for rock enthusiasts it's a joy trying to pick out all the references. Matt Dillon plays the Brian Wilson-damaged-surfer guy and Eric Stoltz plays the political-message-beatnik poet guy, while John Turturro plays the eccentric producer guy. J Mascis (from Dinosaur Jr.) and Joni Mitchell wrote songs for the movie, and Elvis Costello liked writing the film's signature song "God Give Me Strength" with Burt Bacharach so much that the two made an entire album together directly following.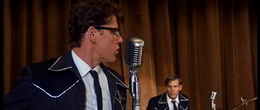 6. The Buddy Holly Story (1978)
Who knew that reality show freakazoid and D-List celebrity Gary Busey was actually a complete badass of an actor at one point? "La Bamba" may have had actual rock stars playing rock stars, but Busey made his own rock cred the DIY way. Nominated for Best Actor for playing Buddy Holly from ages 19-22, Busey was 33 years old at the time the movie was filmed. He also did all his own singing and learned how to play Holly's songs live. Although the film may have more historical inaccuracies than "La Bamba" (like using composite characters instead of depicting his real band members and showing Holly reading and writing music even though he couldn't), it tends to avoid big clichés a little better. All in all, it is a surprisingly moving portrayal of a young genius who had way more to offer the world than we'll ever know.
5. The School of Rock (2003)
The best thing about this Richard Linklater-directed Jack Black comedy is that Black's buddy Mike White, wrote it for Black. Every inch of the script has that untamed enthusiasm and total love affair with rock n' roll that the Tenacious D frontman is known for. If the six original episodes of "Tenacious D" on HBO could be considered a movie, then they'd be awful high on this list. (The movie Tenacious D movie "Pick of Destiny" was a pretty big disappointment, with one-quarter of the magic of the TV show.) This is the film that made Black a star, and only the second one (after "High Fidelity") to ever use him to his full comedic capacity. It's an interesting comment on how far rock n' roll has come that we now have a movie that is considered mainstream where a schoolteacher teaches kids how to play an AC/DC song. When I was in school, that was soooo not okay. Even if the rock-is-rebellion storyline ends up being more like a less offensive "be yourself" after school special, it is genuinely funny and surprisingly moving. I should also mention Joan Cusack as the unsung hero of "The School of Rock" for her funny and heartbreaking turn as the uptight school principal. The scene where she 'lets loose" by singing Stevie Nicks' "Edge of Seventeen" is priceless.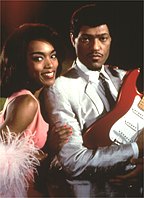 4. What's Love Got to Do With It (1993)
Angela Bassett channels the fury of a live Tina Turner performance and shows the courageous side of a woman trying to get out from under the cycle of abuse. Both the fairly unknown Bassett and her co-star Laurence Fishburne (who played Tina's notorious wife-beating husband Ike) were nominated for Oscars for this searing movie that documents the distinct imprint the Turners made on rock music, and 25 years of living in fear. The Ike Turner in "What's Love Got to Do With It" may be the most oblivious man on the planet, when he can't figure out that the people are not coming to his shows to see him. The infamous stage performances of the group are choreographed and mimicked down the smallest detail. Adapted from the autobiography by Tina, there are complaints about the veracity of all the charges against her ex-husband. But even if only half of them were true, Ike's still a bastard—a bastard who made some incredible music with Tina, who was always the star of the show. Thank God the movie ends before "Thunderdome."
3. Sid and Nancy (1986)
If you want an accurate depiction of the Sex Pistols' amazing rock journey from sensation to implosion, rent the fascinating documentary "The Filth and the Fury." If you want a doomed love story about two tragically co-dependent people who, at their lowest point, could barely communicate with each other, try Alex Cox's equally fascinating (for different reasons) "Sid and Nancy." No deep exploration of what it meant to write and record the maelstrom of genre-defining music made by the Pistols in the late 1970s can be found in this film. The guy who plays the Pistols' lyricist/singer Johnny Rotten (Lydon) isn't even any good. Maybe that was Cox's point, though. He makes it easy to see why people were drawn to Sid Vicious, who beneath the swagger and spikes, seems like a lost little boy. Gary Oldman is simply amazing as the beleaguered bassist, and so is the gratingly annoying Chloe Webb as Nancy Spungen. If junkie Sid was the only one who could see his junkie girlfriend's good traits, then he was a better man than I. And the fact that he could see that in her makes this movie all the more intriguing, and, dare I say, somewhat romantic?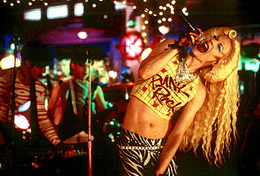 2. Hedwig and the Angry Inch (2001)
Adapted from his own off-Broadway stage musical for the screen by John Cameron Mitchell (who also stars in the title role), this far-out glam rock musical is a huge breath of fresh air. Hedwig is an East German transgender with a botched sex change operation and a love for rock n' roll and philosophy. She ends up in a trailer park in Junction City, KS., writing songs with a teenage Christian boy who later on becomes a hugely successful rock star with their songs. Her band, the Angry Inch, meanwhile, is touring a chain of bad seafood restaurants trying to make a living. Like the play, the story is mostly told through the songs, but Mitchell keeps the movie from becoming too stagebound with constant flashbacks and surrealistic dream sequences and animation that illustrates the sometimes-obscure lyrics even more obscurely. The entire movie has a self-deprecating sense of humor and a real longing to unravel the mysteries of relationships. The music, by Stephen Trask, is a terrific glam rock throwback soundtrack all written and recorded by the players and actors.
1.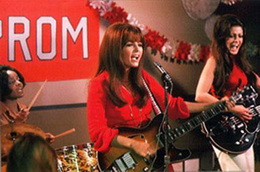 Beyond the Valley of the Dolls (1970)
Roger Ebert co-wrote this trippy dippy rock n' roll fantasy gone wrong from exploitation director Russ Meyer about an all-girl band called The Carrie Nations who travel to L.A. and lose their shirts, their friendships, and their minds. Meyer's first stab at mainstream success, working for 20th Century Fox, was till way too weird for them an garnered an X rating upon its release. The editing is seizure-inducing, the acting campy as Hell, the story an uproariously demented soap opera, and the music is really bad in a fun way. If "Josie and the Pussycats" was a teeny cautionary tale, this is the blood-soaked nightmare. A huge cult has sprung up around this film, and deservedly so. Ebert and Meyer conjure up diabolical porn stars, vain actors, sleazy lawyers, loving lesbians, and a murderous party animal who calls himself Z-Man and has female breast implants (and is unmistakably the template for Tim Curry's Frankenfurter in "The Rocky Horror Picture Show") in one of the most anarchic movies you'll ever see. He was also reportedly based on Phil Spector, which turned out to be a prophetic guess on Ebert's part. The movie is eminently quotable, so it's too bad Ebert didn't write more movies back then. I have a feeling he was living out his own kind of rock n' roll fantasy, working with Meyer and his busty female stars.