These days, movie soundtracks can go many different ways. There's the compilation of pop songs,  songs scored specifically for the movie, and the original scores. Whether the movie or the music came first, a good soundtrack makes you feel like you're watching the movie again when you're listening to it. Following up J.D.'s Top 10 Soundtracks list from last week, here is an updated version of my favorite soundtracks, featuring me taking every possible chance I can get to cram more than one soundtracks under each number. I simply have too many to fit in one ordinary Top 10. Enjoy!
10. Over the Edge (1979)
In the wake of controversy over gang violence movie "The Warriors," this teen angst classic was prevented a theatrical release, doomed to find its audience on HBO. This twist of fate couldn't diminish its honesty and power, as a whole host of teens who saw Matt Dillon in his first role ever can attest. The soundtrack was hip and angry for its time, and is still a great, edgy rock listen today. Featuring multiple songs by Cheap Trick, Van Halen, The Cars, and "Teenage Lobotomy" by the Ramones, the music illustrates the sense of futility and raw anger expressed by the teens in the movie, who live in a generic suburban planned community. Unfortunately, it has never been released on CD, so you'll have to look up the track listing and make your own (or play inflated collector's prices for vinyl)!
9. The Graduate (1967)
The movie that really began the trend of using original rock songs (not performed onscreen) as a score, this Simon & Garfunkel-heavy soundtrack doesn't hold up quite as good as the movie does. Dustin Hoffman's alienation is echoed by "The Sound of Silence," while his parents' era is epitomized by the other half of the record, Dave Grusin's foxtrots and instrumental jazz numbers. It's an uncomfortable marriage that re-iterate's the movie's themes, but makes for a challenging listening experience. You may want to pick up some Simon & Garfunkel seperately, because the versions here were slightly altered for the film. This one is on the list, though, because it started the era of the rock-scored soundtrack. Legend has it that when director Mike Nichols showed the duo a rough cut of the movie, they took a song they had about Joe DiMaggio and other American icons, changed some lyrics and the title in another room, and came back some minutes later to play him "Mrs. Robinson."

8. This is Spinal Tap (1984)
The best movie ever made has an attention to detail that most films can't even come close to. Because of this, the "black album" (Sorry Metallica and Prince, the Tap was ridiculing your pretentiousness before you even came up with it!) is a soundtrack of hilariously convincing original songs written by its director Rob Reiner, stars Christopher Guest, Michael McKean, and Harry Shearer (better known as Nigel Tufnel, David St. Hubbins, and Derek Smalls, the core of Spinal Tap). Performed by the Tap (the actors actually singing and playing their own instruments), this soundtrack is full of pitch-perfect parodies of all different touchstones of rock history. There's innocent 50s rock ("Gimme Some Money", psychedelic 60s rock ("Listen to the Flower People"), and a lot of bombastically silly late 70s/early 80s heavy metal ("Big Bottom," "Sex Farm"). Not since Neil Innes and Eric Idle's Beatles take-off (The Rutles in "All You Need is Cash") has rock been lampooned so precisely. What's more, the infectious little numbers on this classic album are now lodged securely in their own myth, ensuring the fake British "band who couldn't" a special place in rock n' roll history and several legitimate wordwide tours. Tap lives!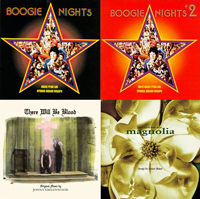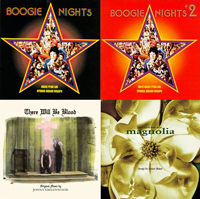 7. Boogie Nights Volume 1 and 2 (1997), Magnolia (1999), and There Will Be Blood (2007)
Paul Thomas Anderson's epic portrait of outsiders on the porn fringe is a constant high followed by an extended hangover. The music is the same way, mixing 70s disco hits like The Emotions' "Best of my Love" with oddball one hit wonders like Melanie's "Brand New Key," all the while carefully avoiding the more campy hits like Carl Douglas' "Kung Fu Fighting," an annoying piece of kitsch that ruins every disco/funk compilation it touches. The one exception, beware: Volume 2 includes "You Sexy Thing"—have your skip finger ready! Besides mixing in the macho-tuneful earnestness of the 80s with Night Ranger and Rick Springfield, the soundtrack also veers off successfully into non-era specific tunes like the Beach Boys' lilting "God Only Knows" that recall the film's emotional montage and wrap things up, like Dirk Diggler and Amber Waves' lives, on a melancholy note. As an extra added bonus, Dirk and Reed's hilarious studio magic on "Feel the Heat" and "You Got the Touch" appear on Volume 1. Following in the footsteps of "The Graduate" and more contemporary soundtracks like "Good Will Hunting" featuring Elliott Smith, one artist makes up the majority of the music in Paul Thomas Anderson's bold, adventurous L.A. ensemble piece "Magnolia." That artist is Aimee Mann, and Anderson says her music actually inspired him to write the movie. The director weaves it in and out of the film as if the songs themselves were the narrator. At one point, all the characters actually sing with Mann's "Wise Up" during a riveting montage. It makes for a more cohesive record, too, until the end when two Supertramp songs and somebody named Gabrielle threaten to mess it up. Jon Brion's "Magnolia" theme blends in well, however, since it was he who produced most of Mann's tracks. Paul Thomas Anderson's epic, nihilistic "There Will Be Blood" features the most memorable soundrack of any movie in recent memory. Jonny Greenwood from Radiohead composed the score, which featured excerpts from a work he was comissioned to compose for the BBC in 2004, and therefore made him ineligible for the Oscar for Best Original Film Score earlier this year. Too bad. This disturbing and sinister score evokes the turn of the 19th Century even at it lambasts you with dissonant strings and rhythmic punches to the gut. If anything in this movie truly lived up to the horror that it's title suggested, it would be Greenwood's haunting score.
6. Dancer in the Dark, Bjork – Selmasongs (2000)
There is no official soundtrack to Lars Von Trier's disturbing "Dancer in the Dark," but this is as close as you'll get. It is also the rare soundtrack album that improves upon the music that's actually heard in the movie. Since actors David Morse and Peter Stormare weren't really up to the task of singing in the first place, Bjork replaced and rearranged all their original vocal tracks from the movie, where, freed from the structural limitations of a musical, they become an even more pleasurable listening experience. In the film itself, the tenuous singing voices and rambling arrangements suit the characters and storyline. (One classy lady who pulled it all off is legendary actress Catherine Deneuve—watch and listen here!) But listening to the album alone immediately gives you that familiar feeling from the movie with a clearer focus on the songs. Thom Yorke (the second Radiohead member to make an appearance in this Top 10) even shows up to duet with Bjork on "I've Seen It All." (Although she was solo on the Oscars that year- click on the song title to see the infamous swan dress performance!) I was way behind on appreciating Bjork's music, but "Dancer in the Dark" made me an instant fan. This is my favorite record of hers, and the movie is assuredly the most emotionally raw musical I've ever seen.
5.  L.A. Confidential (1997) 
Sandwiched between two short bits from Jerry Goldsmith's brilliant score (which is available in its entirety on a seperate album) are 12 playful and moody jazz vocal classics from the likes of Dean Martin, Johnny Mercer, and more. Proof that the songs in "L.A. Confidential" is especially potent: the DVD itself includes a special feature where you can just listen to the film's music. With its long stretches of silence during extended scenes of dialogue with no music, it's a strange way to listen to the soundtrack, but perfect for mundane house chores like cleanng the kitchen. The movie is easily the best neo-noir since "Chinatown," and like the other films on my Top 10, this evocative use of songs help bring the film's time period to life, this time transporting the listener to 1950s Los Angeles, where booze and bullets flow freely. I usually prefer instrumental jazz, but lovely renditions of standards like Chet Baker's "Look for the Silver Lining" instantly melt my cold heart. Kay Starr's playful "Wheel of Fortune" is at the other end of the emotional spectrum , but no less fantastic.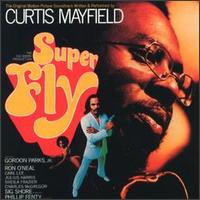 4. Superfly (1972)
American soul icon Curtis Mayfield (formerly of the Impressions) had the high point of his career with this unlikely hit record, a soundtrack to the blaxploitation film of the same name. This record was so good that it shot to the top of the charts immediately and became one of the few albums to actually outgross in record sales its accompanying movie at the box office. Not only was Mayfield's concept album socially aware without explicit moralizing (unlike the movie, which pretty much glorifies drug dealing), but the songs on it are amazing and nearly all of them are considered  classics now—"Pusherman," "Freddie's Dead," "Superfly," "Little Child Runnin' Wild." It's the kind of record that, when you listen to it for the first time, you'll recognize certain beats and bass lines and realize where half the stuff you hear in contemporary soul and rap came from. And here's the thing—put it on today and it still sounds like the coolest thing you've ever heard.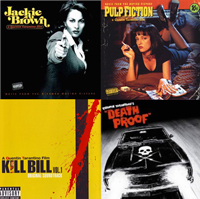 3. Pulp Fiction (1994), Jackie Brown (1997), Kill Bill Volume I and II (2003/4), and Death Proof (2007)
How's this for cheating? The one thing these amazing soundtracks all have in common is that they were put together with an encyclopedic knowledge of film and music, making something new and exciting from the old and forgotten. "Pulp Fiction" (recenly named the best film of the last 25 years by EW) is here because with this formula, director Quentin Tarantino re-invented the modern soundtrack. Who else would put the Statler Brothers and Dick Dale on the same album as Al Green and be able to make it all work? Urge Overkill's is-it-tongue-in-cheek-or-not tribute to Neil Diamond, "Girl, You'll Be a Woman Soon," reamins their best known song. "Jackie Brown" is similar, combining obscure Johnny Cash with obscure soul by The Delfonics. But poo-poo to both soundtracks and QT for also rekindling the horrible and annoying idea of using dialogue from the movie between the song selections. It's funny once, but it gets old real fast. And what of the "Kill Bill" music? The most obscure AND the most fun of them all. Tarantino singlehandedly made half these songs high profile, and now they're all over commercials and other movies. (At least when he ripped them out of other movies, they were still obscure!)  Somewhere, the 5,6,7,8s and Tomoyasu Hotei are collecting some mad royalty checks. As far as "Death Proof" goes, which is another great collection of semi-obscurities featuring April March and Pacific Gas & Electric, I have QT to thank for exposing me (during the movie's grisly and unforgettable collision) to Dave Dee, Dozy, Beaky, Mick & Tich's dirty-guitar/poppy 60s anthem "Hold Tight." Unfortunately, now every time I hear it in while driving or riding in a car, I get real nervous.
2. Yellow Submarine: Original Songtrack (1969/99) 
This is cheating, I know, but J.D. already put "A Hard Day's Night" on his list, so now I have a chance to give props to an overlooked animated movie that warped my impressionable little mind at a very young age. This film is a strange little curiosity that still holds considerable charm and sounds even better on DVD. The original soundtrack paired four new Beatles songs with two previously released tracks, and a score by longtime producer George Martin. The movie itself, however, featured nine more Beatles originals. These nine were finally released with the first six on a "songtrack" upon the film's re-release in 1999. The songtrack's lineup brings me back to a beautiful time in my childhood when the Beatles and this psychedelic slice of movie weirdness had true transformative powers. This movie introduced me to "Nowhere Man," one of the best Beatles songs ever, and the image of twisty-talker Jeremy is burned in my brain forever. And how about "Only a Northern Song" ? The animated Beatles (who were created and voiced by others) were my friends and opened up a whole world of British comedy to me that continued with "The Hitchhiker's Guide to the Galaxy" and "Monty Python's Flying Circus." (The actual Beatles appear only during the movie's last scene.) As for the songtrack, it is still the best Beatles compilation on the market (and yes, that includes "Love").
1. Dead Presidents: Volumes I and II (1995)
Sometimes the best soundtracks come from the worst movies. The Hughes brothers' film isn't horrible, but it is too long and rambling; a forgettable nostalgic melodrama that may be most notable for a featuring a dramatic Chris Tucker role. Listening to the fantastic music in it, however, is a pure joy. I'll say it here right now: There is no better introductory compilation of late 60s/early 70s soul around than Volumes I and II of this soundtrack. These two volumes mix in some widely known hits (O'Jays' "Love Train," Al Green's "Tired of Being Alone," Sly and the Family Stone's "If You Want Me to Stay") with some darker, lesser-known tunes (Curtis Mayfield's "If There's a Hell Below" and "Right on for Darkness" and The Intruders' "Cowboys to Girls") to create a more cohesive, moving experience than even the movie could. These albums jump-started my need to discover a fruitful time in R&B that is often times unfairly overshadowed by the oldies radio-dominated success of early Motown. So many compliations of this nature often focus on the cheesiest crap from the period ("Shake Your Booty," anyone?) in order to sell the most records they can to soccer moms who love to karaoke once a year when they're feeling "crazy." Skip the movie, buy the soundtracks.
Eric's Runners-up: The Blues Brothers, More, The Valley, McCabe & Mrs. Miller, Good Will Hunting, I Heart Huckabees, O Brother Where Art Thou?, Pieces of April, Rushmore, The Last Waltz, Trouble Man, Help!