In movies, too often drinking is seen as a bad thing. If there's one thing we know from the bastardized, modern-day versions of St. Patrick's Day celebrations that are so prevalent today, its that drinking can also be fun and funny. So, while none of these films are Irish movies, they all have drunken characters spouting wit and/or wisdom. And they all prove that maybe Johnny Fever from "WKRP in Cincinnati" isn't the only drunk who gets quicker the more he drinks. (This list does not include any of the films of W.C. Fields, mostly because I haven't seen enough of them them. Find out more about the original Great Man here.)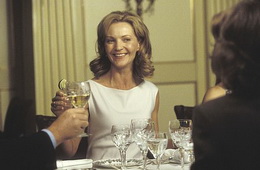 10. The Upside of Anger (2004)
There's nothing like a wickedly witty drunk, and Joan Allen's acidic character in this underrated comedy/drama from writer/director Mike Binder, is one of the best ever put on film. Okay, so she's not a happy drunk, but as the depressed and disgusted mother of four daughters, she is bitterly funny—and that makes me very happy. Kevin Costner isn't playing too far off the mark as an alcoholic has-been baseball star, and when the two of them get together, the angry middle-aged self-loathing almost becomes a romance.
Terry Wolfmeyer: I love how you worry about how the letter you wrote to the parent that deserted you is to mean, but to the one who's still here in the fight, you have no trouble saying the most vile things. Isn't that a tad odd? Please finish setting the table.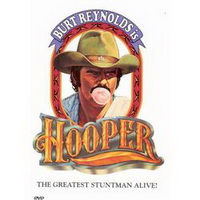 9. Hooper (1978)
Riding high after 1977's "Smokey and the Bandit," Burt Reynolds and Sally Field re-team with director Hal Needham for the good-natured macho story of a legendary stuntman who refuses to admit that he's nearing the end of his game. Barroom fights and years of self-abuse may have damaged Hooper's body, but not his spirit. Reynolds plays the stuntman with the same self-effacing charm that made him a 70s superstar, and everyone in this movie looks like they're drinking and having a good ol' time—except when things get serious and Hooper has to jump a gorge in a high-powered rocket car. Seriously. This stuff is too good for me to make it up. This movie is said to have inspired Lee Majors' TV show "The Fall Guy."
Singer: Everyone get drunk and be somebody!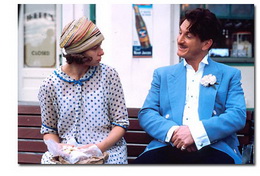 8. Sweet and Lowdown (1999) Sean Penn proves that he actually had a sense of humor (at least one time other than his breakthrough role in "Fast Times at Ridgemont High") with this Woody Allen-directed charmer about a fictional jazz guitarist haunted by being second best, compared to the great Django Reinhardt. Penn's alcoholic Emmet Ray isn't a happy drunk, he's a miserable drunk—but his performance is flat-out hilarious, and it earned him an unexpected Best Actor nomination. Emmet is a self-defeating, almost-but-not-quite lovable, fool (He falls in love with a mute girl because he loves to hear the sound of his own voice) who likes to go down by the train tracks with a bottle and shoot at rats. This is Allen's last great comedy, and it's an often-overlooked gem.
Emmet Ray: This is my one day off. I want a talking girl.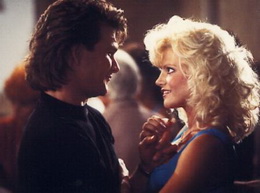 7. Road House (1989)
If I had a "drinkin' and fightin'" list, this would be number one on it. Patrick Swayze's philosophical bouncer may not technically be a happy drunk himself, but this trashy little movie certainly doesn't preach about the demon alcohol. Rather, it revels in it—with major amounts of ass-kicking and hot 80s babes aplenty. Drunken brawls are an everyday occurrence at the Double Duce, so Swayze gets to dispense his brand of Zen barroom justice at will. This is the biggest guy wish-fulfillment movie ever, as Swayze sports a PhD, and the hottest chick in town (who he falls in love with) is a doctor. The cast lists a very guy-friendly 10 women credited as "Party Girl" and five who play "Strip Joint Girl." And—get this—"Road House" is actually directed by someone named Rowdy Harrington. Perfect. (RIP: Jeff Healey, the blind guitarist who supplied the music at the Double Duce, and just passed away.)
Dalton: All you have to do is follow three simple rules. One—never underestimate your opponent. Expect the unexpected. Two—take it outside. Never start anything inside the bar unless it's absolutely necessary. And three—be nice.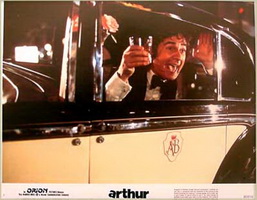 6. Arthur (1981)
I race cars, I play tennis, I fondle women, but I have weekends off and I am my own boss!" was the tagline for this shining example of the happy drunk genre. Dudley Moore is the filthy rich socialite who wants nothing to do with the arranged marriage his family has hoisted upon him, preferring instead a shoplifting waitress from Queens, played by Liza Minnelli. Moore received an Oscar nod for his buffoonery, but John Gielgud actually won a Best Supporting Actor statue for playing Moore's father figure/butler. "Arthur" gets a bit tiring at times, but its heart is in the right place (at the bottom of a wine glass), and you can't escape the Christopher Cross theme song! Avoid the 1988 sequel.
Susan: A real woman could stop you from drinking.
Arthur: It'd have to be a real big woman.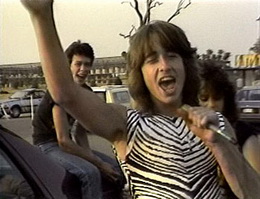 5. Heavy Metal Parking Lot (1986)
This longtime underground short film phenomenon, recently released on DVD, is a hilarious up-close look at America's youth via a stadium parking lot before a Judas Priest/Dokken concert. No actors here; this is the real thing—fifteen minutes of pre-concert drunken bliss. In that short time, it encapsulates everything that made those aimless teenage years so fun and so traumatic. For one night, the kids with feathered hair and tight pants at the Capital Centre in Landover, MD, felt like they were part of something bigger—one nation, under Priest, with rock n' roll and beer for all.
Interviewer: What's your name?
Graham: Graham, man, like "gram" of dope and shit.
Interviewer: Where are you from?
Graham: I'm from, fucking, the West Coast—I'm on acid, there's where I'm at now.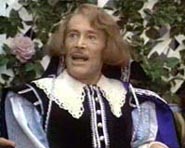 4. My Favorite Year (1982)
Supposedly based on a real-life experience that a young Mel Brooks had with aging swashbuckler Errol Flynn, this rowdy comedy earned Peter O'Toole a Best Actor nomination (one year after Dudley Moore) as a washed-up matinee idol who would rather drink and chase the ladies than work on a variety television show. Young TV writer Mark Linn-Baker (the guy who wasn't Balki on "Perfect Strangers") baby-sits O'Toole and tries to keep the drunken lout out of trouble. The dialogue is fast and witty, the slapstick is manic, and it all builds to a terrific climax, where all of O'Toole's debauched tomfoolery catches up to him on live TV. [After blundering into the wrong restroom]
Lil: This is for ladies only!
Alan Swann: [unzipping fly] So is this, ma'am, but every now and then I have to run a little water through it.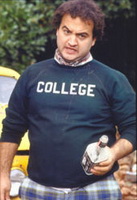 3. Animal House (1978)
John Landis' rowdy frat house comedy starring John Belushi has contributed more than its fare share of inspiration to the notion that alcohol and partying should come first and college second. But look past the initial highlights such as food fights, chugging whiskey and debauched toga parties, and you'll find a movie that's steeped in the more traditional values of brotherhood, inventive practical jokes on your enemies, and revenge for the sake of…revenge. The Delta boys charm the pants off of almost everyone they meet in this classic drinking movie. How many people have you seen try to chug an entire bottle of Jack Daniel's the way Belushi does in "National Lampoon's Animal House"?
Katy: Is this really what you're gonna do for the rest of your life?
Boon: What do you mean?
Katy: I mean hanging around with a bunch of animals getting drunk every weekend.
Boon: No! After I graduate, I'm gonna get drunk every night.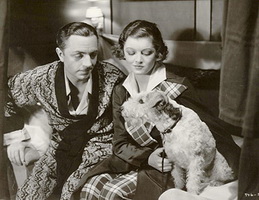 2. The Thin Man (1934)
You won't find two happier and more sophisticated drunks than William Powell and Myrna Loy in this screwball crime caper, based on a Dashiell Hammett novel. What's more unusual is that—despite the fact that they are married—they behave like naughty lovers. These saucy private eyes are more in tune with where the next cocktail party will be held than they are solving the film's central mystery. Their flirty, playfully competitive banter will make you wish everyone could be this witty when they're drunk.
Reporter: Say listen, is he working on a case?
Nora Charles: Yes, he is.
Reporter: What case?
Nora Charles: A case of scotch. Pitch in and help him.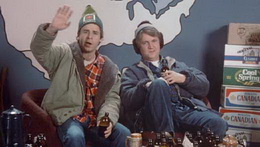 1. Strange Brew (1983)
This SCTV spin-off about two Canadian beer-guzzling brothers may be very loosely based on "Hamlet," but you won't find any literary aspirations here. Rick Moranis and Dave Thomas blunder their way into jobs at Elsinore Brewery checking beer bottles for mice and get caught up in an evil brewmeister's plan to put mind-control drugs in the lager. The truly surreal hi-jinks involve asylum inmates who are forced to play hockey, a dog who sprouts a cape and flies, and one brother who drinks an entire vat of beer rather than drown in it. It may not sound like it, but this is pretty clever stuff, complete with an abnormally straight "silly" performance from Oscar nominee and respected Swedish actor Max Von Sydow. Come to think of it, "The Adventures of Bob and Doug McKenzie: Strange Brew" (full title) may actually be the "Hamlet" of dumb comedies.
Doug McKenzie: Yeah. OK, well, uh, we found, uh, this mouse in a bottle of your beer, eh. Like, we was at a party and, uh, a friend of ours – a cop – had some, and he puked! And he said, uh, come here and get free beer or, uh, he'll press charges.