Top Ten Tuesday is here and so is the holiday season. But, as usual, we've got something a bit different for you. Christmas is such an emotional time of the year that it serves filmmakers well. Whether you're celebrating the joy of Christmas or wallowing in self-pity at a holiday spent alone, there is so much already wrapped up (no pun intended) in this time of the year that it can echo the most excitement or the bluest melancholy in the wink of an eye. None of these films are considered Christmas movies, but each one of them features an important moment in the life of a character during that holiest of holidays. So grab some egg nog and enjoy this list of fantastic Christmas scenes! (Next week get ready for some more non-traditional Christmas fun.)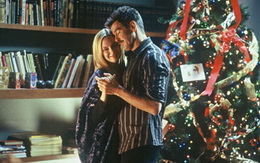 10. The Matador (2005)
Julian Noble (Pierce Brosnan) is a hitman having a hilariously petty midlife crisis. When he shows up at the house of businessman Danny Wright (Greg Kinnear) during Christmas to beg for his help, it is obvious Danny will take some convincing, so the slimy smooth-operator charms Danny's wife with his inappropriate wit, and dances with her by the Christmas tree. This dark comedy has a lot to explain about Mexico City and what went on earlier that summer between the two, but one unexpected theme does come to light—welcoming an unwanted and desperate visitor into your home, even a sad little person like Brosnan's mustachioed has-been. Writer/director Richard Shepard finds humor and pathos in the most peculiar places, and this is one peculiar movie worth checking out. Christmas time is the perfect setting to garner a little sympathy, even for a bastard like Julian.
Danny Wright: [discussing possible escape routes] That door over there, if it weren't locked.
Julian Noble: A Vietnamese girl I once knew had her legs so locked together I couldn't get a whiff of her spring roll. Two drinks, half a Quaalude later, I was at an all you can eat buffet. Every lock can be broken. It's just a matter of will and whether it's worth it.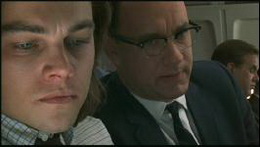 9. Catch Me If You Can (2002)
Two key moments in Steven Spielberg's breezy movie about young con artist Frank Abagnale, Jr. (Leonardo DiCaprio) who is pursued by determined FBI agent Carl Hanratty (Tom Hanks) take place on Christmas. The first happens when Frank calls Carl to apologize for fooling the lawman after a particularly close call. At first, Carl is annoyed. Realizing that its Christmas, however, the agent realizes Frank may be "living the life," but a fugitive like him has no one to talk to on Christmas Day. The second Christmas moment comes late in the film, when the two meet again at a print shop in France, but this time Carl has the upper hand and fools Frank into coming outside by telling him that the police have the place surrounded when they haven't even shown up yet. The film feels a little long, but the moments that work make for some spectacular entertainment.
Frank Abagnale, Jr.: Carl? Carl! Merry Christmas! How is it we're always talking on Christmas, Carl? Every Christmas, I'm talking to you! [laughs]
Carl Hanratty: Put your shirt on, Frank. You're under arrest.
8. Monty Python's The Meaning of Life (1983)
When you die and go to Heaven, maybe it will be Christmas every day—where women wearing plastic breasts and dressed in sexy Santa outfits dance behind a gleaming-toothed lounge singer at an uber-cheesy Las Vegas-style show. The British comedy troupe's last film together won the Grand Jury Prize at the 1983 Cannes International Film Festival, and the disturbingly funny song "Christmas in Heaven," sung by Graham Chapman, is typical of the no-holds-barred kind of surrealist humor that the rest of the film exhibits. All the characters from earlier in the movie are seated in Heaven, watching in wonderment and awe at the monumental shininess of it all. Underscoring the uncomfortable feeling, Chapman's lips and extravagantly white smile don't quite seem to match up with the singing. If this is Heaven, I'd hate to see what Hell looks like. To hear the song, click here.
It's Christmas in Heaven/ All the children sing/ It's Christmas in Heaven/ Hark hark those church bells ring./ It's Christmas in Heaven/ The snow falls from the sky/ But it's nice and warm and everyone looks smart and wears a tie./ It's Christmas in Heaven/ There's great films on TV/ 'The Sound of Music' twice an hour/ And 'Jaws' I, II, and III.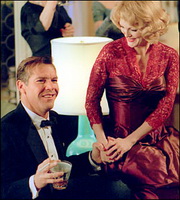 7. Far From Heaven (2002)
Christmas parties have been known to bring out the best and worst in people. Giving a modern spin to the Douglas Sirk Technicolor weepies of the 1950s, this meticulous Todd Haynes film tackles homosexuality and racism more directly than the melodramas of that era were allowed. At a Christmas party, the first cracks in their flawless veneer start to show when Frank, the perfect husband (Dennis Quaid), is inebriated and belligerent while Cathy, the perfect housewife (Julianne Moore), is chastised by her neighbors for getting too friendly with her black gardener (Dennis Haysbert). On the outside, Mr. and Mrs. Magnatech (named after breadwinner Frank's TV company) may be the model of affluent suburbia, but societal tragedy lurks just beneath the surface. Frank, it turns out, is a closeted homosexual, and after the party he drunkenly tries to make out with his wife. When he can't do it, he repeatedly yells out in frustration, "Jesus!" Merry Christmas, indeed.
Stan Fine: [complimenting Cathy] Frank is the luckiest guy in town!
Frank Whitaker: It's all smoke and mirrors, fellas. That's all it is. You should see her without her face on.
Doreen: Frank!
Cathy Whitaker: No, he's absolutely right. We ladies are never what we appear, and every girl has her secrets.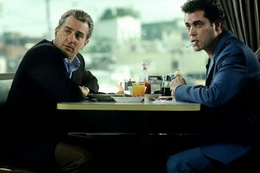 6. Goodfellas (1990)
"Frosty the Snowman" by the Ronettes plays over a Christmas party celebrating the pre-dawn robbery at the Lufthansa cargo terminal at Idlewild (now JFK) Airport by Jimmy Conway (Robert DeNiro) and his group of wiseguys. But when the gangsters' wives start showing up in mink coats and driving hot pink convertibles, they become obvious targets for the police, and he flies off the handle. It's supposed to be a celebration, but already the walls are crumbling in Martin Scorsese's 1990 gangster epic. "Christmas (Baby Please Come Home)" by Darlene Love plays at the house of Henry Hill (Ray Liotta), where his wife gets a wad of bills for Christmas, and his family enjoys a huge white artificial tree. The good cheer is short-lived. By 1980, it would be replaced by backstabbing and paranoia, as all of the divergent paths of Hill's complicated Mafia career collide. Scorsese uses the season as foreshadowing in this scene, one of about a hundred virtuoso moments in a film that has found a huge and appreciative audience on home video.
Jimmy: Don't buy anything. Don't get anything. Nothing big. Didn't you hear what I said? You're going to get us all f–kin' pinched, that's why. What are you, stupid?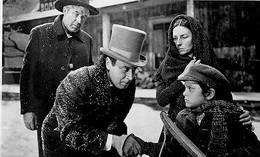 5. Citizen Kane (1941)
It is a small scene to be sure, but perhaps the most important one in unlocking the famous "Rosebud" mystery of Orson Welles' masterpiece and one of the greatest films ever made. Sitting in front of the Christmas tree, 8 year-old Charles Foster Kane is given a sled by his new legal guardian, a bank manager in Chicago named Walter Parks Thatcher. The new sled is meant to replace the one he had in Colorado, back with his family. He offers a curt "Merry Christmas" back to Thatcher, and it is clear that this shiny new sled will never take the place of his cherished old one. It may be emblazoned with a medieval knight's helmet and called the Crusader, but the new gift represents a kind of innocence lost for a young boy whose childhood was robbed. Welles' movie is overflowing with a complicated, time-shifting narrative and other pioneering techniques that are still used today. If you've never seen it or haven't seen it in a while, Christmas break is a great time to catch up with a classic.
Mr. Thatcher: Why, we're going to have some fine times together, really we are, Charles. Now, shall we shake hands? [Charles pulls back] Oh, come, come, come, I'm not as frightening as all that, am I? Now, what do you say? Let's shake.
4. American Psycho (2000)
If Mary Harron's gruesomely funny movie is a searing indictment of 1980s greed and materialism, then guess what holiday is best suited to one of the funniest scenes in the film? If you said Christmas, then you've seen this classic moment (or perhaps the rest of this list.). Wearing furry antlers and sporting a Grinch-like frown, murderous yuppie Patrick Bateman (Christian Bale) is bored by all the festivities. He is all business as he scurries away from his cheery girlfriend Evelyn (Reese Witherspoon) and her Vietnamese pot-bellied pig to talk turkey with a rival. He is the anti-Christ(mas). The scene opens with Bale uttering the hollowest and flat holiday greeting ever: "Hey Hamilton, have a holly jolly Christmas. Is Allen still handling the Fisher account?" Actually, reading it really doesn't do the scene justice. Why not watch it now?
Evelyn: Stop scowling Patrick, you're such a Grinch. What does Mr. Grinch want for Christmas? And don't say breast implants again.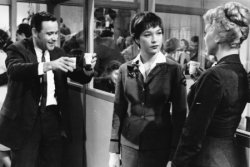 3. The Apartment (1960)
In writer/director/producer Billy Wilder's sophisticated and nuanced romantic comedy/drama, lonely salaryman Bud Baxter (Jack Lemmon) and cute elevator girl Fran Kubelik (Shirley MacLaine) share some time at an office party on Christmas Eve. Each of them thinks they are getting what they want for Christmas—him, a nice raise and some new respect; and her, a husband. But when Bud's co-workers complain about how he got the promotion (letting his boss use his apartment for secret trysts with Miss Kubelik) and Fran finds out she is but one of many of the philandering Mr. Mandrake's affairs, it turns into a bittersweet night. Bud ends up drinking alone at a bar, and Fran does something quite drastic. Wilder's coup d'état came when he captured Best Picture, Director, and Screenplay wins for "The Apartment" at the Oscars in 1961, and deservedly so. It looks today as it did then—like a modern classic. Just look at this sparkling dialogue:
Bud: Well, as a matter of fact, I was rather hurt that night you stood me up.
Fran: I don't blame you, it was unforgivable.
Bud: I forgive you.
Fran: Well, you shouldn't.
Bud: You couldn't help yourself. I mean, when you're having a drink with one man, you can't suddenly walk out on him because you're having another date with another man. You did the only decent thing.
Fran: I wouldn't be too sure. Just because I wear a uniform, that doesn't make me a Girl Scout.
Bud: Miss Kubelik, one doesn't get to be a second administrative assistant around here unless he's a pretty good judge of character, and as far as I'm concerned, you're tops, I mean, decency-wise, and otherwise-wise.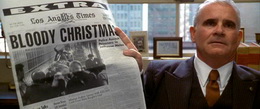 2. L.A. Confidential (1997)
Curtis Hanson's masterful (and Oscar-winning) adaptation of a gripping, hard-boiled crime novel by James Ellroy opens with a fictionalized version of a true-life incident, one of the many blights on the Los Angeles Police Department in the 1950s. Up to fifty members of the force severely beat seven Latino men while they were in custody on Christmas Day 1951. "Bloody Christmas" was what the papers called the controversy, and in the movie, Guy Pearce's by-the-rules detective Ed Exley is hated immediately by every cop in the building for testifying against the officers involved. It is a brutal opening to one of the best films of the last 25 years; a film that gets it all right—the decay and rot that ran rampant beneath the glitz and glamour of Hollywood. Hanson also deserves credit for breaking Pearce and Russell Crowe through to American audiences, and for using Dean Martin's saucy rendition of "The Christmas Blues."
Capt. Dudley Smith: I wouldn't trade places with Edmund Exley right now for all the whisky in Ireland.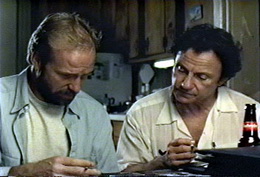 1. Smoke (1995)
Auggie Wren's Christmas Story, a short story by Paul Auster that appeared in the New York Times on Christmas Day in 1990, led to this film collaboration with director Wayne Wang. Several stories are linked together by the colorful characters who shop at a Brooklyn cigar shop run by the ever-optimistic Auggie (Harvey Keitel). A frustrated writer (William Hurt), a doppelganger for Auster himself, learns to take the time to look at life differently after coincidences open him up to life-changing events. At one point in the film, Keitel sits Hurt down to tell him Auster's Christmas story that appeared in the Times. It is the centerpiece of the movie and is a simple tale full of stealing, loneliness, and unexpected warmth. To read Keitel's monologue from the film, click here.
To hear Auster himself read the story and the circumstances surrounding it, click here. Listen now. Trust me, it's worth it.…and have a Merry Christmas!
Auggie Wren: If you can't share your secrets with your friends then what kind of friend are you?
Paul Benjamin: Exactly… life just wouldn't be worth living.