This summer was heavier in sequels than any in recent memory— "Pirates 3," "Spider-Man 3," "Fantastic Four 2," "The Hills Have Eyes 2" (again), "Shrek 3," "Die Hard 4," "Rush Hour 3," "Bourne 3," "Harry Potter 5," "28 Weeks Later," "Daddy Day Camp," "Evan Almighty," and more. In addition, most of them were major letdowns. It's hard to capture the magic twice, and even harder to improve on the original. These ten movies buck the trend, and somehow managed to not only eclipse the original film, but also kick ass on their own. Be sure to check out J.D.'s list, but for now, please enjoy my list of the Top 10 Best Sequels.
1. The Godfather Part II (1974)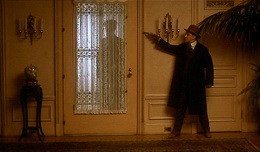 The best sequel of all-time is both a prequel and sequel to Francis Ford Coppola's 1972 movie "The Godfather." This time, Coppola gives the saga historical perspective by interweaving the story of a young Vito Corleone's rise to power (with an Oscar-winning turn by Robert DeNiro) while paralleling his son's frightening ascension. Al Pacino's Michael Corleone is one of the most cold-blooded bastards ever, and the final moments of the film have come to define what we know of the modern mob movie— a grim reminder that family doesn't mean what it used to anymore. "The Godfather" and "The Godfather Part II" are the only movies in a series to both win Best Picture.
Michael Corleone: I know it was you Fredo. You broke my heart. You broke my heart!
2. Bride of Frankenstein (1935)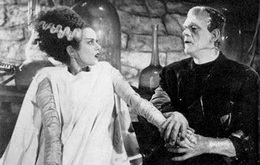 Like "The Godfather Part II," this movie actually improved on a predecessor that is also considered a classic. Drawing partly from a plot in the original Mary Shelley novel, "Bride" also has lots of dark humor owing much to director James Whale. It was a risky move to have Boris Karloff (as the Monster) speak, but one that paid off greatly, as the character has even more sadness and depth. The set design, special effects, and cinematography are all top notch, and Whale's sardonic wit results in some wonderfully funny and thinly-veiled homosexual undertones.
Dr. Pretorius: To a new world of gods and monsters!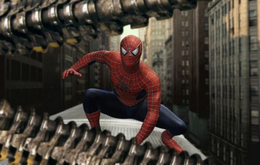 This is how you make a superhero movie. Having gotten the back story out of the way in "Spider-Man," director Sam Raimi forged ahead to create a perfectly balanced character drama and action movie. His technical prowess put the audience in the middle of swooping camera shots and amazingly staged fight scenes, never forgetting to keep the entire fable grounded emotionally. Raimi's slapstick comedic touches are just the trick when the constant abuse heaped on Peter Parker gets to be too much, and the hospital scebe with Doc Ock's tentacles fighting back is terrifying.  On top of all that, "Spider-Man 2" becomes a touching fable about growing up.
Elevator Passenger: Cool Spidey outfit.
Spider-Man: Thanks.
Elevator Passenger: Where did you get it?
Spider-Man: I made it.
Elevator Passenger: Looks uncomfortable…
Spider-Man: Yeah, it's kind of itchy……and it rides up in the crotch a little bit, too.
4. Babe: Pig in the City (1998)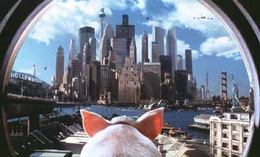 This much-maligned sequel to 1995 Best Picture nominee "Babe" sank like a stone at the box office due to its darker tone and the fact that it almost completely abandons the popular Farmer Hoggett (James Cromwell). Directed by George Miller, who did all the "Mad Max" films and wrote the screenplay for the original "Babe," it features some of the most expertly staged physical comedy and chase scenes of all time, especially considering many of them are mainly animal actors. It's an inventive, sometimes quite frightening journey for Babe the talking pig as he finds himself in "the big city," a marvel of creative art direction which contains every famous monument in the world. If kids could handle Bambi's mother getting killed by hunters, then they can handle a scared pig all alone in the big, bad city. Extra bonus: a 78-year old Mickey Rooney!
Babe: You're very kind, but…
The Pitbull: No, no, I'm anything but kind. In fact, I have a professional obligation to be malicious.
Babe: Then you should change jobs.
5. Evil Dead 2: Dead by Dawn (1987)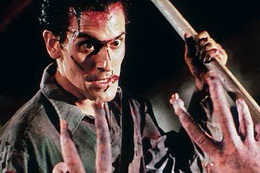 Sam Raimi recapped his 1981 no-budget "The Evil Dead" in about 10 minutes and quickly moved on to new and improved gags for this hilarious sequel. Inspired more by the Three Stooges than George Romero, Raimi and star Bruce Campbell upped the ante on several levels to create a manic horror comedy that seems itself to be possessed by the evil force of the Necronomicon. Campbell's hapless Ash must suffer many indignities from Hell while distorted camera angles and wacky sound effects slowly drive him (and us) mad. Nothing comes close to matching this movie for inspired lowbrow lunacy.
[upon gaining the chain saw in place of his lost right hand]
Ash: Groovy.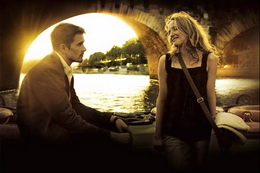 Nine years after their stirring one-day romance in Vienna during "Before Sunrise," Ethan Hawke and Julie Delpy meet again. Richard Linklater's sequel features tons of long takes as his camera follows the couple through the streets of Paris, discussing love, life, and why they didn't meet up as planned all those years ago. The movie is full of longing and regret, as both characters reveal they've never had a moment that lived up to that one day in Vienna. Bonus: If you love an ambiguous ending as much as I do…
Jesse: Okay, so you do believe in religion?
Celine: No, I don't think so.
Jesse: What about fate?
Celine: [shakes her head] Mm-mmm.
Jesse: God?
Celine: No. But at the same time I don't want to be one of those people who don't believe in anything magical.
Jesse: So then, astrology.
7. The Empire Strikes Back (1980)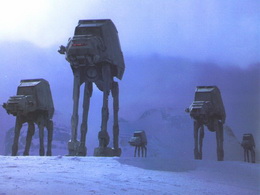 The best decision George Lucas ever made was turning the director's chair over to Irvin Kirshner and having Lawrence Kasdan co-write his sequel to 1977's unexpected cultural phenomenon, the space western "Star Wars." The actors more fully inhabit their roles (even as Mark Hamill becomes more increasingly annoying), and it left Lucas to concentrate on using his way-bigger budget to its fullest potential. There are huge revelations ("I am your father"), a dramatic cliffhanger (Solo in carbonite), amazing SFX set pieces that pre-date digital technology (the Hoth battle), and a Muppet named Yoda. What more do you want?
[Leia and Han shares a passionate kiss before Han is dragged towards the freezing chamber by the imperials]
Princess Leia: I love you.
Han Solo: I know.
8. Dawn of the Dead (1978)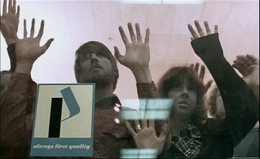 George Romero's grim sequel to his own 1968 zombie shocker "Night of the Living Dead" added even more cultural criticism to the mix by having his humans hole up in a place that was quickly becoming the refuge of consumerist America—the mall. It's like Heaven! The survivors raid all the free goods in a materialistic wonderland. It becomes Hell, as they realize they are trapped and the zombie apocalypse is slowly closing in. Who should ruin their little utopia for everyone? Other humans, of course. In Romero's film, people turn will turn against people at the drop of a hat when they should be banding together to fight the doomsday infestation.
Motorcycle Raider (radio operator): Hey, you in the mall! We don't like people who don't share. You just fucked up REAL bad!
9. "Mission: Impossible III" (2006)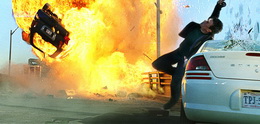 While everybody was so up in arms about Tom Cruise jumping on Oprah's couch and talking crazy to Matt Lauer, J.J. Abrams quietly directed the best movie of the "M:I" series. It's gross was no doubt affected by Cruise's antics, which is too bad because the "Lost" creator was able to infuse the movie with a much-needed sense of hardcore drama. Opening with an intense showdown between Cruise and newly-crowned Best Actor Philip Seymour Hoffman (as Owen Davian), Abrams shifted backwards in time to tell the dizzying, action-packed story of how they got there. There's more of that silly mask stuff they always do in the series, but Abrams makes us care about Cruise's responsibilities as an agent and a husband as he trots to exotic locations around the world. It all builds to that terrifying opening moment that we already know is coming.
Owen Davian: Who are you? What's you're name? Do you have a wife? A girlfriend? Because if you do, I'm gonna find her. I'm gonna hurt her. I'm gonna make her bleed, and cry, and call out your name. And then I'm gonna find you,and kill you right in front of her.
10. "The Decline of Western Civilization Part II: The Metal Years" (1988)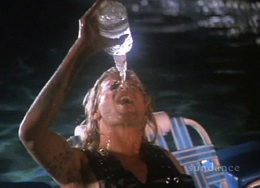 1981's first "Decline" was pretty cool– a chronicle of L.A.'s underground punk scene with interviews and performances from Black Flag, Fear, and The Germs. But it was typically supportive and tried to show that something important was happening. Seven years later, L.A. was very different and Penelope Spheeris focused her lens this time on the pathetic and hollow wanna-be rock stars of its glam scene. She gives them just enough rope to hang themselves, and a look at the movie these days makes the whole thing seem even more ridiculous. Scenes range from unintentionally funny (second-rate metallers Odin talk about being more famous the The Doors) to just plain sad (W.A.S.P.'s Chris Holmes drunk, raving mad in a swimming pool with his poor mother nearby). Neither film, nor their 1998 follow-up, are currently available on DVD.
Lemmy Kilmister (from Motorhead): If you think you got what it takes, shove it out, run it up the flagpole and see who salutes it.